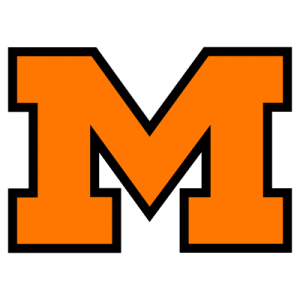 42‑6 at 3:06 of first quarter
Tigers call off the dogs in 2nd half, overwhelm East 76‑26
By STEVE DOERSCHUK
Independent Sports Editor
Quarterback Nick Mossides, who played in only the early part of Massillon's 76‑26 victory over Youngstown East, had ice on the knee that kept him out of a football game four weeks ago.
He also had a smile on his face when asked if his playing status might be jeopardized for next Friday's big game against Akron St. Vincent‑St. Mary.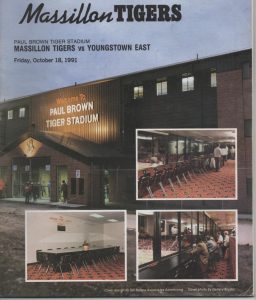 "No way!" he said.
It was the same answer to the following question: Was there anything East could do to slow down the Tigers in the first quarter?
There was nothing. Nothing at all.
The Tigers led 14‑0 after four minutes were played, 42‑6 at the end of one quarter. The 42 points in one quarter is believed to be a Massillon record.
Luther Emery, editor emeritus of The Independent, recalled a 94‑0 victory over Akron North in 1922 but didn't think there were 42 points after a quarter. There was a 90‑0 win over Barberton in 1959, but the Tigers hadn't reached 42 at the quarter stop.
Time elapsed on Massillon scoring possessions, which were all of them in the first half, weren't measured in minutes, but in seconds.
It took 104 seconds before Travis McGuire scored on a 28-yard counter play.
Falando Ashcraft's 15 yard TD run on a cut to the outside ended a 67‑second possession.
Ashcraft scored again, from 5 yards out, to finish a 50‑second drive.
If you're still keeping score, there was 4:48 left in the first quarter when McGuire ran 6 yards for a TD. The drive took 105 seconds and pushed Massillon's lead to 28‑6 (East did have some good players, including junior Charles Perdue and quarterback Darnell Bracy, who hooked up on a 70‑yard sideline pass that went for a TD moments before McGuire's 6yard TD bolt).
East left a side of the field unprotected and Jason Brown's kickoff went there. Massillon recovered then used 52 seconds before McGuire broke loose on a counter and gave East defenders Leon Gayles and Eric Bostick a ride into the end zone at the end of a 33‑yard run.
East's next play was a Bracy passing attempt to the sidelines ‑ but it was a backwards pass, a lateral. The throw was nearly picked off by Dana Wofford. It was a live ball when Troy Burick picked it up and ran 27 yards for a Tiger touchdown. The play covered 8 seconds.
Jason Brown's P.A.T. kick made it 42‑6 with 3:02 left in the first quarter.
Massillon's remaining touchdowns in the first half came on possessions that lasted 130, 12, 33 and 165 seconds.
The touchdowns were scored by Ashcraft (22‑yard pass from Mossides), backup quarterback Michael Danzy (22‑yard run), Ashcraft (5‑yard run) and Ashcraft (15‑yard run).
It was 69‑6 when the gun sounded to end the first half, at which point Massillon head coach Lee Owens sought out East head coach Jerron Jenkins.
"I told him (Jenkins) that our first string was finished for the night," Owens said. "I offered to keep the clock running in the second half. When we approached the officials they said there was nothing in the rules that allowed them to keep the clock running."
One East assistant coach spent the post‑game loudly grousing about Massillon running up the score, using the "onside kick" (where Brown booted to the unprotected part of the field) and a fake punt in the third quarter.
Jenkins protested, too, albeit more mildly.
He indicated he was upset by "the fake punt and some other things."
Owens said he thought the Tigers went an extra mile and then some to keep the score down. He was unhappy to hear about the displeasure in the East camp.
"He (Jenkins) can't be sore about anything," Owens said "We were kind to him."
It was mentioned to Owens that the Tigers might have reached the 100‑point mark.
"Without any trouble," he said.
As for the fake punt in the third quarter, Owens blamed poor execution by East, which he said did not line up as do most teams in an alignment to guard against a fake.
Massillon hammered East 45-7 a year ago. The teams have an agreement to play the next two years.
"Right now, we're under contract," Owens said. "They have some athletes, and if they get it together, they could be competitive. They've just fallen apart the second half of this season."
In the second game of this season, East beat Boardman, which later defeated defending state champion Warren Hard­ing. A week ago, East trailed unbeaten Youngstown Chaney just 6‑0 at halftime.
Concluded Jenkins, "If it's going to be like this, I don't know if I want to come down here any more."
Jenkins said he has nothing to do with the schedule, which, he said, is handled by the athletic director.
Owens also defended his deci­sion to play his starters the en­tire first half. Normally, he said, the starters would play the first half and one series in the second half in order to stay sharp for the following game.
"There's no way to simulate game conditions, and it's important for the players to be in the game," Owens said. "You also have to remember that these guys who are seniors on our team and have earned posi­tions only have so many games left in a Massillon Tiger uni­form. They don't want to hear in the locker room at halftime that they're finished for the night."
McGuire and Ashcraft got in a night's worth of yardage in one half.
McGuire rushed nine times for 151 yards and now has 972 on the year. Ashcraft picked up 134 yards in 16 carries to swell his 1991 total to 932.
East used big plays to score three touchdowns in the second half. The Golden Bears' first ­string offense was operating against second‑ and third‑team Massillon players the entire time.
Pat McVeen scored Massil­lon's only second‑half touch­down on a one‑yard run in the fourth quarter.
The theme of the week in the Massillon camp was to get bet­ter as a team instead of taking a breather against a foe that was obviously outgunned.
Mission accomplished, Mos­sides said.
The quarterback motioned to assistant coach Greg Gillum and said, "These guys kept pounding it into our heads to stay focused.
"I think we did a good job of executing. We got after it and worked really hard."
Mossides said his knee was "a little sore but nothing serious."
Added defensive end Jason Woullard, "Last week we slip­ped back a little bit, but this week we took some steps for­ward. We weren't on the field for many plays tonight, but I thought we went to the ball a lot better when we were.
"We knew we play sloppy this week. We have two tough opponents coming up."
The Tigers came close to hit­ting their season average in tot­al offense per game by the end of the first half, when they led 369‑119 in net offense.
They led 296‑11 in rushing yar­dage at that point.
Ashcraft finished with five touchdowns. Only five Massil­lon players have ever scored more than five TDs in a game. The record was set in 1922 when Dutch Hill rang up eight TDs in that 94‑0 win over Akron North.
EAST 26
MASSILLON 76
M E
First downs rushing 19 3
First downs passing 5 6
First downs by penalty 1 2
Totals first downs 25 11
Yards gained rushing 494 136
Yards lost rushing 16 15
Net yards rushing 478 121
Net yards passing 108 280
Total yards gained 586 401
Passes attempted 11 21
Passes completed 8 10
Passes int. by 2 1
Yardage on pass int. 9 0
Times kicked off 11 4
Kickoff average 45.0 39.0
Kickoff return yards 64 112
Punts 1 3
Punting average 41.0 14.0
Punt return yards. 17 0
Fumbles 0 3
Fumbles lost 0 3
Penalties 6 4
Yards penalized 52 24
Number of plays 71 52
Attendance 10,243
East 6 0 14 6 26
Massillon 42 27 0 7 76
M ‑ McGuire 28 run (Brown kick)
M ‑ Ashcraft 15 run (Brown kick)
M ‑ Ashcraft 5 run (Brown kick)
E ‑ Perdue 70 pass from Bracy (pass failed)
M ‑ McGuire 6 run (Brown kick)
M ‑ McGuire 33 run (Brown kick)
M ‑ Burick 27 interception return (Brown kick)
M ‑ Ashcraft 22 pass from Mossides (kick failed)
M ‑ Danzy 23 run (Brown kick)
M ‑ Ashcraft 5 run (Brown kick)
M ‑ Ashcraft 15 run (Brown kick)
E ‑ Perdue 67 run (pass failed)
E ‑ Gayles 81 pass from Bracy (Smith pass from Bracy)
M ‑ McVeen I run (Payne kick)
E ‑ Perdue 1 run (pass failed)