Tigers tatoo East 55‑20, await Pups
By STEVE DOERSCHUK
Independent Sports Editor
The Massillon, Tigers smashed visiting Youngstown East 55‑20 Friday and declared themselves ready for McKinley.
The Tigers have scored 38, 44 and 55 points during what has become a three‑game winning streak. If they continue to escalate the scoring next week, there is liable to be an all‑week party in downtown Massillon.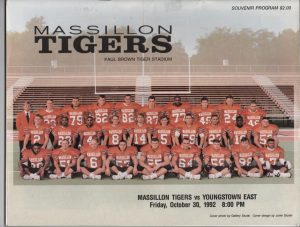 While the odds are against that‑happening, the Tigers are probably as ready as they can be for McKinley in a season that included a four‑game losing streak. They have responded to the skid by outscoring the subsequent three foes 137‑20.
McKinley, which will visit Paul Brown Tiger Stadium one week from today, takes a 7‑1 record into tonight's game against Boardman, 4‑4, at Fawcett Stadium. The Bulldogs have lost four straight Week Nine games, but Tiger head coach Jack Rose predicted "They'll win" against Boardman. McKinley's talent and consistency led him to say that.
As for his 5‑4 team, Rose said, "We played real well at times. At times we were real sloppy. But we won and for the most part we avoided injuries, which was one of the main concerns."
Andre Stinson, the Tigers' leading rusher all season, made a few hearts skip beats when he stayed on the turf after getting tackled in the second quarter. Stinson jogged off the field but did not play any more. At that point, he had gained 70 yards and scored two touchdowns.
"Andre's all right," Rose said, indicating Stinson suffered a bruised thigh. Team doctor Robert Erickson said Stinson should be ready to practice Monday.
The Tigers blew out to a 21‑0 lead. "We blocked real well at the point of attack," Rose said. East head coach Jerron Jenkins wasn't about to argue. "They outmanned us up front," Jenkins said.
An East assistant said Massillon's line is "easily the best we've faced." Jenkins nodded in agreement. East, 2‑7, would have had to play its best game of the year to stay with the Tigers.
Instead, the Golden Bears committed these pigskin sins, all in the first quarter: Penalty for too many men on the field. A 15‑yard penalty against an assistant coach who hurled profanities at an official. Three weak punts that enabled the Tigers to begin scoring drives on the East 22‑, 35- and 33‑yard lines. A screen pass thrown into triple coverage. An illegal‑man‑downfield penalty.
Following the poor punts and good returns by Dan Hackenbracht and Kevin Buckland, the Tigers scored on their first three possessions, on a combined 17 plays covering a combined 88 yards.
Stinson opened the scoring with a three‑yard run in which. he spun off a pile and trotted into the end zone. Jason Brown's kick made it 7‑0 with 8:18 left in the first quarter.
The second touchdown was set up on a nice. running pass from quarterback Mike Danzy to Alonzo Simpson along the right sideline. It covered 21 yards. Stinson scored from a yard out, Brown made the kick, and it was 14‑0 with 3:09 left in the opening period.
East's third consecutive three‑and‑out possession gave Rose cause to smile about the defense. "We did some nice tackling," Rose said. "They had a couple A plays that could have gone for something, but our defense reacted well."
The offense kept taking, advantage. Dan Hackenbracht's 5‑yard TD run and Brown's kick made it 21‑0 with 10:30 left in the second quarter.
East, 2‑7, flaunted its speed moments later when junior quarterback Anthony Mixon play‑faked, then found Darnell Johnson wide open for a 63‑yard touchdown. A two‑point conversion made it 21‑8 with 10:12 left in the second quarter.
However,. the Tigers would wind up scoring on all five of their first‑half posssessions. They answered the East touchdown with a 69‑yard drive capped by Ali Dixon's 6‑yard TD run. Dixon scored moments after replacing the injured Stin­son . A 26‑yard Danzy‑to‑Todd Peters pass helped. Brown's kick made it 28‑8 with 7:39 left before the band show.
The defense kept humming, East wound up with two first downs in the first half, and minus‑8 yards rushing ‑ and the offense added a 68‑yard drive. Danzy scored standing up from a yard out, Brown made the kick, and it was 35‑8 with 38 seconds left in the half.
The Tigers built a 42‑8 lead on an 11‑yard TD run by Danzy, who for the third straight week left the game after the first series of the third quarter.
Massillon previewed some of its running attack of the future via a 13‑yard TD run by Leon Ashcraft and a 21‑yard scoring run by Dixon. Both of their brothers were starting Tiger running backs during the Lee Owens era (Falando Ashcraft and Lamonte Dixon).
East scored two more TDs against backup Tiger defensive units. Dixon, a 5‑foot‑7, 144‑pound junior, was the Tigers' rushing leader with 75 yards in 10 carries. The Tigers wound up with a 436‑182 lead in net offensive yards.
Massillon senior Marty Gigov intercepted a pass, giving him three pickoffs in the last two weeks. The Tiger rushing attack racked up season highs of 26 first downs and 389 yards.
No crowd figure was given. Estimates put it in the 7,000 range. Add at least 10,000 to arrive at next week's crowd figure. The Bulldogs are coming to town.
Obie photo day
Tiger fans are invited to "Obie XXIII photo day" Sunday at Paul Brown Tiger Stadium.
The Massillon Tigers' mascot can be photographed from 1‑3 p.m. Sunday, handler Ed Annen said. Enter the stadium through the south gate.
M E
First downs rushing 26 4
First downs passing 2 2
First downs by penalty 0 1
Totals first downs 28 7
Yards gained rushing 393 103
Yards lost rushing 4 20
Net yards rushing 389 83
Net yards passing 47 99
Total yards gained 436 182
Passes attempted. 8 9
Passes completed 2 3
Interceptions 0 1
Times kicked off 9 4
Kickoff average 38.9 32‑3
Kickoff Mum yards 46 90
Punts 0 4
Punting average 00.0 31.5
Punt return yards 42 0
Fumbles 2 2
Fumbles lost 0 1
Penalties 7 8
Yards penalized 50 54
Number of plays 77 26
Time of possession 34:34 13:26
East 0 8 0 12 20
Massillon 14 21 7 13 55
M ‑ Stinson 3 run (Brown kick)
V ‑ Stinson I run (Brown kick)
M ‑ Hackenbracht 5 run (Brown kick)
E ‑ Johnson 63 pass from Mixon (Smith pass from Mixon)
M ‑ Dixon 6 run (Brown kick)
M ‑ Danzy 1 run (Brown kick)
M ‑ Danzy I I run (Brown kick)
M ‑ Ashcraft 13 run (Brown kick)
E ‑ Fitzgerald 37 run (pass failed)
M ‑ Dixon 21 run (kick failed)
E ‑ Perdue 5 run (pass failed) I
Rushing
(M) Danz, 10‑55, Copeland 11 55, Stinson 13‑70, Hac anbracht 2‑7, Dixon 10‑75, Seimetz 2‑7, Utterback 2‑9, Arney 4‑21, Riley 5‑16.
(E) "ant 1‑3, Rhodes 3‑9, Perdue 6‑37, Fitzgerald 3‑43.
Passing
(M) Danzy 2‑5‑0 47, Utterback 0‑3‑3.
(E) Mixon 341‑1 99. Perdue 0‑1‑0.
Receiving
(M) Simpson 1‑21, Peters I26.
(E) Johnson 1‑0, Perdue 2‑37.