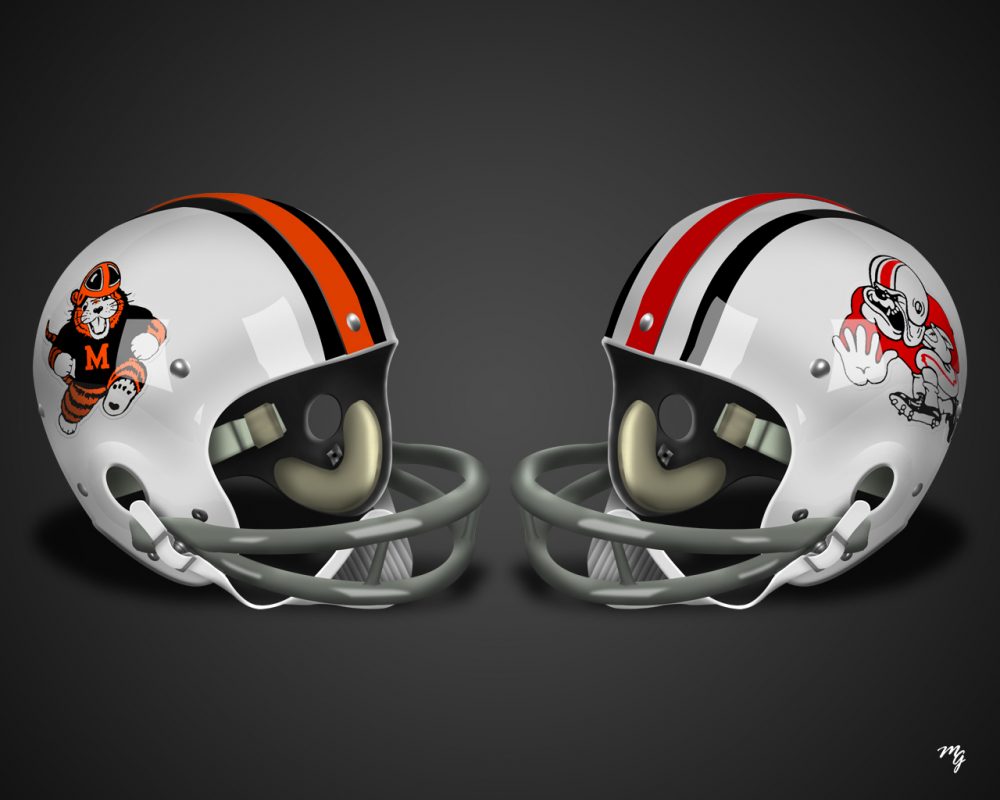 Forget Pups, 'Bear' down Tigers say
Owens hopes 'right Massillon team' shows up after 20‑7 loss to McKinley
By STEVE DOERSCHUK
Independent Sports Editor
A great season may still await them.
But there is only one way to attain it, one of the Mas­sillon Tiger football captains said after Saturday's 20‑7 loss to McKinley.
"The only thing that can help us get over this," senior cornerback Chad Buckland said, "is if we go all the way."
"All the way" means a four‑game winning streak against competition that will get nastier each week.
The Tigers are one of 16 teams in the Division I play­offs. The one that wins the next four weekends will be state champ.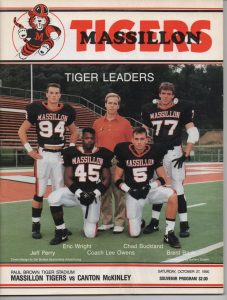 Right now, though, the Tigers are a 7‑3 team needing just one win to get over a loss to their arch‑rival.
Two months ago, the Tigers were a play away from beating mighty Cincinnati Moeller. Now they are a team that must prove itself all over again.
"Can we come back?" said Tiger coach Lee Owens, repeating a question put to him. "We didn't do a good job of it the last time we were in a similar situation (losing in Austintown a week after falling to Moeller). I hope we do better than we did the last time.
Owens senses it will be easier to rebound this time. He noted the Tigers didn't seem crushed by the McKinley loss the way they were after getting nipped by Moeller.
But the team needs a spark, he said.
"Some of the fans have been saying, , Which Massil­lon team will show up today?' And I see their point," Owens said. "There have been times when we've been good enough to play with any team in Ohio. There have been other times when we could be defeated by any one of the teams entering the playoffs.
"It will depend on which Tiger team shows up. I hope it's the right one."
Were the Tigers lacking fire in their bellies against McKinley because they knew a playoff spot was locked up?
"I don't think so," Tiger defensive tackle Ron Hum­phrey said. "I hardly even thought about the playoffs all week. I was just thinking about McKinley.
"There's nothing you can say or do to change what happened today. We lost. It's over.
"We've got to get our sulking out of the way in one day and get back to work."
"We have to get this one behind us as soon as we can," agreed senior wide receiver Steve Brown.
"We can't hang our heads," echoed tight end Chris Roth.
"We have to forget McKinley and regroup," said junior linebacker Eric Wright. "We can't feel sorry for ourselves. We've got to play hard in the playoffs and try to win all our games."
"We've got to keep our heads up and not make a big deal out of the McKinley game," said running back Falando Ashcraft.
Every Tiger interviewed gave the Bulldogs their due.
"I knew they were capable of playing like this," Buckland said. "I thought all along they were going to explode. Unfortunately, they did … against us.
"On the positive side for us, McKinley has to sit home. It's a lot better knowing you're going to get to play again."
Owens learned Sunday that his team will face Jackson in the first round of the playoffs Saturday at Fawcett Stadium. He had little to say on the matter, in keeping with the tight ship he says will be run this week.
"It does not matter who we play this week," the coach said Sunday night at 8 from his office.
"We're just glad to be in the playoffs." His only comment on Jackson: They must be a good team, having won nine games. When a team loses only once you assume they're a fine team."
Owens had been through a busy Sunday already. He wasn't finished.
"It's going to be a long one," he said.
MASSILLON 7
McKINLEY 20
Ma Mc
First downs rushing 3 10
First downs passing 4 7
First downs by penalty 1 1
Totals first downs 8 18
Yards gained rushing 68 183
Yards lost rushing 20 19
Net yards rushing 48 164
Net yards passing 113 143
Total yards gained 161 307
Passes attempted 22 22
Passes completed 8 14
Passes int. by 1 3
Times kicked off 2 4
Kickoff average 57.5 47.3
Kickoff return yards 42 16
Punts 6 2
Punting average 30.2 42.5
Punt return yards 2 13
Fumbles 3 3
Fumbles lost 1 1
Penalties 3 7
Yards penalized 45 70
Number of plays 46 70
Time of possession 17.21 30.39
Attendance 16,741
McKINLEY 0 7 7 6 20
MASSILLON 0 0 7 0 7
McK ‑ Martin 28 pass from Henry (Curtis kick)
Mas ‑ Roth 38 pass from Burick (John kick)
McK ‑ Curtis 1 run (Curtis kick)
McK ‑ Kaiusin 3 run (kick failed)
Individual Statistics
Rushing:
(Mass) Ashcraft 14‑41. Stafford 1‑7. McGuire 6‑5.
(McK) Richards 27‑114. Katusin 11‑32.
Passing:
(Mass) Shertzer 7‑19‑3 75. Burick 1­3‑0 38.
(McK) Henry 14‑22‑1 143.
Receiving:
(Mass) Brown 5‑44. Roth 2‑57.
(McK) Martin 3‑72. Richards 3‑24. Johnston 3‑22.