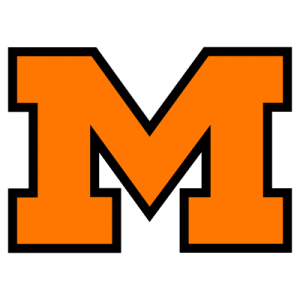 Bring on the Bulldogs Tigers overtake St. V; starter at QB up in the air
By STEVE DOERSCHUK
Independent Sports Editor
The Massillon Tigers made their fans nervous but got the job done Friday night in their final "prelude to the Pups."
They trailed 9‑7 at halftime and put Akron St. Vincent‑St. Mary in scoring range early in the third quarter. That was enough to make folks remember a loss to Cleveland St. Joseph in last year's McKinley warmup.
The Tigers were smashing the rest of the way, though, en route to a 24‑9 victory.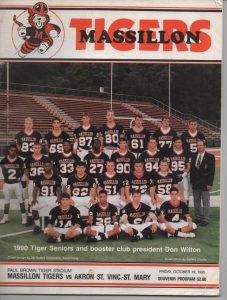 Massillon goes into McKinley week with a 7‑2 record and four‑game winning streak. St. Vin­cent fell to 4‑4, which is also McKinley's record following an 18‑15 loss at unbeaten Boardman last night.
There is a strong possibility the Tigers will be in the Division I playoffs, win or lose next Satur­day. Head coach Lee Owens sees a loss as un­speakable, however.
"We will tell our players we need to beat‑‑McKinley to make the playoffs," he said.
Whether or not that comes true, the point is this: if the Tigers hope to win playoff games, a loss to McKinley is the worst way to get ready.
It is uncertain who will start at quarterback against McKinley.
Barry Shertzer started, as usual, Friday night. But it was Troy Burick who finished. It was Burick who accounted for the Tigers' only first‑half touchdown, finding tight end Chris Koth over the middle from nine yards out. It was Burick behind center when the Tigers scored their two second‑half touchdowns, one set up on his well thrown 46‑yard bomb to Marc Stafford.
"We'll look at the films and we'll look at how things go in practice," Owens said.
Burick has played extensively all year but never so much in key situations as against St. V.
Barry was throwing the ball high in practice all week and he was throwing it high again tonight," Owens said. "It was one of those situa­tions where your starting pitcher doesn't have his best stuff and you go to the bullpen.
The Tigers got the ball first Friday and punted after three incomplete passes, all catchable but high throws by Shertzer. Shertzer completed six of 11 passes for 57 yards in his remaining action. For the season, he has completed 69 of 151 passes for 849 yards, with seven touchdowns and four interceptions.
Burick came into the game with eight completions in 17 attempts for 108 yards. His passing has been fair, but he has been a dangerous man on the bootleg runs that are a big part of Owens' run‑and‑boot offense.
"Everyone knows Troy gives us an added dimension," said Owens, speaking of the junior's aptitude for making tacklers miss.
Burick had his best passing night against St. V, completing three of five for 62 yards. He also rushed six times for 22 yards, giving him 20 carries for 151 yards on the year.
Don't look for Owens to announce early who will go at QB against McKinley. He'll keep the Bulldogs guessing.
There will be no guesswork, though, when it comes to running back Falando Ashcraft. The Tiger junior will get the ball.
Ashcraft dented St. V for 124 yards in 25 carries. He looked dow­nright scary in the fourth quarter, when the Tigers put the game away.
With 6:39 left in the game, James McCullough scored from three yards out and Ryan John converted the kick to give the Tigers a 17‑9 lead .
Mike Martin's kickoff, a squib job, resulted in a fumble, and Mar­tin recovered. Burick ran for 11 yards to the St. Vincent 31‑yard line. Then Ashcraft got the ball and a sweep left and roared around the well‑blocked left side. He looked like a man possessed as he steamed away from a pack of pursuers into the end zone, where he showed the nail to the portion of a crowd of 10,327 seated in the north grandstand at Paul Brown Tiger Sta­dium.
John's kick, his 28th successful conversion in a row, made it 24‑9 with 6:05 left. It was "turn out the lights" time for the Fighting Irish.
Owens said a key to Ashcraft's big night was St. Vincent's strategy.
"'The last three times we've play­ed them they've keyed on the A-­back (it was Travis McGuire Fri­day)," Owens said. "That opens up some things for the bootleg runs. and it opened up some things for Falando.
"Of course, Falando is really run­ning the ball well. He's improved. He's a load to try to bring down."
Ashcraft said there is another factor in a season in which he has rushed 152 times for 888 yards.
"The offensive line. has been more intense lately," he said, "That's helped a lot."
There were mixed opinions as to how rugged an opponent St. Vincent was. The Irish came in billed as a formidable team with huge linemen on both sides of the ball.
"They were just big and fat," joked Tiger defensive tackle Mark Murphy. "They weren't bad. We were down at halftime, but we still thought we'd played pretty good de­fense."
"They're tough," said Tiger offensive lineman Brent Bach. "You'd hit them and they'd slide off."
"We should have had an easier time with them than we did," said defensive back Chad Buckland, who shares the team interceptions lead (five) with Dan Hackenbracht after both of them picked off a pass."
They were more physical than Stow. But they were about as cap­able a team as Stow."
As for the progression of Friday's game, it went like this.
St. Vincent's first possession started after a 25‑yard punt return from slick junior Chris Campbell. The Fighting Irish drove 39 yards to where John Donatelli booted a 31­yard field goal with 7:48 left in the first quarter.
The Tigers answered on the en­suing possession, driving 67 yards in 14 plays. Shertzer directed a drive from the Massillon 33 to the Irish 15. Ashcraft then made perhaps his best run of the night — he was caught in the backfield but fought loose and plowed three yards for a first down.
Burick came on, as he has in the past in the goal‑line offense. On third down from the nine, Burick sold St. V on the run, then hit a wide­ open Roth for a touchdown with 1:21 left in the first quarter. John's kick made it 7‑3.
It stayed that way until late in the half, when a facemask penalty against the Tigers kept a St. Vin­cent drive alive. On second and three from the 28, sophomore quarterback Josh Zwisler unleashed a pass to the left corner of the end zone, where the 6‑1 Campbell leaped over 5‑8 cornerback Scott Karrenbauer for a touchdown re­ception.
Jeff Perry blocked the conver­sion kick attempt and it was 9‑7 with 33 seconds left in the half.
At halftime, when the offense and defense break into separate meet­ings, assistant coach Gary Wells delivered his most peppery talk of the season. Owens didn't play it up as much, for two reasons; first, he thought his team was superior to St. Vincent and would win the game; second, there were some boos at halftime when the Tigers ran out the clock with two running plays.
"The guys felt bad enough about that," he said. "I didn't think I needed to get on them any more."
St. V received the second‑half kickoff and was stuffed in three plays. Hackenbracht picked up a bouncing punt and fumbled, giving the Irish possession at the Tiger 37. Tiger tackle Ron Humphrey reco­vered a St. V fumble three plays later at the 31. From there the Ti­gers ‑‑ under Shertzer's direction ‑‑ marched 69 yards in 10 plays to where John kicked a 26‑yard field goal. It was 10‑9, Tigers, with 4:08 left in the third quarter.
Hackenbracht atoned for his mis­take by intercepting a pass and re­turning it 30 yards to the Irish 21. Burick came on but the Tigers couldn't convert the opportunity.
He fared better on his next series, steering the Tigers 77 yards in six plays, most notably the 46‑yard pass to Stafford.
"Marc has great speed and he made an outstanding catch," Owens said.
It was the longest catch of Staf­ford's varsity career … something else for McKinley to think about.
McCullough scored three plays later at 6:39 of the fourth quarter, and a scant 34 game seconds later, Ashcraft was in the end zone.
The game was won.
MASSILLON 24
ST. VINCENT 9
M V
First downs rushing 10 2
First downs passing 4 4
First downs by penalty 2 1
Totals first downs 16 7
Yards gained rushing 190 97
Yards lost rushing 21 15
Net yards rushing 169 82
Net yards passing 119 79
Total yards gained 288 161
Passes attempted 19 10
Passes completed 9 4
Passes int. by 0 2
Times kicked off 5 3
Kickoff average 40.6 41.0
Kickoff return yards 46 72
Punts 3 5
Punting average 36.0 29.8
Punt return yards 27 41
Fumbles 2 8
Fumbles lost 1 2
Penalties 2 6
Yards penalized 2 6
Number of plays 20 51
Time of possession 25:39 22:21
Attendance 10,327
Individual statistics
Rushing
(M) Ashcraft 25‑124,
Burick 6‑22,
McGuire 6‑14,
Shertzer 2‑6,
McCullough 2‑3.
(St. V) Peththel 7‑38,
Vincent 7‑24,
Zwisler 12­16,
Henderson 3‑2.
Passing
(M) Shertzer 6-14-0, 57 yards;­
Burick 3‑5‑0, 62 yards;
(St. V) Zwisler 4‑10‑2, 79 yards.
Receiving
(M) Stafford 3‑67,
Ashcraft 1-­19,
McGuire 2‑11,
Brown 1‑6,
Roth 1‑9,
Weber 1‑7.
(St. V) Campbell 3‑66,
Butts 1‑13.
St. Vincent 7 0 3 14 24
Massillon 3 6 0 0 9
V – FG Donatelli 31
M – Roth 9 pass from Burick (John kick)
M – Campbell 28 pass from Zwisler (kick failed)
M – FG John 26
M – McCullough 3 run (John kick)
M – Ashcraft 26 run (John kick)