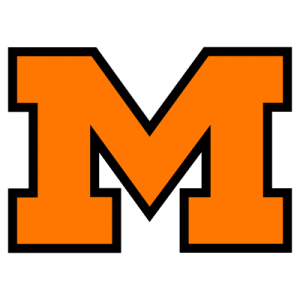 Tigers get win, Rams get respect
Moeller next for 3‑0 Massillon
By STEVE DOERSCHUK
Independent Sports Editor
Forget the "looking ahead to Moeller factor.
Instead, give Akron Garfield an Aretha Franklin salute:
"R‑E‑S‑P‑E‑C‑T."
That's what the Rams deserve for giving the Massillon Tigers a night on the edge be­fore 11,370 in Paul Brown Tiger Stadium,
While it is true the Massillon Tigers were not at their best in a 20‑14 victory over Gar­field, a couple other things also are true.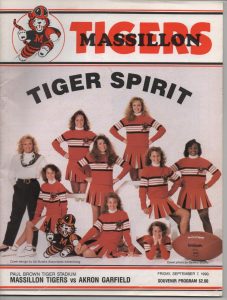 One, in the words of old warhorse Nick Vrotsos as he kicked around the game with other Massillon coaches, "The name of the game is to win."
Two, Garfield is a very good team; so good, in fact, that head coach Lee Owens made sense when he said, "I'd be surprised‑if- they lost another game."
Two observers in entirely different parts of the Massillon locker room made exactly the same point. They were Gary Vogt, last year's Booster Club president, and Tom Stacy, the Tigers' offensive coordinator.
"Garfield has got to be the best 0‑2 team in the state," they both said.
Hard to argue. The Rams have outgained both McKinley (218‑184) and Massillon (293­236) in their defeats.
Bill McGee, the classy Garfield head coach, did not seem to take the loss hard.
"This was definitely a much better effort than our game against McKinley," he said.
I'm proud of 'em. I think we're on our way. "
The Tigers, 3‑0, wore down their first two opponents, Stow and Covington Catholic, in winning by a combined 90‑14 margin. Both of those opponents used many two‑way players. So did Garfield, but the Rams hardly faded in the fourth quarter.
In fact, Garfield drove 81 yards for a touch­down early in the fourth quarter to make it 20‑14 and had the ball at midfield with three minutes left before an interception by Dan Hackenbracht on a flea‑flicker pass snuffed out the big scare.
McGee said one of the most important things his staff did all week was to plan sub­stitutions so two‑way starters could stay fresh.
"I think Massillon's greatest strengths are diversification and the two‑platoon system," McGee said. "We knew we'd be facing fresh players every time the ball changed hands."
Two weeks ago Owens was saying the Tigers were at an exceptional level considering the earliness of the season. No more.
"We've practiced poorly the last two weeks and it's started to catch up to us," he said after improving his personal record against Garfield to 2‑0. "My biggest concern is that we have not improved. I'm just glad Moeller is the next team we play. That will force the entire team to come up a notch. I expect to have a great week of practice."
Ah, yes, Moeller. The Fighting Crusaders, 4‑0 in the abbreviated all‑time series with the Tigers, will be in Massillon next Saturday.
"In my heart I believe we are a better team than they are," said Owens, speaking of Moeller. "I hope we can convince the players of that."
One player who does not need to be con­vinced is defensive tackle Ron Humphrey.
Tigers needed some big plays to beat Garfield and Humphrey provided a couple of them. One was an eight‑yard sack of Gar­field's junior quarterback, Barry Christ, late in the first half that preserved a 13‑8 lead at the intermission.
" I don't think we were looking ahead, " said Humphrey, a 6‑foot‑2, 235‑pound senior. "We were coming off the road trip to Cincinnati and we were a little tired. We weren't fo­cused. I think we will be next week.
"Garfield was also a lot stronger than the other teams we've played. A lot smarter, too. They used their running backs to help block our front four and it was effective. The other teams hadn't done that."
Tony DeLappi, a senior lineman on the other side of the ball, agreed Garfield was the best of the Tigers' three opponents so far. He also agreed the Tigers weren't at their best.
"We didn't play to our full potential," the 5‑11, 230‑pound offensive tackle said. "We're capable of playing better. Next week, I think everybody will see us play to our potential."
DeLappi was on the field during the most important series of the game when the Tigers scored after the second‑half kickoff to take a two‑touchdown lead.
Massillon also scored on its first possession of the first quarter after a sack by Tiger de­fensive end Jermaine Hinton snuffed out Garfield's opening series. On fourth down from the 13‑yard line, Tiger quarterback Barry Shertzer had good enough protection to scan both sides of the field, then loft a pass over 6‑3 cornerback Corvin Harrison to 6‑5 split end Steve Brown at the back of the end zone on the right side. Ryan John's kick made it 7‑0 with 5: 50 left in the first quarter.
Garfield then started on its own 25 after sophomore Jason Brown's kickoff. Two plays later, on third-and‑two, 6‑foot, 185‑pound senior halfback Troy Robinson broke two tackles on the right side and exploded 67 yards for a touchdown. It was a play Garfield has been using for many years. The powerful, speedy Robinson followed 220 pound fullback Sean James' block on an off‑tackle play. Foes know it's corning, but Garfield's execution can still kill you.
Garfield took an 8‑7 lead on a bit of luck. The P.A.T. snap was botch­ed. Sophomore quarterback Joe Nemith, the place‑kick holder, tracked down the loose ball and found John Wright wide open for a two‑point conversion pass.
Massillon showed its respect for Garfield on the next series. On fourth‑and‑one from their own 43, the Tigers punted. Under Owens, they usually use a fake or a regular play under similar circumstances.
Senior Chris Roth, who had his best night as a Tiger punter, buried Garfield at the 16. Garfield plowed to midfield when, on a carry by Robinson, Scott Karrenbauer strip­ped the ball and Chad Buckland rec­overed for the Tigers.
Shertzer went to Brown again seven plays later, lofting a 21‑yard scoring strike over 5‑10 defender Reggie Hitchcock. Brown's second TD was part of a big night that in­cluded eight catches for 82 yards.
The Tigers had trouble after the touchdown, calling two timeouts to sort out some confusion before a two‑point conversion pass attempt failed when Roth dove to catch a tipped ball but landed just out of bounds.
That made it 13‑8 at the half.
Garfield had bottled up the Ti­gers' running game in the first half. Junior Falando Ashcraft, who rushed for 190 yards against Covington Catholic, was held to 12 yards the first half. He doubled that number immediately with a 24­yard blast on his first carry of the second half.
A twisting 11‑yard run by Travis McGuire on second‑and‑nine was another key as the Tigers marched 76 yards in 11 plays. Ashcraft dove in from the one and John added the P.A.T. kick to make it 20‑8 with 8:26 left in the third quarter.
Garfield stopped itself on its next possession, as Hitchcock, one of the two‑way starters, simply lost the handle on a handoff. Hackenbracht, continuing to show a big‑play knack (two interceptions last week), reco­vered the fumble.
It was three plays and punt for the Tigers, though. Another good Roth punt pinned Garfield at the 19. It took the Rams three plays to dig out and turn the game back into a thril­ler. The play was a 47‑yard pass to Corvin Harrison, who was covered well but forcefully snatched Christ's deep pass.
On fourth‑and‑seven from the 13 Christ hit Hitchcock for 10 yards. Morris Cosey, best known as a 250­pound defensive tackle, got the ball from the fullback position on the next play and barged Fridge‑like into the end zone, off tackle, stand­ing up.
The Rams tried a fake kick on the P‑A‑T, but it was short‑circuited when sophomore Eric Woods tack­led Nemith before Nemith could get off a pass. It was 20‑14 with 9:38 left.
The Tigers, then the Rams, then the Tigers again went one‑two­-three‑punt on the game's next three series.
The Rams got the ball on their 30‑yard line with 3:41 left.
"They'd run the ball effectively but they were running out of time," Owens said. "They couldn't just try to drive the ball down the field."
On second‑and‑seven from the Tiger 47, as the clock wound past two minutes, Robinson took a handoff, then pitched the ball to Christ. The quarterback heaved a bomb toward Harrison, but Hackenbracht was in perfect position and made an over-­the‑shoulder interception on the 8.
Ashcraft mustered a 13‑yard run on first down, a key play in that the Tigers were then able to run out the clock.
MASSILLON 20
GARFIELD 14
M G
First downs rushing 8 7
First downs Passing 5 3
First downs Penalty 1 0
Total first down 14 10
Net yards rushing 149 229
Net yards passing 99 81
Total net yards 236 293
Passes attempted 18 8
Passes completed 9 4
Passes intercepted 0 2
Fumbles/lost 2‑1 6‑2
Punts 5 3
Punting average 40.6 42.3
Penalties 1 4
Yards Penalized 5 28
Time of poss 21:28 38:32
INDIVIDUAL STATISTICS
RUSHING
(Mas) McGuire 9‑43, Ashcraft 17‑68, Shertzer 6‑18, McCullough 1‑8.
(Gar) Robinson 17‑124, Hitchcock 6‑45, James 7‑40, Cosey 4‑13.
PASSING
(Mas) Shertzer 9‑18‑0,99 yards.
(Gar) Christ 4‑8‑2, 81 yards.
Receiving
(Mas) Brown 8‑82, Stafford 1‑7, McGuire 1‑10.
(Gar) Hitchcock 1‑11, Harrison 2‑60, Robinson 1‑10.
Massillon 7 6 7 0 20
Garfield 8 0 0 6 14
M ‑ Brown 13 pass from Shertzer (John kick)
G ‑ Robinson 67 run (Wright pass from Nemith)
M ‑ Brown 2l Pass from Shertzer (pass failed)
M ‑ Ashcraft 1 run (John kick)
G ‑ Cosey 3 run (run failed)