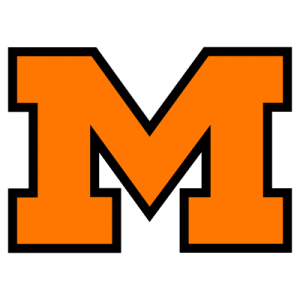 Tigers barrel over Falls 28-6
Fake punt starts onslaught
By STEVE DOERSCHUK
Independent Sports Editor
The Massillon Tigers ran and booted and made the crowd's heart race.
Quarterback Lee Hurst's heart was racing before he put on his boots.
Coach Lee Owens' creative con­coction ‑ the run‑and‑boot offense ‑ lived up to advance bill Friday night when the Massillon Tigers outslugged and outran the Cuyaho­ga Falls Black Tigers 28‑6 in a high school football season opener seen by a paid house of 10,724 in Paul Brown Tiger Stadium.
Hurst, a junior starting his first varsity game, didn't let it show, but he was "sluggish" according to Owens, and for a very specific reason.
"He's under medication and he may have had a little too much of the medication tonight," Owens said of the man who had just com­pleted 13 of 20 passes for 138 yards.
He didn't have the energy he normally would have."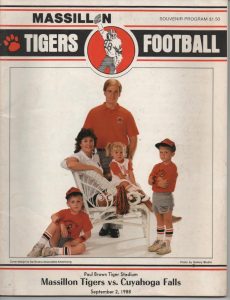 "I've had a problem with a racing heart," Hurst explained. "The medication is for that. They've made it stronger for football sea­son. I may have had too much of it."
Massillon had too much of every­thing for Falls.
"I thought we did really well on offense," Hurst said. "The backs ran well and the linemen did a super job blocking."
Fullback Jason Stafford did a lot of the outrunning and outslugging. The 5‑foot‑9, 165‑pound speed burner rushed 18 times for 103 yards.
He never quite could get his 4.39 second 40‑yard dash speed out in the open, but, as he put it, "I was close to breaking it all the way on every play."
Hurst and Stafford were well known names last year. Lamont Dixon was not. Dixon opened a few eyes, though, when he rushed six times for 98 yards out of the "A-back" position, as Owens calls it.
Ryan Sparkman, who played de­spite an upper‑leg injury, had been ticketed for starting duty at the "A­back" spot. Dixon played as though he would like the job, running over anything that was in his way.
Speaking of surprises, the Tigers set the tempo for the evening by pulling off a big one.
On the sixth play of the game, fac­ing fourth‑and‑three from the Falls 46‑yard line, the Tigers lined up to punt.
Three Tigers lined up five yards behind center. The man on the right was senior Jamie Slutz, who spent training camp battling for the start­ing quarterback job.
"The coach told me to check out­side to see if Joe (Pierce) was co­vered," Slutz said. "When I saw that he wasn't, I called for the snap to come to me."
It did. Slutz rolled out, "just look­ing to get the ball to somebody." He saw a linebacker pop in front of the streaking Pierce. Pierce broke be­hind the linebacker and Slutz fired a strike.
The 16‑yard completion gave the Tigers a first down at the 30. The inspired Tigers gained 6, 5, 7, 5 and 5 yards to set up a 1‑yard plunge into the end zone by Sparkman.
The point‑after kick failed, but the gamble had succeeded.
"With all the buildup about our offense, it would have been hard for us to punt there," said Owens who has said frequently that he looks at punt as "a dirty word."
The Tigers sputtered at times the rest of the way but managed to make their offense look like they have an Indy car to tune up the rest of the season.
They led 28-0 before Falls scored on a bomb with 55 seconds left in the game.
"There were a lot of times when we out‑athleted "em," said Owens, smiling at the word he invented.
"I'm disappointed in a lot of things. We'll have to be a lot better tomorrow. But I don't want to take away from the victory earned by the players and the coaching staff. it was a great one."
Falls is not among the top names on the Massillon schedule. The Black Tigers loomed as a team that might improve on last year's 7‑3 campaign before a car crash last winter killed two boys, paralyzed two others and led another to trans­fer from Falls to another school dis­trict. All would have been starters this year, including one of the boys who was killed, 6‑7 quarterback Kevin Humble.
"I know a couple of Falls guys and I know they dedicated the whole season to the guys in that crash," said Massillon middle guard Bob Dunwiddie. "They came in on a bubble. After a couple of hard hits, they came back to earth."
Dunwiddie was pleased with the Massillon defense, which allowed only 131 yards until Falls beefed the total up to 208 on its last possession.
"We pulled together as a team in­stead of being individuals " he said
Coach Bill Humble was not at all displeased with his team, which leads one to believe he sees Massil­lon as a powerhouse.
"Our kids played hard," he said. "I thought we played pretty good football."
Massillon's early success on the faked punt "really hurt us," Hum­ble said. "That was a real key play.
There would be others.
Midway through the second quar­ter, Dixon exploded for 49 yards on a play that highlighted an‑84‑yard scoring drive.
"It was the old Redskin play, a counter gap," said Owens. "I thought it worked well tonight."
Dixon's run was sandwiched be­tween two Hurst‑to‑Marlon Smith completions. The touchdown came on a 6‑yard run by Stafford, who swept left, was caught at the three, spun away and reached the football barely over the goal line as he hit the turf.
Hurst's point‑after kick boomed through and Massillon led 13‑0 with five minutes left in the half.
Falls went three‑and‑punt and Massillon got the ball back on the Black Tigers' 45. A 12‑yard recep­tion by Smith put the ball on the 20. On the next play tight end Jeff Harig ran a post pattern and Hurst led him with a high‑arcing pass to the back of the end zone. Harig dove and snagged the ball with his fing­ertips, pulling it in and hanging on as he crashed to the ground with a touchdown.
Harig did it again on the point ­after try, grabbing a tipped ball for a two‑pointer that gave the Tigers a 21‑0 halftime lead.
Falls staged a mild threat late in the third quarter. With the score still at 21‑0, the Black Tigers drove to the Massillon 22 where it was second‑and‑six. Pierce flew from his free safety position to break up what briefly appeared to be a touch­down pass on second down. Monte McGuire, playing with an air cast on his left ankle, stuffed 205‑pound fullback Jim Kearns for no gain on third down. A fourth‑down pass fell incomplete and the threat was over.
The Tigers drove 78 yards in 10 plays for an insurance touchdown. Sparkman went over left tackle and exploded for an 8‑yard touchdown run with 11:06 left in the game. Hurst's kick made it 28‑0.
Falls' touchdown drive was cap­ped by a 41‑yard touchdown pass from junior quarterback Jim Bal­lard to junior split end Jim Otis.
The Tigers were disappointed that the shutout got away. As the defense returned to the bench, Owens said, "Keep your heads up."
The heads were up in the locker room afterward.
"We could have been a little more intense, but we did pretty well," Pierce said.
GlenOak had riddled the Tigers for 14 completions in 20 attempts in a scrimmage the previous Friday. The Tiger linebackers' timing was off that night, as they were not mak­ing the drops that would take away passes over the middle.
"The linebackers did a real good job tonight," Pierce said. "They helped out the defensive backs a lot."
Pierce said losing the shutout was a disappointment. McGuire agreed, but he didn't look very dis­appointed.
"I feel good," he said. "A win is a win."
MASSILLON 28
CUY.FALLS 6
M CF
First downs rushing 13 5
First downs passing 7 3
First downs by penalty 0 1
Totals first downs 20 9
Yards gained rushing 237 102
Yards lost rushing 17 11
Net yards rushing 220 91
Net yards passing 154 117
Total yards gained 374 208
Passes attempted 211 19
Passes completed 14 12
Passes int. by 1 0
Times kicked off 5 3
Kickoff average 55.8 30.31
Kickoff return yards 44 184
Punts 2 6
Punting average 32.5 30.3
Punt return yards 47 14
Fumbles 0 1
Fumbles lost 0 0
Penalties 5 3
Yards penalized 77 15
Number of plays 57 47
Time of possession 21.20 26.40
INDIVIDUAL STATISTICS
Rushing
(Massillon) Stafford 18‑103, Dix­on 6‑98, Sparkman 7‑15, Owens 1‑9.
(Falls) Kearns 13‑28, Arney 8‑23, Ballard 6‑37.
Passing
(Massillon) Hurst 13‑20‑1, 138; Sultz 1-1-0, 16.
(Falls) Ballard 12‑19‑0, 117.
Receiving
(Massillon) Harig 4‑49, Smith 14‑33, Manion 3‑46, Pierce 1‑16, Dixon 1‑6, White 1‑4.
(Falls) Arney 8‑47, Otis Z4L 1 2‑12, Adkins 2‑12
Attendance 10,724
FALLS 0 0 0 6 6
MASSILLON 6 15 0 7 28
MAS ‑ Sparkman 1 run (kick failed)
MAS ‑ Stafford 6 run (Hurst kick)
MAS ‑ Harig 20 pass from Hurst (Harig pass from Hurst)
MAS ‑ Sparkman 8 run (Hurst kick)
CF ‑ Otis 41 pass from Ballard (pass failed)