Massillon tops McKinley in OT
By CHRIS TOMASSON
Repository sports writer
MASSILLON ‑ It looked like plain old mud wrestling, but Mas­sillon defensive tackle Bob Dun­widdie said it had a name.
"It's called our sci‑fi stomp," he said after the Tigers' dramatic 10‑7 overtime high school football victory over McKinley Saturday before 17,000 at Paul Brown Tiger Stadium.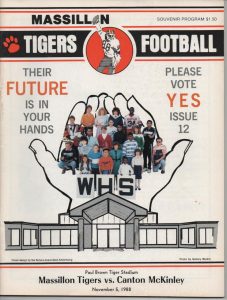 After McKinley's Akram Alzught missed a 38‑yard field goal on the last play of the game, Mas­sillon's players sprinted to the 50­-yard line and began rolling around in the mud. They got up for a little dancing, and then it was back down in the muck for more celebrating.
But even the guy who has to wash the jerseys had to be smiling. The victory snapped a four‑game losing streak for the Tigers against McKinley, and some say it could even make the difference Tuesday when Massillon voters decide whether they want a new high school.
"I won a state championship (at Galion in 1985), but this is bigger, " said Massillon coach Lee Owens. "This community has been down, and we needed it. This is just an unbelievable win."
The deciding points came on a 23‑yard field goal by junior Lee Hurst on Massillon's first series of overtime. It was Hurst's first field goal of the season.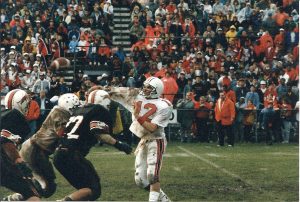 As if the way he won it wasn't spectacular enough, Hurst almost won the game in more dramatic fashion. With 2:07 left in regula­tion, his 47‑yard field goal attempt was wide right by about two feet.
"That was frustrating because I thought I had it, and it just went, wide," said Hurst, who pounded the turf in agony after the kick. "But I was able to get it out of mind quickly.
McKinley (6‑4) won the overtime toss, and e!ected to let the Tigers (7‑3) have the first possession. Beginning at the McKinley 20, Massillon got one first down, but the drive stalled at the 7, and Hurst booted the go‑ahead field goal.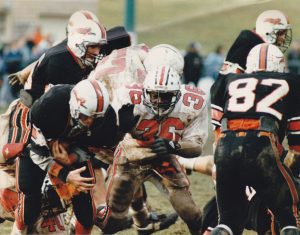 In the first half, a driving rain and severe winds hampered the kicking game. But, fortunately for Hurst, there was no rain and little wind when the game was on the line.
On the second play of McKinley's overtime possession, Bulldogs quarterback Ryan Henry threw the ball into the end zone to a wide‑open Alfred Hill, but the ball slipped through Hill's hands.
"When I saw him wide open, my heart missed one full beat," Owens said. "When I saw we were still alive, I said to myself, 'Thank God, we finally got a break this season."
Two plays later, Alzught squibb­ed his field‑goal attempt to the left, and pandemonium erupted.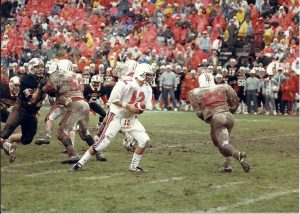 While it was one of the most dramatic endings in the 94‑year­ old rivalry (Massillon leads the series 51‑38‑5), much of the game matched every cliche uttered by the two coaches all week. It was hard‑hitting and intense. Nobody literally left their heart on the field, but some players came very close.
Both touchdowns were scored in the second quarter. With 7:40 left in the half, McKinley halfback Derrick Gordon, who gained 77 yards on 22 carries, scored on a one‑yard run, and Alzught added the extra point.
With 2:09 left before intermis­sion, Jamie Slutz hit Doug Harig with a seven‑yard TD toss, and Hurst kicked the extra point. Slutz is the Tigers' backup quarterback, but he was in the game thanks to the latest surprise from Owens.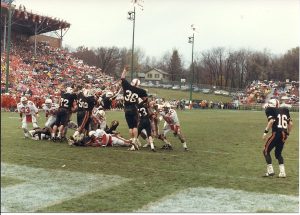 While the chains were being moved for a first down, Owens sneaked Slutz into the game as a running back. Before McKinley had a chance to react, quarterback Hurst had handed the ball off to Slutz, who flipped the ball to a wide‑open Harig.
"Coach put that in a couple of weeks ago, but we didn't want to use it until then," Slutz said. "We were saving it for McKinley."
"I recognized it right away, and I was yelling to the players," said McKinley coach Thom McDaniels. "But it's hard when you're 30 yards away and 17,000 people are screaming.
The story in the second half was defense. When McKinley got down to the Massillon 9 late in the third quarter linebacker David Lewell smashed Lamuel Flowers for a one‑yard loss on fourth‑and‑1.
Led by the running of Jason Staf­ford, who gained 123 yards on 21 carries, Massillon twice advanced inside the McKinley 40‑yard line. But twice McKinley's defense forced fumbles.
By the fourth quarter, the Tigers' defense was frustrating McKinley to such a degree that McDaniels felt he needed to take a huge gamble.
With 5:53 left and the Bulldogs facing fourth‑and‑2 at the 50, McKinley tried a fake punt. The ball was snapped to up‑back Darnell Clark, but he was stopped a half‑yard short of the first down.
McDaniels said he thought it was a "win or lose" gamble, but it was neither after Hurst's 47‑yarder just missed on Massillon's ensuing possession.
Tiger back: Defense
'
'main factor'
Key plays in overtime hidden
factors in victory vs. McKinley
MASSILLON 10
McKINLEY 7
MAS MCK
Total first downs 13 11
Rushing attempts 42 43
Net yards rushing 197 138
Net yards passing 38 119
Total yards gained 235 257
Passes attempted 13 19
Passes completed 4 8
Passes Int. by 0 1
Punts 5 4
Punting average 33.0 32.8
Fumbles 3 2
Fumbles lost 1 2
Penalties 1 3
Yards penalized 10 19
Attendance 17,750
INDIVIDUAL STATISTICS
Rushing
(Mas) Stafford 21‑123, Dixon 6­-48, Hurst 10‑9, Dunwiddle 4‑18
(McK) Gordon 22‑77, Flowers 11‑42, Henry 2‑15, White 4‑7.
Passing
(Mas) Hurst 3‑12‑131, Stutz 1‑1‑0 7.
(McK) Henry 8‑19‑0, 119.
Receiving
(Mas) Stafford 2‑24, D. Harig 1‑7, Spencer 1‑7.
(McK) Flowers 3‑27, Hunter 3-52, Hedrick 1-15, White 1-13.
McKINLEY 0 7 0 0 0 7
MASSILLON 0 7 0 0 3 10
McK ‑ Gordon 1 run (Alzught kick)
Mas ‑ D. Harig 7 pass from Slutz (Hurst Kick)
Mas – FG Hurst 23
Key plays in overtime hidden
factors in victory vs. McKinley
By STEVE DOERSCHUK
Independent Sports Editor
If they had a draft of Stark Coun­ty's high school football players Jason Stafford might be the first pick in the whole thing.
Stafford did his usual thing Satur­day, rushing for 123 yards in the Massillon Tigers' 10‑7 overtime vic­tory over the McKinley Bulldogs.
Yet, Stafford's view of the glo­rious day was that, if there was a draft of high school players and he was picking, he'd say, "I'll start with defense … and I'll take those Massillon guys."
"The defense played great Stafford said in a mud‑caked locker room after the Tigers sealed a 7‑3 season and froze McKinley's final '88 mark at 6‑4.
"The defense," Stafford said, "was the main factor in the game."
Sure, it was Lee Hurst's clutch 23‑yard overtime field goal that put the Tigers ahead 10‑7. And it was a missed 38‑yard field goal by McKin­ley's Akram Alzught that ended the game.
But it was the defense that kept McKinley from winning the game in regulation.
And it was the defense that made it so Alzught's final field goal attempt was 38 yards ‑ a mile by high school standards, especially on the muddy field the Paul Brown Tiger Stadium gridiron became as a result of Friday/Saturday cloud­bursts.
"We came together when we had to come together," said nose guard Steve Harlan, who played despite a torn shoulder. "They broke through a couple of times, but we sucked it up."
Late in the third quarter, with McKinley driving toward what could have been a killing touch­down, the Bulldogs elected to go for a first down on fourth‑and‑one from the Tiger 10. Bulldog fullback Lamuel Flowers had been playing with fire all day, and the give went to him. Tiger linebacker David Led­well also went to him, smashing Flowers into a standup position, The Tiger line drove him backward and Massillon got the ball on downs.
"They tried to run off tackle and we stuffed it," said Tiger end Steve Snodgrass, who was in on the play.
Now the game was in overtime. Both teams got a chance to line up at the 20 and try to score.
The Tigers, losing the coin toss and having to go first, rammed in­side the 10 before settling for Hurst's field goal.
Hurst's heart leaped when the snap was slightly off line, but Todd Porter managed to make a clean spot.
"I have to do it," is what Hurst ,said he was thinking. He did, with his first field goal of the season.
Now McKinley had a chance to counter, getting the ball on first down at the 20.
Chad Buckland and Jason Rel­ford slammed tailback Derrick Gordon for a yard loss. Then came the play that made 17,750 hearts jump. McKinley quarterback Ryan Henry rolled right and looked to the end zone. At the last minute he un­leashed a bullet toward tight end Alfred Hill, wide open in the end zone. Hill didn't get in front of the ball and it zipped by his fingers.
Most fans were locked in on the wide‑open Hill. Many missed the fact Henry was pummeled by Tiger tackle Trace Liggett as he threw. Without Liggett's rush, Henry would have been able to case the ball to Hill. Instead, he had to fire a rocket shot that was ever so slightly off line. With the ball as slippery as it was, ever so slightly can be ever so much.
The Tigers survived. On the next play, senior defensive back Mike Pritchard made a superb play in knifing in front of Gordon and knocking away what could have been a critical completion at the 7.
Now McKinley had to try a long field goal. The attempt did not come close, being kicked on a low line far short of the uprights. The Massillon part of the crowd ‑ which was the vast majority ‑ erupted while the ball was in the air.
McKinley's four‑game winning streak against Massillon was over. The Tigers had won.
The game was played on a roller coaster, both in terms of the action and the weather.
Rain that started during the pre­vious night and gained momentum as the game approached left the field soaked. The contest started in a drizzle, but, in the second quarter, that turned to one of the heaviest downpours the series has seen.
First‑year head coach Lee Owens has brought a lot of good things to Tigertown. One, of them nobody knew about was PAM.
Tiger equipment manager Keith Herring said PAM ‑ a slick veget­able spray ‑ was used liberally on the bottoms of the Tigers' spikes.
"It really helped keep the mud off our shoes," said running back Lamont Dixon.
The Tigers mounted an outstand­ing ground attack late in the first half and through most of the second half.
The rain subsided by the third quarter and the sun actually broke through the clouds early in the fourth.
It was McKinley breaking through first on the scoreboard. The Bull­dogs won the battle of field position early and, on their third possession, had to drive only 37 yards following a punt for a touchdown.
Henry's fourth‑and‑three bootleg run worked to perfection and gave McKinley first and goal at the 8. On fourth down at the 1, McKinley cal­led time out, then sent Gordon, who finished with 77 yards in 22 carries, over the left side for a touchdown. Alzught's kick made it 7‑0 with 7:40 left in the first half.
A deflected pass and interception gave McKinley the ball back mo­ments later, but the Pups lost a promising series when Tiger line­backer Tom Mattox pounced on a Flowers fumble at the Massillon 35. From there, Stafford and junior run­ning back Lamont Dixon followed the Tiger line down the field.
Stafford gained 8 yards and Dixon stormed for 10. An 8‑yard bootleg run by Hurst put the ball on the McKinley 37, then Hurst connected with Stafford on a wide‑open screen pass for 30 yards to the 7.
Owens then sent in one of the sec­ret plays the Tigers were saving for the McKinley game. Jamie Slutz, a senior who has performed well all year in the role of backup quarter­back/trick play artist, sprinted into the game and lined up at "A‑back," which usually is Dixon's position.
"We've practiced that for three weeks," Slutz said. "We were sav­ing it for this game."
McKinley's defense didn't have a chance to react to Bulldog coaches screaming from the sidelines. Slutz took a handoff from Hurst, backed up a step, and spotted junior Doug Harig breaking free in the end zone. Slutz gently lofted a perfect pass over the only McKinley defender in the neighborhood and Harig made an over‑the‑shoulder catch. Hurst's kick made it 7‑7 with 2:07 left in the half.
Momentum had shifted.
"It was a 949 special," Harig said. "The ball looked like a pea when it was coming to me. But I figured I'd better catch it, or just keeping run­ning to the locker room."
McKinley controlled much of the first half, but the Tigers dominated the second half after McKinley's big third‑quarter drive was stopped at the 10.
A 19‑yard scramble by Hurst got Massillon out of the hole, and a 31­-yard sideline scamper by Stafford put the Tigers in scoring position at the McKinley 34. Dixon made a nice run to the 22 but fumbled and the Bulldogs took over.
The Massillon defense forced a three‑and‑out series and the Tigers drove again, this time to the McKin­ley 38 before Hurst and Stafford mis­sed a handoff and the Bulldogs reco­vered at the 41 midway through the fourth quarter.
McKinley gambled on fourth down on its resulting possession, when a run on a faked punt was stop­ped near midfield.
Hurst wound up trying a 47‑yard field goal with 2:07 left.
When it was over, Jeff Harig, Doug's brother, wore a huge grin that shone through a face hidden by mud.
"They had a lot of people going both ways, and maybe we were a little fresher at the end," said Jeff, who was on the field as a blocker, as was Doug, in the double tight end set the Tigers used to run the ball into position for Hurst in overtime.
"We won. That's all that mat­ters.
McKinley streak goes 'poof'
Tiger tight end Harig says he was helped by
a cream puff
By MIKE KEATING
Independent Correspondent
Doug Harig enjoyed a post‑game hotdog moments after the Massil­lon Tigers devoured some 'Dogs on the football field Saturday.
The tight end offered some food for thought on the significance of the Tigers' 10‑7 overtime victory over arch‑rival Canton McKinley.
"We finally got our pride back," said, Harig. "This win offsets our three losses."
Sure, the setbacks to Austintown ­Fitch, Akron St. Vincent‑St. Mary and Warren Harding hurt. The last ­second defeats at Fitch and at War­ren were especially heartbreaking. But a fifth consecutive loss to McKinley undoubtedly would have exceeded all those combined.
Backyard bragging rights were at stake Saturday afternoon and there hasn't been anything for Ti­ger fans to hoot and holler about in this rivalry since the days of Chris Spielman, Brian Dewitz, Tom Gru­no, Craig Johnson and Company.
Lee Owens understood. The first ­year Massillon head coach was ex­tremely emotional after his team's seventh and unquestionably most important victory of the season.
"This town has been hungry the last four years and this win was for the entire Massillon community," he said.
No added incentive was needed for Massillon. But Harig said he had a personal one after a surprise package was delivered to his home earlier in the week.
"There was a cream puff in it with a note," he explained. The note read: Dear Jeff, you're the only cream puff bigger than this. Feed it to your brother too.
"We didn't eat it. We don't know who sent it, but whoever did, thank you. It fired us up."
Jeff Harig, the senior tight end, was held without a pass reception Saturday. But he concluded the year with 26 catches for 259 yards, and three touchdowns – hardly cream puff kind of numbers.
His younger brother snagged a Jamie Slutz toss as easily as catch­ing a cream puff in the second quar­ter. The seven‑yard touchdown catch whetted the Tigers' appetite that set up the dramatic win.
Jeff finished his high school career at Massillon on a winning note. Doug, a 6‑1, 173‑pound junior, can't wait for 1989.
"This win will carry over to next year and we need some momentum because we play Moeller and Mid­dletown early," he said .
Starting free safety Joe Pierce had a touchdown‑saving tackle in the fourth quarter. The 6‑0, 161­pound junior echoed Harig's senti­ments.
"This is a big win for the juniors and will make it easier to work har­der (in preparation) for next sea­son," said Pierce.
Of course, the victory also meant a lot to the seniors. It was their last McKinley game. Defensive tackle Trace Liggett couldn't have asked for anything more.
"I don't think I'll ever play in as big a game, unless it's the Super Bowl," said Liggett, who is re­garded as a major college prospect. "It was a great win and a great way to end the season."
Last May 13, Owens was hired as the new football coach. Liggett attended the press conference where Owens was introduced. He was impressed with the youthful coach then and even more so after playing for him.
"He is an inspiration to us. He is a good teacher and made practice fun. The players wanted to work hard for him," said Liggett.
"This win is a big springboard to next year," said Owens. "I feel that we would have had to start all over (with the program) if we had lost."
As it worked out, cream puffs ‑and victory ‑ never tasted better.
Expectations fulfilled
Hurst's winning field goal puts
finishing touch on Tigers' year
By CHRIS TOMASSON
Repository sports writer
MASSILLON ‑ When your quar­terback's passing percentage is better than your kicker's extra ­point percentage, it usually means you've either got a great quarter­back or a lousy kicker.
That is, except in Massillon. Tigers' coach Lee Owens says he has a great quarterback and a great kicker.
Lee Hurst handles both jobs for the Tigers. He's done an excellent job at quarterback all season. As far as his kicking performance is concerned, until Saturday, the less said about it the better.
But in Massillon's 10‑7 overtime victory over McKinley at Paul Brown Tiger Stadium, Hurst showed that Owens knows what he's talking about.
Hurst, who had made only 11‑of-­21 previous extra points and had not made a field goal all season. made his only extra‑point attempt and he kicked a 23‑yard field goal in overtime that gave the Tigers the win.
"I never lost confidence in Lee," Owens said. "He's been taking a lot of heat all season, but he did the job."
Hurst's most impressive kick was actually one that he missed. With 2:09 left in the game, Massil­lon faced fourth‑and‑13 from the McKinley 30. A field goal from there would have to travel 47 yards, one yard shorter than the Massillon record.
"I asked Lee if he could make a field goal from the distance, and he said, 'I can make it," Owens said. "He almost did."
Hurst's kick had plenty of distance, but it was wide right by about two feet.
After the game, while being hugged by most of the population of Massillon, Hurst dedicated the vic­tory to the Tigers' seniors.
"I'm only a junior, so next year will be my year, " Hurst said. "But this year belongs to our seniors."
The seniors are the players who have suffered the most at the hands of McKinley. The Bulldogs had defeated the Tigers four straight times, the most con­secutive victories for a McKinley team since the early 1900s.
"This game meant everything to our season," said senior running back Jason Stafford, who rushed for 123 yards on 21 carries. "I didn't care if we started out the' season 0‑9 as long as we beat McKinley."
"This is just a great feeling," said senior defensive tackle Trace Liggett, who spearheaded a Mas­sillon defense that held the Bulldogs to 117 yards and no points in the second half and overtime. "I can't even describe how I feel right now, To beat McKinley is what it's all about."
Interestingly, in 1983, the last time Massillon beat McKinley, Tigers' defensive tackle Bob Dunwiddie was pulling for the Bulldogs.
"Sure, I was cheering for McKinley," Dunwiddie said. "I lived in Canton and attended Souers Junior High through the seventh grade, Then in the eighth grade I moved to Massillon and became Tiger."
Owens said beating the Bulldogs meant everything to the Tigers' season.
"If we had lost it would have been just like starting over," Owens said. "But winning means that we've achieved the type of season we wanted. It's rubber ­stamped the season. And it's also a building block for next year."
The Tigers finished the year 7‑3, one game better than last season. Massillon lost its three games by a combined margin of nine points.