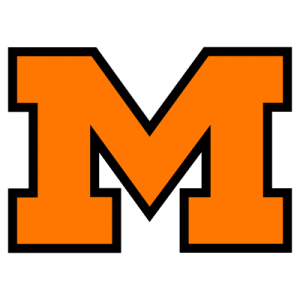 'Bobby C' makes history
Tigers nipped 9‑7 by revamped GlenOak gridders
By STEVE DOERSCHUK
Independent Sports Editor
MASSILLON ‑ Darn it, that "Bobby C" always did know how to win a game in Tiger Stadium.
Darned if he didn't win another one last night. And darned if he didn't have old friends wearing orange jackets coming up one by one to slap him on the back. Even though that back is now covered with green. Even though this win nudged the foundation of the grand old ball yard just a bit.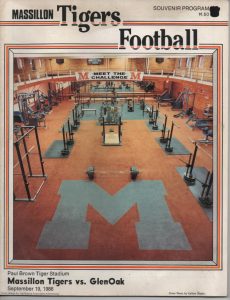 Commings shrugged after his GlenOak team beat the Massillon Tigers 9‑7 behind a long scoring drive and a blocked punt for a safety in the first quarter.
"Just another big win," he said.
But his wry smile said it was more.
Massillon's high school football team has been taking on Stark County opponents since 1894, and only two of them ‑ McKinley and Alliance had ever managed to beat the Tigers.
Now there are three. And GlenOak is the first one to come from the Federal League, which has been taking swings at the Tigers since 1978, and hadn't connected until "Bobby C" showed up on a warm September Friday.
Commings, of course, used to stick around after the games. He amassed a coaching record of 43‑6‑2 with the Tigers from 1969‑73, before going to Iowa for a tough major college run that knocked him back to the high school ranks, with GlenOak.
"It's a thrill when kids play with great courage in a community I dearly love," Commings said after handing the Tigers their first loss in four games before a crowd of 12,780.
It was a clean win, nothing tricky ‑ witness GlenOak's 245‑121 advantage in total yards and 12‑4 edge in first downs.
"All the credit goes to GlenOak and to Bob Commings," Massillon head coach John Maronto said. "They blitzed us early and took it to us.
"We were ripe … a ripe tomato that became rotten."
Commings knows about those tomatoes. His team sprouted an overgrown preseason reputation and promptly got blown out of the garden by McKinley and North Canton. But the Eagles made some key changes and planted Akron East 40‑3 last week.
There was a new attitude.
"We were getting all the preseason hype and it went to our heads," said Mike Patt, probably GlenOak's best lineman. "We finally realized we had to work for anything we got."
The Eagles played a Massillon theme song, "Eye of the Tiger," all week in practice.
"We got down to business," said fullback‑linebacker John McLendon. "And we kept reminding ourselves the Massillon players are good, but they don't dress in a phone booth."
McLendon, whose father dressed in the Tiger locker room when he went to high school, was one of the changes. He moved from wingback, where he wasn't getting loose on the option, to fullback, where he could use his speed and athletic skill to apply direct delivery. The other change was switching Otis Williams, a bigger man than McLendon at 210 pounds, from fullback to tailback.
The combination got a trial run against Akron East and ran like crazy against the Tigers.
McLendon gained 88 yards in 18 carries and was a nuisance all night on defense. Williams rushed for 92 yards on 18 carries.
Both were slowed as the game wore on. But they were deadly on the pivotal opening series.
GlenOak's Matt McElroy returned the opening kickoff to the 24. Williams ran for six yards, McLendon cut loose for 13 on a misdirection play, then Williams ran for six. McLendon, a 6‑foot, 180‑pound senior, then got the ball on the next five plays, moving the ball from midfield to the Tiger 23‑yard line. Then Williams ran 15 yards for a first and goal.
But on third‑and‑goal from the 8, Williams was stuffed at the 6 and Commings sent in the field goal unit.
The holder was Rob Rastetter, a linebacker who opened the season as GlenOak's starting quarterback but was beaten out by Jerry Chaney. Rastetter had to uncoil from his kneel to handle a bad snap and had no time to make the spot for placekicker Scott Glosser. In the face of a heavy rush, he flicked a pass to tight end Mike Mottice, who had broken wide open in the right corner of the end zone.
Glosser's PAT kick made it 7‑0 with 5:00 left in the opening frame.
The Tigers started from their own 19 after the ensuing kickoff but moved only a yard in three plays. GlenOak played for the punt block and it worked. Three Eagles were breathing in Kenny Hawkins' face as he tried to boot the ball, and one of them, McLendon, got both mitts squarely on the pigskin. The ball caromed 15 yards all the way out of the end zone for a safety, and GlenOak lead swelled to 9‑0 just 1:57 after its initial score.
It stayed that way until a booming Hawkins punt to the GlenOak 9‑yard line on the second play of the fourth quarter ignited the Tigers' scoring sequence.
GlenOak's first play was a botched handoff to McLendon that squirted to the 14. Senior linebacker Bob Foster pounced on the ball and the Tigers took over.
As Massillon's fans rose in their biggest outburst of the night, the fired‑up Tigers opened holes for fullback Mike Norris, who battered three yards then seven yards to the 4. A penalty took the ball to the 2, from where Norris spun around the right side and dove into the end zone.
Lee Hurst's extra‑point boot made it 9‑7 with 11:30 left in the game.
The Tigers needed a defensive stand. Instead, GlenOak mounted a ball‑control drive. The Eagles traveled from their own 20 to the Tigers' 30 where it was fourth‑and‑one.
There was still time for a Tiger rally, with five minutes left, but GlenOak was going for the first down and Massillon needed a big play … and got one. A pitch to McLendon was stuffed by three Tigers a half-foot short of the first down and the Tigers took over.
Massillon came very close to winning the game when, on fourth and three with 2:45 left, quarterback John Miller hit tailback Jerome Myricks with a little swing pass that Myricks turned upfield and almost into the clear. The only thing that kept Myricks out of the end zone was a saving bump by McLendon, who nudged Myricks out of bounds near midfield.
On the next play, Miller was sacked for a six‑yard loss by Patt. That was followed by two more incompletions and a sack on fourth‑and‑long by Scott Garcia. The ball went over to GlenOak with 2:21 left and the Tigers called their last timeout.
The Tigers regained possession with 15 seconds left, on their own 40. The game ended on an interception by McElroy at the 20‑yard line.
"We came back in the second half but we did not make the plays we needed to get a victory," Maronto said. "GlenOak moved the ball on us right away in the first half, but we expected to have problems with them early.
"Our intensity was all right, we just didn't make the plays. There are no excuses. We got what we deserved."
The Tigers failed to get a first down on their only three possessions of the first half, when they ran just nine plays to GlenOak's 33.
Massillon's first scoring threat followed the second‑half kickoff. A 38‑yard bomb from Miller to split end Bart Letcavits advanced the ball to the GlenOak 31, but on fourth-and‑nine, the Tigers went for it and came up short when McLendon chased Miller into a scramble resulting in a four‑yard loss.
Norris was the Tigers' top ball carrier with 11 carries for 36 yards. Myricks, a big‑play threat in recent weeks, carried six times, but his total was minus‑one.
The Tigers had tried a total of 12 passes through three games before Friday, but this time Miller went to the airways 15 times, completing five for 90 yards. All but one of the passes came in the second half.
The Tigers will try to rebound next Friday against Barberton, also 3‑1 following a 14‑10 upset loss to Ravenna last night. A week later, the Tiger…
GLENOAK 9
MASSILLON 71
M G
First downs rushing 1 11
First downs passing 3 1
First downs by penalty 0 0
Totals first downs 4 12
Yards gained rushing 46 228
Yards lost rushing 15 15
Net yards rushing 31 213
Net yards passing 90 32
Total yards gained 121 245
Passes attempted 15 7
Passes completed 5 2
Passes int. by 0 2
Punts 5 3
Punting average 30.2 28.0
Punt return yards 18 0
Punts blocked by 0 1
Fumbles 1 2
Fumbles lost 0 1
Penalties 5 6
Yards penalized 35 39
Number of plays 21 41
Time of possession 16:49 31:11
Attendance 12,780
GlenOAK 9 0 0 0 9
MASSILLON 0 0 7 0 7
GLEN ‑ Mottice 5 pass from Rastetter (Glosser kick)
GLEN ‑ Safety, blocked punt bounced out of the end zone
MASS ‑ Norris 2 run (Hurst kick)