Fired-Up Tiger defense stops GlenOak
16,359 see Massillon win
By STEVE DOERSCHUK
Independent Sports Editor
You didn't read it here, but the Massillon Tigers heard it somewhere that their defense was a chunk of Swiss cheese headin' for a raging kiln.
They took it personally.
When it got out that somebody was picking us to give up 34 points in our home opener, it fired us up," said Massillon linebacker Craig Turkalj.
The defense was superb in a 16-6 victory over GlenOak before a Paul Brown Tiger Stadium mob of 16,359, which probably will stand as the best crowd in Ohio this opening weekend of the high school football season.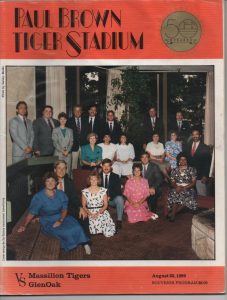 "We showed the people saying how bad we are that they're wrong," said Turkalj, whose team out-gained the Golden Eagles 331-123 in total offensive yards.
"They got one score, but it was a cheapie."
GlenOak took a 6-0 lead after the Tigers fumbled on their first play from scrimmage, setting up a 15-yard Eagle scoring drive.
The point-after kick failed, allowing the Tigers to take a 7-6 lead with a touchdown midway through the second quarter.
Ryan Sparkman scored from a yard out, following a wall of blockers packed so tight it looked as if they were making sure no one would get left out of a photograph. Tiger fans, remembering last year's troubles on conversion attempts, cheered loudly when Gary Miller connected to make it 7-6, Massillon, with 6:28 left in the first half.
A bone-jarring tackle by Tiger end Mike Martin created a safety and a 9-6 lead at 8:23 of the fourth quarter.
Tight end Doug Harig out-maneuvered a pack of defenders to catch a 17-yard touchdown pass from Lee Hurst in the corner of the end zone with 1:35 left.
"I made what Coach (Tom) Stacy calls a sight adjustment," said Harig, who caught a touchdown pass in last year's season-ending overtime win over McKinley. "Their guy jumped too soon and Lee put the ball in a perfect spot."
Miller, who has a set of goalposts in his yard at home, connected again to close the scoring.
GlenOak never got in the same zip code as the end zone after its first scoring, taking no drive further than the Massillon 41-yard line.
"We'll have to see how good Massillon is going to be," said GlenOak head coach Bob Commings, who was gridmaster at Massillon from 1969-73. "They looked awfully good to me tonight. Their defense played extremely well."
The physical contest took a toll on the Eagles, who already have lost all-county tailback Kenne Boyd to grades but now face at least three weeks without Boyd's heir as featured ball carrier, Brian Frenz, who suffered a separated shoulder in the first half.
Frenz rushed eight times for 38 yards before getting hurt.
Todd Dean, GlenOak's best receiver, kept playing despite being noticeably slowed by a sprained ankle suffered during the game.
Dean's replacement as the go-to ball carrier, 140-pound sophomore Reggie Brown, got a rude introduction to Division I varsity football. Tiger defenders left no room for Brown to get started in holding him to two yards in 10 carries.
The game was supposed by some to become a shoot-out between teams with talented, experienced offenses. It turned into a defensive struggle.
"I didn't anticipate that we would have to play such great defense and that our offense would put us in such a hole because of turnovers and poor execution," said Massillon head coach Lee Owens.
Owens said Tiger fans shouldn't fret over the offense.
"It will get there," he said. "I'm sure it will."
The defense, riddled by All-Ohio Akron Buchtel back Rickey Powers in a scrimmage last Friday, was there when the bell rang against GlenOak.
"We said all week that the films of the Buchtel scrimmage looked better than the live action, and that there weren't major causes for concern," Owens said. "I think some people found out tonight that we have one of the quicker defenses around. That's its strength. Quickness."
"We weren't worried about the Buchtel scrimmage," Turkalj said. "We didn't show our whole defense against them. Our guys were confident we could do the job. When Coach Commings said GlenOak has one of the area's best passing offenses, we wanted to show we could stop it."
Commings has been a "running coach" through most of his GlenOak career but notes he passed 50 percent of the time in the 1960s at Struthers.
On Friday, GlenOak tried 23 passes and 22 runs.
Quarterback John Vesley, a returning starter, completed nine of 22 passes for 82 yards. He also was victimized by two key second-half interceptions by Joe Pierce and Keith Rabbitt at times GlenOak was only a big play away from taking the lead.
Hurst connected on 11 of 18 passes.
MASSILLON…………16
GLENOAK……………. 6
Tiger-Eagle grid lineups
Here are the probable starting lineups for
tonight's game between the Massillon Tigers
and GlenOak Golden Eagles. Kickoff is at
8 p.m. in Paul Brown Tiger Stadium.
TIGER OFFENSE
Quarterback – No. 15 Lee Hurt, 6-3, 180, Sr.
A-back – No. 44, Lamonte Dixon, 5-9, 185, Sr.
B-back – No. 34, Ryan Sparkman, 5-8, 175, Sr.
Flanker – No. 8, Troy Manion, 6-0, 180, Sr.
Wide receiver – No. 21, Rameir Martin, 6-4, 170, Sr.
Tight end – No. 83, Doug Harig, 6-2, 195, Sr.;
No. 87, Steve Brown, 6-5, 195, Jr.
Center – No. 57, Nick Hill, 5-10, 165, Sr.
Guards – No. 65, Mike Silverthorn, 6-1, 230, Sr.;
No. 60, Jim Goff, 6-0, 180, Sr.
Tackles – No. 74, Ray Kovacsiss, 6-4, 265, Sr.;
No. 66, Tom Menches, 6-0, 240, Sr.
TIGER DEFENSE
Tackles – No. 80, Chris Roth, 6-6, 225, Jr.;
No. 77, Brent Bach, 6-1, 225, Jr.
Ends – No. 94, Jeff Perry, 6-1, 180, Jr.;
No. 95, Mike Martin, 6-1, 185, Jr.;
Inside linebackers – No. 37, Craig Turkalj 6-2, 206, Sr.;
No, 55, Mark McGeorge, 5-8, 205, Jr.;
So. Eric Wright.
Outside linebacks – No. 9, Joe Pierce, 6-2, 190, Sr.;
No. 22, Kevin McCue, 6-3, 167, Sr.
Backs – No. 20, Keith Rabbit, 6-4, 170, Sr.;
No. 5, Chad Buckland, 6-0, 185, Jr.;
Eddie Williams, Sr.;
No. 23, Don Blake, 6-1, 165, Jr.
GLENOAK OFFENSE
Quarterback – No. 14, John Vesley, 5-7, 155, Jr.
Running backs – No. 40, Brian Frenz, 6-0, 205, Sr.;
No. 44, Mike Williams, 5-11, 217, Sr.
Split ends – No. 11, Mike Herman, 5-11, 165, Sr.;
No. 13, Todd Dean, 5-9, 155, Sr.;
No. 15, John McMullan, 5-10, 173, Sr.
Tight end – No. 17, Cory Jackson, 6-3, 189, Jr.;
No. 48, Glen Hartman, 5-11, 195, Sr.
Center – No. 53, Brian Villono, 5-11, 230, Sr.
Guards – No. 64, Dave Halter, 5-11, 190, Sr.;
No. 67, Jeff Mathot, 6-1, 220, Sr.
Tackles – No. 72, Scott Esporite, 6-3, 235, Sr.;
No. 74, Tom Hawthorne, 6-3, 225, Sr.
GLENOAK DEFENSE
Nose guard – No. 44 Williams.
Tackles – No. 74, Hawthorne; No. 70, Brent
Bruckner, 6-2, 215, Sr.
Ends – No. 8, Ed Kinney, 6-3, 186, Jr.;
No. 64, Halter.
Linebackers – No. 49, Cedric Cimmons, 6-1, 207, Sr.;
No. 42, Darrin Duncan, 6-1, 205, Jr.
Safety – No. 11, Hermann.
Halfbacks – No. 18, David McDowell, 5-11, 150, Jr.;
No. 13, Dean.
STATISTICS
M G
First downs rushing 7 3
First downs passing 9 4
First downs by penalty 3 1
Total first downs 19 8
Yards gained rushing 177 53
Yards lost rushing 31 12
Net yards rushing 146 41
Net yards passing 185 82
Total yards gained 331 123
Passes attempted 19 23
Passes completed 12 9
Passes int. by 2 3
Times kick off 3 2
Kickoff average 48.7 44.0
Kickoff return yards 30 58
Punts 3 4
Punting average 32.7 34.3
Fumbles 3 0
Fumbles lost 2 0
Penalties 4 8
Yards penalized 36 42
Number of plays 64 46
Time of possession 25:03 22:57
Attendance 16.359
Glenoak 6 0 0 0 6
Massillon 0 7 0 9 16
G – Williams 1 run (kick failed)
M – Sparkman 1 run (Miller kick)
M – Safety (Vesley recovers fumble in end zone)
M – Harig 17 pass from Hurst (Miller kick)
INDIVIDUAL STATISTICS
Rushing
(M) Dixon 15-60, Sparkman 23-107.
(G) Frenz 8-38, Williams 3-0, Brown 10-2.
Passing
(M) Hurst 11-18-2 177, Wolford 1-1-0 8.
(G) Vesley 9-22-2 82, Kinney 0-1-0 0.
Receiving
(M) Sparkman 1-6, Martin 5-99, Manion 3-26, Harig 3-54.
(G) Dean 1-17, McMullen 3-21, Brown 1-5, Herman 2-18,
Jackson 2-21.