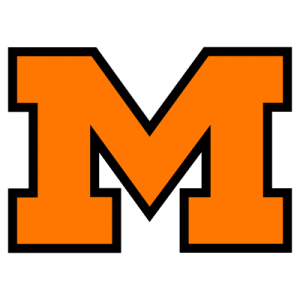 A blowout … a washout
Tigers' 56‑0 win called early in fourth quarter
By STEVE DOERSCHUK
Independent Sports Editor
MASSILLON ‑ Gotta hand it to ya', Koontzie. That was better than Art Modell's postgame fireworks stuff.
Hey, this one was during the game, such as it was, a 56‑0 Massillon Tiger tirade against Barberton that was mercifully waved off Friday after three quarters and some small change and a lot of Bart Letcavits.
"Weatherman Mark Koontz," P.A. announcer Walt Bronczek was saying along about the time a wind that would have seared the bloomers off Auntie Em kicked up, "tells us dangerous lightning and heavy rains are heading this way from the north."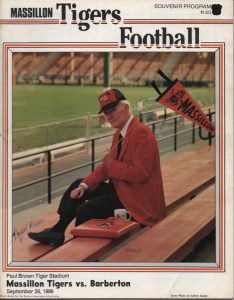 At that point midway through the third quarter, most folks among a crowd of 8,621 in Paul Brown Tiger Stadium did a fly pattern to the parking lot. The crowd included weather sleuth Koontz, a '65 Washington High grad and currently Dick Goddard's No. 1 caddy at Channel 8, up north.
The rains and the lightning came, as predicted, but long after Barberton's chances had vamoosed.
It was 42‑0 at halftime, and even though Barberton claims the nickname Magics, Houdini himself wouldn't have had a prayer in the second half. As lightning cracked and rain poured crazily down, referee Dick Szink called head coaches John Maronto of Massillon and Jack Foltz of Barberton to midfield, where all parties agreed to call it a night with 10: 08 left in the fourth quarter.
"It was a good decision," said Foltz, whose team was outgained 339‑10 in total yardage, numbers you wouldn't have expected in a battle of teams that entered with 3‑1 records.
"We‑weren't doing anything, and we weren't about to put the ball up. It was over. We just crapped down our legs."
As for Maronto, it was a night for singin' in the rain. Well, humming, maybe.
"We can't spend too much time praising ourselves," the Tiger tutor said, "We play at Fitch next week, and they're a very tough team.
"We only got to play three quarters tonight, and really, who would have expected this? Never in a million years…"
Well, never in a few years, anyway. The Tigers have a history of burying Barberton (43‑0 in 1982, 46‑0 in 1971, 90‑0 in 1959). But the Magics often play Massillon tough (they beat the Tigers 26‑24 in 1981 and 9‑7 in 1977) and the Tigers were coming off a wrenching 9‑7 loss to GlenOak.
As it worked out, the orange and black washed that loss right out of their hair.
The game was called shortly after Shannon Dryden plowed into the end zone from three yards out to make it 53‑0 at the 10:43 mark of the fourth quarter, amid thundershowers.
"We like the rain," Dryden said. "It was kinda fun playing in that. Something new."
Letcavits had his fun in the first half.
Early in the first quarter, he ran a "waggle pattern" right past speedy cornerback Jim Ferguson. Junior quarterback John Miller delivered a strike to a wide‑open Letcavits in the right corner of the end zone for a 33‑yard touchdown play.
That capped the game's opening series, in which the Tigers got Barberton "thinking run" with seven straight rushes.
Moments later, Letcavits hustled under a short punt at the 40 and returned it 23 yards to the Barberton 17. That set up a 4‑yard touchdown run by tailback Jerome Myricks, who finished the half ‑ and the game ‑ with 87 yards in 11 carries and two touchdowns.
The sky was dry, but the floodgates were open ‑ the Tigers went on to outgain the Magics 243 to minus‑two in first‑half yardage.
The next touchdown was set up by Myricks' 44‑yard run around the right side. That put the ball on the 7, from where Myricks took it over the left side on the next play for a TD. The PAT kick sailed wide and it was 20‑0 with 8:26 left in the half.
The Magics stalled on three plays and were hit with a safety when the long snap sailed high over punter Brian James' head, and he had to smother the ball in the end zone. It was 22‑0 at the 6:22 mark.
Barberton then punted to Letcavits, who made a nice return to midfield. A rushing play netted nothing, then Miller uncorked another bomb to Letcavits, who had streaked open over the middle. The pass looked too long, but the 5‑11 senior made a spectacular fingertip catch while doing a belly‑smacker at the 1. Letcavits drew a spontaneous standing ovation as he left the field. Miller scored on a quarterback sneak on the next play and Lee Hurst's kick made it 29‑0 at the 5:13 mark.
It took the Tigers 28 seconds to score again … when senior cornerback Matt Swank bolted in front of Barberton tight end Dan Cuckler, stole sophomore quarterback, Butch Momilov's short pass and raced 48 yards down easy street for a TD. Hurst's kick made it 36‑0.
Barberton went nowhere again and had to punt. It appeared the half would run out with no more damage to the Magics when Miller was under a heavy rush with time running out in the half. However, he scrambled out of trouble and took off over the middle … but lost the ball at the 23‑yard line. Letcavits was in the neighborhood, picked up the pigskin and raced in for another TD that beat the halftime gun by 13 seconds.
It wasn't the first big night for a Letcavits in Tiger Stadium. Bart's father, Jim, a veteran Tiger coach, was an All‑Ohio end at Massillon in 1953.
But what a night.
"It doesn't hit me that heavy right now," Letcavits said. "Really, it just seemed like another game. The main thing is that the team came out and executed the plays on offense and defense."
It was a big night for Swank, too.
"I came here from GlenOak after my sophomore year, and it crushed me ‑ it crushed everybody on the team ‑ to lose to GlenOak last week," Swank said. "This was a great way to come back. Our defense came in and right off the bat we intimidated them. Early in the game, after some of our plays were working pretty well, you could tell by looking in their eyes that they didn't want to play us any more."
Dryden said the Tigers quit thinking about GlenOak early in the week.
"When we came back to practice Monday everybody was quiet in the locker room," Dryden said. "Coach Maronto came in and told us we just had to drop our feelings about GlenOak and get on with things. He was right. We'd put so much effort into this season that there was no point in letting one loss bother us any more."
In‑the end, the Tigers led 339-10 in total yardage. Barberton had the ball for only 14 minutes, 31 seconds. Other than a first half series that followed a Barberton fumble recovery near midfield, the Magics never got the ball past their own 26‑yard line.
The Tigers so completely dominated the game that it's hard to imagine what the 90‑0 contest in 1959 must have been like.
But one thing bothered Maronto. The Tigers fumbled five times, losing the ball once, all before it rained.
"There's no excuse for that," Maronto said. "If we fumble it five times against Fitch, we'll get our butts blown out.
"We just need to perform with consistency no matter who our opponent is. Our opponent should be 'X.' Our job is to execute our plays. We've done that four weeks out of five."
As top individual statistics, nine different Tigers carried the ball. Fullback Mike Norris traveled 75 yards in nine carries and scored a third‑quarter touchdown. Miller picked up 40 yards in four totes.
Miller completed three passes in five attempts for 91 yards. Senior Ken Hawkins, a 6‑8 tight end, got his first catch of the season. Backup quarterback Erik White started the second half. He tried only one pass, though.
Ferguson, Barberton's speedy running back, gained 20 yards in 13 carries. Momchilov completed two of 15 passes for three yards. Plays that lost yardage were the reason the Magics wound up with just to total yards.
MASSILLON 56
BARBERTON 0
M B
First downs rushing 9 2
First downs passing 3 0
First downs by penalty 2 0
Totals first downs 14 2
Yards gained rushing 256 36
Yards lost rushing 8 29
Net yards rushing 248 7
Net yards passing 91 3
Total yards gained 339 10
Passes attempted 6 17
Passes completed 3 2
Passes int. by 1 0
Times kicked off 8 1
Pickoff average 44.0 46.0
Kickoff return yards 39 70
Punts 1 6
Punting average 39.0 32.8
Punt return yards 31 0
Fumbles 5 1
Fumbles lost 1 0
Penalties 3 4
Yards penalized 35 41
Number of plays 45 34
Time of possession 33:29 14:31
Attendance 8,621
BARBERTON 0 0 0 0 0
MASSILLON 14 28 7 7 56
MASS ‑ Letcavits 33 pass from Miller (Hurst kick)
MASS ‑ Myricks 4 run (Hurst kick)
MASS ‑ Myricks 7 run (kick failed)
MASS ‑ SAFETY, punt snap sailed into end zone
MASS ‑ Swank 48 interception return (Hurst kick)
MASS ‑ Letcavits 23 advance of fumble recovery (kick failed)
MASS ‑ Norris 50 run (Hurst kick)
MASS ‑ Dryden 3 run (Hurst kick)