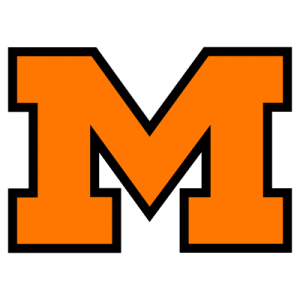 Tigers rout Rams 21‑0
By STEVE DOERSCHUK
Independent Sports Editor
MASSILLON ‑ The Tigers won a triangular last night.
Their foes were Akron Garfield and Popular Opinion.
They battered the Rams 21‑0. And they routed the rumors.
"We shut down a lot of rumors tonight," said Bart Letcavits, one of five Tiger football captains. "We showed we can pass. We showed we can move the ball. We showed we can put points on the board."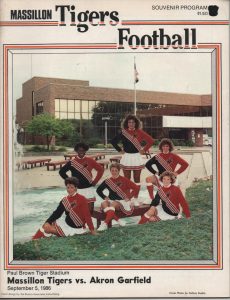 Three completions in five attempts won't start any talk about "Air Maronto." And 21 points are hardly unusual for the home team in Paul Brown Tiger Stadium.
But the 34‑yard gainer to Letcavits that set up Massillon's second touchdown was a rifle shot that showed junior quarterback John Miller just might have a gun.
And the 21 points weren't scored on any Tom, Dick or Harry. Try Bill. Bill McGee's Garfield team had won in its last three trips to P.B.'s Big House.
"We enjoyed what we've had here," McGee said afterward. "Tonight, it was pretty clear cut. We got beat by a better team."
Of John Maronto's even dozen games as head coach of the fabled orange and black, this was clearly his brightest hour.
"The good news is, we're just starting to get better," Maronto said.
"We showed we're capable of being very good in all facets of the game. We were able to play the type of football Massillon must play to beat a great team."
In the end, it was Massillon's night in every way.
But the Tigers had to get past a scary beginning.
On its first possession, Garfield made it look easy as in marching the ball to the 1‑yard line.
Massillon nose guard Andre Horner, who went on to play an outstanding game, was on the sidelines at the time.
"I said a little prayer…'God, pull us through this,' "Homer said.
On second down, junior running back Harold Mitchell was separated from the ball and Massillon linebacker Kevin Spicer recovered at the 3.
Four plays later came one of the more spectacular runs of Massillon's last 10 years. On third‑and‑four from the 21, junior running back Jerome Myricks took the pigskin over the right side of the Tiger line.
"I saw a lot of defenders, so I just cut it back the other way," Myricks said.
Guard Tony Lambert threw a good block that helped Myricks get to the outside. Then he showed his back to the Rams. He had one man to beat, returning starter Frank Washington, a cornerback, who had a clean angle to make a tackle at about the 20. But Myricks' speed and a block by Miller opened the gates to the end zone.
The crowd of 10,320 roared. Myricks had scored on a 79‑yard run. Lee Hurst's PAT kick made it 7‑0 with 1:54 left in the first quarter.
What had seemed to be a certain 7‑0 Garfield lead instead went the opposite way.
"Even though Myricks ran the ball only once (for 12 yards in a 7‑0 win over Akron Buchtel) last week, we knew he was quite a threat," McGee said. "We scouted him in scrimmages. You can tell just by the way he runs pass patterns what kind of skills he has."
Myricks wound up with five carries for 96 yards. In two games, he has gained 108 yards in six totes. That's an average of 18 yards a carry. That's not bad.
"We weren't just an offense with Mike Norris," Maronto said.
Just so. The quarterback Miller also made five carries, picking up 57 yards. The fullback Norris, who rushed for 130 of Massillon's 178 yards last week, gained 64 yards in
20 trips.
"Mike Wilson (held to two yards in four carries) is a great asset to our offense, too," Maronto said. "If they gets revved up, we'll have all the tools."
Miller wound up completing three of his five passes for 44 yards. They were his first completions of the year.
Many of the Tigers' fans came to the ball park itching to see a more wide open offense than the one that hadn't scored on Buchtel until the fourth quarter.
The first completion of the year was a 5‑yard strike to Letcavits with 3:17 left in the first half. Many of the fans on the roof side rose in a standing ovation.
Asked to assess the passing game, Maronto said, "John Miller needs more opportunities, and he'll get there as the season goes along.
"We'll concentrate on building a strong running game, but we have good receivers and we can pass the ball.
"We shouldn't forget that the Buchtel team we beat last week was a very good, a very fast, team. The football we've played the last two weeks might not be what some people consider good football. But it's good football."
It took good football to contain Garfield's resourceful junior quarterback, Todd Johnson. And that's what the Tigers got in limiting Garfield to 176 yards. Fifty‑five of those yards came on the final series of the game, a play‑for‑pride drive on which the Rams drove to the 15 before the Tigers sealed their second straight shutout.
The Tigers wound up with 263 yards on the night.
"Massillon is basically just a big, strong, good team," said McGee, whose team was bothered by losing three fumbles, just as it was plagued by losing four fumbles in a 20‑0 loss to Lakewood St. Edward a week earlier.
Myricks' touchdown held up for a 7‑0 halftime lead.
Garfield received the second‑half kickoff and started out in a pro set instead of its usual T‑formation ‑ a come‑from‑behind strategy.
Halfback Brent Williams burst through the line on the first play from scrimmage and was on his way to a 12‑yard gain when the ball was jarred loose and squirted wildly upfield. Tiger tackle C.J. Harris won the race and recovered at the Garfield 40‑yard line.
The Tigers' first play of the second half became the long pass to Letcavits.
"I was in motion from the left side and Mark Kester ran a post pattern to the middle," said Letcavits. "That attracted a crowd to him and left me pretty wide open. I don't really remember what happened after that, except that it was exciting to catch the ball."
The next play was a trap up the middle. The offensive line of center Todd Feemster, tackles Hostetler ‑ and John Schilling and guards Lambert and John Woodlock did its thing. Norris waltzed through a hole up the middle from six yards out. The PAT kick sailed wide right and the Tigers led 13‑0 with 50 seconds left in the third quarter.
That pretty much wiped out memories of 1985, when the Tigers led 6‑0 at halftime but went on to lose 14‑6.
The ghost of '85 was totally blown away by an 86‑yard drive ending midway through the fourth quarter.
The big play was a "naked bootleg" in which the Tigers faked a run to the left side and sent Miller around the right side for a 39‑yard gain.
Norris eventually scored on a 3‑yard run, then tacked on a two‑point conversion.
Garfield's only scoring threats were on the Rams' first and last possessions.
The only statistic in which Garfield held a clear edge was time of possession. It was 25:10 for the Rams and 22:50 for the Tigers.
None of that kept the Tigers from having a hot time in the old town last night.
MASSILLON 21
GARFIELD 0
M G
First downs rushing 6 6
First downs passing 1 3
First downs by penalty 0 0
Totals first downs 7 9
Yards gained rushing 228 142
Yards lost rushing 9 27
Net yards rushing 219 115
Net yards passing 44 61
Total yards gained 263 176
Passes attempted 5 7
Passes completed 3 4
Passes int. by 0 0
Times kicked off 4 1
Kickoff average 46.8 45.0
Kickoff return yards 13 36
Punts 6 5
Punting average 34.3 37.6
Punt return yards 12 00
Fumbles 0 3
Fumbles lost 0 3
Penalties 5 1
Yards penalized 58 5
Number of plays 38 44
Time of possession 22:50 25:10
Attendance 10,320
GARFIELD 0 0 0 0 0
MASSILLON 7 0 6 8 21
Mas ‑ Myricks 79 run (Hurst kick)
Mas ‑ Norris 6 run (kick failed)
Mas ‑ Norris 3 run (Norris run)