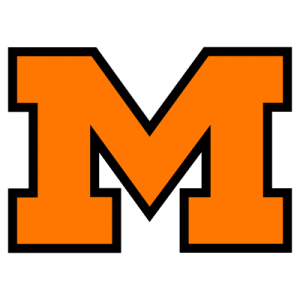 Tiger defense 'de‑masks' Buchtel '7‑0
Massillon stops Griffin option attack
By STEVE DOERSCHUK
Independent Sports Editor
MASSILLON ‑ The Akron Garfield ‑ oops, make that Buchtel Griffins were "de‑masked" by the Massillon Tigers Friday night.
But for a while the Buchtel boys played a swell game of charades before bowing to the Tigers 7‑0 in the season football opener for both teams. A crowd of 10,128 ‑ possibly the biggest in Ohio ‑ watched in Paul Brown Tiger Stadium.
"They didn't run their offense. They ran Garfield's offense," said John Maronto, who is now 2‑0 in season openers as Washington High's pigskin pilot.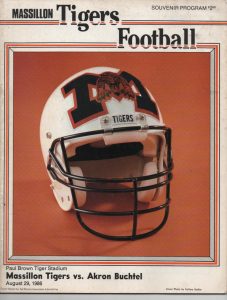 It wasn't a bad idea. Garfield's option attack, loaded with potentially confusing counter plays, caused enough trouble to spell defeat for Maronto's 1985 Tigers.
And Buchtel's impersonation was starting to look like the real thing when, on their second possession, the Griffins drove 55 yards in eight rushing plays to the Tigers' 3‑yard line.
That threat ended when Massillon senior Matt Swank shot in from the left side to block Marvin Bright's 21‑yard field goal attempt.
Stopping that drive opened the door for Massillon's "bowling ball" to strike.
Mike Norris, a wide‑body of a fullback at 5‑10, 212, gave the Tigers 124 rushing yards in 30 carries and smashed through the line for the yards that set up the game's only score.
Junior quarterback John Miller sneaked in from a yard out with 8:40 left in the game, and freshman place‑kicker Lee Hurst nailed the PAT kick that cemented the final score at 7‑0.
The game‑winning drive began after a Buchtel punt plopped dead at the Tiger 6‑yard line early in the third quarter. Massillon marched 94 yards in 18 plays (all runs), gobbling up 9:06 of the game clock.
Norris got 10 of the carries for 38 yards during the drive.
"I could feel them (the Griffin defenders) starting to slack off later in the game," said Norris, whose running mate was Mike Wilson in the absence of injured returning starter Mike Harris. "They started missing a few assignments, letting things open up a little.
There was no doubt in my mind we were gonna win. They were gettin' tired and it was just a matter of time."
You'd get tired, too, if a 240‑pound muscleman was beating up on you all night. That was Buchtel's plight when the Massillon offensive line, anchored by senior captain Lance Hostetler (6‑4, 240) started puttin' on the hits.
"The line blocked real well, no question about that," Norris said. "I think I owe them a pop, or something."
A win is a win is a win, but this win wasn't an overwhelming one for a Tiger team ranked eighth in the nation in the USA Today that hit the streets several hours before the game.
The Tiger defense was solid in the end, limiting a Buchtel team that is no patsy to 136 total yards. But the Massillon offense piled up just 178 yards.
Maronto sees a need for improvement before next week's game, against the real thing, Akron Garfield.
"We beat a good team with a lot of talent, but Garfield is at least two touchdowns better," the Tiger coach said.
Friday night, Buchtel was the better team for a half. The Griffins outgained the Tigers 112 yards to 55 over the first two quarters.
"The offense sputtered at first," Maronto said. "We tried to be diversified too soon."
After a while, Maronto said the players started talking about "just running the ball, and that's what we did.
"We have a lot of confidence in areas of our team that didn't look that good on the field today," Maronto said. "But I'll tell you one thing, I like the character of this team. That was a great scoring drive. And the defense played extremely well in the second half."
Tim Flossie, starting his fifth year at Buchtel, was proud of his team's outing.
"We had a chance to score 10 points and came out with nothing. Massillon had one drive and cashed in, and that was the story," Flossie said. "We should have won, but they're a good team. Physically, they hurt us. They're a strong team.
"We had a hard time handling that No. 34 (Norris). And if they get their other horse (Harris, who is due to return in two weeks) with him, they'll be hard to handle."
If this game had been a food, it's name would have been ground chuck. Of the Tigers' 53 plays, three became pass attempts ‑ with no completions. Of Buchtel's 36 plays, six were passes ‑ there was one completion for six yards and one interception which Tiger linebacker Jerrod Vance returned 33 yards.
Buchtel's wishbone got rolling just after the Griffins took the opening kickoff. Junior running back Marcus Jennings gained 13 yards on a counter, and another junior back, Tim Andrews, bit off 16 yards on the next play.
The Griffins made it to the Massillon 39 before stalling, but the Tigers' first possession started on their own 6 after a punt.
On second‑and‑11 from the 15, things got hairy. Miller lost the handle on the ball and it squirted toward the goal line. Norris won a chase for the ball and fell on it inside the 1. On the next play, Norris' 11‑yard run gave Ken Hawkins plenty of room to punt.
Hawkins got off a line drive that turned into a 46‑yard boot, but Buchtel launched another drive. An 11‑yard run by quarterback Ron Shannon, a move‑in who supplanted a QB who had started since his freshman year, put the ball at the Tiger 11 on first down. Then Andrews ran another counter play that put the pigskin at the 3.
But the Tigers held Buchtel to minus‑one yard on the next two plays, forcing a field goal attempt. Swank sprinted in from the outside and made a clean block with his hands to keep the Griffins off the board.
The moment he made the block, Swank sprang to his feet, clapped his hands and tackled place‑kicker Bright at the 20 on the second play of the second quarter.
The Tigers made their first strong move on offense, driving to the Buchtel 35. But on fourth‑and‑eight, a Norris run was stopped for a yard gain, and Buchtel took over.
Flossie referred to "10 points" he thought his team should have scored. The first three became the blocked field goal. The other seven were lost one play after Norris was stopped for that yard gain.
On first down, Buchtel went to the bomb, and it was open, but sophomore Lester Carney couldn't hold onto the ball as it hit him in the hands while he was in full stride, five yards ahead of two Tiger defenders.
Five plays later, Shannon tried another pass, but this time Vance picked it off and returned it to the Buchtel 32‑yard line. A facemask call gave the Tigers a first down on the 12‑yard line.
But as it turned out, Buchtel wasn't the only team to misfire on a scoring chance. The Tigers got backed up to the 21 and lost the ball on a fourth‑and‑long incompletion on the next‑to‑last play of the first half.
The Tigers took the second‑half kickoff but were forced to punt. Buchtel got good field position at its own 41 and moved to the Tiger 44 before Massillon linebacker Hoagy Pfisterer served up a big play, sacking Shannon for a 10‑yard loss that led to a punt.
The punt pinned the Tigers deep in their own territory, at the 6, but they blasted their way up field on the runs by Norris, with help from rushers Wilson, Miller and Vernon Riley.
The offensive line of Hostetler, guards Tony Lambert and John Woodlock, tackle John Schilling and center Todd Feemster ‑ averaging around 250 pounds ‑ began working well together, the gains during the drive were as follows: 4, 6, 6, 3, 12, 3, 0, 5, 6, 7, 0 (third quarter ends), 6, 5, 7, 3, 6, 1, 1.
Neither team kept the ball longer than a few plays the rest of the way.
In one tense moment for the Tigers, Shannon threw another bomb on which a Massillon defender brushed against the intended receiver on a play that had the Buchtel bench screaming for an interference call. But back judge Henry Armsted, who worked in the Rose Bowl in January, opted not to pull his yellow flag.
On fourth‑and‑one from the Buchtel 44, Tigers Jerry Gruno, Vance and Pfisterer swarmed over Jennings and the ball went over to Massillon on downs.
The next two plays resulted in turnovers. Norris fumbled the ball away to the Griffins on the first one.
The second one was spectacular. The Buchtel quarterback delivered a short pass over the middle on a naked screen that was caught by Andrews, who absorbed a nuclear hit from Perdue that popped the ball loose and sent it more than five yards to where Tiger linebacker Bob Foster picked it out of the air with two minutes left in the game.
Buchtel regained possession with two seconds left but failed to get off a play.
The speedy Andrews finished with 63 yards in 11 carries, while Jennings got loose for 45 yards in six totes. For the Tigers, Wilson gained 26 yards in seven carries, while Jerome Myricks gained 12 yards on his only rushing attempt.
MASSILLON 7
BUCHTEL 0
M O
First downs rushing 10 8
First downs passing 0 0
First downs by penalty 3 0
Totals first downs 13 8
Yards gained rushing 201 151
Yards lost rushing 23 15
Net yards rushing 178 136
Net yards passing 0 4
Total yards gained 178 140
Passes attempted 3 6
Passes completed 0 1
Passes int. by 1 0
Yardage on pass int. 33 00
Times kicked off 2 1
Kickoff average 47.0 46.0
Kickoff return yards 0 20
Punts 3 3
Punting average 24.3 30.0
Pont return yards 0 0
Punts blocked by 0 0
Fumbles 3 1
Fumbles lost 1 1
Penalties 6 5
Yards penalized 40 37
Touchdowns rushing 1 0
Number of plays 53 37
Time of possession 29.26 18.34
Attendance 10,128
BUCHTEL 0 0 0 0 0
MASSILLON 0 0 0 7 7
MASS ‑ Miller 1 run (Hurst kick)
Extra muscle a big hit
with Tiger LB Perdue
By STEVE DOERSCHUK
Independent Sports Editor
MASSILLON – Forty pounds later, Todd Perdue is impressed.
The Massillon Tigers' senior linebacker is a believer in what an off-season conditioning program can mean now that he's been through another season opener, in this case a 7-0 Massillon win over Akron Buchtel last night.
"That hit was the difference between a 220-pound hit and a 180-pound hit," Perdue said.
It cam in the fourth quarter at a time Buchtel was trying to make a last-ditch drive to overhaul the Tigers' 7-0 lead. Buchtel quarterback Ron Shannon delivered a short strike over the middle to Tim Andrews. A split second after Andrews began running with the catch, Perdue ran into him like a ton of bricks.
The ball literally was blasted loose, traveling more than five yards to where Perdue's teammate Bob Foster picked it out of the cool air.
Perdue played inside linebacker at about 180 pounds in 1985. This year, his 6‑1 frame is packed with 220 pounds of muscle.
Perdue and other Massillon players obviously appreciate the strength they added in the weight room. A regular scene last night had Tiger players embracing Tiger strength coach Steve Studer on the sidelines after a good play.
The Tigers looked stronger as Friday's game progressed. In the first half, they had been outgained 112 yards to 55. In the second half, they limited Buchtel to 39 yards.
"We were shaky at first, but C.J. Harris, Jerry Gruno and James Bullock (the defensive front wall) started closing things down, and that made it easier for me and Jerrod (Vance, the other inside linebacker).
"If we'd played the whole game like we played the second half, well … I think you'll see us get better each week," Perdue said.
John Miller, the junior who got his first varsity start at quarterback, said he agrees.
"We'll get better," the 6‑1, 191‑pounder said.
Asked if he had opening‑game jitters, Miller nodded his head in the affirmative.
Asked if he had fun, Miller said, "I loved it. The jitters are gone. Now let's play some more ball."
Miller said his thoughts were positive even when things weren't going well for the Tigers.
"In the second half we just came out and got it done," he said. "I knew we'd get it in there."
Mike Norris, the senior fullback who gained 124 yards in 30 carries, said others on the team felt the same way.
"There was no doubt in my mind that we were‑gonna win," he said.