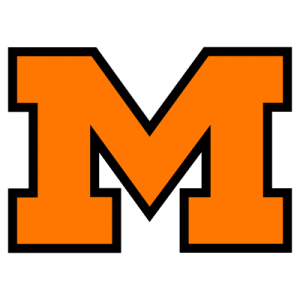 Akron Garfield beats Tigers on home turf
BY STEVE DOERSCHUK
Independent Sports Editor
MASSILLON ‑ Around the U.S.A., Garfield is known as a funny cartoon strip.
Around Tigertown, Garfield is known as a bad summer rerun.
Friday night at Paul Brown Tiger Stadium, Akron Garfield High gave the Massillon Tigers the summertime blues for the third straight year, stealing away with a 14‑6 victory before 10,901 sweat‑soaked fans in Paul Brown Tiger Stadium.
Two summers ago, the Tigers had Chris Spielman, but the Rams had Charles Gladman and won 14‑10. The defeat kept Massillon out of the playoffs.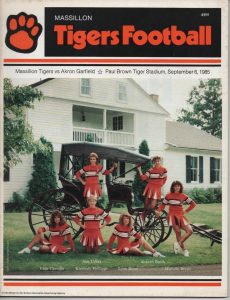 Last year, the Rams rubbed it in but good, winning 29‑12. The game sent the Tigers reeling to a 6‑4 record.
This time, Garfield scored twice in the fourth quarter, seizing control of the game after looking lost on offense for the longest time.
These games against the Rams just haven't been any fun at all.
"This is a great feeling," said Garfield head coach Bill McGee. "I don't think any team has ever beaten Massillon three times in a row on its own field."
McGee was wrong there. McKinley beat Massillon 11 straight times from 1894‑1906, according to research done in the wee hours this morning by statistician Tom Persell. But it's been a while, folks.
Rubbing salt into the wound was the fact Garfield prevented the Tigers from reaching their 600th victory, a national high school football landmark.
John Maronto, the Massillon mentor, is one of those coaches who would prefer a sharp stick in the eye to a defeat. He was very unhappy.
"We got our (posteriors) kicked," he said. "We were out‑coached and out‑played."
The outcome left both teams with 1‑1 records.
None of the Tiger players thought it left them with another season ruptured by the Rams.
"We can't give up," defensive tackle Duane Crenshaw said. "We don't want another 6‑4 season. We want to go 9‑1, and that's gonna take a lot of work."
"We have to learn a big lesson from this," said Wes Siegenthaler, who accounted for the Tigers' points with an 83-yard punt return. "We've gotta show a lot of character.
"Losing tonight is the worst feeling in the world. It's hard to accept. We've worked harder than any team in the state."
"We're not giving up now," linebacker Hoagy Pfisterer said. "This just means we'll have to work even border."
Bill McGee said his team has worked pretty hard. He helped by doing his homework.
The plays that forged the victory revolved around some tricky fakes which had the Tigers, who played well on defense most of the night, tackling the wrong guy.
Before Garfield's first touchdown, the Rams were going nowhere. Their longest "drive" through three quarters was 22 yards.
The Tigers, on the other hand, plowed to Garfield's 3‑yard line on their first two possessions. But neither possession brought any points; first, the Tigers ran out of downs, then they missed a field goal.
Maronto, who spent 11 years as the head coach at De La Salle High in the Detroit area, was mystified over the squandered opportunities.
He said his De La Salle teams scored 29 of 30 times in similar situation s.
"We have to evaluate why we didn't put it in," he said.
Siegenthaler eased the frustration with his graceful run. He fielded Don Edwards' 40‑yard punt near the right sideline, picked up two key blocks and outran everybody Mike Norris' PAT try sailed wide right and it was 6‑0 with 45 seconds left in the first quarter.
The Tigers came close to putting away the game in the third quarter. They began an their own 45 after a short punt, got a first down on a pass interference call, then faced fourth and five from the Rams' 40. The Tigers lined up to punt but the snap was whipped to Derrick Newman, who made it only to the 38.
The Massillon crowd enjoyed the gamble and gave the Tiger punting team a loud ovation as it left the field. But Garfield had the ball.
Sophomore quarterback Todd Johnson, who by this point was making the Tigers guess whether he bad the ball or had given it to a running back, went 17 yards on a keeper to the Massillon 42 as the third quarter ended.
On the first play of the fourth quarter, the Tiger defense again bit on the wrong ball carrier, and 5‑foot‑4 fullback Terrick James squirted 17 yards to the 25. The quarterback then kept again and went 13 yards to the 12.
On fourth‑and‑two, Johnson faked to James, who was creamed at the line as Johnson skirted the left side and ran into the endzone untouched. Fred Wolfe's PAT kick split the uprights and it was 7‑6 Garfield with 9:05 left in the game.
Now the Tigers had to move.
As they awaited the kickoff, the stats sheet showed their second‑half running plays netting gains of 1, 3 and minus‑1 yards. The passing game yielded gains of 8 and 6 yards and three incompletions. That's 17 yards.
The Tigers started from their 30 and made a first down to the 42 on a Paul Fabjanich pass to Siegenthaler. But on third‑and‑five, another pass went to Siegenthaler, who straggled mightily to spin past the first‑down marker. As he wriggled, the ball popped loose. Garfield's Dave Whiddon snatched it out of the air and advanced it to the Tiger's 35.
Now the Tigers were wary of Johnson's runs to the outside. That may have helped leave the middle wide open for running back Paul Brown to ramble 26 yards up the middle to the 5. Two plays later, James smashed in from the one. Wolfe's kick made it 14‑6 with 3:10 left in the game.
Now the Tigers were thinking touchdown, two‑point conversion and overtime. They started on their own 37 and drove to the Rams' where it was second‑and‑seven. Fabianich lofted a pass toward the right corner of the end zone, but Garfield field's Steve Fowler stepped in front of Bart Letcavits to make an interception with 1:19 left.
The Rams sat on the ball deep in their own territory and ran out the clock.
"The key to the game was our defense," said McGee, whose Rams held the Tigers to 198 yards ‑ Garfield field amassed 247 yards.
"They did a good job of preparation for us," added McGee. "They pulled out all the stops."
Area prep grid stats
GARFIELD 14
MASSILLON 6
M G
First downs rushing 2 10
First downs passing 6 1
First downs by penalty 1 1
Totals first downs 9 12
Yards gained rushing 67 233
Yards lost rushing 1 5
Net yards rushing 66 228
Net yards passing 132 19
Total yards gained 198 247
Passes attempted 21 8
Passes completed 11 2
Pass int. by 1 1
Times kicked off 2 3
Kickoff average 48.0 34.7
Kickoff return yards 23 21
Punts 2 4
Punting average 38.0 29.5
Punt return yards 84 9
Punts blocked by 0 0
Fumbles 3 4
Fumbles lost 2 1
Penalties 2 4
Yards penalized 10 40
Touchdowns rushing 0 2
Touchdowns passing 0 0
Miscellaneous touchdown 1 0
Number of plays 46 49
Time of possession 19:30 28:30
Attendance 10,901
GARFIELD 0 0 0 14 14
MASSILLON 6 0 0 0 6
M ‑ Wes Siegenthaler 83 punt return (kick failed)
G ‑ Todd Johnson 4 run (Fred Wolfe kick)
G ‑ Terrick James 1 run (Wolfe kick)
600th win is worth savoring
MASSILLON ‑ The year was 1899. Football coaches weren't talking in terms of having enough horses to win. They were hoping for enough horses to get the play to the games.
A fellow named Bill McKinley was calling the shots in Washington. He'd not been around long enough to have a high school named after him.
George Washington had paid his dues, and the high school in Massillon took his name. Football was a strange new sport at the high school. Some townsfolk knew not what to make of it. Imagine, an alley fight in broad daylight.
In 1899, winning wasn't everything. It wasn't anything.
Going into the last game of the '99 season, Washington High had never won a game. Not that, many folks cared.
The '99 campaign brought losses of 26‑0 to Wooster and 34‑5 to Claytown. If there were thoughts of salvaging the season, they were all directed toward the next game, the third game, which also happened to be the last game.
The opponent for the '99 finale was Massillon Business College, where they knew nothing of E.F. Hutton, but knew something about running the football.
In a real war, the high school team ran up a 30‑0 lead then held off the college team to win 35‑34.
All of the players from the '99 squad have departed to the Great Gridiron in the Sky.
None of the players on the 1985 squad came into the world until about 70 years later.
But now there is a link between the players from those two different teams.
The boys of '99 got No. 1. The boys of '85 bagged No. 600 Friday night, putting it to Warren Harding, 34‑0.
If you closed your eyes, maybe a chill ran up your spine. Maybe you heard the hollow echo of the clapping of the ghosts who found their way to the sidelines Friday night.
Six‑hundred wins.
Roll that around on your tongue for a while because it's worth a savor.
Consider this: No other high school football team in the country has rolled up 600 wins.
Six hundred wins … that'd be 10‑0 for 60 years.
Six hundred wins … that's more Paul Brown and Leo Strang and, yes, Mike Currence than you can shake a stick at.
Six hundred wins.
That's something to be proud of.
Cincinnati Moeller has The New Dynasty. It doesn't have 600 wins.
Canton McKinley has that state playoff title. It doesn't have 600 wins.
Texas and California have some high school football teams whose fans say are good enough to make the Ohio powers look silly. Tell 'em to come on over and play the team with 600 wins some year when the Tigers are loaded.
Enrollment has toppled. The economy stinks. But, hey, there are those 600 wins, and there's John Maronto, the coach who says he wants to make it so folks in Texas and California learn all over again that Massillon is the town where the best program is.
Now, that'll be one tough nut to crack.
"Paul Brown can't do one thing for us tonight," John Weider, the timekeeper for the last 11 years, was saying at halftime of Friday night's game. "It's great to have tradition, but it comes down to those players who are down there tonight having to do it for themselvers."
They've been doing it pretty well, even in the absence of state championships for pretty many years now.
"When Paul Brown was here, the population of Massillon was 29,000, and the high School enrollment was 1,800," John Weider said. "Now the population is 32,000, but the high school enrollment is 1,200. Earle Bruce was talking not long ago about bumping into former Ohio families who are living in the south now.
"Our town's getting older. We have fewer boys. But I wonder if there's any other town of 32,000 that has done as consistently well as we've done over all these years. I think we've got a tremendous record."
The timekeeper spoke wisely.