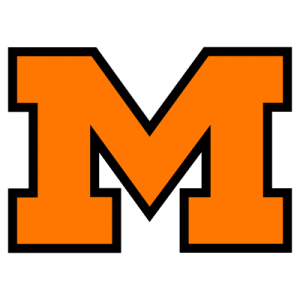 Tigers win wild one 38-31
By STEVE DUNGJEN
Independent Sports Editor
MASSILLON ‑ You've no doubt heard about the famed shootout at the OK Corral.
Well, that was nothing compared to what transpired Friday night at Paul Brown Tiger Stadium when Massillon outscored Stow 38-31 before 9,561 awe-struck fans.
A total of 912 yards in offense was generated, 577 of that coming on the passing arms of Massillon's Mike Scott and Stow's Pat Williams.
It was a blitzkrieg that left old, timers shaking their heads in disbelief. For the young of heart it was New Wave football at its best.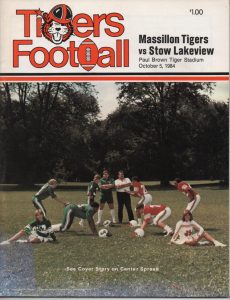 The aerial display left Stow head coach Gary Mattes staring into the empty stands afterwards. He couldn't believe what took place.
Not even a 19 point Tiger lead entering the final quarter was safe. Not with a football in Williams' hands.
The common belief among the fans was that whoever had the ball last would win … and Massillon had the ball last.
Not since a 68‑7 win over Akron St. Vincent in 1970 have the Tigers, now 3‑3 on the year, been involved in a game in which so many points were scored.
"If it's all right with you," Tiger head coach Mike Currence chided his offensive coordinator Nick Vrotsos, "I'd rather not see another offensive game like that."
They both smiled at one another, because they liked what they had just witnessed on the field of play.
One person not smiling after the game was Mattes.
"I'm drained," he said. "We did not expect the game to be as high scoring as it was. I think the fans more than got their money's worth.
"I guess it was just one of those ballgames."
Stow came into the game having permitted just 35 points in five games. They left wondering if they had any defense left at all.
But the same could be said of the Tiger defense, which has now given up 105 points. Not since the 1921 team gave up 140 points has a Massillon team yielded that many points after six outings.
And in a game dominated by the offense, it took a pass interception by Tiger safety Antwan Jones to seal the victory in the final minutes.
Scott's numbers were awesome. The senior completed 19 of 32 attempts for 302 yards and two touchdown. He was not intercepted.
Williams was also up to the task. The Bulldog senior went to the air 24 times and completed 15 for 253 yards and four touchdowns.
With those kinds of numbers, someone at the receiving end was bound to post impressive numbers of their own. And the duo of Tiger Bruce Spicer and Bulldog Cyle Feldman did.
Spicer hauled in eight passes for 133 yards and one score. Feldman was on the receiving end a like number of times for 147 yards and three TDs.
Did someone mention a running game? It was there and in full force for the Tigers as well.
Massillon somehow came up with 231 rushing yards on 45 carries Fullback Duane Crenshaw had 72 yards, Cornell Jackson 71 and split end Wes Siegenthaler reeled off 64 on an end around reverse en route to a third-quarter score.
All told, the Tigers generated 24 first downs, and 533 yards. A big part of their success was an uncanny ability to convert third downs into first downs. That they did 12 of 18 times.
Massillon was the first to draw blood, scoring with 3:01 left in the opening period when Irwin Hastings ran in from five yards out. Dan Kozma added the first of his two point-after kicks.
The biggest play in that opening score was when George Olshawsky recovered a Jackson fumble at the Stow 36.
Stow (4‑2) came right back to even things up when Williams hit Feldman on a 45‑yard scoring strike 69 seconds later. Williams then added the PAT.
Following a 22‑yard punt return by Siegenthaler, the Tigers marched 55 yards in eight plays to paydirt when Duane Crenshaw went over from nine yards out. Kozma added the PAT.
Then things started to heat up in earnest.
First, it was Stow's turn. The Bulldogs want 66 yards in nine plays with Mike Braccio punching in from a yard out. A big play was a Feldman pass ‑ he did a little of everything – to Braccio for 23 yards.
Now it was Massillon's turn to score on the ensuing set of downs when Scott found Spicer on a 41‑yard TD pass down the right sidelines with 3:43 still left. The two connected earlier on a 14‑yard pass on a third‑and‑nine situation.
But, Stow wasn't through yet. The Bulldogs lit the scoreboard up with 1:32 left in the halt when Williams hit Mike Tersigni from 22 yards out to culminate a nine‑play, 74‑yard drive.
Entering halftime, the Tigers were clinging to a 20‑19 lead.
And if play in the first half wasn't enough for the fans to chew on during intermission, they were in for a double treat by each school's band show.
Following a stimulating halftime show, the third period belonged strictly to the Tigers as Stow ran off just five plays.
The Tigers took the opening kickoff of the second half and promptly marched 75 yards in 12 plays, eating up nearly six minutes. The prolonged drive was capped by Crenshaw's 2‑yard run.
But there were key plays galore in that drive, all pass plays from Scott. The first was a 14‑yard toss to Siegenthaler, the next a 27‑yard pitch to Hastings and the third an 11‑yard gain to Spicer. All three passes came in third‑down situations.
Massillon's defense ‑ believe it or not! ‑ then set up the next Tiger score on a Pete Johnson fumble recovery. A shanked 7‑yard punt set up the second.
Johnson's recovery gave the Tigers the ball back one play after Crenshaw's score. Massillon then went 43 yards in six plays with a 10‑yard TD pass from Scott to Hastings capping things.
The shanked punt gave the Tigers the ball at their own 36. One play later and the Tigers caught the Stow defense off guard as Siegenthaler was off to the races on an end around reverse for 64 yards, with Scott throwing a key block down field.
Siegenthaler's TD made it a 38‑19 score with less than a minute remaining in the third period.
A Tiger victory was assured, right? I mean, didn't Ed Wentzel then recover a fumbled kickoff to give Massillon great field position again? Yes, but no to the assured win.
"We just seemed to lose our concentration," said Currence about Stow's belated rally in the final period. "We relaxed, and you can do that against a good team."
Three plays after Wentzel's fumble recovery, the Tigers returned the favor. And it didn't take Stow long to take advantage of the miscue.
Williams made it a 38‑25 game when be hit Feldman from six yards out, The two‑point conversion was intercepted by Johnson in the end zone.
Once again the Tigers turned the ball over, this time two plays later with Feldman pouncing on the loose sphere near midfield.
Four plays later and Williams hooked up with Feldman again, this time from 40 yards out. Another two‑point pass play was intercepted, this one by Brian Miller in the end was.
With a shade more than six minutes still to go, it was suddenly anyone's game with the Tigers holding a not‑so certain 38‑31 lead.
Massillon then drove for two first downs before punting the ball into the end zone, giving Stow the ball at its own 20 with 3:26 remaining.
On Williams' arm, the Bulldogs drove to the Tiger 42 in five plays. The sixth play turned into Jones' interception at the Massillon 12, and saved the day for the Tigers.
Still, the Tigers had to move the ball in order to kill off the clock and destroy the effectiveness of Stow's remaining time outs.
Faced with a third‑and‑eight with 1:14 left, the Bulldogs used their last time out. The Tigers had to make a first down, or risk giving the ball back to the strong arm of Williams.
Scott, who surprised everyone, want to the air and launched a bomb down the right sidelines to Spicer, who made the catch in fount of Currence for a 30‑yard gain. That sealed the victory.
******
Tiger sophomore Lance Hostetler made his presence known in the game, blocking one of Williams' PAT tries.
******
It was Junior High Football Night at Tiger Stadium and the young lads were treated to one of the most thrilling games at home in a long while.
Area prep gridsticks
MASSILLON 38
STOW 31
M S
First downs rushing 11 7
First downs passing 13 11
First downs by penalty 0 1
Total first downs 24 19
Yards gained rushing 251 112
Yards lost rushing 20 9
Net yards rushing 231 104
Net yards passing 302 275
Total yards gained 533 379
Passes attempted 32 25
Passes completed 19 16
Passes int. by 0 1
Times kicked off 7 6
Kickoff average 42.9 43.7
Kickoff return yards 83 116
Punts 2 4
Punting average 38.5 28.5
Punt return yards 26 8
Punts blocked by 0 0
Fumbles 4 2
Fumbles lost 2 2
Penalties 8 3
Yards penalized 67 31
Touchdowns rushing 4 1
Touchdowns passing 2 4
Miscellaneous touchdowns 0 0
Number of plays 77 50
Time of possession 28:24 19:36
Attendance 9,561
MASSILLON 7 13 18 0 38
STOW 7 12 0 12 31
M ‑ Irwin Hastings 5 run (Dan Kozma kick)
S ‑ Cyle Feldman 44 pass from Pat Williams (Williams kick)
M – Duane Crenshaw 9 run (Kozma kick)
S ‑ Mike Bracchio 1 run (kick failed)
M ‑ Bruce Spicer 40 pass from Mike Scott (kick failed)
S ‑ Mike Tersigni 22 pass from Williams (kick failed)
M ‑ Crenshaw 2 run (kick failed)
M ‑ Hastings 10 pass from Scott (pass failed)
M ‑ Wes Siegenthaler 64 run (pass failed)
S – Feldman 6 pass from Williams (pass failed)
S ‑ Feldman 39 pass from Williams (pass failed)