No go for Stow; Tigers 51-0
Coach sees Massillon as probable playoff team
By STEVE DOERSCHUK
Independent Sports Editor
It's not time to get carried away with the Massillon Tigers, even if they did knock the stuffing out of Stow 51‑0 in a high school football season opener Friday night.
It is most certainly time, however, to be impressed with their poten­tial.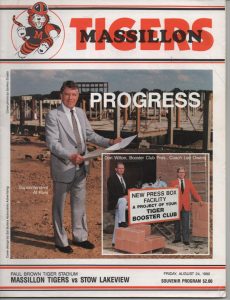 "I'm looking forward to seeing them in the state playoffs," said Gary Mattes, the head coach who led Stow to five Metro Conference championships in the 1980s. "They should make it.
"It was just our misfortune to have to play them tonight. I'm sor­ry we didn't give the people of Mas­sillon a better show."
Actually, coach, the good citizens liked the show just the way it was. They were delighted that:
* The revamped 5‑4 "Bengal de­fense" stopped Stow for no gain or a loss on 17 of 26 first‑half plays.
* Massillon rolled up a 473‑124 advantage in net offensive yards.
* A passing game stocked with a new quarterback, new receivers and mostly new blockers amassed 213 yards.
* The running game produced 102 yards in seven carries from Travis McGuire and 93 yards in 13 rushes from Falando Ashcraft.
* A team that looked good in scrimmages against Cleveland St. Ignatius, Lima and Central Catho­lic looked even better in the first game that counted.
Some pigskin philosophers be­lieve a coaching staff needs two years to streamline its system. Third‑year Tiger head coach Lee Owens just might be ready to un­leash a juggernaut capable of, say, beating Cincinnati Moeller and win­ning a state title.
"If we play like real Tigers," said Ashcraft, "we can make the play­offs and go all the way to the title."
Make no mistake. Owens believes a state title is possible this year.
"This was a great way to start the season. It was a great way to start the decade," he said.
Owens said he has never had a team come close to scoring 51 points in a season opener; yet, he thought "the story of the night" was the defense's shutout.
"We were truly dominant on de­fense," he said. "Looking back, we could really start to see the defense coming together in our scrimmage at Lima.
"Tonight, we shut out a team that has a very good offense. They moved the ball all over the place in their scrimmage against Buchtel. But we stopped them by being very aggressive and very quick. We were also much more physical than they were."
Senior tackle Mark Murphy set the tone for the night when, on the game's first play from scrimmage, he nailed star running back Kalonji Werts for a two‑yard loss. On the next play, he plowed into Werts and caused a three‑yard loss.
"They gave me the inside splits," said Murphy, a 6‑foot, 228‑pound senior. "I used my speed to get through."
Stow naturally adjusted to Mur­phy, reducing the gaps and block­ing at his knees, but that only cre­ated openings for his teammates.
"The whole defensive front play­ed an excellent game," said senior defensive back Chad Buckland. "We played well together. I knew we could play like that."
Murphy said the defense "didn't play to its full potential." He wants to see even more intensity next Saturday when the Tigers take on Covington Catholic in Cincinnati at the Buddy LaRosa Classic.
His teammate Mike Martin, a senior defensive end, thinks the in­tensity will be there.
"The defense played great … and it will the rest of the season, too," predicted Martin. "We came out pumped and we beat them physical­ly and mentally."
The beating manifested itself in injuries.
Werts, a speedy senior regarded as Stow's best player, didn't see ac­tion after the first quarter after suf­fering a deep thigh bruise.
Stow quarterback Jeff Behrman missed the second half with broken ribs.
Running back Charles Harris was knocked out with a strained knee.
They were "key injuries," Mat­tes said, though not pretending the Bulldogs would have made it a dog­fight had they played.
"They gave us a lot of problems," the Stow coach said. "Their execu­tion was excellent. And whoever calls their plays did an excellent job. We couldn't draw a bead on any one person. And they have an excel­lent quarterback."
Barry Shertzer got his first start as the Tigers' varsity QB. In three quarters, he completed 13 of 26 pas­ses for 175 yards with a mixture of short, medium and long‑range throws.
Flanker Ken Weber, playing de­spite a dislocated toe, caught three passes. So did split end Steve Brown and tight end Chris Roth.
But the receiver who had the big­gest day was Marc Stafford, both of whose catches went for touch­downs.
The Tigers scored the first two times they had the ball, first on an 11‑yard run by Ashcraft, then on an eight‑yard Shertzer‑to‑Stafford pass.
"We did exactly what Coach Owens wanted, and that was to hit them with points early," said senior captain Brent Bach, an offensive tackle. "We did exactly what we wanted to do."
The play that turned the game from a rout into a wipeout was a well‑thrown bomb that Stafford caught on the run and carried into the end zone. The play went 48 yards and gave the Tigers a 33‑0 lead late in the third quarter.
Assessing the offense, Owens said, "We really looked smooth on our first two drives. We were run­ning plays just the way you draw them up on the board.
"After that, we seemed to lose our intensity for a while. But were able to regroup." Owens said "the only negative" of the evening was points after touchdown. The Tigers were unsuc­cessful on conversion tries follow­ing five of the eight touchdowns.
"We need to make those automa­tic," he said. "But it's hard to talk about any negatives after every­body played so well and there were so many positives."
MASSILLON 51
STOW 0
M S
First downs rushing 16 3
First downs Passing 7 1
First downs Penalty 3 1
Total first down 26 5
Net Yards rushing 260 72
Net yards Passing 213 52
Total net yards 473 124
Passes attempted 28 13
Passes completed 14 2
Passes intercepted 0 1
Fumbles/lost 2‑2 6‑4
Punts 3 8
Punting average 47.3 28.6
Penalties 7 8
Yards penalized 70 62
Stow 0 0 0 0 0
Massillon 14 6 19 12 51
M ‑ Ashcraft 11 run (Miller kick)
M‑ Stafford 8 pass from Shertzer (Miller kick)
M ‑ McGuire 23 run (kick failed)
M ‑ Ashcraft 6 run (pass failed)
M ‑ Stafford 48 pass from Shertzer (Miller kick)
M ‑ Roberson 1 run (run failed)
M ‑ Turley 7 return with fumble recovery (kick failed)
M ‑ Slicker 1 run (kick failed)
INDIVIDUAL STATISTICS
RUSHING
(Massillon) McGuire 7‑102, Ashcraft 13‑93, McCullough 2‑16, Burick 2‑25 Roberson 2‑3, Slicker 3‑10, Young 3‑23.
(Stow) Foster 12‑51, Werts 4‑3 Harris 3‑2 Behrman 4-minus 9 Bleving 3-9, Feldman 3‑3, Galaska 3‑14.
PASSING
(Massillon) Shertzer 13‑26‑0 175 yards, 2 TDs,
Mossides 1‑1‑0 32 yards,
Burick 0-1-0.
(Stow) Behrman 2‑10‑0 52 yards; Feldman 0-3-1.
RECEIVING
(Massillon) McGuire 2‑36,
Brown 3‑17,
Roth 3‑32,
Ford 2‑56,
Weber 3‑34,
Haw­kins 1‑32.
(Stow) Gabele 1‑42,
Foster 1‑10.
Here is a summary of the Tigers' scoring drives:
FIRST HALF
First quarter
8:22‑Falando Ashcraft 11 run over right side. Gary Miller kick. Drive: 45 yards, 5 plays. Keys: 11‑yard Barry Shertzer‑to‑Travis McGuire com­pletion on third‑and‑10; 17‑yard Ashcraft run.
5:14‑Marc Stafford 8 pass from Shertzer. Mil­ler kick. Drive: 56 yards, 8 plays. Keys: Ashcraft 17 run; offsides penalty on Stow on fourth‑and­-two; 11‑yard Shertzer‑to‑Chris Roth pass one play before TD strike.
Second quarter
4:01‑McGuire 23 run. Kick failed. Drive: 73 yards, 7 plays. Key: 18‑yard Shertzer‑to‑McGuire pass one play after 12‑yard loss on sack.
Massillon hammers Stow 51-0
By BOB STEWART
Repository sports editor
MASSILLON ‑ With all the subtlety of a sledge, the Massillon Tigers opened their new season by hammering the visiting Stow Bull­dogs 51‑0 before 11,020 fans at Paul Brown Tiger Stadium Friday night.
In a game neither coach thought would happen. Massillon's players belted the bejab­bers out of the visitors, rolling to a pair of quick TDs in the first period, and blowing open the game with a three-TD barrage in the second half that took only 2:13 of clock time. Two of the TDs came within 58 seconds of each other.
The Tigers' defense, led by hit‑happy Mark Murphy, playing like his Green Bay Packers' namesake, smacked back the Bulldogs' first two offensive threats with some body banging that left Stow with minus yards and minus some semblance of sensibilities.
"Well, it certainly was a lot better than that Repository game," quipped Massillon Coach Lee Owens, who "came a cropper" as the West Coach in The Repository's inaugural Stark County All‑Star game in June at Canton's Fawcett Stadium.
"We didn't expect this," said Owens after his Tigers amassed 473 yards to Stow's 124. "The fans now want to know if we are this good, or if Stow was just not very good.
"We thought Stow was very good, but our kids really were fired up. They wanted to get out there and hit people, and they did," said Owens, the 34‑year‑old mentor beginning his third season here. The win gives him a 17‑6 record in Tigertown.
He noted his team was not trying to score a lot of points, but that the depth of the Tigers this season may be exceptional.
"I was really proud of our second unit," said Owens. "They played very well, and all our subs seemed to rise to the occasion.‑ I guess they were trying to tell us they should all be No. 1," he said.
Stow coach Gary Mattes said the Tigers ferocious hitting was the major factor. "Our kids have been hit before, but not constantly like that. We lost a couple good backs, including our quarterback, early, and that didn't help," he said.
But he was quick to note be wasn't making any excuses, and praised the Tigers, noting he was "looking forward to watching them play in the state playoffs. They certainly should be there.
"They have an excellent team, and their offensive execution was just so precise we couldn't handle it," he said.
Mattes said his team has to re­group, now. "We still think we have a pretty good football team. We just have to come back and be able to show it," he said.
Junior running back Falando Ashcraft and junior receiver Marc Stafford each scored two
touchdowns, Stafford's coming on passes from senior quarterback Barry Shertzer, an 8‑yarder and a 48‑yarder.
Ashcraft, who opened the night's splurge of six‑pointers with an 11‑yard dash, also got the third quarter blitz begun with a 6‑yard run. He finished with 93 yards on 13 rushes, but wasn't even the top dog.
Travis McGuire, a junior run­ning back who wears No. 1 and makes sure the fans know he thinks he is No. 1 by holding his index Finger aloft even before he gets to the end zone, scored on a 23‑yard scamper which was but one of his seven carries from scrimmage that totaled 107 yards.
The Tigers also got 1‑yard touchdown rushes by subs Ron Roberson and Scott Slicker.
The Tigers dominated every statistic: First downs 26‑5; rushing yards 260‑72; passing yards 213‑52.
Stow 0 0 0 0 0
Massillon 14 6 19 12 51
M – Ashcraft 11 run (Miller kick)
M ‑ Stafford 8 pass from Shertzer (Miller kick)
M ‑ McGuire 23 run (kick failed)
M ‑ Ashcraft 6 run (pass failed)
M ‑ Stafford 48 pass from Shertzer (Miller kick)
M ‑ Robertson 1 run (run failed)
M ‑ Turley 7 fumble return (kick failed)
M ‑ Slicker 1 run (kick failed)
A – 11,020.