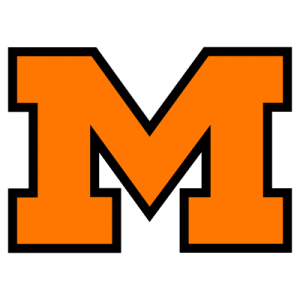 Magics won't be pushovers – Currence
By MARK ESTEP
Indpendent Sportswriter
MASSILLON – "We don't expect this to be an easy task. It's another year and they'll remember last year."
Mike Currence told the Tiger Touchdown Club Monday that the 1983 Barberton Magics are a lot different than last year's version which the Tigers beat soundly 43-0.
"This is a very strong Barberton team," he said. "Our scouts said that this may be the best offensive team that we've seen since Garfield. They know how to move the ball and they scored against Moeller a couple of weeks ago.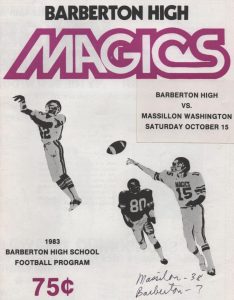 "In fact, they had Moeller on the ropes," Currence continued. "The score was only 14-7 in the fourth quarter and if Barberton hadn't turned the ball over, it could have stayed that way or gotten even closer."
Currence said that the staff was dismayed when the Magics dropped their opener to Akron Garfield 48-7.
"We thought Barberton was going to be down this year, but then we found out how good Garfield was."
It will be a veteran Magic team that the Tigers face in the Rubber Bowl Saturday night. Seven offensive starters return from last season, including quarterback Ken Rector and tailback Greg Butcher. Four starters return on the offensive line including tackle Ken Adams, guard Curt Rafferty, center Dennis Meachan and right end Mike Babbin.
"A season can make a difference with an offensive line," he said. "You can move the ball better with a seasoned line."
Defensively, the Magics have four returnees. Adams plays defensive tackle and Mike Keim will alternate with Joel Hurst at defensive end. But the key players are the two
linebackers, — junior Bill Livingston and senior Dan Jones.
"They are the biggest linebackers we've seen," said Currence. "They are the strength of the defense."
Currence added that Adams and Mike Fields (split end-defensive back) are the only
two-way players on the team.
"They play two-platoon football so most of their players can rest. They should be rested for us."
The Tigers will be playing on a new turf at the Rubber Bowl, installed this past spring after constant use beat up the old rug.
Going back to the Gonzaga game, Currence felt that the defense played superbly, but the offense made some mistakes.
"Mistakes hurt us," he said. "That's why we didn't' score more. They put pressure on us and dared us to throw the ball. Gonzaga wasn't a bad team. Their defense gave us some problems.
"We made enough mistakes for the rest of year on offense," he said. "We dropped a lot of passes that were right on the mark and other things. Hopefully, we'll work those out."
Tigers hope 'bowl' magic
is all theirs
By STEVE DUNGJEN
Independent Sports Editor
MASSILLON – Playing Barberton in recent years has been no bucket of joy for Tiger football teams.
Only one team has beaten a Mike Currence-coached Massillon squad more often than Barberton, and than stalwart opponent—nemesis is none other then Cincinnati Moeller.
Moeller, a perennial state powerhouse, has beaten Currence's Tigers in all three meetings. Barberton has two wins, like Canton McKinley, over Massillon.
The fact that Barberton went 1-9 a year ago and suffered a humiliating 43-0 setback at the hands of the Tigers, should be treated with disdain.
For one thing the Magics of this year do not resemble last year's unit in any way. Barberton, which had an idle week, brings a 3-2 record into tonight's clash at the Rubber Bowl in Akron.
"Barberton has just played some great football up there against us," noted Currence about the Magics' ability to beat Massillon in the Rubber Bowl. "They seem to get really excited."
Although the road game will be the first for Massillon this season after six home frays, Currence doesn't expect that to be any factor against Barberton.
"We've played scrimmages on the road this year," he said. "Barberton has been a thorn in our side, no doubt about that. Why, it's not even their home field and they play us tough there."
Currence recalls the 1981 game when Barberton pulled out a spine-tingling 26-24 win at the Rubber Bowl with anything but fondness.
"We had that game won and a kid runs back a kickoff after we had scored to beat us," he said. "That Barberton team of 1977 (which won 9-7) was a great football team; they had more Big Ten college-caliber kids than we did."
For the first time this season, and for the first time in some while against Barberton, the Tigers will be at full strength. All-everything Chris Spielman, though, is still nursing a bruised leg, but is expected to see his usual share of playing time.
"We are going in healthy. This is one game I wanted to go into with a completely healthy roster," Currence said.
"Our scouts think they (Barberton) have got the best offense we've seen, and for our scouts to come back with that type of report is something else.
"Our defense will get a real challenge up there, I can tell you that much," Currence said.
One thing the Tigers will have to adjust to is the artificial surface inside the Rubber Bowl. Due to the synthetic fiber, Massillon will wear either tennis shoes or turf shoes. The Rubber Bowl has a 'shoe bank', but Currence said members of the team have their own gear.
Magics' enthusiasm keys grid fortune
By STEVE DUNGJEN
Independent Sports Editor
BARBERTON – Jack Foltz likened Barberton to the community of Massillon – places where people like their high school football nearly as much as they do weekly pay checks.
"You have to realize that Barberton is very similar to Massillon," Foltz, in his first year of directing the Magics, said. "The kids are winners, and they want to win. They love to play football.
"If something happens in the community pertaining to football you can bet it'll get back to me," Foltz said. "I may be the last to hear about it, but I'll hear about it."
Folts, who is a disciplined class instructor, hopes he can take what he preaches in the class room onto the football field Saturday night when his Magics (3-2) meet Massillon (5-1) in the Rubber Bowl.
"Our kids appreciate what we're (the coaching staff) is trying to do," Foltz said, noting the Magics have rebounded well from last year's 1-9 record. "We didn't get as much leadership last season as we expected. Hopefully, we're turning things around."
Both of Barberton's losses have come at the hands of highly rated teams – Garfield (48-12) and Cincinnati Moeller (28-7).
"Our kids just seem to get up for the big games," Foltz said. "I'm looking forward to the same type of attitude for this one."
Foltz said his Magic unit has been diversified on offense, mixing the run with the pass.
"We do try to mix it up," Foltz noted. "We do have a good dose of passing and we have a good dose of running. We'll do what we have to."
Main cog in Barberton's offensive attack has been quarterback Kenny Rector, who Foltz said is extremely intuitive. Rector, the Magic grid boss pointed out, ranks 15th in his senior class in terms of grades.
Barberton and Massillon have played each other 37 times, with the Magics on the short end of a 29-7-1 record. The first time the two teams met was in 1904 when the Tigers won 15-0.
Last year Barberton suffered a 43-0 setback, but since Mike Currence has directed the Tiger grid fortunes Massillon owns a 4-2 record over the Magics.
Only one team – Moeller – has managed to beat a Currence-led team more times. Both of Massillon's losses to the Magics have occurred at the Rubber Bowl, by a 9-7 score in 1977 and 26-24 in 1981.
The Magics have beaten Cuyahoga Falls (13-3), Akron East (35-12), and Lancaster (24-13).
Tigers holding statistical
edge over opponents
By The Independent Staff
MASSILLON – Heading into Saturday night's Rubber Bowl game against Barberton, the Tigers hold wide margins of difference in team statistics over their opponents.
Massillon has totaled 95 first downs for an average of nearly 16 per game, while the opposition has just 46 total.
In total yardage the Tigers hold a huge 1,926 to 829 advantage. Rushing wise Massillon has 1,219 yards as opposed to 481, while passing favors the local unit 707 to 348.
The number of plays from scrimmage also favors Massillon 337 to 292. Average gain per down finds the Tigers at 5.7 and their foes at a paltry 2.8.
Individually, Craig Johnson is an offensive leader in three categories. The senior has gained 661 yards rushing on 89 carries for an average 7.4 per tote, while scoring 72 points and returning four kick-offs for 74 yards.
Senior Chris Spielman is the top punt returner with an average of 14.9 with 13 come-backs for 194 yards.
In the receiving department, both Bruce Spicer and Johnson have nine receptions. Spicer's yardage gained stands at 130.
Quarterback Brian Dewitz is completing 48 percent of his passes, connecting on 24 of 50 tries for 442 yards and four touchdowns.
Punter Tom Gruno is averaging 39.1 yards per boot.
On defense, Robert Neff has two fumble recoveries to lead that category while Steve Walterhouse and Spielman share the top spot in interceptions with three.
Spielman leads the defense in tackles with 41 and assists with 23, but Neff is right behind with respective totals of 38 and 18. Gruno is next at 34 and six.
Johnson's TD ramble of highlight quality
By STEVE DUNGJEN
Independent Sports Editor
AKRON – If Massillon Tiger football had a highlights film at season's end, Craig Johnson made a strong bid for squatter's rights to the opening scene.
The 5-foot-10 inch, 185-pound senior displayed more moves than a belly dancer on a 47-yard touchdown reception from quarterback Brian Dewitz.
Johnson's razzle-dazzle TD scamper came on the first play of the fourth period of Saturday's 38-7 win over the Barberton Magics at the Rubber Bowl.
"That was the best reversed-field run I've seen in a long while," Tiger head coach Mike Currence said of the spectacular dash. "I had already grabbed someone by the shirt on the sidelines to send him in with our next play."
"I thought Johnson was going to be tackled," he added. "I asked Craig if he was down and he said 'No, coach.'"
The TD pass-run occurred one play after Cornell Jackson picked off the fourth Barberton pass of the game. On the first play following the theft, Dewitz hit Johnson on the right sideline near the Magic bench.
Johnson was hit, grabbed by another would-be tackler and spun around. Massillon's leading ground gainer took it from there, running parallel to the end zone to the left sidelines and eventually to pay dirt.
"I was wide open, caught the ball and a guy grabbed me by the shirt and spun me around in the right direction," Johnson said. "I just saw things opening up from thee."
Johnson, who also gained 69 yards on 12 carries for two touchdowns, is a newcomer to Tiger football. He transferred from Canton Timken, and ran track as a junior.
"It was kinda hard at first," Johnson said. "I couldn't open myself up the way I wanted to. I already knew quite a few of the guys on the team from track last season.
Currence said Johnson has had no trouble adapting to his teammates this season, though he said the senior has made great strides in learning the system.
"The thing about Craig is that he gets along well with everybody. He has such a pleasant personality," Currence said. "Nearly all the kids on the team have been under the system for eight years, and they know it almost was well as the coaches.
"Yeah, it's been tough on Craig from that standpoint the Tiger grid boss said. "He was going both ways, but we decided to have him concentrate on offense. He's a great kid."