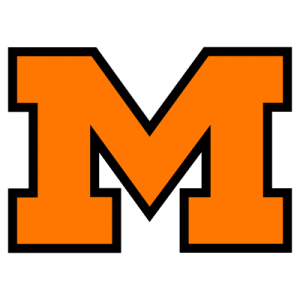 Tiger defense saps Gonzaga
By FRED GERLICH
Independent Managing Editor
MASSILLON – They call him Junior.
His given name is Bob Neff Jr. and his two interceptions and a fumble recovery Friday in Massillon Washington's 23-0 victory over Gonzaga College Prep of Washington, D.C., in Paul Brown Tiger Stadium, represent one of the finest single-game defensive efforts from any player who has ever worn the orange and black.
Neff was the cornerstone of a Massillon defense that allowed Gonzaga just 97 yards total offense (61 passing; 36 rushing), no first downs rushing and only four first downs overall. Gonzaga's defense wasn't bad, either – the Eagles held Massillon to 249 yards of offense (135 passing; 114 rushing), nearly half of the 488 yards the Tigers piled up in last week's 44-0 drubbing of Newark. Massillon is now 5-1; Gonzaga 3-2.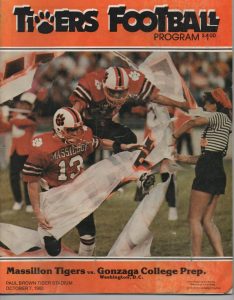 "Junior dropped another possible interception and would have had a shot at a fourth," Massillon defensive coordinator and linebacker coach Jim Letcavits pointed out, "but I fired him (on a blitz) and Gonzaga threw right where he would have been.
"Bob played a super game. We worked on him to get back and cover the curl pattern and he did it well."
Neff, who had "seven or eight tackles" by his own count, called his performance "the thrill of a lifetime."
"On the fumble I was pursuing to the ball, saw somebody hit it and jumped on it," the modest senior said. "The first interception the right end came across on a drag (pattern) and I jumped in front of him for the ball. On the second interception, two guys ran patterns up the middle. The ball was thrown short, I dove and got under the ball to catch it."
It must also be pointed out that Gonzaga was purposely running many of its plays away from All-Ohio linebacker Chris Spielman, but because of Neff the tactic didn't work.
Neff's heroics set up the Tigers' first nine points. Following a scoreless first quarter, Neff's fumble recovery gave Massillon the ball at the Gonzaga 16. The Tigers "drove" in reverse to the 17 on a wrong-way run and two incomplete passes and Massillon settled for Bronc Pfisterer's 35-yard field goal for a 3-0 lead with 10:38 left in the first half.
The first of Neff's interceptions on Gonzaga's next possession put the ball on the Eagles' 46. In eight plays Massillon manufacture a touchdown as tailback Craig Johnson, who wound up with 101 yards in 16 carries, and Chris Spielman carried three times each.
Johnson made it 9-0 with 7:31 left in the half in a unique, 24-yard way: He hit the well-stacked line, spun off several tacklers and was several yards ahead of any pursuers at the Gonzaga six. But he fumbled the ball there, scooped it up at the one and rolled into the end zone before the extra-point kick failed.
Gonzaga had a chance to score a few minutes later as Karl Gannon recovered a Spielman fumble and rumbled to the Massillon 21. But an illegal procedure penalty and three incomplete passes later, kicker Matt O'Connell's 42-yard field goal came up short and the Tigers took their 9-0 lead into halftime.
After a drumming halftime show featuring the Tiger Swing Band's percussionists, Gonzaga cough4ed up the ball on the opening kickoff and Massillon traveled 35 yards in six plays with Johnson going the final four yards. Pfisterer's kick made it 16-0, Tigers.
Neff's second interception of a Gary McIntosh pass set up a 40-yard Pfisterer field goal attempt which fell short but when the Tigers got the ball back on a Gonzaga punt with 24 seconds left in the third period, they made things happen.
Starting on its own 27, Massillon used a 14-yard run by Johnson and a 4-yard burst by Spielman to set up a 26-yard pass to the Gonzaga 29 by Brian Dewitz down the left sideline to senior Dave Weber.
The Tigers then sent Johnson off tackle for our yards, Johnson around right end for four more and Spielman off tackle for four more yards and a first down at the Gonzaga 17. Having lulled the Gonzaga defense with four-yard gains, Dewitz found Weber again open on the left sideline at about the 8. The receiver, who hadn't caught a pass prior to Friday's game, then turned inside and scored. Pfisterer's kick was the final point with 9:25 left and from there on, the two teams gave their substitutes experience for the most part.
Dewitz, pressured early by the Gonzaga defense and benched late in the first half by the Tiger coaching staff, had a bit of an off night, hitting seven of 20 passes for 105 yards with Weber catching three passes for 55 yards.
Gonzaga starter McIntosh had it even worse. The sophomore was four of 19 for 31 yards with three interceptions, Spielman picking off the third.
"Our young quarterback got a christening tonight," Gonzaga coach Mark Gowin said. "He's going to be a great quarterback but he isn't picking up reads on defense yet. And Massillon's defensive line played such an outstanding game.
"I was proud of our defensive play. I told them if they play that kind of defense the rest of the year, we will vie for the championship in our area. I feel we played good enough defensively to win the football game, but Massillon is a great, great football team and they were definitely 23 points better overall than us tonight."
Very little about the game concerned Massillon coach Mike Currence, although he said, "we were upset by people in our offensive backfield." But he was not overly upset by procedure penalties which, at another time, might tend to stall a drive.
"You get some penalties when you play aggressive football," Currence noted. "It's the mental mistakes – like when we go for a long count offensively and we jump offside – that bothers me."
Massillon tests Barberton, 23-14 winners over Lancaster Friday, at 8 p.m., a week from tnight in the Akron Rubber Bowl. Gonzaga, meanwhile, plays on its Buchanan Field home Saturday against Good Counsel. That's a 1:30 p.m. start, in case you have a Lear jet and are interested in catching both games.
Good Counsel? Isn't that the school in Washington, D.C., that derived its name from the Watergate hearings?
STATISTICS
M G
First downs rushing 8 0
First downs passing 7 4
First downs by penalty 0 0
Total first downs 15 4
Yards gained rushing 145 79
Yards lost rushing 31 43
Net yards rushing 114 36
Net yards passing 135 61
Total yards gained 249 97
Passes attempted 28 21
Passes completed 9 6
Passes int. by 3 1
Yardage on pass int. 20 0
Kickoffs 5 1
Kickoff average 46.8 56.0
Kickoff return yards 1 90
Punts 4 5
Punting average 43.8 39.8
Punt return yards 41 4
Punts blocked by 0 0
Fumbles 3 7
Fumbles lost 1 3
Penalties 4 4
Yards penalized 32 27
Touchdowns rushing 2 0
Touchdowns passing 1 0
Miscellaneous touchdowns 0 0
Number of plays 66 50
Time of possession 25:47 22:13
Attendance 10,340
GONZAGA…………..0 0 0 0 – 0
MASSILLON…………0 9 7 7 – 23
M – Bronc Pfisterer 35 field goal
M – Craig Johnson 24 run (kick failed)
M – Johnson 4 run (Pfisterer kick)
M – Dave Weber 17 pass from Brian Dewitz (Pfisterer kick)