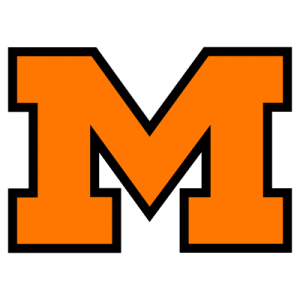 TIGERS ESCAPE!
GlenOak rally comes up short
By STEVE DUNGJEN
Independent Sports Editor
MASSILLON – Visiting GlenOak won the battle of the statistics, but the Tigers won it where it counts the most – on the scoreboard.
GlenOak, playing perhaps its finest game ever, outplayed Massillon up one side and down the other.
Entering the contest Friday night in Paul Brown Tiger Stadium, very few of the 9,587 spectators expected much of a game.
And considering GlenOak owned a so-so 3-4 record as opposed to Massillon's 6-1, the
17-15 Tiger victory was for all intent a huge moral victory for the Golden Eagles.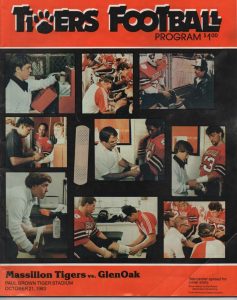 GlenOak controlled the ball for nearly 15 minutes longer than Massillon, gaining 99 more yards on offense and eight more first downs.
For that matter GlenOak had more touchdowns from scrimmage, but a 93-yard kickoff return to open the game by Massillon's Craig Johnson was the difference.
"It's nice to win one when you're not supposed to," confided Massillon head coach Mike Currence. "You have to give them credit because they played a good football game."
"This was a good game for us," Currence continued. "It'll make us work harder (in practice) this week."
The game's outcome went down to the final play, a missed 52-yard field goal by GlenOak's versatile Fermin Olivera who kept the Tiger defense guessing with his option-orientated offense.
"It was a great football game," said GlenOak head coach Bob Commings, a one-time Massillon coach from 1969-73. "The thing is that this is one of the finest hours in our institution and we lose it.
"We had a chance to win it two or three times," Commings said. "We didn't come here to look good, we came over to win. I still think Massillon is the best team in the state, but we're the best 3-5 team in the Western Hemisphere."
Before many of the Homecoming crowd had a chance to settle into their seats, Johnson took the opening kickoff at his own 7. The senior went to the right side of the field, reversed his direction and found himself one-on-one with Olivera.
Johnson put on a couple of his patented moves and then outraced the defender to pay dirt. Just 15 seconds had elapsed off the game clock when Bronc Pfisterer booted home the conversion kick.
After holding GlenOak to 17 yards on its first possession, the Tigers took control of the ball on their own 34. Johnson and Chris Spielman took turns carrying the ball, giving Massillon a first down at the Golden Eagle 43.
After an incomplete pass, quarterback Brian Dewitz found Reggie Crenshaw for a 19-yard gain to the 24. Three plays later and the Tigers found themselves in a fourth-and-14.
Onto the field trotted Pfisterer, who drilled a line drive over the crossbar from 45 yards out to give Massillon a 10-0 lead.
The field goal was the sixth this season for Pfisterer, eclipsing his own single-season record of five he set a year ago. Only two other players have longer field goals than Pfisterer, Tim Manion's 48-yarder in 1981 and Keith Harmon's 47-yarder in 1975.
At this juncture many Tiger fans were sensing a repeat showing of last year's 42-14 Massillon win over the Golden Eagles. Those thoughts were, as it turned out, premature at best.
Both teams were stopped on their next offensive series, a coffin-corner punt by Massillon's Tom Gruno pinning GlenOak back at its own 8-yard line.
With their backs against the wall the Golden Eagles started moving the Tiger defense around, seemingly at will as Olivera started to do his thing.
Olivera first hit Troy Iero for a 13-yard gain before running for 10 more yards on a keeper. The senior quarterback next found Iero on a 22-yard pickup, the ball tipped twice en route to the wide receiver.
GlenOak running backs Greg Wagner and Jeff Gurley then took turns running the ball, moving the visitors to a first-and-10 at the Tiger 35. An encroachment penalty made it first-and-five.
Wagner then gained four yards when Gurley rambled six yards to a first down at the 19. Olivera called his own number and dashed to pay dirt with 5:03 left in the half.
Olivera then added the extra-point kick to make it a 10-7 game.
Momentum remained with GlenOak as Spielman was stopped cold on a fourth-and-one from the Eagle 47. But Commings' squad turned the ball right back over when Olivera pitched the ball way over the head of his running back, Spielman recovering the loose ball at the GlenOak 38.
Massillon moved down to the 15, but a 32-yard Pfisterer field goal attempt was wide right.
Two plays later Spielman recovered his second fumble of the night, giving the Tigers excellent field position at the GlenOak 37.
Wasted opportunity this wasn't as Dewitz went to the air, connecting with Paul Briggs for a
37-yard touchdown down the right sideline. Pfisterer's kick made it 17-7 with 37 seconds left in the half.
After a fine halftime show by the Tiger Swing Band, the two opponents decided to play giveaway. First GlenOak fumbled after picking up two first downs, then Massillon fumbled four plays later.
GlenOak's next series ended in a punt, but the Tigers continued their generous ways as Dewitz was intercepted by Wagner, giving the Golden Eagles possession at the Tiger 45.
The Golden Eagles took advantage this time, marching 55 yards in 12 plays despite facing a second-and-22 on one occasion and a fourth-and-five on another.
The TD occurred when Wagner burst up the middle from three yards out with 9:16 left in the final period. Gurley took the same route on his two-point conversion, making it fingernail biting time at 17:15.
Faced with a fourth-and-one from their own 29, Gurley picked up two yards to keep things alive. Olivera was then sacked by Scott Bylene for an eight-yard loss and the Golden Eagles were then hit with a five-yard penalty to make it a second and 23.
Undaunted by the big yardage to make up, Wagner gained seven yards and Olivera hit Iero for 13 more when Wagner pounded two yards on fourth down for a first-and-10 at the 44.
Two Olivera passes went incomplete when he was sacked for a 10-yard loss by a host of Tigers. On fourth down, though, Olivera hit Iero for 31 yards and a first down at the Massillon 35 with eight seconds left.
With no time outs left, Olivera threw the ball out of bounds to set up this last ditch field goal try.
Massillon continued its turnover tactics moments later when Johnson was stripped of the ball after a 22-yard gallop to the GlenOak 27, but the Golden Eagles turned the ball right back over when Olivera was intercepted by Derrick Dave two plays later.
Johnson finished the game with 40 yards rushing for Massillon, upping his season total to 770. In order to hit the 1,000-yard plateau the senior will have to total 230 yards more against Youngstown South and McKinley in the final two weeks.
MASSILLON…………….17
GLENOAK……………….15
STATISTICS
M G
First downs rushing 6 14
First downs passing 6 6
First downs by penalty 0 0
Total first downs 12 20
Yards gained rushing 104 231
Yards lost rushing 14 35
Net yards rushing 90 196
Net yards passing 135 128
Total yards gained 225 324
Passes attempted 20 16
Passes completed 9 10
Passes int. by 1 1
Yardage on pass int. 0 0
Times kicked off 4 3
Kickoff average 52.8 40.7
Kickoff return yards 124 74
Punts 2 2
Punting average 33.5 35.0
Punt return yards 5 0
Punts blocked by 0 0
Fumbles 4 3
Fumbles lost 2 3
Penalties 2 3
Yards penalized 20 35
Touchdowns rushing 0 2
Touchdowns passing 1 0
Miscellaneous touchdowns 1 0
Number of plays 46 67
Time of possession 16:35 31:25
Attendance 9,587
GLENOAK………………. 0 7 0 8 –15
MASSILLON……………. 10 7 0 0 – 17
M – Craig Johnson 93 kickoff return (Bronc Pfisterer kick)
M – Pfisterer 45 FG
G – Fermin Olivera 19 run (Olivera kick)
M – Paul Briggs 37 pass from Brian Dewitz (Pfisterer kick)
G – Greg Wagner 3 run (Jeff Gurley run)