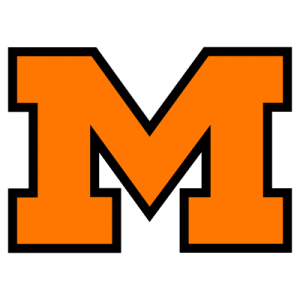 No joy in Massillon Tigers upset by Garfield, 14-10
By STEVE DUNGJEN
Independent Sports Editor
MASSILLON – There was no joy in Massillon Friday night
Visiting Akron Garfield put an early crimp in the Tigers drive toward a state playoff berth with a 14-10 win at Paul Brown Tiger Stadium.
The Rams, a serious contender for their City Series League title, dominated the game in most areas.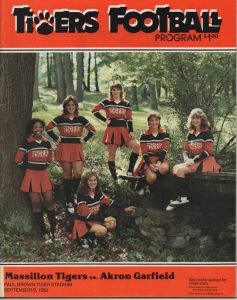 Head coach William McGee'S 2-0 squad outgained the Tigers by a wide 238-151 margin in total offense. More telling, though, was the time of possession, which showed Garfield with more than a nine-minute edge.
Garfield's defense – well-rested in the second half – proved a stingy lot, holding Massillon's Mr. Versatility, Chris Spielman, to just 18 yards rushing on eight carries.
The one-two punch of Garfield's Charles Gladman and Eric Finn accounted for 196 yards rushing offense. Gladman finished with 105 on 24 totes and Finn with 91 on 23.
"I'm still sore," Gladman said. "I didn't care if I got 50 yards so long as we won. We can't be beat now."
Mistakes proved the culprit for Massillon as an interception by Garfield's Rickey Morse on the game's third play led to a one-yard TD plunge by Finn. The PAT was wide right and the Rams led, 6-0.
Massillon (1-1) came storming right back, mounting a seven-play, 64-yard drive that culminated in a 20-yard TD run by Craig Johnson, who finished the game with 78 yards on 13 carries. Bronc Pfisterer added the PAT for a 7-6 lead.
The Tigers averted what appeared to be sure trouble when Spielman intercepted a pass at the Massillon two-yard line in the second period.
Entering half time the Tigers held a slight 7-6 edge, but the Rams took the second half kickoff downfield, scoring when Finn bulled over from the one to cap a 10-play, 63-yard drive. A fake kick for the extra point ended in a two-point play when Morse caught a pass from Mike Beane.
On Garfield's drive the key play of the game surfaced when Massillon head coach Mike Currence was assessed a penalty for being on the field of play.
"That was the biggest play of the game," a subdued Currence said. "No one heard a whistle. I went out for an official's conference and he threw a flag on me."
"How can I get his attention? Hell, there's 14,000 people out there and how can I hear him?" Currence said.
The play in question centered around an apparent fumble by Gladman. The "loose ball" was picked up and rambled to pay dirt by a Massillon player.
However, the play was ruled dead by the game's officials.
Right after Garfield made the score 14-7, the Tigers came roaring right back. Massillon drive down to the 19-yard line, but when faced with a third-and-three play they were called for encroachment, pushing the ball back five yards where Currence's squad failed to get the first down on a pass play.
The Tigers scored early in the final quarter when Pfisterer drilled home a 21-yard field goal, but Massillon would run off only seven plays in the final eight minutes to 21 for Garfield.
"It's never easy," said McGee. "I stand aside, you have to talk to these (the Rams' offenseive and defensive coordinators) guys."
"I don't know what the stats were, but they were lopsided in the number of plays in the second half," said Ram offensive coordinator Ron Amedeo.
"We just played our basic defense. We didn't change one bit," said defensive coordinator Mardeo Rossi. "We felt our speed could match up with theirs."
The playoff picture may have been clouded somewhat for the Tigers, but Currence isn't about to throw in the towel.
"We have to lose another one to be out of it," Currence said. "We just have to get ready for the next game and come back."
The Tigers will host Warren Harding next Friday night for their next game.
MASSILLON 10
GARFIELD 14
STATISTICS
M G
First downs rushing 7 10
First downs passing 2 2
First downs by penalty 0 0
Total first downs 9 14
Yards gained rushing 127 207
Yards lost rushing 10 12
Net yards rushing 117 195
Net yards passing 34 43
Total yards gained 151 238
Passes attempted 14 7
Passes completed 6 3
Passes int. by 2 1
Yardage on pass int. 56 0
Times kicked off 3 3
Kickoff average 48.3 43.3
Kickoff return yards 51 57
Punts 3 2
Punting average 36.7 18.5
Punt return yards 7 0
Punts blocked by 0 0
Fumbles 2 1
Fumbles lost 1 0
Penalties 6 3
Yards penalized 49 15
Touchdowns rushing 1 2
Touchdowns passing 0 0
Miscellaneous touchdowns 0 0
Number of plays 41 63
Time of possession 19.11 28.49
Attendance 14,171
GARFIELD 6 0 8 00 – 14
MASSILLON 7 0 00 3 – 10