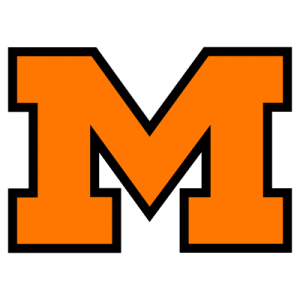 Tigers turn lights out on Garfield 13-0
Defense, Manion's kicking leave Rams in dark
By ROLLIE DREUSSI
Independent Sports Editor
Just when things were looking dark for the Massillon Tigers, the lights went out altogether.
Good thing.
Under cover of near darkness, the Tigers got their act together and went on to a 13‑0 victory over an Akron Garfield team that is undoubtedly the best 0‑3 team in the state. The win raised the Tigers record to 3‑1.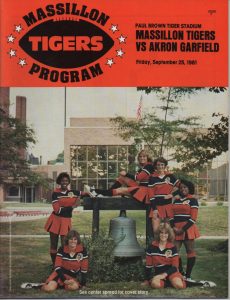 The near darkness was caused when the mercury vapor lights on the west side of Paul Brown Tiger Stadium went out. It happened twice, once during halftime and again near the end of the third quarter.
Apparently, a temporary outage from somewhere outside the stadium was the problem. Once the lights go out they take almost 20 minutes to reach peak power again.
The lights weren't the only thing that had trouble getting going again.
The Tigers, after an emotional 24‑6 loss to Cincinnati Moeller last weekend, had trouble putting their act together.
"I think we were a little flat," Tiger coach Mike Currence said after the victory. "Losing to Moeller emotionally drained us a little bit. We just weren't sharp."
The Tigers won the game despite failing to convert on a single third‑down situation and amassing 75 yards in penalties, mostly on offense.
However, a defense that rose to the occasion when necessary ‑ by stopping the Golden Rams on a fourth down inside the Tiger 10, intercepting three passes and recovering one fumble ‑ and the foot of senior Tim Manion were the bright spots for the Tigers.
Manion booted a pair of field goals, including a school record 48‑yarder, and added the extra point kick following Greg Grimsley's one‑yard touchdown run to give the Tigers all the offense they needed.
Manion's 27‑yard field goal with 9:06 left in the first half had spotted the Tigers a 3‑0 lead.
Manion's punting in the first half also kept the Rams in the hole, as he twice angled kicks which were downed inside the Garfield 20.
But the Rams came out in the third quarter thinking upset. Taking the second half kickoff, they drove from their own 20 to the Tiger 12, where they faced a fourth-and‑five situation.
The Tiger defense stopped quarterback Willie Davis at the eight, and Manion boomed a high 47‑yard punt to give Massillon some breathing room.
The Rams helped out with an illegal use of hands, penalty, and middle guard Sam Clark sacked Davis for a 17‑yard loss. But Davis lofted a long pass right into the hands of halfback Don White who couldn't hang on in a crowd of Massillon defenders at the Tiger 35.
That's when the lights went out. The game continued, and the Tigers made the most of the situation by driving 48 yards in seven plays, with Grimsley scoring at the 10:07 mark of the final period.
When the lights finally came on again. Clark sacked Davis for a 16‑yard loss, and Garfield turned the ball over on fourth down when punter Mark Thomas had to scramble to bring down a high snap for center.
The Tigers took over at the Garfield 39, and despite an offensive pass interference penalty, managed to get to the Ram 30 on an 11‑yard, third‑down pass from quarterback Rick Spielman to halfback Robert Oliver.
That's when Manion came back on and booted his record three‑pointer with 5:29 to play, and the Tigers were out of trouble.
The kick eclipsed the record of 47 yards held by Keith Harmon, who did it against Warren Harding in 1975 in a 17‑0 victory.
Garfield coach Bill McGee said the near darkness didn't bother his team at all. At least not as much as the Massillon defense.
"They did a nice job pressuring us with their pass rush," McGee said. "I thought their defense came of age last week against Moeller. They held them to 17 points," he said, noting he didn't consider Moeller's one‑yard TD drive in the fourth quarter the defense's fault.
"I was impressed with our defense, also. They did a nice job. Anytime you hold Massillon to one touchdown your doing a good job."
Currence had praise for Garfield, and especially for McGee.
"I'll tell you what, Bill McGee is one of the nicer coaches in the business," Currence said. "Any other coach would have been mad (about the lights going out), but he just said let's play it,"
Currence said he was getting worried because four of his defensive players had to leave the game with injuries. William Askew, who was playing middle guard, re‑injured his ankle, linebacker Tim Manion hurt his left knee, tackle Rick Heather hurt an ankle and tackle Joe Peters bruised his knee. Currence said he didn't know how serious the injuries were, though several of the players did return to action, including Manion.
"Offensively, we were sporadic," Currence said. "Tonight it seemed to be the penalties. But we got some breaks, and against a good team like Garfield you have to take advantage of them.
"We're not satisfied at all with the way we played, but we played a very good ball club.
"They have a very good offense and they controlled the ball on us," he noted. The Rams bad the ball for 27:36 compared to 20:24 for the Tigers. They also outgained Massillon 208 to 207 in total yards.
"Their running backs are as good as any team we'll see," Currence added.
Ram fullback Larry Gills gained 104 yards in 24 carries. He wore number 25 in the first half, and after having his Jersey torn came back in the second half wearing number 30.
Sophomore Charles Gladman gained 42 yards in 11 carries in his first start. In the Rams' 21‑20 opening loss to Austintown Fitch, he ran a kickoff back 89 yards for a touchdown the first time he touched the ball.
"It's tough breaking in against Massillon, but he's going to be a great running back," McGee said.
The Rams played without regular halfback Gary Dix, who found out on Thursday he had a cracked bone in his hand. He apparently suffered the injury two weeks ago.
"We're real proud of the way we played," McGee added. And he didn't mind the fact the lights went out. "This is a great place to play and we're always treated extremely well."
Except by the Tiger defense, of course. Grady Robinson, Matt Hickey and Gary Conley each intercepted a Ram pass and Askew recovered a fumble to keep the powerful Garfield offense at bay.
Offensively, Spielman was 5 of 12 passing for 54 yards, and he had completions of 16 yards to Dan Ricker and 18 yards to Robert Oliver during the Tigers' TD drive.
Grimsley led Tiger rushers with 37 yards in six carries, Spielman had 26 in four carries, Oliver had 24 in four carries and Jim Bushe had 24 in five carries.
"That's a game that very well could have ended up 0‑0, or that we could have lost 7‑3," Currence said.
"But the defense came up with the big play."
And while Tiger fans may have had a dim view of their team's play, there were enough bright spots to keep them happy.
MASSILLON 13
GARFIELD 0
M G
First downs rushing 7 11
First downs passing 3 2
First downs by penalty 3 0
Total first downs 13 13
Yards gained rushing 159 206
Yards lost rushing 6 49
Net yards rushing 153 157
Net yards passing 54 51
Total yards gained 307 201
Passes attempted 14 13
Passes completed 5 5
Passes int. by 3 0
Yardage on pass int. 39 0
Times kicked off 4 1
Kickoff average 39.5 33.0
Kickoff return yardage 0 29
Punts 4 3
Punting average 31.8 30.3
Punt return yardage 56 1
Fumbles 1 3
Fumbles lost 1 1
Penalties 5 4
Yards penalized 75 57
Touchdowns rushing 1 0
Touchdowns passing 0 0
Number of plays 45 61
Time of possession 20:24 27:36
Attendance 10,129
GARFIELD 0 0 0 0 0
MASSILLON 0 3 0 10 13
MASS ‑ Tim Manion 27 FG
MASS ‑ Greg Grimsley 1‑yard run (Manion kick)
MASS – Manion 48 FG