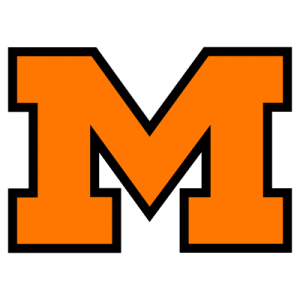 Rick Spielman sparks big‑play offense
Tigers' defense blanks Panthers 33-0
By ROLLIE DREUSSI
Independent Sports Editor
Tiger coach Mike Currence was counting on his defense to carry the team in the early part of this season.
Friday night it did just that.
What Currence hadn't counted on was the big‑play capability his offense showed in beating the Perry Panthers 33‑0 before 14,653 fans in the season opener for both teams in Paul Brown Tiger Stadium.
"The defense saved us tonight," Currence said. "They kept us in the ball game while we were able to find out something we could do (on offense)," Currence said.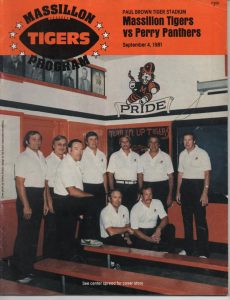 That something proved to be the screen pass, which the Tigers worked three times in the waning minutes of the first half to set up one touchdown and score another. The two scores came within 1:02 of each other and took the heat out of a fired‑up Panther defense which had stopped the Tigers cold with a pair of goal line stands on Massillon's first two series, and a key quarterback sack on the third.
The Panthers even had field position at the Massillon 35 with just under six minutes left in the half ‑ and the score tied 0‑0 ‑ when the Tiger defense did its thing.
Linebacker Tim Manion intercepted a third‑down pass by Panther quarterback Rick Catazaro at the 29, and by halftime the Tigers had a 13‑0 lead and the momentum.
Quarterback Rick Spielman, scrambling against a fierce rush by the blitzing Panthers, came up with the big plays and the Tigers turned a close game into their first shutout of the season.
"The first of many, we hope," Currence noted.
"It seems like people feel they can tee off and blitz us," Currence said. "It seems to be in their game plans. It almost worked. We were lucky to get seven, and real lucky to get the last touchdown (of the first half). They didn't blitz so much the second half because we hurt them with the big play," he noted.
"Ricky (Spielman) came up with some big plays at least a half dozen of them. He's a scrambler," Currence added.
He had to be.
"We had the right defense," Perry coach Joe Demaree said. "We flushed him (Spielman) out a lot of times. That's what hurt us, the big play. He does a fine job; he's got a lot of poise. We were doing a good job on defense most of the time but we couldn't move the football. We couldn't get field position and that hurt," he added.
The Tigers' win was forged in those last crucial minutes of the first half.
Manion's interception gave the Tigers the ball at their own 34, but they faced a thrid‑and‑13 at the 31. Spielman beat a Panther blitz with a screen pass to fullback Michael Moore in the left flat, and he used a key block by Chuck York to scamper 27 yards for a first down at the Perry 42.
On a third‑and‑five at the 37, Spielman hit halfback Larry Newman for 12 yards and another first down at the 25. He then lofted a rainbow toward the right corner of the end zone and found a pot of gold at the end when wide receiver Jim Geiser made a leaping catch for a touchdown with 2:36 on the clock. Greg Radtka's kick made it 7‑0.
Manion's kickoff sailed to the eight yard line, and Spielman's brother, sophomore Chris, smacked Perry's Frank Falcone to the turf with a hard tackle at the 15.
Halfback McKinley Lancaster ran for a first down to the 30, but three Catazaro aerials fell incomplete and Massillon took over at its own 45 after a short punt. With 1:15 remaining in the half, Spielman went to work again. He hit Moore with another screen pass to the left for 23 yards and a first down at the Perry 32. Sticking with a good thing, he threw another screen pass ‑ this time to the right side to halfback Larry Newman ‑ and the speedster showed the Panthers some moves as he scampered all the way for the TD with :54 remaining. The kick failed, but the Tigers had a 13‑0 lead as the teams headed for the lockerroom.
The defense took over in the second half – as Chris Spielman and defensive back Mike Geschwind intercepted passes ‑and the first unit didn't let the Panthers cross midfield.
On offense, Spielman connected with halfback George Roknich on a 33‑yard bomb on a third‑down play for a first down at the Perry 34 midway through the third quarter. He then hit halfback Mike Kozma with a 28‑yarder to the six, and two plays later Roknich ran it in from three yards out. Radtka's kick was good for a 20‑0 lead.
In the fourth quarter, Chris Spielman's interception gave the Tigers the ball at the Panther' 16, and Newman needed only one play ‑ a trap ‑ to find the end zone with 9:52 to play. The kick failed and Massillon led 26‑0. Radtka who is also the backup quarterback, directed the second unit to the final touchdown as halfback Jim Bushe broke through for a six‑yard run with 6:01 remaining. Bushe, who had set up his own TD with a 21‑yard run, kicked the conversion to cap the scoring.
Spielman had the best opening game performance of any quarterback In Tiger history, hitting 12 of 21 passes for 224 yards (unofficially) and two TDs. Moore had two receptions for 51 yards, Newman had two for 44 yards and one of the TD passes and Geiser had two receptions for 36 yards and the other TD toss. Halfback Robert Oliver led the Tiger running attack with 46 yards in eight carries.
Currence had praise for his quarterback, saying: "We were in trouble many, many times tonight and he came through with the big play."
Currence said his team was improved from the scrimmages, but added: "We've got a long way to go."
As for Perry, he said: "They have some outstanding people, and I think they'll do well in the Federal League." The Panthers are the defending league champions.
Demaree admitted that having five players go both ways hurt his team, especially ‑ since Massillon is strictly a two‑platoon outfit.
Tiger defensive coach Jim Letcavits said he was pleased with the work of his defense, and singled out his two linebackers, Manion and Chris Spielman.
"Both of our linebackers played well, and Chris showed up a little better on kickoffs," he said. Spielman streaked downfield and leveled the Perry return man on the Tigers first four kickoffs.
"I was pleased with our first unit, but I thought the kids that came in on the second unit also did a fine job," Letcavits added.
TIGER GRIDSTICK
M P
First downs rushing 6 2
First downs passing 10 2
First downs by penalty 1 2
Total first downs 17 6
Yards gained rushing 183 91
Yards lost rushing 36 31
Net yards gained rushing 148 60
Net yards gained passing 231 30
Total yards gained 379 90
Passes attempted 24 12
Passes completed 13 2
Passes Intercepted by 3 0
Yardage on passes intercepted 18 0
Times kicked off 6 1
Kickoff average 54.3 52.0
Kickoff return yardage 33 87
Punts 2 8
Punting average 29.0 31.3
Punt return yardage 42 1
Fumbles 1 1
Fumbles lost 0 0
Penalties 7 4
Yards penalized 65 43
Touchdowns rushing 3 0
Touchdowns passing 2 0
Total number of plays 65 41
Total time of possession 27.29 20.31
Attendance 14,653
PERRY 0 0 0 0 0
MASSILLON 0 13 7 13 33
MASS ‑ Jim Geiser 25-yard pass from Rick Spielman (Greg Radtka kick)
MASS ‑ Larry Newman 32‑yard pass from Spielman (kick failed)
MASS ‑ George Roknich 3‑yard run (Radtka kick)
MASS – Newman 16-yard run (kick failed)
MASS – Jim Bushe 6-yard run (Bushe kick)
Spielmans too much for Perry to handle
By R0LLIE DREUSSI
Independent Sports Editor
The Spielman brothers sure made things tough on the Perry Panthers.
Rick Spielman, the Tigers senior quarterback, didn't waste any time starting his assault on the Massillon record book. Younger brother Chris, a sophomore linebacker, wasted even less time assaulting Panther ball carriers.
The end result was a 33‑0 Massillon victory before 14,653 fans in Paul Brown Tiger Stadium Friday night.
According to records of team statistician Tom Persell, Rick had the best opening game performance of any Tiger quarterback as he completed 12 of 21 passes, for 224 yards and two touchdowns. The yardage is the second best ever compiled by a Tiger quarterback, and the 12 completions is the seventh best performance by a Tiger QB.
Brent Offenbecher holds the yardage record of 231 in a 28‑22 win over Gahanna Lincoln in the second game of the 1977 season. Spielman eclipsed Dave Eberhart's 1980 performance of 218 yards in the 14‑6 win over Parma Padua last Oct. 24.
"His father's not a bad coach either," reminded Tiger head coach Mike Currence after the game. Charles "Sonny" Spielman is the Tigers' quarterback and wide receiver coach, and is therefore his son's personal tutor on the finer arts of quarterbacking.
Chris' performance was perhaps best summed up by Massillon field announcer Walt Bronczek following the Tigers' fifth kickoff: "This time the tackle was NOT made by Chris Spielman."
The first four times fellow linebacker Tim Manion boomed a kickoff, Chris streaked downfield and leveled the Panther return man ‑ each time inside the 20-yard line.
He was no slouch on the plays from scrimmage, either, setting up the Tigers fourth touchdown with a pass interception at the Perry 23 which he returned seven yards. He butted helmets with Manion in picking off the pass. Manion also had an interception, as did defensive back Mike Geschwind.
Another player Currence had praise for was senior halfback Larry Newman.
"Larry's kind of our game breaker. We get him the ball and he scoots," Currence said.
Newman did some scooting after taking a screen pass from Rick Spielman and showing off some moves on a 32‑yard jaunt for the Tigers' second TD. Following Chris Spielman's interception, he broke a trap play for 16 yards and his second touchdown.
"He's really worked hard, and he deserves all the credit he gets," Currence said of his 5‑8, 157‑pound speedster.
Paul Brown Tiger Stadium also looked good Friday night. The seats in both the west and east stands are brand new, as are the end zone bleachers. The field is also in the best shape it's been in years.
Rain just before the start of the game put a damper on the crowd, which was the smallest of the four straight openers Massillon and Perry have played. Friday's attendance of 14,653 was 1,680 less than last year's crowd of 16,333. In the initial meeting of the two teams in 1978, 17,930 attended the game, followed by 16,454 in 1979. The Tigers have won all four games: 27‑6 in 1978, 21‑0 in 1979, 30‑13 in 1980 and 33‑0 this time.
Perry has already signed another two‑year agreement with the Tigers, and will open the season in Tiger Stadium in 1982 and 1983. Except for the annual Massillon‑McKinley game, this backyard rivalry has exceeded all others between Stark County schools in both attendance and gate receipts, according Persell.
The Panthers have rebounded well from their opening defeats the past two years, posting 8‑2 marks and winning the Federal League title last season.
Halfback McKinley Lancaster, a returning starter, led the Panthers in rushing Friday night with 48 yards in eight carries, including runs of 15 and 12 yards.