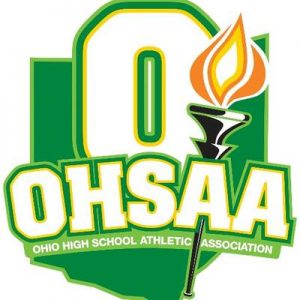 Crusaders prevail in title game 30-7
Moeller ends Tiger 'Cinderella Story'
By ROLLIE DREUSSI
Independent Sports Editor
Massillon's 1980 Cinderella football team met its midnight Sunday afternoon in Cincinnati's Nippert Stadium.
Behind the record four-touchdown performance of senior fullback Mark Brooks, the Crusaders powered their way to a 30‑7 victory and a second straight state championship before 25,000 fans. It was also Moeller's fifth title in the past six years.
The Tigers fell behind 14‑0 in the first quarter and never recovered as Moeller's offensive and defensive lines dominated play against the out manned Tigers.
Moeller rolled to a 24‑0 halftime lead and were never threatened, despite a game effort by the Tigers.
"We made mistakes ourselves, and they made very few," Tiger coach Mike Currence said afterwards. "That's the ball game. You can't do that against Moeller."
"This is not run‑and‑shoot weather," he said of the rainy, dreary weather, "It's great weather for a big fullback."
And Moeller's 6‑2, 220‑pound Brooks was up to the task. He scored three touchdowns in the first half as he rushed for 84 yards in 23 carries. He finished the game with 133 yards in 33 carries, and his four touchdowns and 24 points are both playoff records.
"Brooks?" Currence asked rhetorically. "Ohio State could have used him against Michigan."
If stopping Brooks wasn't enough of a problem Moeller quarterback Mike Willging rifled several key passes and had five completions (in seven attempts) for 105 yard. Wide receiver Rob Williford caught four of those for 77 yards and Brook caught one for 28 yards.
Moeller outgained the Tigers 212‑42 in total yardage in the first half.
But despite the Crusaders' offensive fireworks, it was a defensive play by halfback Rob Brown that hurt the Tigers the most.
Moeller took the opening kickoff and drove 61 yards in 13 plays with Brooks going over from three yards out. The Tigers had almost stopped the drive at their own 40, but halfback Tim King barely made a first down on fourth-and-one. Tony Milink kicked the extra point after the TD for a 7‑0 Moeller lead with 5:24 fell in the first quarter.
Massillon took the kickoff and started from its own 23. Quarterback Dave Eberhart went straight to the air, but his pass intended for Mike Feller on the right sideline was picked off by Brown at the 36 and returned to the 32.
Willging hit Brooks with a 28‑yard pass, and Brooks then scored from four yards out with 4:29 on the clock. Milink's kick made it 14‑0.
The Tigers were hurt by the interception, but came back. They took the kickoff and drove to Moeller's 22 yard line where they had a second‑and‑two.
But halfback Robert Oliver was thrown for a four-yard loss, Massillon was called for an illegal motion penalty, a pass from Eberhart to Oliver gained only a yard and Eberhart was sacked for an eight‑yard loss on fourth down, ending the threat, ending the first quarter, and just about ending any hopes the Tigers had of coming back.
Moeller took over at the Massillon 38 and drove 62 yards in 10 plays with Brooks diving over from a yard out. Willging kept that drive alive with a 35‑yard pass to Williford, and a nine‑yard pass to Williford on a third‑and‑six play that netted a first down at the Tiger four. Milink converted and it was 21‑0 with 7:23 to go in the half.
Massillon suffered another blow on its next possession when halfback Mike Jones injured his knee on a pass reception. Jones had gained 29 yards in live carries with some fine running, and at the time was just about the whole offensive attack for the Tigers. His knee was to be checked this morning.
Massillon punted and Moeller added its fourth straight score with five seconds left in the half when Milink kicked a playoff‑record 49‑yard field goal for a 24‑0 halftime bulge.
The Tigers came out in the third quarter and took it to the the Crusaders ‑ for a while.
They put together an opening drive that carried from their own 32 to the Moeller 12. The drive was highlighted by Eberhart's passing, as he completed five for 44 yards. A roughing the kicker penalty also gave Massillon a needed first down at the Moeller 26.
But Eberhart's 11th pass of the drive was intercepted by Mike Larkin at the five and returned to the 20.
Following an exchange of punts, Moeller drove deep into Tiger territory, but Ed Newman killed the threat when he fell on a fumble by Willging at his own six yard line.
Ron Davis recovered a Massillon fumble at the Tiger 21 in the final period, and Brooks capped the drive with his fourth and final TD of the day on a two‑yard run. Mike Loretto blocked Milink's extra point try.
With under a minute to play. Jeff Grove recovered a fumble by reserve quarterback Tim Jolley at the Moeller 23.
With Just 20 seconds to play, Tiger backup quarterback Greg Radtka found Rick Boerner wide open for a 23‑yard TD pass Eberhart booted the extra point to complete the scoring.
We knew we had to throw on them," Currence said. "Our quarterback threw an interception on our first play, but we settled him down and he came and threw well for us (Eberhart finished the game with nine completions in 19 attempts for 80 yards).
"We had a couple of sparks, and I thought we were going to put a couple in on them.
"There's a lot of heart on this team, and it fought back all year. If we would have had a little more momentum, we might have comeback," he said.
The Tigers finish the season as the Division playoff runnerup with a 10‑2‑1 record. Moeller went 13‑0 to take the title.
And now, Tiger fans need wait only 43 more weeks to prove they can give Moeller a better game than they did Sunday. On Saturday Sept. 19,1981, the two playoff finalists will square off in the Akron Rubber Bowl.
TIGER GRIDSTICK
First downs rushing 2 11
First downs passing 6 4
First downs by penalty 1 2
Total first downs 9 17
Yards gained rushing 59 197
Yards lost rushing 64 18
Net Yards gained rushing -5 179
Net yards gained passing 103 109
Total yards gained 98 288
Passes attempted 20 11
Passes completed 10 6
Passes intercepted by 0 2
Yardage on passes intercepted 0 19
Times kicked off 2 6
Kickoff average 32.5 46.0
Kickoff return yardage 102 25
Punts 4 2
Punting average 36.5 35.5
Punt return yardage 0 0
Punts blocked 0 0
Fumbles 2 3
Fumbles lost 1 2
Penalties 5 7
Yards Penalized 95 75
Touchdowns rushing 0 4
Touchdowns passing 1 0
Touchdowns by interception 0 0
Miscellaneous touchdowns 0 0
Total number of play 45 61
Total time of possession 20:35 27:25
Attendance 25,000
MOELLER 14 10 0 6 30
MASSILLON 0 0 0 7 7
MOE ‑ Mark Brooks 3‑yard run (Tony Milink kick)
MOE ‑ Brooks 4‑yard run (Milink kick)
MOE ‑ Brooks 1‑yard run (Milink kick)
MOE ‑ Milink 49‑yard FG
MOE ‑ Brooks 2‑yard run (kick blocked)
MASS ‑ Rick Boerner 23‑yard pass from Greg Radtka (Dave Eberhart kick)
'Still Tigers,
and that's
what counts'
By ROLLIE DREUSSI
Independent Sports Editor
"At the beginning of the season, people were saying we'd go 6-4," Massillon senior center, Doug Eberhart was telling a group of reporters outside the Tiger lockerroom.
"But we ended up state runnersup. We're still Massillon Tigers and that's what counts."
With that remark the Tigers' only returning starter from a year ago excused himself and walked into the quiet team lockeroom. he had made his point. The long‑awaited match with Cincinnati Moeller had turned into an easy 30‑7 state championship game for coach Gerry Faust and his Crusaders.
Moeller dominated the game from beginning to end and claimed its second straight state title all fifth in the last six years.
They proved they are without a doubt the very best ­team in Ohio high school football. Maybe the best in the whole country.
And despite the defeat, the Tigers proved something too. They proved their tradition and spirit is still as strong as ever. And they proved that a lot of hard work – and a lot of heart ‑ can take a team a long way.
"We actually were inexperienced," Tiger Coach Mike Currence said referring to his team at the start of the season.
"But there's a lot of heart on this team and it fought back all year."
The Tigers seemed destined on several occasions to fail to make the playoffs this year. They had a 10-0 season in 1979, but lost in the first playoff game. With almost the entire team graduating, it looked like an uphill battle to get back into the playoffs.
It was. The Tigers had to come from behind in the fourth quarter to defeat Akron Garfield and Youngstown South.
They had to rebound from a 7‑7 tie against perennial nemesis Warren Harding­ – a tie that came on a long pass play just before the game ended.
The team did falter in the season final against Canton McKinley. But thanks to the expanded playoff format which qualifies the top two teams in each region they got another shot at the Bulldogs.
I an emotion packed contest, their pride refused to let them lose. A much maligned defense miraculously held the Bulldogs at bay as the Tigers won their first playoff game 14‑6.
The team did it again the following week when they routed Willoughby South in the semifinal game.
Suddenly, the team that was going nowhere was going to Cincinnati's Nippert Stadium to play Moeller for the state title.
That Moeller proved awesome and handled the Tigers easily should not detract from all the high points of this past season.
There will be other seasons and hopefully ‑ other state title games. But that will have to wait.
After the longest football season in Tiger history (13 games), this Massillon team deserves to be remembered for what it accomplished, and not for what it failed to do.
Moeller's Faust pays
Tribute to Tiger spirit
By ROLLIE DREUSSI
Independent Sports Editor
"I've never been so impressed with a city of people who back their high school like the city of Massillon."
That's what Moeller coach Gerry Faust called to say this morning. In all the celebrating Sunday after another state football title, Faust didn't have much time to talk to reporters.
So he called this morning to pay his compliments to the team and people of Massillon.
Some 8,000 Massillon fans made the 4 1/2‑hour drive to Cincinnati's Nippert Stadium to see their Tigers play Moeller for the Division I football championship.
I was impressed not only with the cheering and spirit and complete dedication to the school, but also with their sportsmanship." Faust said of the fans.
"It was really a great thrill for us to play the great Massillon. Just playing Massillon was really a highlight for us.
"I just want to say hats off to you people. You have fine tradition and fans. We don't get impressed that easily, but it was as an unbelievable experience to witness the great Massillon family, It was a privilege for us to play them. I'm even more impressed now than I was before," Faust added.
The Massillon fans were to be commended. They traveled en mass to see their Tigers. They decorated their cars in fine style for the long trip down, and they kept them decorated for what proved to be an even longer trip back.
And even when the Tigers weren't fairing well on the field, they stayed and cheered. Despite the lopsided score and the persistent, drenching rain most of the Tiger fans stayed until the bitter end.
And their spirit never wavered, not even in the miserable ride home, through fog and rain.
At a roadside rest area just before the I-71 bridge over the little Miami River, a vanload of Tiger fans had stopped to wait out a traffic jam.
"We'll get 'em next year one of them said. And the rest agreed (the two teams will meet Sept. 19, 1981 in the Akron Rubber Bowl).
The Tiger faithful had worn their orange and black colors proudly, even in defeat.
They were still proud of this Tiger team. A team that wasn't supposed to go anywhere this season, but ended up going to the state title game.
This team had a lot of heart and never quit. And the same can be said of its fans.