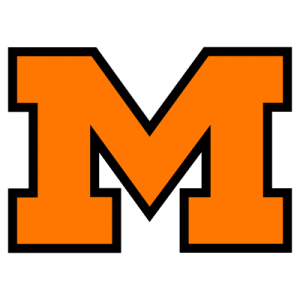 Tiger defense destroys Aviators 37‑2
By ROLLIE DREUSSI
Independent Sports Editor
The Massillon Tiger defense scored two touchdowns and set up the other three to spark a 37‑2 win over Alliance in an All‑American Conference game at Mount Union Stadium Friday night.
"The defense shines tonight," head coach Mike Currence said in the Tiger lockerroom after the game.
"My defensive people are real proud," Currence noted, amid shouts of "defense" from his players. "They came up with the big play."
Indeed they did, seven times to be exact, including four interceptions and three fumble recoveries.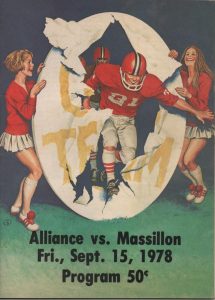 It was the defense that came to the rescue of a struggling Tiger offense in the first quarter when Kent Wilson scooped up an Aviator fumble at the Alliance six yard line and took it in for the first score of the game.
An interception, a good punt return and a fumble recovery set up the next three Tiger scores as the offense had to go only 29, 32 and 28 yards to find paydirt each time.
The fifth TD was on a 30‑yard interception return by linebacker Tim Reese after a fine one‑handed catch.
The big plays by the a Tiger defense were needed as Alliance's defense played hard‑nose football, almost shutting down the Tiger air game completely.
"We played give away football." Aviator head coach Julius "Juice" Tonges said of the game afterwards.
"Our defense didn't play too bad. We went after them defensively, we were aggressive. But when you give them field position and touchdowns and keep your defense out there all night they get tired," Tonges added.
"Offense is discipline, and apparently we don't have enough self discipline," he said.
Currence had praise for the Aviator defense also, "They did a good job defending us," he said. "I knew he would, Juice always does.
"We just couldn't throw. He changed up on us and went with a 50 defense,"
Currence pointed out. "We were expecting a 4‑4."
The 50 defense enabled the Aviators to get a strong pass rush, which gave Brent Offenbecher little time to throw.
"But they made the big mistakes and gave us a couple of touchdowns. We had to grind it out to score though, because they shut down our offense."
Currence did admit that his offense, didn't commit the penalties and mistakes it did in the opener last week against Perry.
Alliance made a mistake on the opening kickoff the Aviator, tried for side kick. The ball ? three yards and the Tigers took over at the Aviators ?.
A drive to the 12 when Offenbecher threw Curtis Strawder in the left corner of the end zone a fourth and three play.
The teams exchanged punts, with Alliance getting the ball on its own 1? line. On first down, Clay Brown fumbled the handoff from quarterback Dhayer and Tiger defensive end Kent Wilson scooted the ball at the six and went in for the first score of the game. Jeff Fry booted the point after and Massillon led 7‑0 with 2:10 to play in the first period.
Following a punt by Alliance, Massillon drove from its own 46 to the Aviator 25 where Jeff Beitel fumbled and Alliance's Stuart Tolle recovered.
The teams exchanged punts again, with Alliance getting the ball on its own 18. On second and seven, Brown tried a halfback pass which was intercepted by Jamie Schlegel at file Aviator 45 and returned 16 yards to the 29.
The Tigers drove to the Aviator seven yard line, mostly behind the running of fullback Sam Hill (who was subbing for the injured Tom Gehring).
On first down of the seven, Offenbecher's pass for Strawder was almost intercepted in the end zone. Currence then sent linebacker Dick Cleveland in to play fullback and Jeff Beitel followed his block to the one yard line and then into the end zone on the next play.
Alliance was called off side before the kick attempt, so the Tigers went for two from the one half yard line.
Once again Jeff Beitel followed Cleveland into the end zone behind right guard Eric Barnard and the Tigers led 15‑0 with 1:29 left before the half.
Alliance ran three plays and punted to open the second half and Offenbecher's pass for Strawder three plays later was intercepted by Ray Phillabaum at the Aviator 13.
The Tiger defense held them at the 12 (thanks in part to an offside penalty against the Aviators and a punt by Tim Graybill was fielded at the 40 by Schlegel' and returned eight yards to the Alliance 32.
On fourth and four at the 26, Offenbecher went left on a keeper and came up short of the first down, but a defensive holding penalty on Alliance gave the Tigers a first down at the 11.
Jeff Beitel went through the right side of the line, broke three or four tackles and then danced through three Aviator defenders before crossing the goal line standing up.
Alliance was offsides again on the kick attempt, so the Tigers went for two and Jeff Beitel once again shimmied through the Aviator line for the conversion. With 6:02 left in the third quarter, the Tigers led 23‑0.
Following another exchange of punts, the Aviators took over the ball, on their own 30. On first down, Tiger defensive tackle Barry Foster batted down a pass at the line and on second down he put a hard hit on Aviator running back Oliver Scott. Scott coughed up the football and Wilson recovered his second fumble of the game (He also ran this one into the end zone but the play had been blown dead).
Offenbecher finally started to find the range (on short, quick slant‑in patterns that didn't need much pass protection), hitting Marty Guzzetta for 11 yards and Strawder for six.
On third and goal from the three, Bill Belief took a quick handoff around left tackle for a TD. The play completely faked out the Alliance defense, which was looking for Bill's brother Jeff to crack the right side again.
Fry booted the point after and Massillon had a 30‑0 lead, With 41 seconds left in the third quarter.
The Tigers final score came when linebacker Tim Reese made a one‑handed interception of a Jerry Latimore pass and returned it 30 yards for a store. Ron Wright kicked the point after for a 37‑0 margin with 10: 22 remaining.
It was the Tiger defense's second score of the night. The defense was so effective, live, it didn't allow the Aviators a first down until 9:41 of the final period. That was on a 42‑yard pass ‑ the Aviators only completion of the night ‑ from Brown to Allan Williamson. The Aviators did manage one more first down on a run by Scott.
Alliance finally got on the board with 4:55 to play when Jeff Russell blocked a Dave Gibbs punt out of the back of the end zone for a safety.
The Tigers held the Aviators to just 34 yards total offense the first half and 113 for the game. The Tigers totaled just 202 for the game themselves.
Offenbecher was 2 of 9 the first half for 23 yards and finished the game with 4 of 13 for 40 yards. Sam Hill led the Tiger rushing attack with 72 yards in 12 carries Jeff Beitel gained 43 in 12 carries (and scored two TDs and two conversion runs).
Oliver Scott led Alliance with 60 yards in 20 attempts. The Aviators completed just one of 14 pass attempts.
The Tigers will play East Liverpool at Paul Brown Tiger Stadium Friday night. Cleveland Glenville, the original opponent, will be unable to play because of the Cleveland teachers' strike.
The Tigers are now 2‑0 overall and 1‑0 in the All-American Conference, while Alliance drops to 0‑2 (0 1).
GRIDSTICK
M A
First downs rushing 8 1
First downs passing 3 1
First downs penalties 3 0
Total first downs 14 2
Yards gained rushing 179 76
Yards lost rushing 29 5
Net yards gained rushing 150 71
Net yards gained passing 52 42
Total yards gained 202 113
Passes attempted 17 14
Passes completed 5 1
Passes intercepted by 4 1
Yardage on passes intercepted 66 0
Times kicked off 7 1
Kickoff average (yards) 45.0 2.0
Kickoff returns (yards) 0 72
Times punted 4 5
Punt average (yards) 28.3 36.8
Punt returns (yards) 41 15
Had punts blocked 1 0
Fumbles 4 3
Lost fumbled ball 2 3
Penalties 6 10
Yards penalized 50 70
Touchdowns rushing 3 0
Touchdowns passing 0 0
Touchdowns by interception 1 0
Miscellaneous touchdowns 1 0
Total number of plays 61 47
Total time of 27:07 20 53
MASSILLON 7 8 15 7 37
ALLIANCE 0 0 0 2 2
AVIATORS
Offense
QUARTERBACK: 13 Mike Dhayer (Jr‑ 6-2, 184), 10 Clay Brown (J r. 5-9, 145)
HALFBACKS: 30 Oliver Scott (Sr., 5-10. 150), 40 ‑ Glenn Ford ( Sr.. 5-11, 155), 33 Lawrence Parsons (Sr. 6-2, 175);
WINGBACK: 25 Allan Williamson (Sr., 6-2, 170);
ENDS: 89 Scott Bell (Sr., 6-1, 190), 87 Joe Ailes (Sr., 6-0, 175), 80 ‑ Rich Summers (Jr., 6‑4, 188);
TACKLES: 68 Bob Slutz (Sr., 6-0, 240), 56 Craig Hoopes (Sr., 5-11, 218);
GUARDS: 50 Lou Cironi (Sr., 6‑3, 200), 66 William Cade (Sr., 5‑11, 195);
CENTER: 76 Barry Grimes (Jr., 6-0, 217 ).
Defense
ENDS: 83 Bill Collins (Jr., 6-0, 170), 80 Summers;
TACKLES: 79 Stuart Tulle (Jr., 6-3, 200), 68 Slutz;
OUTSIDE LINEBACKERS: 50 Cironi, 33 Parsons;
INSIDE LINEBACKERS: 60 Brett Amelung (Sr., 5‑8, 160), 21 Jeff Russell (Jr., 5‑8, 163);
SAFETY: 10 Brown;
HALFBACKS: 30 Scott; 34 Anthony Nelson (Jr., 5‑8, 150), 11Roy Phillabaum (Sr., 5‑9,135).
SERIES: 68th meeting, Massillon holds 56‑9 2 edge.
POINTS SCORED BY: Massillon 27, Alliance 0
POINTS SCORED AGAINST: Massillon 6, Alliance 20
LAST MEETING: 1977, Massillon 44, Alliance 0.
TIGERS
Offense
QUARTERBACK: 14 Brent Offenbecher (Sr., 6‑1, 175);
FULLBACK: 43 Tom Gehring (Sr., 5‑10, 171);
HALFBACKS: 45 Jeff Beitel (Sr., 5‑7. 158), 22 Bill Beitel (Jr., 5‑7, 148);
ENDS: 42 Curtis Strawder (Sr., 5-10, 153), 13 Ron Wright (Sr ., 5-9, 173). 25 Marty Guzzetta (Jr., 5-9, 160);
TACKLES: 67 Doug Wood (Sr., 6‑2, 191), 76 Mark Kircher (Jr., 6‑1, 212);
GUARDS: 69 Jim Horton (Sr., 6‑0 177), 79 Eric Barnard (Sr., 6-2, 215);
CENTER: Scott Kasunick (Sr., 5-9, 181).
Defense
ENDS: 81 Bruce Solinger (Sr., 6‑0, 175), 88 Kent Wilson (Sr., 6-0, 182);
TACKLES: 72 Harry Foster (Sr., 6‑2, 232), 71 Jeff Pedro (Sr., 6‑3. 204);
MIDDLE GUARD: 55 Bob Simpson (Jr., 5-11, 190);
LINEBACKERS: 28 Dick Cleveland (Sr., 5‑11, 188), 38 Kevin Harris (Sr., 5‑10, 182);
MONSTER BACK: 11 Darren Longshore (Sr., 6‑1, 175);
SAFETY: 21 Jamie Schlegel (Jr., 5‑11, 160);
HALFBACKS: 34 Jeff David (Sr., 5‑9, 188), 12 Dan Venables (Sr., 5‑10, 160);
KICKERS: 13 Wright (punts, extra points), 36 Mike Hodgson (Jr., 6‑5. 194) kickoffs.
Tigers to host East Liverpool
The Massillon Tigers will play East Liverpool Friday night at Paul Brown Tiger Stadium.
East Liverpool will replace Cleveland Glenville which will be unable to play because of a teachers' strike.
The game was agreed to by the Potters at 3 p.m. Friday and a contract was supposed to be signed later that night or today.
The Tigers have played the Liverpool only once, winning 42-0 in 1960.
"I've been wanting to play them for a long time," Tiger head coach Mike Currence said Friday night.
The Potters, who lost to Wintersville last week, were to play at Youngstown Cardinal Mooney tonight.
The game will not count in the computer rankings.