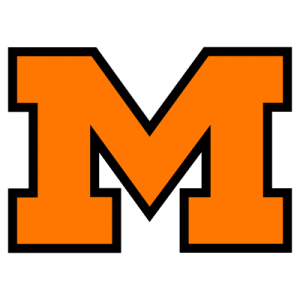 Tiger aerial game buries Potters 40-7 with 33 second‑half points
By ROLLIE DREUSSI
Independent Sports Editor
The Massillon Tigers finally found their passing game and exploded for 33 second‑half points as they handed the East Liverpool Potters a 40-7 pasting Friday night at Paul Brown Tiger Stadium.
The 11,510 fail saw the Tigers sleepwalk through the first half as the Potters controlled the ball and took a 7-0 lead in the second quarter.
A fumble recovery 55 seconds before intermission woke the Tigers up, however, and they drove 44 yards to tie the score 12 seconds before the band show.
Brent Offenbecher then cranked up the passing game and East Liverpool coughed up the football as the Tigers scored 12 points in the third quarter and 21 in the final period. Unofficially Offenbecher finished with 189 yards on 12 of 21 passes and two TDs.
"We weren't ready to play football the first half," happy Tiger head Mike Currence said after the game.
"We were walking around before me game watching the tiger, looking at the cheerleaders, saying to mom and dad in the stands," Currence said, tongue in check. "We thought it was going to be a nice night."
"The best thing that happened was we got back on the field and did our two minute drill," he pointed out, referring to the Tigers 42 second drive just before the half ended.
"We were cautious. Then when we found out we had to sprint ‑ and did it ‑ it gave us confidence. We knew we could go back out the second half and throw."
A little pep talk at halftime also helped wake the Tigers up, Currence admitted.
"'They scored first and that shook us no quite a bit," Currence said.
The Potters score came on a one‑yard run by Less Browne following a 69‑yard drive that consumed 8:20 of the second quarter.
Potter coach Ted Maley said after the game that controlling the ball was the game plan.
"We weren't going to come in here with 50 new
plays or anything," Maley said. "We had to do the things we do well, we had to execute well. And we did it for a half.
"After a couple of breaks, mental lapses set in and that's when (Massillon's) tradition came in," Maley explained.
'The end of the first half wasn't the turning point, though the kids thought about that coming out. The two quick touchdowns did it," he added.
It was Offenbecher's sharp passing that got the Tigers moving in a hurry.
"Brent's back in form and I'm glad he is," Currence said.
After a scoreless first quarter, East Liverpool started the second period at their own 31 and embarked on the 16‑play drive that ate up 8:20 on the clock.
Some short out passes by junior quarterback John Talbot and hard running by Less Browne ‑ who gained 29 yards on eight carries and picked up four first downs during the drive ‑ helped the Potters take command of the game at that at point.
Browne scored from a yard out and Mark Crawford booted the extra point to put the Potters out front 7‑0.
The Tigers got the ball and went to the air as Offenbecher hit Curtis Strawder – wno had 6 receptions for 71 yards (unofficially) ‑ with a pair of down and out passes for 14 and 11 yards.
Following a run for no gain, the next three passes fell incomplete and East Liverpool had the ball back at their 35 yard line with 2:37 left in the half.
East Liverpool started driving again, picking up two first downs and moving into Massillon territory when Jeff Pedro recovered, a Potter fumble in the backfield at the East Liverpool 44 yard line with 55 seconds to play in the half.
Offenbecher hit Strawder for 16 and 19 yards and an interference penalty against East Liverpool made it first and goal just inside the five. Offenbecher ran a keeper left to the one and sneaked over on the next play with 12 second remaining. Ron Wright tied the score with his placement.
East Liverpool took the second half kickoff, got one first down and punted with the Tigers taking over at their own 24.
Offenbecher hit Strawder for seven yards, then threw an incompletion and limped off the field favoring his knee. Wright took over for two plays as Jeff Beitel gained four yards and Sam Hill five.
Offenbecher came back in and hit Bill Beitel with a 12 yard pass good to the Potter 48. Following a incompletion, he found Bill Beitel again, this time wide open on the left sideline. The junior halfback caught the ball and raced to the Potter two where he was finally hauled down.
His brother Jeff carried it over for the score with 6:23 to go in the quarter. The extra point kick failed and the Tigers led 13‑0. The drive covered 76 yards in 8 plays and lasted 2:05.
Currence explained that Offenbecher came out of the game because his knee popped out.
"But that Ronnie Wright is a cool cucumber. He goes right in and no mistakes," Currence said.
East Liverpool then fumbled the ball away on another pitch out on its next possession and defensive halfback Jeff David recovered the ball at the Potter 49.
Five plays and a minute and 50 seconds later Offenbecher found Jeff Beitel open over the middle on a quick pass and the senior speedster throw one fake and was gone for a 24‑yard scoring play.
A pass for the points after failed and the Tigers led 19‑7 with 2:23 left in the third quarter.
East Liverpool took the kickoff and drove out to their own 30 as the quarter ended.
On the first play of the fourth period, monster back Darren Longshore made a spectacular one‑handed interception at the Potter 30 yard line and scampered into the end zone. Wright 's kick made it 26‑7 Tigers.
East Liverpool took the kickoff and drove out to its 36 where it had to punt on fourth and two. The snap from center sailed over Lou Ward's head and defensive end Kent Wilson covered him at the Potter 11.
Jeff Beitel swept right end to the three and Offenbecher found Strawder open in the left flat of the end one for another TD with 9:12 to go. Wright's kick was good and the Tigers had opened up a 33‑7 lead and opened the door for the substitutes.
Later in the quarter, Len Robinson intercepted a Talbot pass at the Tiger 15. The Tigers had to punt but guard Eric Barnard recovered a Potter fumble on the play at the East Liverpool 49.
Junior Bill Scott then drove the Tigers to their final score by hitting Bill Burkett with an eight‑yard TD pass with 13 second to go in the game.
Scott set up the play with a 27-yard pass to Burkett and a 10‑yard aerial to Greg Evans. Jeff Fry converted on the point after kick to close the scoring at 40‑7 and leave the Tigers at 3‑0 and the Potters at 1‑3.
In addition to Offenbecher and Strawder's stats, Wright caught one pass for 16 yards, Bill Beitel caught four for 78 yards, Jeff Beitel caught one for 24 yards, Burkett caught two for 35 yards and Evans had one for 10 yards.
Sam Hill, who had a 70‑yard run against Perry called back in the opener, had an 86‑yard touchdown run called back because of an legal procedure penalty.
The Tigers' explosiveness was evident not only from the points scored, but from the fact they scored 40 points while having the ball for just 17:46. The Potters had the ball for 30:14.
The Tigers travel to Niles McKinley next Saturday night for their second All-American Conference game.
M EL
First downs 3 10
First downs passing 12 1
First downs penalties 2 2
Total first downs 17 13
Yards gained rushing 95 139
Yards lost rushing 11 41
Net yards gained rushing 84 98
Net yards gained passing 236 46
Trial yards gained 320 144
Passes attempted 27 11
Passes completed 15 7
Passes intercepted by 2 0
Yardage on passes intercepted 38 0
Times kicked off 7 2
Kickoff average (yards) 39.1 41.5
Kickoff returns (yards) 29 96
Times punted 3 4
Punt average (yards) 33.3 26.2
Punt returns (yards) 0 0
Had punts blocked 0 0
Fumbles 1 5
Lost fumbled ball 1 3
Penalties 8 7
Yards penalized 40 75
Touchdowns rushing 2 1
Touchdowns passing 3 0
Touchdowns by interception 1 0
Miscellaneous touchdowns 0 0
Total number of plays 50 61
Total time of possession 17:46 30:14
E. LIVERPOOL 0 7 0 0 7
MASSILLON 0 7 12 21 40
TIGERS
Offense
QUARTERBACK: 14 Brent Offenbecher (Sr., 6‑1, 175);
FULLBACK: 43 Tom Gehring (Sr., 5-10, 171);
HALFBACKS: 45 Jeff Beitel (Sr., 5‑7, 158), 22 Bill Beitel (Jr., 5‑7, 148);
ENDS: 42 Curtis Strawder (Sr., 5‑10, 153), 13 Ron Wright (Sr., 5‑9, 173), 25 Marty Guzzetta (Jr., 5‑9, 160);
TACKLES: 67 Doug Wood (Sr., 6 2, 191), 76 Mark Kircher (Jr., 6-1, 212);
GUARDS: 69 Jim Horton (Sr., 6‑0, 177), 79 Eric Barnard (Sr., 6‑2, 215);
CENTER: 51 Scott Kasunick (Sr., 5-9, 181).
Defense
ENDS: 81 Bruce Solinger (Sr., 6-0, 175), 88 Kent Wilson (Sr., 6-0, 182);
TACKLES: 72 Harry Foster (Sr., 6-2, 232), 71 Jeff Pedro (Sr., 6‑3, 204);
MIDDLE GUARD: 55 Bob Simpson (Jr., 5-11, 190);
LINEBACKERS: 28 Dick Cleveland (Sr., 5‑11, 188), 38 Kevin Harris (Sr., 5-10, 182);
MONSTER BACK: 11 Darren Longshore (Sr., 6-1, 175);
SAFETY: 21 Jamie Schlegel (Jr., 5‑11, 160);
HALFBACKS: 34 Jeff David (Sr., 5‑9, 188), 12 Dan Venables (Sr., 5‑10, 160).
KICKERS: 13 Wright (punts, extra points), 86 Mike Hodgson (Jr., 6-5, 194) kickoffs.
POTTERS
Offense
QUARTERBACK: 7 Pat McNicol (Jr., 6-0, 160), 18 John Talbot (Jr., 6-1, 150);
FULLBACK: 3 Ed Pack (Sr., 5‑10, 180);
HALFBACKS: 5 Less Browne (Sr., 5-10, 170), 41 Larry Laneve (Jr., 5-10, 145), 30 Joe Anderson (Sr., 5-10, 160);
ENDS: 85 Kevan Merriman (Sr., 5‑10, 170), 80 Mark Crawford (Jr., 6‑2, 185);
TACKLES: 65 Dan Nizer (Sr., 5-10, 195); 74 Joe Porter (Sr., 6‑2 250);
GUARDS: 66 Chuck Stephenson (Sr., 5-10, 185), 61 Mike Tice (Sr., 5‑10, 166);
CENTER: 50 Mike Blaner (Jr., 6‑1, 220)
Defense
ENDS: 83 Brad Goodballet (Sr., 6‑1, 180), 40 Lou Ward (Sr., 5-11, 215);
TACKLES: 74 Porter 50 Blaner;
OUTSIDE LINEBACKERS: 85 Merriman, 21 Steve Banfield (Sr., 5‑9, 150);
INSIDE LINEBACKERS: 30 Crawford, 34 John Ferlaino (Jr., 5‑11, 170);
HALFFBACKS: 30 Anderson, 12 John Judy (Jr., 5-9, 150), 27 Tim Kelly (Jr., 5‑11, 155);
KICKERS: 80 Crawford (place kicker), 40 Ward (punter).
SERIES: 2nd meeting, Massillon holds 1-0 edge.
LAST MEETING: 1960, Massillon 42, East Liverpool 0.
POINTS SCORED BY: Massillon 64, East Liverpool 29.
POINTS SCORED AGAINST: Massillon 8, East Liverpool 52.