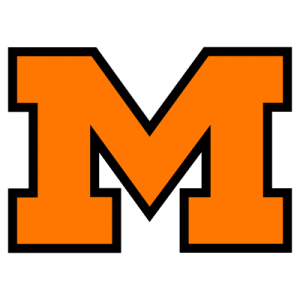 Wright keys Tiger win over Panthers
Massillon's 27-6 victory hard fought
By ROLLIE DREUSSI
Independent Sports Editor
"Thank God for Ronnie Wright, because tie's a winner." sighed Massillon Tiger head coach Mike Currence Friday night.
And thanks to Wright, it was a sigh of relief from Currence, whose Tigers overcame a ragged Perry Panther team to win their first opener in three years, 27‑6.
"Mistakes, mistake, mistakes," Currence moaned in the lockeroom at Paul Brown Tiger Stadium after the game. "If we would have made any more mistakes it would have been their game."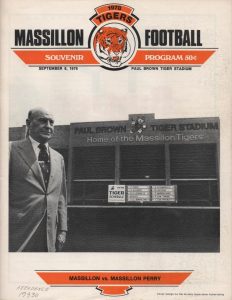 "There isn't one guy that didn't make a mistake. We didn't handle the emotional stress very well. Ronnie just seems to be able to handle the pressure."
The game was a lot closer than the score indicates – with Perry missing a field goal in the first quarter and fumbling the ball away at the Massillon one‑yard line in the third quarter ‑ and it took a clutch second‑half performance by Wright to keep the Panthers at bay.
The kick failed and the score was 20‑6 at the half.
Perry took the second-half kickoff and drove to Massillon's one‑yard line where Fink fumbled and Pedro came with his second recovery of the game.
Neither team could get a drive going and the third quarter ended with the score still 20-6.
Just before the end of the third quarter, Wright replaced Offenbecher at quarterback with the Tigers at their own four yard line following a great coffin‑corner kick of 37 yards by Fink).
Bill Beitel gained 11 and five yards, Sam Hill rushed for two and then caught a three‑yard pass from Wright for a first down at Perry's 25.
Wright drove the team all the way to Perry's 18 – completing two more passes for 27 yards along the way – before Paul White fumbled the ball and Vasiliades recovered.
But the drive got the Tigers out of a bad hole and kept the persistent Panthers at bay.
Asked why he switched quarterbacks, Currence said: "Brent was hurt all, week, I don't know if people knew that. He did the best be could do I don't even know if he could see out there (because of a swollen face).
"But Brent didn't have the timing. He knew it and I knew it, and I didn't want to throw anyway. I just wanted to drive it out of there and that's what we did. Ronnie does a good job on the short pass and his faking and ball handling are excellent.
"It wasn't Brent's fault. Besides, we had bad field position all night. But when we had to call on Ronnie he came up with the big play," Currence explained.
He came up with another big play when the Tigers got the ball back with less than two minutes to go in the game.
Offenbecher came back in at quarterback and hurled a perfect pass to Wright who made a fingertip catch and sprinted to the end zone to complete a 59‑yard scoring play. Wright added the extra point kick and the score ended 27‑6.
Despite the mistakes, it was a good way to start a rivalry (this being the first meeting between the two schools go the gridiron) and the Perry Panthers certainly gave the Tigers all they needed.
GRIDSTICK
M P
First downs – rushing 9 4
First downs – passing 1 7
First downs – penalties 0 1
Total first downs 15 12
Yards gained rushing 292 58
Yard, lost rushing 25 6
Net yards gained rushing 267 52
Net yards gained passing 153 139
Total yards gained 420 191
Passes attempted 15 31
Passes completed 8 15
Passes intercepted by 1 1
Yardage on passes intercepted 11 0
Times kicked off 5 2
Kickoff average (yards) 46.8 50 4
Kickoff returns (yards) 87 103
Times punted 4 6
Punt average (yards) 32.0 34.8
Punt returns (yards) 10 8
Had punts (blocked) 0 0
Fumbles 4 3
Lost fumbled ball 2 2
Penalties 7 10
Yards penalized 65 71
Touchdowns rushing 2 0
Touchdowns passing 2 1
Touchdowns by interception 0 0
TIGERS, PANTHER LINEUP
TIGERS
Offense
QUARTERBACK: 14 Brent Offenbecher (Sr., 6‑1, 175);
FULLBACK: 43 Tom Gehring (Sr., 5‑10, 171);
HALFBACKS: 45 ‑ Jeff Belief (Jr., 5‑7, 158), 22 ‑ Bill Beitel (148);
ENDS: 42 Curtis Strawder (Sr., 5‑10, 153), 13 ‑ Ron Wright (Sr., 5-9. 173), 25 Marty Guzzetta (Jr., 5‑ 9, 160 );
TACKLES: 67 ‑ Doug Wood (Sr, 6‑2, 191), 76 Mark Kircher (Jr., 6-1, 212);
GUARDS: 69 Jim Horton (Sr., 6‑0, 177), 79 Eric Barnard (Sr., 6-2, 215);
CENTER: 51 Scott Kasunick (Sr., 5‑9, 181).
Defense
ENDS: 81 Bruce Solinger, (Sr., 6 0, 175), 88 Kent Wilson (Sr., 6-0, 182);
TACKLES: 72 Harry Foster (Sr., 6-2, 232), 71 Jeff Pedro (Sr., 6-3, 204);
MIDDLE GUARD: 55 Bob Simpson (Jr., 5‑11, 190);
LINEBACKERS: 32 Dick Cleveland (Sr., 5‑11, 188), 17 ‑ Kevin Harris (Sr., 5‑10, 182);
MONSTER BACK: 11 Darren Longshore (Sr., 6‑1, 175);
SAFETY: 21 Jamie Schlegel (Jr., 5‑11 160) or 24 Dan DiLoretto (Jr., 5-8, 149);
HALFBACKS: 34 Jeff David (Sr., 5‑9, 188), 12 Dan Venables (Sr., 5‑10 160).
KICKERS: 13 Wright (punts, extra points), 86 Mike Hodgson (Jr., 6-5, 194) kickoffs.
PANTHERS
Offense
QUARTERBACK: 14 John Vasiliades (Sr., 6-0, 170);
FULLBACK: 32 Greg Grimsley (So, 6‑0, 195);
HALFBACKS: 35 Steve Fink (Sr., 5‑10.171), 23 Ronnie Wilson (Sr., 5‑8, 148);
ENDS: 83 Greg Janowicz (Sr., 6‑1, 188), 15 ‑ Scott Slicker (Sr., 5‑11, 163);
TACKLES: 72 Eric Ferguson (Sr., 6-1, 204), 77 ‑ Doug Lab (Jr., 6‑0 195);
GUARDS: 65 Rick Troxell (Sr., 5-8, 162), 61 Dennis Rollins (Sr., 5‑9, 165);
CENTER: 54 Jerry McCoy (Sr., 6‑1, 218).
Defense
ENDS: 86 Mike Daniels (So., 5-10 179), 83 Janowicz;
TACKLES: 77 Lab, 72 Ferguson;
OUTSIDE LINEBACKERS: 14 Vasiliades, 35 Fink;
INSIDE LINEBACKERS: 65 Troxell, 53 Do Gregoire (Jr., 6-1, 167);
SAFETY: 23 Wilson;
HALFBACKS: 15 Slicker, 49 Aubrey Trufont (Sr., 5-7, 148).
SERIES: First meeting.
Federal clubs command respect
By Bob Stewart
Repository Sports Editor
In this, the first full weekend of Ohio high school football, the Federal League lost some battles, but may have wond the war.
To be sure, it was not the best weekend Federal League football teams ever have encountered, with only Jackson and Marlington managing to whip the non‑league competition.
But then Perry dared to enter the Tiger' lair, and GlenOak made it's second annual opener at Fawcett.
And therein lies a tale.
The Federal League teams that tweaked the tails of the so‑called mighty Massillon and McKinley aggaggregations got bit, but not fatally.
Perry gave the Tigers a run for their money, and the Pups had to come from behind to put down the Golden Eagle upstarts.
Federal League football must rank with some of the beat played in Ohio, and while the entire loop may not be able to play week in and week out with the likes of a Cincinnati Moeller, well, who can?
The Federal loop has gained respect, and there is no justification for the fans to be maligning the Federal teams on the McKinley and Massillon scheduled.
The Massillon fans have been grumbling since last spring about the Perry and Jackson addition to the Tigers.
But you will see more and more matchups like them. You need only look to the bottom line of the summary, where it reads: Attendance ‑ 17,930. That translates into $$$$.
That's the most in Tiger Stadium for an opening ball game for many a moon. There is no question it's a lot more than Dayton Roth or Cleveland East turnover would have put there.
In addition to the clicking of the turnstiles, the Massillons add the McKinleys also will be waiting for the clicking of the computers as the Perrys and the GlenOaks knock off teams the rest of the session.
Of all the teams on Massillon's schedule this year, Perry had the beat 1977 record, except for McKinley, which want to the state playoffs.
The two top items for high school football teams these days are money and computer points.
Massillon and McKinley are convinced Federal foes can provide both.
But the Federal League also can provide some tough competition, and one of these years it could be a Federal team riding the Massillon or McKinley points into the state playoffs.
Louisville and North Canton have been but a whisker away from the playoffs in the past, and the Federal footballers have served notice that they come to play. If you put them on your schedule, better button up your chin strap.