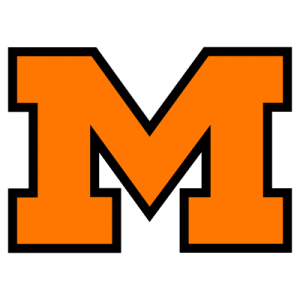 State title goes out window for WHS
Alliance makes its season with 6-3 win
By CHUCK HESS, JR.
Independent Sports Editor
A state championship went out the window for one team and a season was made for another Friday night at Tiger Stadium.
A state title went out the window because the Tigers made too many mistakes against a team they were supposed to beat handily.
SO SURE were Alliance fans that they were going to lose that the small entourage which they sent to Massillon swelled the crowd to only 8,507, the second smallest turnout at Tiger Stadium this season.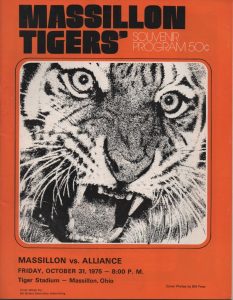 In losing 6-3 to the Aviators and former Tiger Julius Tonges, the Obiemen made a
180-degree turn in their caliber of play. Last week they controlled every phase of the game in beating Warren. On Friday night they controlled nothing. Alliance had the ball for seven minutes more than the Tigers.
The Aviators won their first game ever at Tiger Stadium . Their last win in Tigertown came in 1927 via 13-0 count at Massillon Field.
The Aviators last victory over the Tigers was a 46-0 win in 1962 at Hartshorn Stadium in Alliance.
The Orange and Black led in the overall statistical parade but in the rushing
department – in which they should have greatly overshadowed Alliance – they fell behind 176-186. Quarterback Keith Keller completed five of 12 passes – under great
pressure – adding 49 yards to the ground total for a 225 overall count.
ALLIANCE COMPLETED only one of four passes for nine yards and a 195 total.
The Tigers played a miserable first half, getting only 76 yards overall in 110 for Alliance, with 71 coming on the ground. The Aviators had 101.
Against Alliance's seven-man front the Tigers had trouble running during the whole game, but the Tigers' final six passes didn't come until the last quarter. Interceptions by Gilbert Goodwin at the Alliance 37 and by Russell Goodwin at the Aviator's three – on the final play of the game – killed both threats.
"We had the ball enough times to win, but we fumbled four times (the Tigers lost two of them) and had two passes intercepted," Shuff said. "We did not play heads up football. They controlled the line offensively and defensively.
"We weren't in the right game of mind. Woody Hayes says 90 per cent of football is played from the neck up. We just didn't learn our lesson well enough earlier."
(A REFERENCE to a 6-6 tie with Nordonia in the second game of the season – another game which the Tigers were expected to win.)
In the other dressing room Tonges was on cloud nine.
"We told our boys if they got this one, it would make amends for our last five games," the Alliance first-year mentor said. "From the Ravenna game on we have played nothing but outstanding team. Nobody in Ohio has played a tougher schedule than we did this year. That made us tougher for the big ones. This team gave all it had for 48 minutes. I'm proud of them all."
Tonges thought Alliance could have beaten Canton McKinley if the Aviators had gotten some breaks in the officiating. He thought the Pilots fumbled the game away at Warren.
"We put a little pressure on Keller," Tonges said. "We also felt we had to use a seven-man line. We ran the cross buck and a lot of quick dives, mixing it up pretty well."
TIME AND again Alliance fullback Art Kennedy powered through the center or between the guards and tackles for big gains. But Tiger fullback Bill Harmon was not able to cut loose until the second half.
He gained all the Tiger yardage in the third quarter, ending with the 128 net yards in 22 carries. Kennedy picked up 115 yards in 23 attempts and fullback Richard Scott garnered 49 yards in 16 carries.
The Tigers converted only four of nine third-down attempts to Alliance's two of 12.
The Tigers scored first on a 54-yard, 10-play drive, culminated by Keith Harmon's 43-yard field goal with 11:32 left in the second stanza. Tailback Pete Killin's 22-yard scamper around end with a pitchout set up the tally.
Keith Harmon's three-pointer was his third of the season, tying Bob Pflug's effort in 1923.
HE HAD another chance on the final play of the second stanza. He had recovered a bad pitchout from Alliance signal caller Ed Tremoulis on the Aviators' 49.
Aided by a 15-yard interference penalty, the Orange and Black got to the Alliance 29 in five plays. However, Harmon's 47-yard boot went to the left.
Alliance's lone touchdown came after a handoff from Keller to Grizzard went awry and was recovered by Chuck Banks at the Massillon 29. Three plays later Kennedy burst through center from the 16, raced to the two, fumbled the ball into the end zone and Don Johnson hopped on the pigskin for the TD with 5:22 left in the second stanza.
Tiger, Aviator Facts
TIGERS
Offense
Ends – Bill Bammerlin (6-2, 167, Sr.); Mark Matie (6-0, 225, Sr.).
Tackles – Mike Lauber (5-11, 207, Sr.); Sylverster Drobney (6-1, 216, Sr.).
Guards – Todd Schumacher (5-11, 200, Sr.) Carl Christoff (5-8, 172, Sr.).
Center – Dan Nagle (5-11, 232, Sr.).
Quarterback – Todd Keller (6-1, 185, Sr.).
Halfbacks – Tom Grizzard (6-0, 185, Sr.) Keith Harmon (6-2, 195, Sr.).
Fullback – Bill Harmon (6-1, 237, Sr.)
Defense
Ends – K. Harmon; Drobney.
Tackles – Tim Tourney (6-2, 265, Jr.); Matie.
Middle guard – Jess Toles (5-10, 192, Jr.).
Linebackers – Anthony Grizzard /(5-10, 163, Jr.); T. Grizzard).
Secondary – Glenn Arner (6-1, 173, Sr.); Don Stewart (5-11, 151, Sr.);Willey Conley (5-11, 173, Sr.); Harold Dorsey (5-11, 188, Sr.).
ALLIANCE
Offense
Ends – Russell Goodwin (5-8, 150, Sr.). Brad Siefke (6-1, 175, Sr.).
Tackles – Dave Baker (5-9, 170, Sr.); Homer Miller (6-1, 200, Sr.).
Guards – Paul Bowman (5-8, 175, Sr.); Dave Kellerher (5-8, 180, Sr.).
Center – Don Baker (5-8, 170, Sr.).
Quarterback – Ed Tremoulis (5-10, 155, Sr.).
Halfbacks – Art Kennedy (5-8, 170, Sr.); Richard Scott (5-8, 155, Sr.).
Fullback – Gilbert Goodwin (5-7, 155, Sr.).
Defense
Ends – Siefke; Steve Clunk (5-11, 171, Jr.).
Tackles – Larry Schenk (5-7, 165, Jr.); Don Crockett (5-11, 205, Sr.).
Linebackers – Dave Baker; Miller; Charles Handock (5-11, 180, Jr.).
Secondary – G. Goodwin; Phil Grove (5-8, 155, Jr.); Don Johnson (5-7, 150, Jr.); Scott.
Weight Comparisons
Tigers:
offense (line 203, backfield 198, overall 201);
defense (line 204, secondary 172, overall 189).
Alliance:
offense (line 174, backfield 159, overall 169);
defense (line 181, secondary 154, overall 171).
Series – Tigers 54-8-2.
Points scored – Tigers 1,639; Alliance 423.
Points scored this year – Tigers 150; Alliance 48.
Points allowed this year – Tigers 24; Alliance 180.
OFFICIALS
Referee – Chuck Hinkle.
Umpire – Jim Keefer.
Head Linesman – Tom Coleman.
Field Judge – Don Miller.
Back Judge – Steve Nagy.
GRIDSTICK
Mass. All.
First downs-rushing 8 10
First downs-passing 3 0
First downs-penalties 3 1
Total first downs 14 11
Yards gained rushing 193 196
Yards lost rushing 17 10
Net yards gained rushing 176 186
Net yards gained passing 49 9
Total yards gained 225 195
Passes completed 5-12 1-4
Passes intercepted by 0 2
Yardage on passes intercepted 0 3
Kickoff average (yards) 2-51.5 2-36.5
Kickoff returns (yards) 17 13
Punt average (yards) 3-36.0 6-34.6
Punt returns (yards) 25 0
Had punts blocked 0 0
Lost fumbled ball 2-4 1-3
Yards penalized 3-35 5-45
Touchdowns rushing 0 1
Total number of plays 51 55
Total time of possession 20:42 27:18