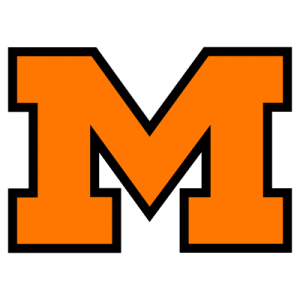 What a show! Tigers 17, Warren 0
By CHUCK HESS, JR.
Independent Sports Editor
"You gotta believe!" Tigertown has said all week.
The Tigers believed! The fans believed! Now all Buckeyeland has to believe!
MASSILLON HAS a great football team! The Orange and Black took a giant Friday night step toward a state championship and the title in the All-American Conference by putting together one of the greatest displays of offensive and defensive football ever fashioned by a Tiger football team!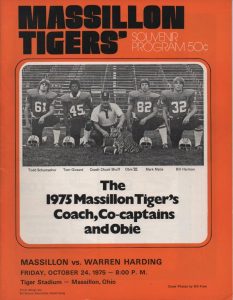 Before 17,267 fans, the largest crowd of the season, the Orange and Black upset a great Warren Harding team 17-0. Everything you could ask for was there: powerful offensive football, two of the greatest goal line stands high school football fans ever have seen, an
eye-popping brother scoring combination, a record-setting field goal and team football at its best!
The Tigers scored the first three times they handled the ball. They made Harding, defending state Class AAA champion, play catch-up football and made sure the Panthers didn't catch up
The Black Panthers, who had won 20 of their last 21 games, including seven this year, saw their AAC record drop to 2-1.
The Tigers' state jumped to 6-1-1 overall and 3-0 in the league. The Orange and Black remained tied with Canton McKinley (7-1, 3-0) for the AAC lead.
"THIS WIN made my whole body feel good," said Tiger Coach Chuck Shuff, a former Harding assistant who lost to the Black Panthers 35-10 last year at Warren.
The first thing that made the skipper fell good was a 47-yard field goal by senior Keith Harmon with 7:45 left in the first quarter. Harmon had put Harding in the hole with a 54-yard kickoff. End Syl Drobney and tackle Steve Easter made the situation worse with a nine-yard spill of tailback Gus Tucker to the three, Scott Ingram's punt went out on the Harding 43.
Quarterback Todd Keller ran two great end runs to put the ball on the Harding 30. Then Harmon booted the field goal with plenty of height and distance to spare.
The previous longest field goal was one kicked 40 yards by Bill Edwards, later a great coach and athletic director at Wittenberg University, in 1924 in a 77-0 win here against Alliance.
Harmon's 56-yard kickoff again put Harding into a hole. Safety Willie Conley and linebacker Anthony Grizzard threw Tucker into another tailspin from the 21, a procedure penalty was thrown in for good measure and Ingram punted from the 15.
JAY HARDPER made a fair catch of the punt on the Tiger 47 and the Tigers were off and running again as Bill Harmon picked up 37 yards in 10 carries on the drive, ultimately scoring from the two over left guard with 9:04 left in the second quarter. He also jumped over a Harding player while bulling his way over the middle for the conversion.
Keith Harmon kicked off 51 yards to the nine, Junior Robby White ran back to the 22. On the next play, Tiger tackle Mark Matie hopped on a fumble at the 28.
Quarterback Todd Keller hit Keith Harmon, out of his swingback spot over the middle, on the next play for a TD with 8:07 left in the second quarter. Harmon's attempted conversion kick was wide left.
At this juncture Warren Coach Tom Ross inserted star tailback Tyrone Hicks, who had been on crutches Wednesday, nursing a knee injury. He and quarterback Frey, with some tricky ball handling, ignited the Black Panthers' offense.
Harding rolled to the Tigers' six in 13 plays after Keith Harmon's 56-yard kickoff. The big play was Tucker's 20-yard romp between right tackle and right end to the seven.
On third down Frey tried to hit senior wingback Weibush in the end zone but Conley dived in at the knick of time.
"I saw two players go back over there and jumped between them and batted the ball away," Conley said.
On fourth down Frey passed into the flat to Hicks who dropped the ball.
HARDING THREATENED after taking Keith Harmon's kickoff at the 25. In 11 plays they were on the Massillon one.
Defensive coordinator Joe Siesel sent in the "Tank Corps" including 6-2, 265-pound tackle Tim Tourney and Bill Harmon, 6-1, 237-pound end. The Orange and Black held on four running plays.
The Tigers then began to move with the help of junior tailback Pete Killins, but ran into a flock of penalties and lost the ball on downs at their 45.
Later after Keith Harmon's third down quick kick, Frey hit Weibush with a 26-yard pass to the Tigers' 41. Two plays later he hit senior end Ezra Alls with a 15-yarder to the Tigers 22.
On second down Frey connected with Alls again, in the left corner of the end zone, but he dropped the pass.
THE TIGERS, with Killins and Bill Harmon doing the carrying again, took the Orange and Black machine to the Harding 36 where the Obiemen lost the ball on downs.
They had the ball on the Black Panthers' 22 when the game ended to a tumultuous standing ovation for the team and for sure-fire All-Ohioan Harmon who, during the Tigers' final drive of the first half, went over the 1,000-yard mark for the season.
He carried the ball 24 times Friday night, netting 112 yards, to put his total at 1,056 for the season. Mike Mauger's 1,200 in 1970 is the next highest Tiger total. Then comes Tom Hannon's 1,236 in 1972 and Willie Spencer's 1,251 in 1971. They fill the AAC's second through fourth all-time spots.
Rick Gales of Niles McKinley holds the lead at 1,266 in 1969. Just above Harmon is Steubenville's Mike Palmer at 1,093 in 1966 in sixth place.
"It was tough running against their line," Co-Captain Bill Harmon said. "I earned everything I got. The line did a great job opening the initial holes. Tom (Grizzard) and Pete (Killins) did a great job of taking the pressure off me. I'm happy about Keith's field goal and going over 1,000 yards."
"Our defense was great," said Shuff. "I think Conley was thinking of Upper Arlington and wasn't going to let that (winning touchdown pass) happen again. Warren had a good defense."
"THE OFFENSE kept possession when they had to and the pass from Todd (Keller) to Keith (Harmon) was great," said Shuff. Billy (Harmon) rammed hard in there. We had some nice movement. I thought our offensive line started taking charge in the fourth quarter."
Harding surprised, according to Shuff, by running unbalanced left.
"I'm proud of our boys' performance in both the first and second halves," Warren Coach Ross said. "We felt we got out physicalled at the line of scrimmage tonight. Harmon had a great night, the kids hit him with all they had."
"We have to pick up the pieces and go back and get ready for another football game."
As to Hick's playing on a bad knee, Ross felt he was ready mentally and physically.
"WE TRIED to deemphasize his importance because that's the way he wanted it," Ross said. "He's not a selfish football player."
Hicks' carried the ball 12 times for 74 net yards. Tucker carried six times for 46 net yards.
Massillon, Warren Lineups
TIGERS
Offense
Ends – Bill Bammerlin (6-2,167, Sr.); Mark Matie (6-0, 225, Sr.).
Tackles – Mike Lauber (5-11, 207, Sr.); Sylvester Drobney (6-1, 216, Sr.).
Guards – Todd Schumacher (5-11, 200, Sr.); Carl Christoff (5-8, 172, Sr.).
Center – Dan Nagle (5-11, 232, Sr.).
Quarterback – Todd Keller (6-1, 185, Sr.).
Halfbacks – Tom Grizzard (6-0, 185, Sr.); Keith Harmon (6-2, 195, Sr.).
Fullback – Bill Harmon (6-1, 237, Sr.).
Defense
Ends – K. Harmon; Drobney.
Tackles – Tim Tournay (6-2, 265, Jr.); Matie.
Middleguard – Jess Toles (5-10, 192, Jr.).
Linebackers – Anthony Grizzard (5-10, 163, Jr.); T. Grizzard.
Secondary – Glenn Arner (6-1, 173, Sr.); Don Stewart (5-11, 151, Sr.); Willie Conley (5-11, 173, Sr.) Harold Dorsey (5-11, 188, Sr.).
WARREN
Offense
Ends – Russ Porter (6-2, 205, Sr.); Aaron Reed (5-7, 150, Sr.).
Tackles – Ed Kowalczyk (5-11, 210, Sr.); Jamie Candella (6-3, 215, Sr.).
Guards – Dave Maurice (5-10, 191, Sr.); Ed Farah (5-10, 175, Sr.).
Center – Ed Bolino 95-10, 175, Sr.)
Quarterback – Bill Frey (5-10, 160, Sr.).
Halfbacks – Gus Tucker (5-11, 195, Sr.); Kurt Weibush (5-9, 165, Sr.).
Fullback – Dave Terpin (5-0, 185, Sr.).
Defense
Ends – Ernie Epitropoutos (6-0, 183, Jr.); David Allen (6-2, 200, Jr.).
Tackles – Porter; Candella.
Middle Guard – Erick Lewis (5-10, 175, Jr.).
Linebackers – Tucker; John Epitropoulos (6-0, 183, Jr.).
Secondary – Gary Angel (5-7, 150, Sr.); Bruce Davenport (6-0, 175, Sr.); Timothy Hall (6-1, 170, Sr.); John Canty (5-11, 170, Sr.).
WEIGHT COMPARISONS
Tigers
offense (line 203, backfield 198, overall 201);
defense (line 204, secondary 172, overall 189).
Warren
offense (line 191, back field 176, overall 186);
defense (line 193, secondary 166, overall 184).
SCORING SUMMARY
M – Keith Harmon, 47 field goal;
M – Bill Harmon, 2 run (B. Harmon run);
M – K. Harmon, 28 pass from Todd Keller (kick failed).
Series – Tigers 35-14-1.
Points scored – Tigers 1,023; Warren 426.
Points scored this year – Tigers 133; Warren 207.
Points allowed this year – Tigers 24; Warren 38.
OFFICIALS
Referee – Chuck Lorenz.
Umpire – Brenton Kirk.
Head Linesman – Bill Kerr.
Field Judge – Nick Costello.
Back Judge – Wilson Murray.
ATTENDANCE – 17,267.
GRIDSTICK
Mass. War.
First downs-rushing 10 7
First downs-passing 1 2
First downs-penalties 2 1
Total first downs 13 10
Yards gained rushing 181 165
Yards lost rushing 5 39
Net yards gained rushing 176 116
Net yards gained passing 28 42
Total yards gained 204 158
Passes completed 1-2 2-10
Passes intercepted by 0 0
Yardage on passes intercepted 0 0
Kickoff average (yards) 4-54.8 3-50.0
Kickoff returns (yards) 24 72
Punt average (yards) 3-30.3 3-30.3
Punt returns (yards) 0 0
Had punts blocked 0 0
Lost fumbled ball 0 1-2
Yards penalized 4-20 4-40
Touchdowns rushing 1 0
Touchdowns passing 1 0
Total number of plays 45 47
Total time of possession 26:50 21:10
Harmon AAC's top scorer
Massillon's Bill Harmon lost his All-American Conference rushing lead to Niles McKinley's Phil Chelsea last weekend, but held on to his all-games lead. He also continued to lead in league and all-games scoring.
Harmon has rushed for 415 yards (6.2 average) while Chelsea has rushed for 418 yards (5.6). Harmon has scored 38 points in league games and 80 overall.
CHELSEA IS second in league scoring with 24 points and tied for second overall with Warren Harding's Tyrone Hicks with 72.
Other rushers and scorers from the Tigers: rushers – Tom Grizzard (10th league, 93 yards, 4.4 average; 10th overall, 300 yards, 4.9 average); scorers – Keith Harmon (sixth, league
15 points).
Alliance, Massillon's foe this week, has Richard Scott fourth in league rushing (217 yards, 6.4 average) and Art Kennedy eight (98 yards, 3.9 average). Scot is also seventh in overall rushing (378 yards, 4.4 average).
Todd Keller continues to be sixth in overall passing (16 for 48, 336 yards, three touchdowns, three intercepted). He does not show league passing for the first time this week.
Canton McKinley's Roch Hontas leads both passing departments. His figures: (overall – 45 for 91, 688 yards, five touchdowns, three intercepted: league – 23 for 45, 343 yards, two TDs, one intercepted.)
BILL FREY of Warren Harding is second in both passing categories. His figures: overall – 29 for 78, 596 yards, five touchdowns, five intercepted; league – 15 for 36, 295 yards, one TD, one intercepted.
Aliance's Ed Tremoulis is fourth overall (17 for 61, 245 yards, no touchdowns, nine intercepted) and third in the league (11 for 35, 63 yards, no touchdowns, three intercepted).
Keith Harmon is sixth in overall receiving (seven catches, 160 yards, two touchdowns) and does not show in league receptions. Alliance's Scott is fourth (14 catches, 122 yards) and Russell Goodwin sixth (12 catches, 128 yards) overall. Scott is third in league receivers (seven catches, 25 yards) and Goodwin fourth (five completions, 63 yards).
Canton McKinley's Ray Ellis leads in overall catches (17, 253 yards, one touchdown) and league receptions (11 catches, 163 yards). Dan Gatta of Niles McKinley is second overall (17 catches, 224 yards, one TD) and second in league receptions (seven catches, 92 yards).
THE EVENING INDEPENDENT
Saturday, October 25, 1975
A great victory!
Massillon's Washington High School Tigers took a big stride forward in Ohio scholastic football Friday evening when they defeated the previously unbeaten and defending state champion Warren Harding High School team in Tiger Stadium.
It was one of the great game in Tiger history and certainly one of the best in the
Warren-Massillon series.
The game was closer than the 17-0 score would indicate and the Warren players need not feel ashamed of their performance. They, too, played a terrific game. But the Tigers were masters of the goal line offensively and defensively. They crossed it twice for touchdowns, once for points after touchdown and kicked a 47-yard field goal, the longest in Tiger history.
The high mark of the game was when the defense stopped Warren in a first down situation on the one-yard line in the third quarter. They looked like the Tigers of old when they didn't yield an inch in four plays. Earlier in the game they had also stopped a Warren effort inside the 10.
It was a great victory for Massillon, a team effort and Coach Chuck Shuff and his young athletes deserved all the plaudits they received from the crowd . . . a demonstration of what can be done when team and fans get together and shove for victory.
Keep it up, Tigers!