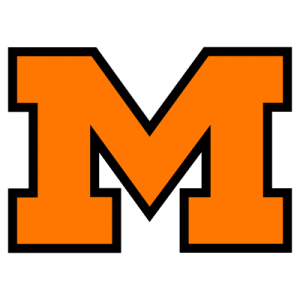 Arlington rolls over Tigers 31-14
Bears too quick and too physical for WHS
By CHUCK HESS, JR.
Independent Sports Editor
It wasn't a pretty sight for the Tiger faithful Friday night at Upper Arlington Memorial Stadium. In fact, it was a downright humiliating sight.
The Tigers got pushed around pretty good by a Golden Bear team which head coach Pete Corey said gave its best team effort in many years. When the Bears got through pushing, the Tigers were on the wrong end of a 31-14 score and went down to their second loss in three games while Arlington notched its third straight victory.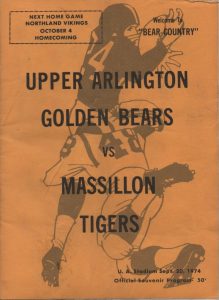 NOT SINCE 1910, under Ralph Fugate, when the Tigers lost their second and third games to Cleveland Shaw and Akron Central have the Orange and Black come up with one win and two losses in their first three games – by losing the third game.
Under Elmer McGrew the 1930 Tigers were 1-2 after beating Conneaut in the third
game – the first night game ever played here.
In 1931, after losing to a Jimmy Aiken-coached Toledo Scott team, in the third game, the Orange and Black were 0-1-2.
In 1923 Dave Stewart had an experience familiar to present head Coach Chuck Shuff's when his team lost at Harrisburg, Pa., Tech 26-0 after having trounced Salem 82-0 in the second game the week before. The Tigers barreled Cleveland East 67-0 last week.
Playing inspired football the Bears rolled up net ground 277 net yards rushing to the Tigers' 219. However, the overall yardage was only 354-332 in favor of Arlington. The Tigers got 133 yards in passing in the second half to Arlington's 38 to give the Tigers a
251-206 total yardage figure after the intermission. The Orange and Black had picked up no air yardage in the first half.
FOR THE second time in three games the contest was lost in the trenches. The Arlington offensive and defensive lines out-muscled the Tigers' line, were quicker than the Orange and Black and out finessed them.
The Bears were successful on eight of 13 third-down conversion attempts. The Tigers capitalized only four of 12.
"I look at those kids on the Massillon team and I can't believe that we handled them like we did," Corey said.
"They were quick, they were physical, they were bigger than we were," Shuff said. "They controlled the line of scrimmage. They put us in the hole from the start. When you have to play catch-up football you have a rough way to go." The counter play really hurt us. Coach Corey said this was the best he's ever seen an Upper Arlington team prepared mentally for a game."
SHUFF CONTINUED, "We can't panic at this point. We've just got to pull together and make the kids realize we have a lot of that season ahead of us."
The Tigers put forth a tremendous goal line stand in the first quarter and it looked as if this might spur them on, but it wasn't to be. The stand came after Arlington soccer style kicker Dave Goldthwaite had tried a 26-yard field goal, made it, but the Tigers had roughed Goldthwaite.
The Bears decided to take the penalty and try for the touchdown from the 2y yard line but senior fullback Rod Gregory was stopped.
The Tigers didn't score until the third quarter when junior tailback Tom Grizzard capped an 80-yard drive after the kickoff with a 15-yard run around end off a pitchout and was literally knocked end over end into the end zone. His conversion run was short.
Senior swingback Mark Pifer scored on a 57-yard pass-run from junior quarterback Todd Keller on the final play of the game. Pifer ran the last 30 yards and senior tailback Keith Herring ran the conversion on a pitch over tackle.
PIFER RAN kicks back 20 and 26-yards. One set up a second quarter drive which ended on fourth down on the Arlington 22. The other started the drive which led to his touchdown. Pifer also was on the receiving end of 18 and 24-yard passes from senior quarterback Greg Wood which helped set up Grizzard's score.
He was interfered with on a third-down pass on that drive and the Tigers got the ball on the Arlington 19 and scored three plays later.
The Tigers had a pass intended for Pifer, who became the prime receiver because split end Eddie Bell lost a contact lens before the game and couldn't see well enough to operate efficiently, intercepted by senior halfback Jon Tenuta and he ran it back 32 yards to the Tigers' 48 as the first half ended.
In the third quarter Grizzard had made a first down on the Tiger 40 as the Orange and Black got rolling after Bill Harmon had recovered a fumble by the Bear's Bryan Johnson on the Massillon three. However, a holding penalty killed that drive and there were no more.
Wood, trying hard to get the ball to his receivers, went from sprint out to drop back passes in the third quarter, but just wasn't consistent enough. He did carry the pigskin for nine attempts, netting 71 yards.
ON ONE carry, on some excellent reverse field running, a 29-yard to the Arlington 29, 'Woody" suffered an ankle cramp and had to leave the game.
Junior halfback Scott Straker scored two TDs for Arlington, one of them on a third quarter five-yard pass from senior quarterback Gary Ginther, the other in the second quarter on a three-yard pitch run around end. Ginther skirted end for five yards in the third quarter.
Junior fullback Ben Tenuta dove over the center of the pack from the one in the fourth quarter.
Goldthwaite kicked four conversions, one of them from 35 yards away due to an illegal participation penalty, and kicked a 24-yard field goal.
Ginther's 21-yard pass to Tenuta set up the field goal and his 18-yard pass and 25-yarder on a pass-run to end Mark Moorehead set up Ginther's score.
SENIOR WINGBACK Greg Amicon's counter runs were devastating. His 45-yard set up Staker's first TD.
His 17 and 30-yarders took the Bears to the Massillon seven where they lost the ball which Harmon recovered on the three. He also had a 14-yarder which helped start Arlington on its way to if final TD drive.
By the Tigers bench was Obie V's empty cage, containing the players, coaches', trainers', and managers' Obie buttons on shoe laces. The Upper Arlington administration still would not permit Obie V to be taken into the stadium. So he stayed home.
Before the game the Tigers watched the 1971 Orange Bowl film, featuring Louisiana State University. Head Coach Chuck Shuff hoped that the players, watching several shots of LSU's live Tiger mascot on the sidelines, would help them remember Obie's absence. The team normally watches a movie before a game.
CO-CAPTAIN Mark Streeter led the team through the pre-game hoop which said "In Massillon We Love Tigers" and the Arlington team ran through a square which said, "Tigers, beware. This is Bear Country."
Tiger junior tackle Mark Matie received a cut under one eye that required four stitches to close. Co-Captains Tim Gusthall re-aggravated his knee injury and came home on crutches.
Junior fullback Bill Harmon got banged soundly in the first quarter, but came out of it okay and returned to the game.
Senior halfback Kyle Mercer of Arlington twisted a knee badly in the second quarter.
UPPER ARLINGTON – 31
Ends – Partenchuk, Sorrell, Hyatt, Gray, Wolford, McKee, Moorehead, J. Tenuta, Stentz, Taggart.
Tackles – Stephan, Olson, Sublett.
Guards – Vaughan, Keitz, Boggs, Thompson, Lewis, Mason, Soloman.
Center – Green.
Quarterbacks – Ginther, Knisley.
Halfbacks – Mercer, Staker, McCabe, Hodson, Bowman, Amicon.
Fullbacks – Johnson, Gregory, B. Tenuta, Lestock, Drake.
Kicker – Goldthwaite.
MASSILLON – 14
Ends – Lemon, Coates, Bell.
Tackles – Rich, Matie, Lauber, Rambaud, Eastern, Greshen.
Guards – Bricker, Lightfoot, Dowd, Parrish, White, Christoff, Schumacher, Snell, Brand.
Center – Nagle.
Quarterbacks – Wood, Keller.
Halfbacks – Pifer, Streeter, Grizzard, K. Harmon, Herring, Dorsey, Robinson.
Fullbacks – B. Harmon, G. Waldrop, Martin, Hoffner, Lab.
SCORING SUMMARY
A – Dave Goldthwaite, 24 field goal;
A – Scott Staker, 3 run (Goldthwaite kick);
A – Staker 5 pass from Gary Ginther (Goldthwaite kick);
M – Tom Grizzard, 15 run (run failed);
A – Ginther, 5 run (Goldthwaite kick);
A – Ben Tenuta, 1 run (Goldthwaite kick);
M – Mark Pifer, 57 pass-run from Todd Keller (Herring punt).
OFFICIALS
Referee – Paul Askins.
Umpire – Dan Moore.
Head Linesman – Don Miller.
Field Judge – John Pollis.
GAME STATISTICS
Mass. UA
First downs – rush. 10 1
First downs – pass. 4
First downs – penal. 2
Total first downs 16 1
Yds. Gained rush. 222 25
Yds. Lost rush. 3 1
Net yds. gained rush. 219 277
Net yds. gained pass. 133 6
Tot. yds gained 352 354
Passes attempted 16
Passes completed 6
Passes inter. By 0
Yd. on passes inter. 0
Times kicked off 2
Kickoff ave. (yds.) 28
Kickoff returns (yds.) 55
Times punted 3
Punt ave. (yds.) 31
Punt returns (yds.) 0
Had punts blocked 0
Fumbles 2
Lost fumbled ball 1
Penalties 6
Yds. Penalized 45
TDs rushing 1
TD pass 1
TD by inter. 0
Misc. 0
Tot. no. of plays 56
Time of possession 23:36