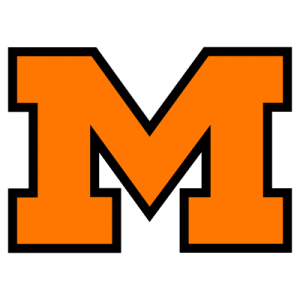 Tigers need not be ashamed, say Shuff
By CHUCK HESS, JR.
Independent Sports Editor
Psalm 31 says, "Be strong and take courage."
Tiger coach Chuck Shuff put it another way, as his charges alighted Saturday night from the busses which returned them from Niles.
"KEEP YOUR heads up," the Tiger skipper said. 'You have nothing to be ashamed of."
The Orange and Black indeed have nothing to be ashamed of. "Tiger Pride" is still there and Shuff has every reason to believe that it will bring the Obiemen back from one of their worst starts ever. Not since 1907 have the Massillon gridders had three losses in their first four games.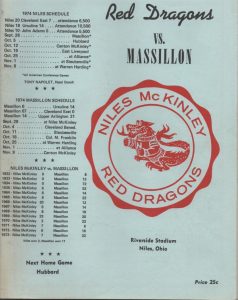 The 1974 Tigers' third defeat came before 13,000 Saturday night at Riverside Stadium in Niles as Steve Ziegler raced 88 yards with the kickoff following the Tigers' go-ahead touchdown to score the Red Dragons' winning tally.
Massillon has won only one game. Niles is 4-0.
The game was the All-American Conference opener for both teams and the loss puts the Tigers in the cellar with Alliance and Steubenville.
The Obiemen have lost two of five games played at Riverside and both times a Ziegler was responsible. John scored the winning TD on a pass reception in the waning seconds of 1966. He is no relation to Steve.
SATURDAY'S WINNING tally came with less than 2:50 remaining in the game, according to back judge Dr. Larry Glass of Youngstown. Because the Riverside Stadium clock was inoperable in the second half, Glass kept the time on the field and said his watch showed 2:50 when Keith Harmon booted the ball.
"I had no thought of having Keith squibb kick the ball," said Shuff. "We would have run a high chance of kicking it out of bounds. That would have given him the ball on the 40."
"There are times when you wonder what you have to do to win," Shuff said. "Our kids gave us an all-out gutty performance. When they put two-point conversions in when they had to, they sure deserved more than they got in playing against a fine Niles team."
Shuff thinks the Tigers will be all right morale-wise.
"These kids are Massillon Tigers," Shuff said. "It takes an awful lot to take the pride out of a Tiger."
THE FIRST test will be if the Orange and Black can start to swing the pendulum the other way Friday night when Cleveland Benedictine (1-3) comes to the "House of Champions."
"Massillon did a great job offensively and defensively and we were lucky to pull it out," said Niles coach Tony Napolet. "I credit a great runback by Ziegler. I remember seeing a boy on the 20-yard line who I thought was going to put him down, but Steve out ran him and got to the end zone."
Zielger was spun around on the 40 on his trek downfield.
Shuff wasn't the only one crediting the Tigers with some real gutty play. Napolet called it "taking a lot of nerve" when the Tigers gambled on a third and five situation on their
68-yard, first quarter touchdowns drive and a fourth and two situation on their 87-yard fourth quarter drive.
The Tigers got a 12-yard runback from junior Jeff Lab following Niles' kickoff after its second quarter TD and used eight plays to go the distance. Senior Keith Herring, son of the famous Edgar "Echo" Herring, subbing tailback for senior co-captain Mark Streeter who had a pulled groin muscle, skirted end for 15 yards on a pitchout, to get a first down on the Niles 36.
SENIOR SWINGBACK Mark Pifer followed with a counter run for 26 more to the 10 and two plays later junior fullback Bill Harmon powered over off tackle from the five. Senior quarterback Greg Wood slanted off tackle for the conversion.
In the fourth quarter it was fourth and one on the Tigers' 45 when Wood hit senior split end Eddie "Tinker" Bell with a 10-yarder for a first down on the Niles 45. The Orange and Black then picked up the second of two personal foul penalties for a first down on the 29. After a motion penalty, Streeter picked up 10 to the 24 and Wood cut loose with a corner pass to Bell who stumbled, made the grab and went into pay dirt.
Grizzard made a great second-effort run on a pitchout for the conversion.
Niles scored at the beginning of the second quarter with sophomore tailback Phil Chelsea (89 yards in 25 carries) whom Napolet called the greatest back he's ever coached, blasting off tackle from the one. The eight-play drive was a 55-yarder which came after a 30-yard interception return by Greg Joseph for a first down on the Niles' 45.
Denny Severin kicked the conversion.
THE DRAGONS scored at the beginning of the fourth quarter on a 19-play, 80-yard drive following a Tiger punt. Chelsea went through the center from the one on fourth down.
Senior Dirk Abernathy, switched back to quarterback from tailback to make use of his speed, option ability and passing, hit Severin for the conversion. The Tigers later stopped Dirk's effort to add two points to Ziegler's game-winning TD, but his passing helped to keep both Niles TD drives going.
Ziegler's Kickoff Return
Powers Red Dragons
To Win Over Tigers
NILES – Nearly 13,000 spectators watched Steve Ziegler return a kickoff 88 yards with about 3:00 left in the game Saturday night as Niles McKinley defeated Massillon Washington 21-16 in a seesaw All-American Conference scholastic football game.
The loss was Massillon's third in four games – the worse Tigers' start since 1907 when that year's club tied its opening game foe before dropping four successive games. The win upped Niles' record to 4-0.
Ziegler's return came in the wake of Massillon's uphill struggle to take the lead for the second time when swingback Ed Bell took a 24-yard pass from quarterback Greg Wood and tailback Tom Grizzard added the bonus points.
Greg Joseph set up Niles' first TD when he picked off a Wood pass and the Red Dragons drove 85 yards. Fullback Phil Chelsea went over from the one early in the second quarter to end a drive Niles started in the first period.
Massillon gained an 8-7 halftime edge when fullback Bill Harmon tallied on a five-yard run and Wood kept for the two points.
Niles launched an 80-yard march late in the third canto and went ahead 15-8 as Chelsea again went over from the one and this time Denny Severin took a pass for the extra points. Severin had converted by placement after the Dragons' first TD.
Niles finished with a 54-45 advantage in total plays, but Massillon showed a 227-193 margin in total offense, with the Tigers' edge coming via a 192-119 difference in rushing yards.
Massillon completed four of 12 passes for 35 yards and Niles was 7-for-17 for 74 yards.
Massillon was penalized nine times for 114 yards and Niles six for 63 in a game in which the scoreboard clock was out of order in the second half.
NILES McKINLEY 0 7 0 14 21
MASSILLON 0 8 0 8 16
SCORING SUMMARY
N – fb Phil Chelsea 1 run (Denny Severin kick).
M – fb Bill Harmon 5 run (qb Greg Wood run).
N – Chelsea 1 run (Severin pass from qb Dirk Abernathy).
M – sb Ed Bell 24 pass from Wood (fb Tom Grizzard run).
N – Steve Ziegler 88 kickoff return (run failed).
Tiger, Niles lineups
MASSILLON
Ends – Lemon Bell.
Tackles – Lauber, Easter, Greshen, Rich, M. Matie.
Guards – Lightfoot, Bricker, Parrish, Schumacher, Dowd, Rambaud, Christoff, Snell, Brand.
Centers – Nagle, Peters.
Quarterback – Wood.
Halfbacks – Herring, Streeter, Grizzard, Pifer, Dorsey, Robinson.
Fullbacks – B. Harmon, Lab, Waldrop.
Kicker – K. Harmon
Punter – Keller.
NILES
Ends – Severin, Braun, Zielger, Woodford, Gatin, Blair.
Tackles – Hojnik, Miller, Blair.
Guards – Accordino, Klendovic.
Center – Ledenko.
Quarterback – Abernathy.
Halfbacks – Arnold, Chelsea, S. Russo, P. Russo, Salerno.
Fullbacks – Pallante, Tolver, Gillipsie.
Weight comparsions:
Tigers
offense – (line 187; backfield 180; overall 184).
defense (line 191; backfield 156; overall 179).
Nile
offense (line 193, backfield, 167; overall 184).
defense – (line 190; backfield 169; overall 169).
Series:
Massillon 11-3.
Points scored:
Massillon 311; Niles 112.
Weather: 70 percent chance of rain.
ATTENDANCE – 13,000.
OFFICIALS
Referee – Steve Nagy.
Umpire – Brenton Kirk.
Head Linesman – Tom Coleman.
Field Judge – Fred Vicarel.
Back Judge – Dr. Larry Glass.
GAME STATISTICS
M N
First downs – passing 2 5
First downs – penalties 3 1
Total first downs 11 13
Yards gained rushing 205 136
Yards lost rushing 13 17
Net yds. gained rush. 192 119
Net yds. gained pass. 35 74
Total yds. gained 227 193
Passes com. 4-12 7-17
Passes inter. by 1 2
Yd. on passes inter. 18 32
Kickoff ave. (yds.) 3-41.0 4-37.0
Kickoff ret (yds.) 43 126
Punt ave. (yds.) 4-41.3 5-32.0
Punt ret. (yds.) 5 4
Had punts blocked 0 0
Lost fumbled ball 1-1 0
Yds. penalized 9-114 6-63
Touchdowns rushing 2 2
Miscellaneous 0 1
Total no. of plays 45 54
To the Editor of The Evening Independent
It's amazing how one's perspective changes when you're a parent of a Tiger team member. Maybe it's because you are aware of the hours of blood, sweat and tears that go into football and the respect that the boys have for their coach, Chuck Shuff. Or maybe it's because you know that this coach is not only a teacher of skill, but a character builder, which is of equal importance in a young man's life. These boys are giving all the ability and God-given talent they have to offer.
Win or lose – get on their side and off their backs, Tigertown. Your example is so very important to these boys – they deserve your encouragement and support. Please don't let them down.
Proud Tiger Mom
Massillon, Sept. 30.
To the Editor of The Evening Independent
A week or 10 days before the opening of the local football season, a mother of a Washington High School football player wrote a Letter to the Editor in which she extolled the virtues of the new football coach. She praised the coach's feeling and consideration for the spirits and well-being of each individual player.
That letter prepared me to accept without shock the results of the 1974 season to date.
Nice guys do not produce championship football at Washington High School.
L.F. Milligan
Massillon, Sept. 29
Hard times for
Tiger footballers
By GEORGE STRODE
COLUMBUS (AP) – Mighty Massillon has fallen on hard times.
The Tigers, 13 times champions of Ohio high school football, are off to their worst start since 1907. They have won but one game in four.
CHUCK SHUFF, the new Massillon coach, had been in rebuilding phases in his first seasons at Oak Harbor and Fremont Ross.
"I came into Massillon anticipating a good start because of its tradition. It's very disappointing," said Shuff, a Mount Vernon native and University of Cincinnati graduate.
Shuff blames the slow start on injuries and inexperience.
"We had 15 lettermen, but only four of them were regulars," he said via telephone.
And two of the regulars, Co-Captains Joe Studer and Tim Gutshall, are out with injuries. Studer, a center-defensive end, has a heart murmur, Gutshall, a two-year linebacker, knee problems.
MASSILLON DROPPED its opener 14-6 to Youngstown Ursuline. Then came a 67-0 rout of Cleveland East, followed by losses to Upper Arlington 31-14 and Niles McKinley 21-16.
With such a start, Tiger faithful have grumbled.
"Sure, there is some unhappiness," said Massillon Independent sports Editor Chuck Hess, Jr., a team chronicler for 14 years. "But the fans have treated Shuff pretty well."
Shuff, who doubles as the school's athletic director, is working on a three-year contract. Therefore, he isn't reaching for the panic button.
"The coaches have told our seniors we are not giving up on them," Shuff said. "In a lot of situations like this, coaches will go with younger players. We're sticking with out seniors.
"I think we have our kids in pretty good mental shape for the rest of the season," he said.
MASSILLON'S SCHEDULE may be the roughest in the state each season. Remaining in 1974 are games with Cleveland Benedictine, the 1973 state playoff champions; Steubenville, Columbus Marion-Franklin, Warren Harding, Alliance and Canton McKinley.
One thing in Shuff's favor: He knows adversity in the first season at a school.
His opening 1965 team at Oak Harbor went 5-7. Two years later, it was 8-2.
In his first season at Fremont Ross, Shuff posted a 1-9 mark. The last three teams all compiled 9-1 records before Shuff departed for Massillon, replacing Bob Commings, now at the University of Iowa.