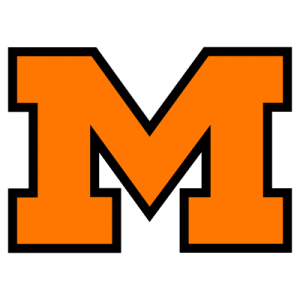 Streeter, Harmon lead Tiger rout
WHS effort best ever over a Cleveland team
By CHUCK HESS, JR.
Independent Sports Editor
If you're the type who likes football with a lot of offense, you got your money's worth Friday night at Tiger Stadium – if you were among the 9,048 fans who sat in on the worst slaughter ever administered a Cleveland football team by a Tiger team.
The Orange and Black took advantage of an early Cleveland East (0-1) mistake and went on to manhandle the Blue Bombers 67-0. They have yet to score against a Tiger team in four tries.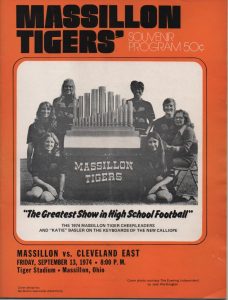 THE LAST time the Tigers clobbered a Cleveland team so unmercifully was in 1935 when Paul Brown's charges rolled 66-0 over East Cleveland Shaw on Massillon field. The last time a 67-0 score cropped up was when Sid Jones' Massillonians turned the trick against Dover in 1913 on North Street Field.
Senior tailback and Co-Captain Mark Streeter and junior fullback Bill Harmon led the onslaught behind some beautiful blocking and senior quarterback Greg Wood's faking. "Streets" scored four touchdowns and a conversion while carrying the ball 11 times for 110 yards (no losses). "The Big Bear" scored a touchdown while carrying the pigskin 18 times for 153 yards (no losses).
Streeter and Harmon's efforts helped the Tigers roll up 417 net rushing yards, losing only seven and 27 first downs. East's run and shoot offense was short circuited by the Obiemen's defense and got only 51 net yards, losing 25 and our first downs.
The only place where East got the better of it was in the passing department, connecting on 11 of 23 for 69 yards, mostly on running tosses into the flat. The Tigers hit on two of seven tries for a TD and 41 yards.
"Anybody running behind a line which opened up holes like ours – it was just beautiful," Streeter said. "It was like heaven compared to last week." (The Tigers lost 14-6 to Youngstown Ursuline in their opener.)
"OUR LINE did a tremendous job for Mark and me tonight," Harmon said.
Bill had had some trouble with his blocking last week but said it came along better this time. He threw a lulu for Streeter which opened the way for his second TD.
"I made a lot of mistakes last week and worked real hard in practice this week to get my blocking down," Harmon said. "I feel I did a little bit better."
East fumbled the opening kickoff, Jim Hoffner recovered on the "Bombers" eight-yard line Streeter scored over right tackle from the four three plays later and ran the conversion.
Thee Lemon intercepted an East pass on his 14 and the Tigers drove 75 yards in nine plays with Streeter going around end from the 18 on the block by Harmon for Streeter's second TD. Wood ran the conversion.
IN THE second period Streeter put the finish to an 82-yard, seven-play drive with a
nine-yard end run . Wood ran the conversion.
Harmon recovered a fumble on the East 25. Four plays later junior tailback Tom Grizzard went off tackle from the five. Wood's pass to Eddie Bell missed the conversion.
The Tigers took over on the Bombers' 15 after a low fourth down snap prevented a punt. Four plays later Harmon bulled in from the two. Dave Dowd booted the conversion.
The Orange and Black took the second half kickoff and rolled 86 yards in 12 plays for a score with Streeter racing over tackle from the 13. Tiger head coach Chuck Shuff called on "The Barrister" for another conversion kick effort and Dowd socked it through for a 42-0 score.
After a punt the Tigers rolled 72 yards in seven plays. Junior fullback Jeff Lab lugged the leather four yards for the six points. Dowd's kick was off to the right.
KEITH HERRING grabbed off a fourth quarter East pass on his 24 and raced 50 yards to set up the Tigers' next score. Junior quarterback Todd Keller passed to junior split end Bill Bammerlin for 29 yards on a sprint out pass for the TD on the next play. Bammerlin made a stumbling catch going into the end zone. Dowd's kick made it 55-0.
Senior line backer Dennis Bricker recovered an East fumble on the Bombers' 10. Two plays later junior tailback Dennis Simpson went around end from the three for another score. On a fake conversion kick senior holder Mark Pifer tried to pass to Grizzard unsuccessfully.
Keller intercepted an East pass on the Bombers' 46 and returned 37 yards to East's nine, but a 15-yard penalty sent the Tigers back to the 33. Six plays later junior fullback Al Martin went off tackle from the one for the final score. Enzo Fatigati's attempted conversion kick was low.
Another bad snap on fourth down enabled the Tigers to nail the punter on the East 16 with 11 seconds left in the game, but the block ran out mercifully for the Bombers.
"We made a mistake early, they kept piling up on us and Massillon kept hitting us hard," East head coach Joe Pledger said. "They have a fine team."
"THE KIDS went out there and went after people," Shuff said. "When you go out after people, you don't make mistakes. The defense looked real good. With East's type of offense you have to make some small adjustments. The kids did a good job of adjusting."
EAST – 0
Ends – Jones, Fitzgerald, Whatley, Turner, Reeves, Wallace, Franklin.
Tackles – Pickett, Dunham, Jones, Seay, Aldridge, Twiggs, Wade.
Guards – Dunham, J. Jones, Pollard, Ross.
Centers – Foster, Valentine.
Quarterbacks – Kizer, Holman.
Wingbacks – Hector, Yarborough, T. Jones, Daniel, Gue, Hunter.
Fullbacks – Crowell, Rogers, Sutton.
MASSILLON – 67
Ends – Lemon, Gutshall, Bammerlin, Conley, Coates.
Tackles – Matie, Lauber, Rambaud, Easter, Rich, Goff, Greshen, Drobney, Genet, Glick, Wilson, Johnson.
Guards – Lightfoot, Bricker, Parrish, White, Dowd, Christoff, Schumacher, Snell, Bettilyon, Venables, Brand, K. Waldrop, Ramsey.
Centers – Studer, Nagle, Mitchell, Peters.
Quarterbacks – Wood, Keller, Smith, Arner.
Halfbacks – Streeter, Grizzard, Pifer, K. Harmon, Butterfield, Simpson, Dorsey, Shilling, Herring, Stewart, Robinson.
Fullbacks – B. Harmon, A. Martin, Rogers, Hoffner, Lab, Waldrop.
Kicker – Fatigati.
MASSILLON 16 19 13 19 67
EAST 0 0 0 0 0
SCORING SUMMARY
Massillon
Mark Streeter, 4 run (Streeter run);
Streeter, 18 run (Greg Wood run);
Streeter, 9 run (Wood run);
Tom Grizzard, 5 run (pass failed);
Harmon, 2 run (Dowd kick);
Streeter, 13 run (Dowd kick);
Jeff Lab, 4 run (kick failed);
Bill Bammerilin,29 pass from Todd Keller (Dowd kick);
Dennis Simpson, 3 run (pass failed);
Al Martin, 1 run (kick failed).
OFFICIALS
Referee – Jack Werkowitz.
Umpire – Henry Mastrianni.
Head Linesman – Henry Armstead.
Field Judge – Richard Creed.
Back Judge – Ron Giacomo.
GAME STATISTICS
M E
First downs – rushing 23 1
First downs – passing 2 2
First downs – penalties 2 1
Total first downs 27 4
Yds. Gained rushing 424 51
Yds. Lost rushing 7 25
Net yds. Gained rush. 417 26
Net yds. Gained pass. 41 9
Total yds. Gained 458 95
Passes completed 2-7 1-23
Passes inter. By 3 0
Ydge. On passes inter. 62 0
Kickoff ave. (yards) 11-44.5 1-44.0
Kickoff returns (yards) 3 153
Punt average (yards) 0-0 6-20.6
Punt returns (yards) 8 0
Had punts clocked 0 2
Lost fumbled ball 1-6 3-6
Yards penalized 3-35 18-108
TDs rushing 9 0
TDs passing 1 0
Tot. number of plays 62 39
Time of possession 26:15 21:45