'Aerial circus' on tap in Tigertown
By CHUCK HESS, JR.
Independent Sports Editor
Will the Tigers get their "Aerial Circus" cranked into high gear?
Will they be quicker than a Cleveland East team which could be the most agile the Orange and Black will face this year?
These were the two questions uppermost in the mind of Washington High School head football Coach Mike Currence Thursday before he put his charges through their final pre-game workout.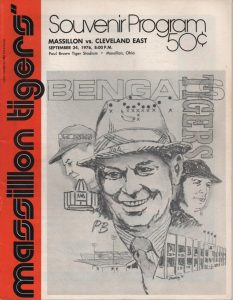 THE TIGERS (0-2) and the Blue Bombers (1-1) will square off tonight at 8 p.m. at Paul Brown Tiger Stadium. Currence is hoping that with Brown on hand and a dry field predicted, good luck will follow.
"It would be awfully embarrassing to lose with Brown watching," Currence stated.
There are expected to be about 10,000 fans on hand to watch the Tigers and to watch Brown lauded at halftime when the stadium will be officially renamed in his honor. The Tiger Swing Band will present a special show in his honor.
"Quickness will play a big part in the game," Currence said, "and there'll be a lot of footballs in the air – as long as it doesn't rain."
East has a junior end named Myron Hockett who causes Currence cause for concern.
"I DON'T believe we have a receiver as quick, but Sam George is pretty quick," Currence said. "Hockett seems to have the moves. Their coach, Joe Pledger, told me Hockett is also a big-time basketball prospect as well as a football prospect. He's one of the best receivers I've seen."
Currence said senior quarterback Ricky Holman also likes to throw to junior tight end Charles Radford and senior wingback Steve Reeves.
"He also catches well," Currence said. "He's an excellent kid – a two-way man. He also plays in the secondary with Holman."
Five Bombers go both ways, including two other offensive backfield men – senior tailback Darnell Duncan and senior fullback Tony Jones. Duncan is a secondary man, Jones a linebacker in East's 6-1 alignment.
Senior center Juan Pope also plays a defensive end slot.
"EAST THREW more than they ran last week against Warren Reserve," Currence warned. "Our secondary hasn't been tested yet because of the wetness. I think our boys are pretty good pass defenders. They won't meet anybody better than Holman."
The Bombers drop back and give Holman maximum protection, according to Currence.
"He throws the out-cut pass as well as any high school boy "I've ever seen," Currence said. "He can duck out of trouble and I've seen him throw 30 to 40 yards off the wrong foot while running. He also throws the in-cuts well and is a threat with the keeper."
Currence expects East to try the bomb to Hockett and short ones to the talented receiver if the Bombers get inside the 25-yard line.
East likes to run isolation and counter plays off their fullhouse-I as well as rollout for Holman to run with the backs running.
"A BIG question with East is who is injured," said Currence. "Joe hasn't told anyone but I suspect the tailback is hurt. Why else would they run Holman off a fullhouse-I and not run the tailback."
Pledger reported in Thursday's Evening Independent that he would hold injured players – now well – out of Friday's games and would also not open up his offense. This is to prepare for the opening of the East Senate League campaign next week.
"I think he would like to have a victory over Massillon over any East Senate victory," Currence said.
He expects Pledger to do some innovating defensively because he changed his coverage twice against Lakewood St. Edwards when Currence coached in 1974 and 1975. The Tiger skipper won both games.
"Because of East's quickness the Tigers' run and shoot offense will get its best to date," Currence said.
DURING THE week stadium groundskeeper Paul Ford has filled holes with dirt so Currence hopes for dry weather. Otherwise the game could be a battle of the mud bowl.
Currence has been in contact with the Cleveland Browns this week to find out to where to buy a tarp. The stadium had one but it wore out.
To win tonight Currence said the Tigers must execute in games as it does in practice. He feels the ball handling has improved this week except for Tuesday. The Tigers haven't had a wet ball to work with but have used old ones on which it's hard to get a grip.
"It would be great if we could score the first touchdown," Currence said. The morale has been good. It hasn't been all drudgery as you might think it would be after two losses, although we were really down after last Friday. That loss hurt worse than the first loss."
Currence had a similar problem at Westlake. After 40 points per game and putting up a 3-0 record, Currence's quarterback broke his thumb. Westlake lost the next four games – all by about six points. Snap problems were in the bugaboo.
"I KNOW we've got the talent to win," Currence said. "We've just got to get some experience."
Only lineup change will see junior Marc Longshore playing some defense and doing some specialty work and senior Van Jones starting at safety, now fully recovered from a shoulder injury.
Senior defensive halfback Bill Henderson had the flu Wednesday. Senior defensive tackle Jesse Toles banged his elbow again Thursday. He had an infection.
Senior defensive tackle Randy Laase sprained a knee Thursday. Senior Mike Hardwick would replace Laase as the kickoff man and junior Mark Namanny at the tackle position.
Should Henderson not make it, senior Dave Warthen would replace him.
Brown sees Tigers win first 16-6
By CHUCK HESS, JR.
Independent Sport Editor
The "Big D" was in charge Friday night, but it wasn't Dallas.
The "Tiger Claw" and Blue bomber defenses battled with plenty of malice before 11,273 at the official recognition night for the renaming of Tiger Stadium to Paul Brown Tiger Stadium.
WITH BROWN on hand the Washington High gridders fought back in the fourth quarter to a 16-6 win over Cleveland East. It was the first win for the Tigers after two shut-outs. East drops to 1-2.
Brown had coached Tiger footballers on the same gridiron from 1932-1940.
"I think my kids outplayed Massillon tonight," said East head coach Joe Pledger. "There's no way they can convince me Massillon actually beat us. The Massillon kids played their hearts out but in the second half we started to get penalized like something out of the "Twilight Zone." "We can't understand why a penalty is called every play. It got to a point where it looked like something personal. They never let our offense get out. We stayed in the hole and started to make mistakes because they couldn't react to all the penalties."
East was called for 13 penalties (140 yards).
TIGER CHIEFTAIN Mike Currence said, "I think East outplayed us except for the fourth quarter. I think we wanted it worse than they did. Coach Pledger has a very experienced ball club. I'm glad of the way our kids hung in there."
"The officials made some good calls tonight and they made some nobody saw. Our offensive line let us down."
Massillon was called for seven penalties (75 yards).
Currence gave a lot of credit to the East defensive line.
"They were just quick as could be," Currence said. "We couldn't get around the end. Senior Juan Pope is one of the best defensive ends we've seen. Junior tackle Hammond Ford kept getting in there."
THE QUICK East pursuit cut off the perimeter game for the Tigers and put plenty of pressure on Tiger passers. They completed no passes in 11 tries.
Meanwhile, the "Tiger Claw" defense made only one mistake. That was when East senior quarterback Ricky Holman scored around right end from 39 yards away with 3:07 left in the second quarter.
The conversion kick was wide left.
The TD had been set up when the Tigers failed to cover the punt on the kickoff following a second quarter safety and the Bombers got the ball down on Massillon's 47. A holding penalty set East back but a roughing the punter call gave them the ball on the 39.
The Tigers won the game on a pair of fourth quarter touchdowns.
JUNIOR FULLBACK Jerry Shafrath scored on his first effort of the night, a three-yard run up the center, with 11:56 left in the fourth quarter. A Bret Traylor to Jay Harper pass was incomplete on the conversion try.
Shafrath ran for 46 yards without a loss on seven carries in the final canto.
The "Tiger Claw" defense had picked up the ball on a bad fourth down snap on the last play of the third stanza. Punter Tony Jones was tackled on the East three-yard line by end Dave Engler and linebacker Kurt Walterhouse, both juniors.
Halfback Billy Henderson got the Tigers under way on their other touchdown drive by intercepting a pass on the East 43. A personal foul call on East put the ball on their 27.
On second down on the 20 – after an illegal shift penalty – sophomore Rich Cleveland ran for the TD with 4:11 left. Mike Henderson's kick was off to the left.
MASSILLON WAS first to hit the scoreboard. After running out of downs at the East seven in the first quarter and negating a 25-yard Cleveland run which put them there, the Tigers held East on three downs.
Jones dropped back to punt, with the ball on the 13. Center Juan Pope snapped the ball over Jones' head and out of the end zone with 4:20 left.
East got socked with a personal foul and encroachment violations in the second quarter and had third down on the 11. Holman was chased into the end zone by seniors Jesse Toles, a tackle, Anthony Grizzard, a monster back and co-captain and junior end Frank Sweterlitsch.
Holman intentionally grounded the ball with 9:10 left for another safety.
The Tigers lost the ball on downs on the East 25 in the second quarter and were snuffed out by the clock at the Bomber 30 at the expiration of the second half.
The only other Tiger threat came near the end of the game when a short kick by Jones after a high snap went out of bounds at the East 28. But two Tiger passes fell incomplete and then a Brent Offenbecher to Shafrath handoff missed connections and East recovered at the 33.
EAST – 6
Ends – Campbell, Sutton, Robison, Crumpton, Edwards, Avery, M. Hockett.
Tackles – Wilkerson, Randleman, McGlothan, Dye, Ford.
Guards – Dunham, Martin, Strothers, Hughs, Mack.
Centers – Pope, F. Jones.
Quarterback – Holman, Jackson.
Halfbacks – K. Hockett, Johnson, Duncan, Reeves.
Fullbacks – T. Jones, Terrell.
MASSILLON – 16
Ends – George, Chovan, Pringle, Engler, Sweterlitsch, A. Longshore, Clendening, Furnas.
Tackles – Tournay, Daniels, Laase, Toles, Dennison, DeOrio, Namanny, Stuck, Kovacsiss, Matie.
Guards – Lauber, Hauser, Berquist, Baus, Jones.
Centers – Ramsey, Lutz.
Quarterbacks – Traylor, Offenbecher.
Halfbacks – Harper, Carpenter, Grove, Hickey, Wilkerson.
Fullbacks – Cleveland, Shafrath, Nagle.
Middle guards – Dorsey, Holman.
Linebackers – Border, Walterhouse, Sweterlitsch, Dottavio.
Defensive backs – Grizzard, M. Longshore, Jones, Letcavits, Henderson, Lash, Gowins, Warthen, Farley.
Punter – Westover.
Place kicker – Hardwick.
East 0 6 0 0 6
Massillon 2 2 0 12 16
SCORING SUMMARY
M – Safety (East center snapped ball out of end zone);
M – Safety (Ricky Holman, East, illegally grounded ball in end zone);
E – Holman, 39 run (kick failed);
M – Jerry Shafrath, 3 run (pass failed);
M – Rich Cleveland, 20 run (kick failed).
OFFICIALS
Referee – Craig Smith.
Umpire – Merle McConkey.
Head Linesman – Charles Flohr.
Field Judge – Randy Manuella.
Back Judge – Steven Kromer.
ATTENDANCE – 11,273.
GRIDSTICK
Mass. CE
First downs rushing 9 (numbers
First downs passing 0 missing)
First downs penalties 0
Total first downs 9
Yards gained rushing 215
Yards lost rushing 36
Net yards gained rushing 179
Net yards gained passing 0
Total yards gained 179
Passes completed 0-11
Passes intercepted by 2
Yardage on passes Intercepted 13
Times kicked off 3-53.3
Kickoff returns (yards) 61
Times punted 6-33.5
Punt returns (yards) 5
Had punts blocked 0
Fumbles 3-2
Yards penalized 7-75
Touchdowns rushing 2
Total number of plays 49
Total time of possession 20:25
'Proud day' for Brown's family
By CHUCK HESS, JR.
Independent Sports Editor
"This is a proud day for my family. 'Thank you.'"
With those words Paul Brown, the pride of Tigertown, Friday night acknowledged two standing ovations and other plaudits by the fans and officials of the school at which he taught and coached in the thirties.
Brown was presented with a plaque by Lee McCauley, who had been chairman of the Massillon Jaycees' "Paul Brown Week" festivities here in June.
L.C. YOUNG, superintendent of Massillon schools, was presented with a plaque by Delbert Demmer, president of the Board of Education. That plaque will hang on an outside wall of the west stands of Tiger Stadium, renamed "Paul Brown Tiger Stadium" in Brown's honor in May by the Board of Education.
Brown received the first of his standing ovations when he and Mrs. Brown and others involved in the special halftime at the Tiger-Cleveland East game walked down the west sidelines during the Tiger Swing Band's fanfare at the beginning of the intermission.
The other standing ovation came when he addressed the crowd.
"I spent many happy days here," Brown said. "It was the best job. I think I did more good and got more backing than anywhere in the country."
He thanked the fans on behalf of his players, coaches and the public who helped him gain the honor of having the stadium named after him.
"I ALSO want to give Lute Emery a public thank-you," said Brown. "He helped us tremendously in controlling the spirit and thoughts of what we were doing – trying to be the best in everything I'm a very fortunate man."
When Brown coached here, Emery was a sports writer for The Evening Independent. He is now the editor.
The Tiger Swing Band's presentation of "Theme From the Olympics" and "Sweet Georgia Brown" must have really pleased Brown, who saw the band started here in 1938 by George E. "Red" Bird. Watching Tom Ickes perform as Obie must have also brought back memories for Brown who found the Tiger skin used by the first Obie.
The presentations to Brown and Young were made after the band formed "Paul" and "Brown" during the "Theme From the Olympics" number.
The whole thing started from a block march toward the north end of the stadium. The band then broke into the formation of Brown's names, first "Paul" and then "Brown". The majorettes did a twirling routine with ribbons on their batons.
"SWEET GEORGIA Brown" followed the presentation and featured a well-performed, tricky shuffle turn from block formation and a trumpet octet. The brass performers must have been exhausted after that because they were blowing harder than a hurricane blasting at the coast of Florida.
In the octet were John Bach, Barb Shuck, Lisa Zook, Al Dean, Bob Corban, Ann Archibold, Scott Ickes and Patty Smith.
The Tiger Swingsters countinue to amaze the fans each week with their marching and dancing dexterity and the manner in which they flood the stadium with their big sound.
For the first time this season, the Tigers wore all-black uniforms. When they came through the pre-game hoop ("Hi P.B." and "Go Tigers") they were led by senior co-captain and guard Mark Lauber.
There seemed to be a psychological battle going on prior to the game, as neither team came out right away for the kickoff. Finally the Tigers made it first.
HEAD statistician Tom Persell wore a new orange leisure suit in the pressbox.
Cleveland East's band was not on hand.
The Blue Bomber head coach, Joe Pledger, explained that the reason he likes to run quarterback Ricky Holman as much as he did Friday night is that Holman is a tremendous athlete and a durable one.
"If anybody can hurt you on a football field, he can," Pledger said.
Because of East's poor field position most of the night the Bombers couldn't throw as much as they normally do.
EAST'S REGULAR punt-snapper was in during the safety and the poor snap that resulted in the Tigers taking over at the 3-yard line. Pledger said the penalties hurt more than the kicking game problems.
Pledger said he knew what Currence runs and East used to use the run-and-shoot, so that helped them too.
Mike Currence, Tiger head coach, related that he thought the problem on the snap signal which brought two illegal shifts was noise from the fans. The quarterback turns his head, he said and if he yells too forcibly he will lose his mouthpiece and get a 15-yard penalty.
In the fourth quarter Currence put sophomore Brent Offenbecher in at quarterback.
"I wanted to see if Brent could open it up for us," Currence said. "We had tried to open it up and couldn't get the ball there. Bret Traylor was 'off' and pressured hard. They were giving us the motion pass. He has the arm, can take two steps and hit that motion pass. I thought if we could complete one we would take a little pressure off."
CURRENCE thought the offensive backs played a good game and that fullback Jerry Shafrath ran harder in the fourth quarter than anybody else.
"You have to give him credit," said Currence. "I'm hoping he's healthy and ready to go." (Shafrath had suffered a knee injury in the final pre-game scrimmage.)
A second-period delay penalty on East was called because the officials had blown the ball dead, it was then fumbled, an East player ran with it, fumbled it and another Bomber picked it up and tried to run with it.
East was not called for a roughing penalty against punter Mark Westover later in the game because the Bomber player who hit him also hit the ball.
Tiger senior guard and Co-Captain Mike Ramsey received a hip pointer, but it was not believed to be serious. His grandfather Russ, who is guardian of the pressbox door, was quite concerned.
According to Mr. and Mrs. McCauley, with whom Brown and his wife sat, "The Old Master" was tickled with two safeties, saying it had been 40 years since he had seen two in one game.