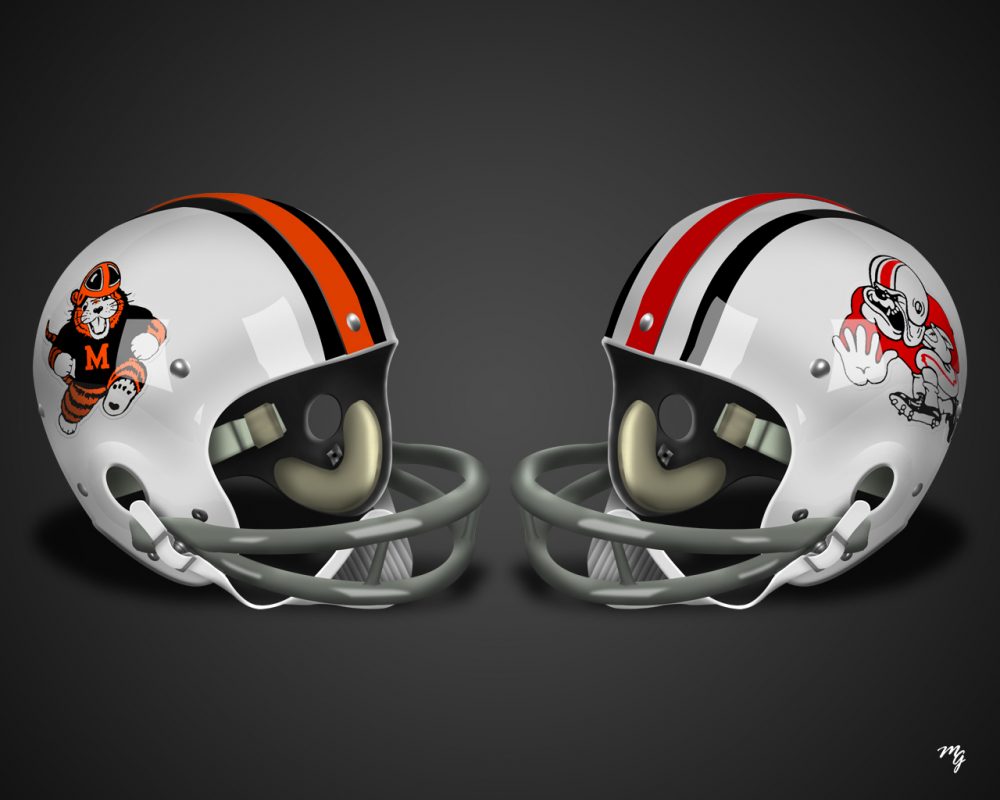 It's one of Tigers' bluest Mondays
By Chuck Hess, Independent Sports Editor
This is one of the bluest Mondays in Tiger gridiron history.
Item: Cardinal Mooney High School, from Tiger head coach Bob Commings' home town of Youngstown, will be in the state playoff at Cincinnati Friday instead of Washington High School.
Item: Last Saturday, Canton McKinley's Bulldogs, under the direction of John Brideweser—with Bill Michaels as an assistant coach—handed Commings the worst shellacking of his four-year career here manhandling the Tigers 21-0 before 20,148 chilled fans at Canton's Fawcett Stadium. Both Brideweser and Michaels are former Commings aides.
Item: It was the first time McKinley had shut out the Tigers since a 14-0 affair at Fawcett Stadium in 1947.
Item: The Tiger loss forced the first triple tie for a championship in the 10-year history of the All-American Conference (AAC). Massillon, McKinley and Warren Harding are the kingpins, each with 4-1 records.
Brideweser came to the aid of his former boss.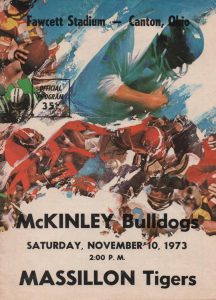 "I've gone through this three times in a row," Bridey said. "You have one tremendous coach and group of boys over there. Tell those clowns to say off his back."
HE WAS reminding the Tiger faithful that Commings had guided the Orange and Black to an 8-1-1 record after a miserable start and an unbelievable series of injuries. He was reminding Massillonians that Tiger teams have a habit of picking up the pieces and coming back to greatness.
Statistics tell the story. The Bulldogs rolled up 280 yards to the Tigers' 79 and 18 first downs to the Tigers' five, capitalizing on nine third-down and two fourth-down situations. The Bulldog defense, which both coaches said was changed very little for this game, held the Orange and Black to no rushing yards in the first half.
McKinley junior tailback Jonathon Moore, the AAC's overall rushing leader, netted 78 yards in 24 arrives on the outside. McKinley Senior fullback John Thompson netted 72 in 14 attempts on the inside.
Line blocking by the Pups was superb, especially from center McKinley Smith and guards Herb Greene and Charles Cochran who opened gaping holes.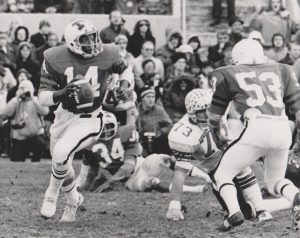 The Bulldogs had the ball for 69 plays to the Tigers' 40 with elapsed time being 31:13 to 15:47. The Orange and Black never had a chance to get its offense into high gear.
McKinley was stopped at the Massillon seven in the first quarter when one Tiger end, Rusty Venables, jarred the ball loose from quarterback Garland Burns and another end, Vince DiLoreto recovered. Playing with a broken wrist, DiLoreto grabbed the pigskin, but couldn't right himself, stumbled to the 27 and fell with a wide-open field ahead of him.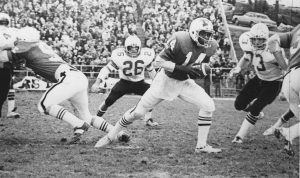 The Tiger defense dug into stop the Pups at the Massillon 34, 33 and 22-yard lines in the third-quarter. The clock ran out in the fourth quarter with the Bulldogs on the Tiger two.
THE BONE rattling Bulldog defense, led by its powerfully charging line of Lee Geiselman, Jerry Debos, Gordon Cook and company, allowed the Tigers out of their own territory only in the second stanza. But on that occasion Geiselman tossed quarterback Greg Wood for a 12-yard loss to the McKinley 45, forcing a punt.
In the third quarter, Cornerback Tim Cook threw Tiger wingback Mark Streeter for a safety with 6:88 remaining, after halfback Fred George had downed a Burns' punt on the Massillon one.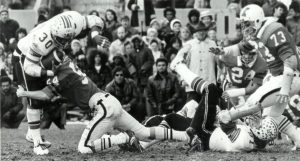 "They were some football team," Commings said of McKinley. "Their physical strength, our poor field position and their good field position were the stories. We could never call the game we wanted to call. That's what football is all about. Make the other guy do something they don't want to do. They did it to us and we couldn't do it to them."
After the Bulldogs had been turned back on the game's first series, they forced the Tigers to kick and marched 70 yards in 14 plays with Thompson skirting left end of fourth down from one yard out for the score. An 18-yard pass from Rock Hontas to Gordon Cook startled the drive, which ended with 11:58 remaining in the second quarter.
The conversion came on Ken Bush's kick.
THE BULLDOGS came back 52 yards in nine plays, after forcing a Tiger punt at the end of the next series, and scored with 4:04 left. Thompson ploughed through the center on third down from the two. Dave Pfeiffer knocked down a pass to end Reuben Floyd on the conversion attempt.
The final TD came on a 51-yard, 11-play fourth quarter drive. Halfback Jap Jeter took a pitchout and charged over left tackle on third down with 6:14 reminding in the fourth quarter. Linebacker Tim Gutshall and cornerback Terry Henderson kept Jeter from crossing the goal line for two more points.
"I don't know what happened," Brideweser said, when reflecting further on his victory. "All I know it was a total team effort. The kids played as well as they could. I knew they were up and wanted to play. We thought if we could control the ball we could control the game."
The Bulldogs came back from last week's 19-7 loss at Warren to make it an 8-2 season.
M       McK
First downs rush
1
15
First downs pass
4
2
First downs penal
0
1
Tot. first downs
5
18
Yds gained rush
61
251
Yds lost rushing
43
36
Net yds gained rush.
18
215
Net yds gained pass.
61
65
Tot yds gained
79
280
Passes completed
5-12
3-6
Passes inter by
0
1
Yd on passes inter
0
25
Kickoff ave (yds)
1-51.0
4-50.2
Kickoff returns (yds)
52
20
Punt ave (yds)
6-27.0
2-31.5
Punt returns (yds)
0
9
Had punts blocked
0
0
Fumbles lost
1-1
Yards penalized
3-31
3-15
TDS rushing
0
3
Misc
0
1
Tot no of plays
40
69
Elapsed Time
15:47
31:13
Massillon—0
Ends—Huffman, T. Gutshall, Matie DiLoreto, Venables.
Tackles—Csonka, Lee. Rich, Chapman
Guards—Schumacher, Fenton, Graber, A. Lemon, White
Center—Studer, Nagle.
Quarterback—Wood, Bickford.
Halfbacks—Danzy, Streeter, Henderson, Herring, D. Gutshall, Mayor, Pifer, Lentz, Dailey, Pfeiffer, T. Lemon.
Fullbacks—Harmon, Waldrop.
Punter—Keller.
McKinley—21
Ends—Bush, Floyd, Hill, G. Cook, Pringle.
Tackles—Dubose, Geiselman, Obrovac, Jenkins.
Guards—Cochran, Greene.
Centers—Smith, Weber, Terrell
Quarterbacks—Burns, Hontas.
Halfbacks—Moore, Jeter, Lewis Bernardo, Taylor, T. Cook, George, Weatherspoon.
McKinley 0 13 2 6 21
McK—John Thompson 1 run (Ken Bush kick); McK Thompson 4 run (pass failed); Mck—Tom Cook tackled Mark Streeter for safety: McK—Jeter 5 run (run failed).
Referee—Chuck Lorenz; Umpire—Bobbie Brown; Head linesman—Herb Nissbaum; Field Judge—Nick Costello; Back judge—Steve Nagy Jr.