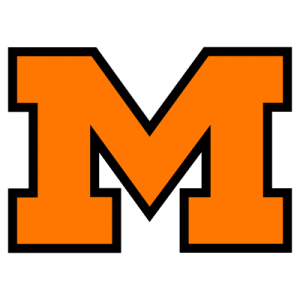 Tiger defense halts Steubenville 12-0
By CHUCK HESS, JR.
Independent Sports Editor
Call it "Tiger Pride," "Obie Spirit" or whatever you want to call it, but the season's largest crowd of 18,848 fans Friday night at Tiger stadium saw in the fourth quarter why the Washington high football team is No.1 in three Class AAA state polls.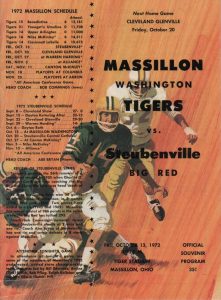 At that point hanging up a sixth consecutive victory against no defeats against a Steubenville team also hitherto unbeaten in five games, became incidental to the Tiger faithful. The 12-0 final score meant nothing. It was a goal line stand like hasn't been seen in a long time here that made the fans of both sides stand up and take notice.
* * *
UNDER COACH Bob Commings the Orange and Black has become noted for its defense and they wanted to make sure that shutout No. 17 was theirs. Center Todd Cocklin, who has been doing a fine job of snapping the ball to Kevin Westover for punts, had one get away from him. It sprouted wings from the Steubenville 40 and ended up on the Massillon 24 with 3:16 left.
Strong safety Don Muhlback and ends Dari Edwards and Brian Bash tossed quarterback Ira Jarvis back to the 32. On the next play he tossed a safety valve aerial to halfback Joe Davis who ran from the 35 to the nine.
Four plays later on fourth down on the one, Davis tried to go through the center but the Tigers rose up like one of those giant waves at Waikiki and completely engulfed the Big Red Senior, halting him on the one-inch line shortly before the game ended.
"That was a great effort – no doubt about it," said Coach Bob Commings. "The defensive effort the whole game was just fabulous."
Spearheading the stinginess were Bash and middle guard Tom Balizet in what could be called a "Double-B Blitzkreig." Those two were as pesky as mosquitoes, but so was the entire defense with crunching tackles and lightning like secondary moves.
The Big Red completed only two of 14 skyway attempts and got only 60 net yards on the ground, losing 44. Tailback Courtney Snyder, second leading All-American conference ground gainer, was held to 32 yards in 11 attempts.
* * *
STEUBENVILLE GOT out of its own territory only once in each half. The other time came in the second quarter after the Tigers had been backed up on their eight on fourth down and Westover, punting from the end zone, reached the Tigers' 41. Jarvis found Snyder on the 21 on the next play but four plays later free safety Tom Hannon threw Snyder for a fourth down two-yard loss to the 15.
The Steubers threw in some good defense too, holding the Tigers to their lowest total yardage this year – 191 – including 58 lost rushing for a net 139 and covered pass receivers well enough that only three of eight were successful. End Bruce Fletcher was a particularly thorny one as was linebacker Bob Snyder.
Hannon as his usual self. "Tomboy" amassed 138 net yards in 27 carries, making the fifth game in six that he has gone over the century mark, attesting to why he is the AAC's leading ground gainer.
He scored both of the Tigers' touchdowns, which came in the first quarter – a period in which the Obiemen have scored only twice before this year – and it appeared the jinx had been broken. But once again that invisible curtain was dropped and the Tigers failed to score that hard-to-find third touchdown for the fifth time.
The Tigers took the opening kickoff and marched 65 yards in seven plays with Hannon providing a 12-yard runback and five other carries including runs of 18, 13, 10 and 15 yards – the last for the score with 9:10 left – on his favorite power pitch scamper around right end. Westover barely missed running the conversion over.
The Tigers moved 55 yards after a punt in 13 plays – with Hannon scoring on fourth down from the three on the right end power pitch with 53 seconds left. Westover tried to hit Terry Edwards for the two extra points but Davis batted the ball away.
A 29-yard pass-run from Westover to Terry Edwards was the drive highlight.
The Orange and Black went on the prowl again after a punt from the Steubenville 44 after a second quarter punt with the help of a 19-yard Westover to Dari Edwards pass-run and a 15-yard run by Hannon after a 32-yard run up the middle by fullback Alex Wood had been nullified by a holding penalty. But two broken plays cropped up at the 19, killing the effort.
The Big Red allowed the Tigers no more than their 25 in the remainder of the second quarter.
The WHSers took over at their 49 following a third quarter punt and face mask penalty and moved to the Steubenville three in 14 plays with Hannon carrying seven times, again making the power pitch count.
* * *
WITH FOURTH and two on the three, the pitch went to Hannon again. This time he tried to hit Terry Edwards in the end zone but found him well covered and was not able to get the ball to him.
"We beat an undefeated team and beat them good," Commings said, "We said Monday, Tuesday, Wednesday and Thursday, that it was going to be a barn burner and it was."
A very dejected Abe Bryan, Steubenville head coach, who has failed to beat Massillon in nine tries and who has been shut out by them four consecutive years, handed the Tiger defense its just applause.
"They have an excellent on," he said. 'They rose to the occasion. We had no consistency on the big downs. We started behind again as we have in four of our first five games. We were not able to overcome this. We were out hit and out coached. Our kids didn't quit. They haven't quit all year."
STEUBENVILLE – 0
Ends – Fletcher, Hill, Mavromatics, Price.
Tackles – Kalifut, B. Jarvis, Strake, Sandonas.
Guards – Dorsey, Fahey, Quattrone.
Centers – Long, Sarap.
Quarterbacks – I. Jarvis, Nicholson.
Halfbacks – C. Snyder, Spencer, Davis, Medley.
Fullbacks – B. Snyder, Alfred.
MASSILLON – 13
Ends – Bash, D. Edwards, McCauley, Sullivan, Bodiford.
Tackles – Geiser, Green, Csonka.
Guards – Mayles, Guiffre, Keller, Graber.
Center – Cocklin.
Quarterback – Westover.
Halfbacks – Hannon, T. Edwards, Dennis Gutshall.
Fullback – A. Wood.
Middle Guards – Balizet, G. Wood.
Linebackers – Charles Danzy, T. Gutshall.
Defensive Backs – Jackson, Swann, Dan Gutshall, Muhlbach, Mayor.
MASSILLON 12 0 0 0 12
STUEBENVILLE 0 0 0 0 0
SCORING SUMMARY
M – Hannon, 15 run (run failed);
M – Hannon, 3 run (run failed).
OFFICIALS
Referee – Milo Lukity.
Umpire – Dr. Henley Freeman.
Head Linesman – Charles Hinkle.
Field Judge – Hugh Davis.
Back Judge – Tim Murray.
THE GRIDSTICK
M S
First downs, rushing 9 5
First downs, passing 2 1
First downs, penalties 1 0
Total first downs 12 6
Yards gained rushing 197 104
Yards lost rushing 58 44
Net yards gained rushing 139 60
Net yards gained passing 52 43
Total yards gained 191 103
Passes completed 3-8 2-14
Kickoff average (yards) 3-40.3 1-47.0
Kickoff returns (yards) 22 28
Punt average (yds.) 3-38.0 6-35.8
Punt returns (yds.) 23 13
Fumbles (lost) 1(0) 0
Yards penalized 2-22 2-30
Touchdowns rushing 2 0
Total number of plays 61 52