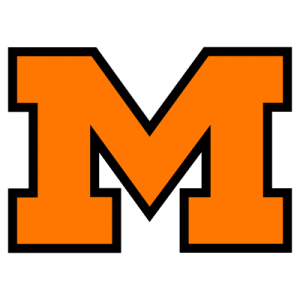 Tigers beat stubborn Ursuline 21-0
By CHUCK HESS, JR.
Independent Sports Editor
Bob Commings is concerned about the inability of his team to be consistent offensively and concerned about the Tigers and their fans having a letdown.
"We must keep the faith above all," the Washington high head football coach said after his team had shut out a tough Youngstown Ursuline team 21-0 before 11,708 fans Friday night at Tiger stadium. "We're going into a big game next week at Upper Arlington."
COMMINGS WAS concerned because it was the second straight week in which his charges failed to move the ball in crucial situations. They also have yet to show the big scoring play.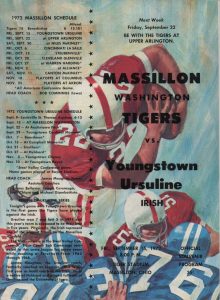 "Three quarters of the way our offense looks so good," he said. "The thing that is killing us is that we're not getting the short yardage plays. When you only punt once, you're doing something right. If we get our short yardage, we'll be a fine team. Our defense was intact and our specialty teams came through, giving us the ball in good field position."
Urusline rookie Coach Jim Maughan agreed, saying, "Massillon is well coached. Quarterback Kevin Westover and tailback Tom Hannon are two of the better players we've seen. When the Tigers get their timing better, they have the material and will go all the way. I wish Bob all the best. He's a fine gentleman."
Commings knew that the Ursuline defense had given his Massillonians fits.
"We've had to extend ourselves twice now (meeting tough teams on successive Fridays)," he said of his charges second victory in as many starts.
URSULINE'S SECOND defeat with no wins was equally as tough for Maughan to take. The Fighting Irish were dealt two severe blows in losing senior quarterback Mike Banks with a concussion at the beginning of the second stanza and senior 208-pound guard Dan Miklos a few minutes earlier.
"When you lose a quarterback it's tough to put a man like Greg Cerimele, a junior who has never played before, into a game at Massillon. He did a tremendous job. It hurt to lose Miklos too. We were out-physicaled in the end."
Ursuline's furthest penetration was to the 25 in the final frame.
The Tigers rolled up 299 yards while holding the Irish to 123. The Orange and Black rolled from 20-yard line to 20-yard line but failed at the 26, 13 and 10-yard lines in the first half and 16 and 18 in the second half.
"You have to give our kids all the credit in the world," Maughan said. "When you hold a team to two touchdowns in four quarters, that's pretty good. One touchdown was a gift."
* * *
HE MEANT the second of Hannon's jaunts – a five-yarder off right tackle with 7:19 left in the game. The Irish gambled on fourth and five from their 29, but strong safety Don Muhlback plowed into junior tailback Wes Hodge who had run well all night and brought him down at the line of scrimmage.
Hannon scored six plays later on first down and Muhlback booted the conversion.
The bespectacled senior was there when it counted all night with a nine-yard punt run back to set up a TD, another for 20 yards, a 31-yard interception return and a conversion pass to fullback Alex Wood, Muhlback had intended to kick but the snap was bad, holder Darrell Bickford flipped the ball to Muhlbach, he ran to his left and then passed.
Another bad snap spoiled his field goal attempt from the 17.
The groovy-hipped Hannon, for the second consecutive week, picked up over 100
yards – this time 109 net in 22 carries. He also threw in punt runbacks of 6, 37, 13, 9 and 23 yards to go with his twin TDs. The last return almost resulted in a touchdown except Ursuline's Tim Tinker got a hand in the way at the right time at the Irish 33.
* * *
AFTER MUHLBACH'S punt runback in the second quarter, the Tiger's marched from the Ursuline 35 in seven plays. Hannon raced over right tackle from 14 yards out with 4:55 left. Muhlbach's conversion saver followed.
Senior wingback Terry Edwards scored the final TD after Hannon had almost gone the route on his fourth quarter punt runback. Four plays later from the Urusline 21 on second down, Edwards caught a Kevin Westover aerial on the two and fought two defenders to get into the end zone with 1:29 left.
Westover's conversion run was inches short.
Two Tiger fourth period efforts were brought in an abrupt halt when Cerimele intercepted a pass on his five and John Herman one on his 20. Cermeile's pilfer nullified a 53-yard Westover pass to senior tight end Dave Bodiford in which Bodiford ran 20 yards to put the ball on the Ursuline 20.
Tiger senior middle guard Tom Balizet broke through to nail Banks at the beginning of the second stanza when the Irish were rolling at the Massillon 45. Balizet grabbed the rolling pigskin at the Irish 35 and raced to the 20, but the Obiemen ran out of gas there.
It was on this play, unfortunately, that Banks was put out of commission.
URSULINE – 0
Ends – Graham, Tinkler, O'Neill, Flanagan, Vaughan, Palombaro.
Tackles – Takacs, Tomko, Alexander.
Guards – Kutsko, Poole, Bruno, Miklos, Kerrigan, Lowery.
Centers – Tamburino, Porter.
Quarterbacks – Banks, Cerimele.
Halfbacks – Handel, Hernan, Hodge.
Fullbacks – Herchik, Williott.
MASSILLON – 21
Ends – Bash, D. Edwards, Bodiford, McCauley.
Tackles – Geiser, Green, Hauschulz, Csonka.
Guards – Guiffre, Mayles, Keller, Ahlstrom, Graber.
Centers – Cocklin, Studer.
Quarterbacks – Westover, Bickford.
Halfbacks – Hannon, T. Edwards, Columbus Danzy, DiLoreto, Dennis Gutshall.
Fullback – A. Wood.
Middle guards – Balizet, G. Wood, Lee.
Linebackers – T. Gutshall, Bozzacco, Charles Danzy.
Defensive halfbacks – Muhlbach, Jackson, Christie, Swann, Mayor, Dan Gutshall.
URSULINE 0 0 0 0 0
MASSILLON 0 8 0 13 21
SCORING SUMMARY
M – Hannon, 14 run (Wood pass from Muhlback);
M – Hannon, 5 run (Muhlback kick);
M – T. Edwards, 21 pass from Muhlback (run failed).
OFFICIALS
Referee – Art Cirelli.
Umpire – Alex Rubins.
Head Linesman – Chuck Hinkle.
Field Judge – Beauford Hatfield.
Back Judge – Ron Giacomo
THE GRIDSTICK
M U
First downs, rushing 10 3
First downs, passing 3 1
First downs, penalties 0 1
Total first downs 13 5
Yards gained rushing 203 106
Yards lost rushing 24 26
Net yards gained rushing 182 82
Net yards gained passing 116 41
Total yards gained 299 123
Passes completed 6-16 2-0
Passes intercepted by 1 2
Yardage on passes intercepted 34 31
Kickoff avg.(yds.) 4-38.5 1-47.0
Kickoff returns (yds.) 17 32
Punt avg.(yds.) 1-17.0 7-30.4
Punt returns (yds.) 112 0
Fumbles (lost) 2(1) 1(1)
Yards penalized 6-50 5-65
Touchdowns rushing 2 0
Touchdowns passing 1 0
Total number of plays 56 54