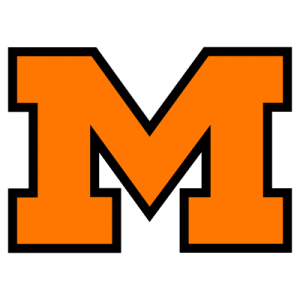 Tigers are still prime target for Bossu
By CHUCK HESS, JR.
Independent Sports Editor
It's a whole new ball game for Augie Bossu this season, but it's the same old story for the Massillon Tigers. They're still a prime target for the skipper of the Cleveland Benedictine Bengals.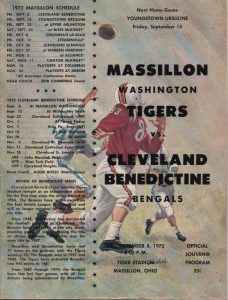 Cleveland's defending city champions will help the Tigers open the season at Tiger stadium Friday at 8 p.m. The former East Senate league high school team has gone 9-1 in the past four seasons with the only defeat each time being here at the hands of the Orange and Black.
* * *
"WE'RE APPROACHING this season differently," Bossu said today. "It's something new for us. In the past we have played two or three top teams and let the rest of the schedule take care of itself. Now we believe we have a representative schedule and a tremendous challenge. There are teams aiming for us who have never played us before."
Among these aggregations are Dover, Willoughby South, Erie, Pa., East, Collinwood and Parma Padua to name some in the 1971 Senate champs taste of independent competition.
"It puts a lot of pressure on us to play Massillon first," Bossu said. 'Our coaching staff is small and there's an awful lot to be done. We make early mistakes which we must correct later. We can't afford those mistakes against a good one like Massillon and stay in the game."
Bossu did not comment on whether he figured meeting the Tigers would be a different kind of experience this time because of a varied Massillon attack.
"The Tigers will be strong in whatever phase of the game they should be," the 18-year veteran coach said. "They always have the best in material."
* * *
THE BENGALS have won three scrimmages and Bossu was interested to hear that the Tigers won one and had another rained out, but did not comment on whether or not he thought this would be of benefit to his team.
It will be the same type of hard-charging, hard-hitting Benedictine team as in other years facing WHS Friday. Bossu will use variations of the "I" offensively and six-man front defense.
When asked if he agreed with Massillon Coach Bob Commings that the Bennies would be bringing the best team here since Commings came to town in 1969, Bossu replied, "We don't have the speed we had then, but we're a little heavier."
In that year, the Bengals lost 22-20, but threw a scare into the Tigers when will-o-the-wisp halfback Jim Kacivinsky scored twice in the second half.
"We have about half a dozen boys back who played regularly last year," Bossu said.
* * *
SENIORS ARE quarterback Duane Petrovich (5-10, 175) and right halfback Jim Teresczuk (5-11, 191), two-way halfback Pat Moriarty (6-1, 160), offensive tackle Rick Switalski (6-5, 235), offensive halfback-middle linebacker Mike Woods (6-2, 217) and punter Paul Friery, also an offensive end and cornerback (6-2, 162).
Juniors are center-defensive guard John Glowik (6-1, 188), junior cornerback Al Keller
(5-11, 160) and fullback-defensive end Gerald Modzelewski (6-0, 200), a distant relative of former Cleveland Browns star Dick Modzelewski.
Woods could be a key to the Bengals' chances Friday night. He's a powerful runner and roams well from his linebacking spot.
"He hasn't done it yet," Bossu said, "He's a possible threat if we can get him to the line and find room for him to get through."
Tiger Coaches say Woods reminds them of Willie Spencer, the Orange and Blacks'
all-everything tailback last year. But Woods was not listed as an offensive started for Friday.
Besides Switalski on the hefty side on the offensive line, there's junior Frank Malec
(6-2, 245). Defensively, junior John Nemeth (6-1, 250) and Jeff Mazer (6-1, 200) will man the tackle slots.
* * *
COMMINGS IS toying with the idea of experimenting with the tie-breaker rule. The decision will be made week by week, after conferring with opposing coaches. The All-American has not approved the modified new rule.
Tigers Sputter
but win opener 15-6
By CHUCK HESS, JR.
Independent Sports Editor
New Massillon Washington High Trainer, Bill Meier may unknowingly have made the best assessment of Friday night's opening Tiger football game when he passed on to this reporter a small orange-and-black badge in the dressing room following the game.
"Together there's so much we can do" was written on the badge.
It was by sticking together to play great defense during a spotty offensive performance that the Tigers edged a tough Cleveland Benedictine team 15-6 before 12,181 fans and it should be by sticking together to work hard in practice next week that the Orange and Black will show their faithful that the Tigers the fans saw Friday night were not the true Obiemen of 1972.
THE LONE offensive bright spot was the running of tailback Tom Hannon. The
groovy-hipped senior carried 27 times for a net 145 yards after having only lugged the pigskin four times in one pre-season scrimmage and five in another. He was fighting a couple of painfully cramped legs Friday night.
The real Tigers just don't lose four of six fumbles, get penalized 87 yards and get to the four, the two, the one and the half-yard line and not score. All four times the huge Benedictine defense held admirably.
But the Tigers put it to the Bennies just too often and as veteran Benedictine boss, Augie Bossu said, "You can only be on defense so often and then something's going to happen."
Benedictine did not feel his team wore down but Tiger Coach Bob Commings said, "We appeared to have more steam left than they did," when asked why his charges seemed to catch fire in the fourth quarter when they switched to the fullhouse T. "I thought we played a real gutty game."
"We didn't play any differently in the last quarter," Bossu declared.
COMMINGS reminded he had been telling the Tigers all week that they would be playing a fine team Friday.
"If we had been sharper, we could have blown them into oblivion," Commings said. "For the first game of the year, I thought our passing game was excellent, but we've got to concentrate on making the sure catch."
The fourth quarter was when the Tigers put the clincher on the contest which saw both teams capitalize and fail to capitalize on the others miscues. Linebacker Charlie Swann picked off a Duane Petrovich pass on the Benedictine 35-yard line and returned to the 20.
Quarterback Kevin Westover found tight end Dari Edwards on the two on the next play. Don Muhlbach kicked the conversion with 5:11 left.
The Tigers had one more chance in the goodbye canto when tackle Tim Graber scooped up Pat Moriarty's bobble on the Benedictine 28, but five plays later Westover bobbled the snap on the four and guard Manuel Martinez covered on the four.
* * *
NEITHER TEAM scored in the first half when Massillon had 38 plays to Benedictine's 25. The Tigers took the opening kickoff and moved from their 35 to the two only to have Westover's pitchout go awry on fourth down.
Ten and 14-yard passes to Edwards and split end Greg Sullivan respectively helped open up the Benedictine defense and may be the answer to ensuing games because the short power game wasn't there Friday night.
With the help of two 15-yard and one five-yard award the Tigers moved to the one after a punt. There halfback Gerald Modzelewski and guard John Glowick brought down Hannon.
Benedictine's Paul Friery quick kicked from the end zone on first down. The Tigers used one series, punted and Hannon recovered when the ball hit the safetyman and bounded to the 14. That series came to an abrupt halt on the 24.
Sophomore Tim Gutshall intercepted a Petrovich pass on the 25 and ran to the 20, but the Tigers got stalled again – on the 33.
From there, Benedictine mounted a drive to the Massillon 28 but lost the ball on downs, thanks to tackle Bill Csonka. The Bennies also moved from their 46, after another Tiger effort had failed to the Massillon 21 – largely on 11-yard and 22-yard passes from Petrovich to Friery and end Dick Schutte, respectively.
Tom Seres' field goal attempt was wide left.
* * *
HALFBACK JIM TERESCZUK fumbled the second half kickoff, Jim Jackson covered on the Cleveland 40, Hannon took a Westover pitch and raced 30 yards around the left side to the 10, two plays later from there through the center to the one and almost swept left end for the score on the next play but middle backer Mike Woods stuck a hand out at the last minute and tripped him on fourth down.
Friery punted badly out of bounds on the Benedictine 30 on third down and Hannon – with a good second effort – squeezed through left tackle on the first play for the touchdown with 8:32 left.
Benedictine's lone TD came when Woods recovered Jackson's third period fumble on the Massillon 13 and the Bennies rammed the ball in in three plays with Moriarty carrying 10 yards through right tackle to the four and Petrovich sneaking over from the one-half yard line two plays thereafter with 1:09 remaining.
Muhlback missed the kick but a procedure penalty against Benedictine netted a second chance and a Hannon run between right guard and right tackle.
Linebacker Brian Bash broke through to snare Petrovich as he was about to pass for the conversion.
With the Tigers moving back up field after the kickoff, Jay McGuire fumbled with Martinez covering on the Massillon 47. However, Csonka picked up a fourth quarter bobble at the Tigers' 37 to halt that attempt.
"I think failing to get in that scrimmage at Warren Western Reserve last week hurt us in two ways," Coming said after the game. "We didn't get a chance to get into our
pre-arranged goal line defense or into punt returns."
BENEDICTINE – 6
Ends – Schutte, Derricoate, Friery.
Tackles – Switalski, Mazer, Malec, Nemeth, Rufus.
Guards – Martinez; Miklavic.
Centers – Glowick, Eisler.
Quarterbacks – Petrovich, Keller.
Halfbacks – Moriarty, Kniola, G. Modzelewski, Woods.
Fullbacks – Teressczuk.
Kicker – Seres.
MASSILLON – 15
Ends – D. Edwards, Bodiford, Sullivan.
Tackles – Geiser, Green, Hauschultz, Lee, Csonka.
Guards – Mayles, Bash, Guiffre, Balizet, Graber, Ashlstrom.
Center – Cocklin.
Quarterback – Westover.
Halfbacks – Hannon, T. Edwards, DiLoreto, Columbus Danzy.
Fullbacks – Wood, Charles Danzy, McGuire.
Linebackers – T. Gutshall, Swann.
Cornerbacks – Jakcson, Dan Gutshall, Christie.
Safety – Muhlback, Christie.
BENEDICTINE 0 0 6 0 0
MASSILLON 0 0 8 7 15
SCORING SUMMARY
M – Hannon 30 run (Hannon run); B – Petrovich, one-half run
(pass); Rest not available.
THE GRIDSTICK
M B
First downs, rushing 7 4
First downs, passing 3 2
First downs, penalties 1 1
Total first downs 11 7
Yards gained rushing 229 95
Yards lost rushing 22 9
Net yards gained rushing 207 86
Net yards gained passing 58 33
Total yards gained 265 119
Passes Completed 6-17 2-9
Passes intercepted by 2 0
Yards on passes intercepted 22 0
Times kicked off 3 2
Kickoff avg. (yds.) 43.0 42.5
Kickoff returns (yds.) 38 35
Punt avg. (yds.) 3-38.0 6-42.1
Punt returns (yds.) 12 1
Had punts blocked 0 0
Fumbles (lost) 6(3) 4(4)
Yards penalized 7-87 7-75
Touchdowns rushing 1 1
Touchdowns passing 1 0
Total number of plays 67 53