Tigers' late surge buries Bennies 31‑0
Defense brilliant in logging first shutout
By DENNY J. HIGHBEN
Between the Benedictine offense and the Tiger defense, Massillon had ample opportunity to put Friday night's game on ice in the first half.
But it took a second half offensive surge and a continuing stellar performance by the Tiger defenders to white‑wash Cleveland Benedictine, 31‑0.
"The defense saved us again when we were sputtering," Tiger coach Mike Currence said after his team chalked up its fifth straight win and first shut‑out of the season.
The Beanies lost four fumbles in the first half, two deep in their own territory, but the Tigers could take advantage of only one. That was recovered in the Massillon end one by defender Jamie Schlegel for a touchback.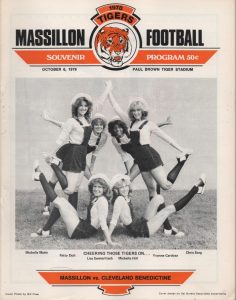 Three plays later senior halfback Jeff Beitel took off on a sweep, picked up some excellent blocks and charged down the sideline 68 yards for the Tigers' only touchdown of the first half. Ron Wright's kick was no good, and the score was 6-0 with 9:08 remaining in the half.
Schlegel's key recovery in the end zone was just the beginning of a great performance by the junior defensive halfback. He picked off a pass on Cleveland's first play of the second half and a few moments later brought the crowd of over 10,000 to its feet with one of the most exciting punt returns in many a‑game at Paul Brown Tiger Stadium. The return set up another Tiger score.
The Tiger offense had its problems in the first half and most of the credit for those problems has to go to the talent and size of the Benedictine defensive backs and linebackers.
"It's real tough throwing over those tall guys!" Currence exclaimed after the contest. The Bengals' defensive line had some tall trees that blocked Tiger Quarterback Brent Offenbecher's view. And the secondary was even taller.
Sixteen of Massillon's 31 first‑half plays were completed. Offenbecher usually found his target in the first two quarters, and a big Bengal usually found the target too just in time to break up the play.
In all, Offenbecher finished the night with 12 completions in 30 attempts for 167 yards and three interceptions.
"Two of those interceptions were my fault," Currence said, noting that his strategy backfired a couple times when his foe, Benedictine Coach Augie Bossu, changed his defensive procedures.
The Tiger mentor praised Bossu's ability as a coach and added the two have had a rivalry ever since Currence was the field general at Lakewood St. Edward's.
"We didn't get to use as many of our players as we wanted to, because Angle always keeps his starting team in. He doesn't substitute," Currence added.
"And with about eight minutes left in the fourth quarter, and only up 24 points, you can't ease up against him," Currence said.
Although Benedictine picked up 222 yards in the game, the Bennies only knocked on Massillon's door once. They marched downfield early in the second period and had a second‑and‑three situation at the Tiger 10‑yard line.
Sophomore halfback Don Cline carried the ball into the line, was hammered by linebacker Richard Cleveland and, as he tried to twist and squirm for more yardage, lost the ball which Schlegel recovered in the end zone.
Though the Tiger defense recovered fumbles at the Bennies' 29 and 18 yardlines after the score, the offense couldn't reach the promised land again in the first half.
However, things were different in the second half. Senior Curtis Strawder returned the kickoff 24 yards and the Tigers went to work from their 43 yard line.
Beitel ran his trademark sweep ‑ a play that is fast becoming the Tigers' bread and butter on the ground for 10 yards. Fullback Tom Gehring went up the middle for two yards and then Offenbecher found Beitel open and connected on a nine-yard gainer. Junior Bill Beitel squirmed through the line for another 10 yards and then brother Jeff was off‑and‑running again.
Behind some powerful blocks, Jeff swept down the hometown sideline for a 25‑yard touchdown scamper. Offenbecher tried to pass for the extra points, but the ball fell incomplete and the Tigers were on top 12‑0 with 10:35 remaining in the third quarter.
Cline returned the kickoff to the Benedictine 40, but quarterback Dale Horton's pass on the first Play was picked off by Schlegel.
Offenbecher started marching the Tiger's downfield, but a third‑and‑six pass was picked off and the Bennies had the ball at their 10‑yard line. The Tiger defense gave up five yards on three plays, and the Bennie's punted to Schlegel.
Defense brilliant in logging first shutout
Schlegel caught the punt and ran a country mile for what turned out to be a 40‑yard return. He caught the ball at ratified on the east sideline, ran backwards about 15 yards to avoid tacklers while he crossed the field and zoomed down the west sideline to the 10 before being hauled down from behind.
Two plays later Gehring rammed through the center of the line for his first of two touchdowns. The conversion pass was broken up and, with 5:49 remaining in the third period, the score was 18-0.
Benedictine failed to get a first down on the next series, punted, and Darren Longshore ran it back 65 yards for another TD, only to have it called back on a clipping infraction.
The Tigers had to start at their 21, and "Mr. Clutch" came in at quarterback to give Offenbecher, who had been sprinting left and sprinting right all night, a breather.
"Mr. Clutch," as Currence calls him, is Wright – split end, kicker, and quarterback.
Wright didn't waste any time showing his talents to the Bengals. After four running plays, that gave Massillon a second‑and‑14 at the Tiger 31, Wright connected with Gehring on an 18‑yard gainer, Two plays later he fired on a run to junior end Marty Guzzetta, who battled for some extra yardage of the ball on Benedictine's 20 ‑ a play good for 31 yards.
The Bennies' defense slammed the door on Massillon's running game again, and on fourth-and-10 Wright went back to Guzzetta for a 15‑yarder and with a whistle on Benedictine for a late hit, Massillon had a first‑and‑goal at the three. Gehring barged over the line for his second TD, Wright's conversion pass was incomplete and it was 24‑0 with 11:43 remaining to play.
Massillon's defense again held the Bennies at bay, but a booming punt by 6-4 Dave Marshall, one of those trees on defense, put the Tigers on their 20.
Offenbecher returned to action, with the nod from Currence to call his own game.
"When Brent went out he was determined to take it all the way," Currence said.
He did ‑ with a little help from the defense.
The offense ran two plays and got a 15-yard holding penalty in the process, putting the ball back at the 13. Two plays later Offenbecher got hit as he threw the ball and Scott Modzelewski intercepted at the Benedictine 48. The Beanies went to the air right away and Horton connected with 6‑6 end Joe Mincek. The tall guy ran for some good yardage but fumbled when he was tackled and Cleveland recovered for the Tigers at Massillon's 22.
So Offenbecher went to work again. He hit Strawder and Bill Beitel on consecutive passes, threw an incomplete pass, then rolled to his left and picked up 12 yards an his own. He got steamrollered when he was already out of bounds, which gave the Tigers an additional 15 yards.
With a second‑and‑one on the Bennies' 21, however, Massillon returned the yardage on an illegal receiver penalty. That infraction made it second‑and‑16 at the Cleveland 36, but a hard run by Sam Hill and a pass to Guzzetta made it first‑and‑10 at the 15. Offenbecher hit junior end Scott Gehring at the three, and kept the ball on three successive plays until he punched into the end zone with 3:01 remaining.
"Yeah, the fumbles sum hurt us," Bossu said after the game. "Our defense was on the field longer than it should have been, and Massillon has an awfully strong offense," he added.
Thinking of those fumbles and interceptions, Currence said, "I have to apologize to our defense. We should have scored so many more times."
So, what‑the‑heck; 31‑0 isn't bad at all.
M CB
First down, rush. 9 4
First downs pass. 12 4
First downs pen. A 2
Total first down 21 10
Yards gained rushing 221 130
Yards lost rush. 48 5
Net yds. gained rush. 173 125
Net yds. passing 241 97
Total yds. gained 414 222
Passes att. 34 11
Passes completed 15 5
Passes intercepted 3 3
Yardage on passes intercepted 20 4
Times kicked off 6 1
Kickoff ave. 46 42
Kickoff returns 25 93
Times punted 2 6
Punt average 25 34
Punt returns 45 0
Punts blocked 0 0
Fumbles 1 7
Lost fumbles 1 5
Penalties 5 3
Yards penalized 74 24
Touchdowns rushing 5 0
Total number of plays 73 55
Time of Poss. 25:03 22:57
BENEDICTINE 0 0 0 0 0
MASSILLON 0 6 12 13 31
M ‑ Jeff Beitel 68 run (Ron Wright kick fail);
M ‑ J. Beitel 25 run (pass fail);
M – Tom Gehring 4 run (pass fail);
M – T. Gehring 3 run (pass fail);
M – Brent Offenbecher 1 run (Wright kick).
lineups
TIGERS
Offense
QUARTERBACK: 14 – Brent Offenbecher (Sr., 6‑1,175);
FULLBACK: 49 ‑ Sam Hill (Jr., 5‑6,160), 43 ‑ Tom Gehring (Sr., 5‑10. 171);
HALFBACKS: 45 ‑ Jeff Beitel (Sr., 5‑7 158), 22 ‑ Bill Beitel (Jr., 5‑7, 148);
ENDS: 42 – Curtis Strawder (Sr., 5-10, 153), 13 ‑ Ron Wright (Sr., 5-9,173), 25 Marty Guzzetta (Jr., 5-9, 160);
TACKLES: 67 – Doug Wood (Sr., 6‑2, 191), 76 ‑ Mark Kircher (Jr., 6‑1, 212);
GUARDS: 69 ‑ Jim Horton (Sr., 6-0,177), 65 ‑ Larry Massie (Jr., 5‑7, 195);
CENTER: 51 Scott Kasunick (Sr., 5‑9, 181).
Defense
ENDS: 81 ‑ Bruce Solinger (Sr.. 6-0, 175), 88 ‑ Kent Wilson (Sr. 6-0, 182);
TACKLES: 72 ‑ Harry Foster (Sr, 6‑2, 222), 71 ‑ Jeff Pedro (Sr., 6‑3, 204);
MIDDLE GUARD: 55 ‑ Bob Simpson (Jr., 5‑11, 190);
LINEBACKERS: 28 ‑ Dick Cleveland (Sr., 5 11,188), 38 Kevin Harris (Sr. 5‑10, 182);
MONSTER BACK: 11 Darren Longshore (Sr., 6-1, 175);
SAFETY: 21 – Jamie Schiegel (Jr., 5‑11, 160);
HALFBACKS: 34 – Jeff David (Sr., 5-9, 188), 12 ‑ Dan Venables (Sr., 5‑10, 160)
KICKERS: 13 ‑ Wright (punts, extra points), 86 ‑ Mike Hodgson (Jr., 6‑5. 194) kickoffs.
BENGALS
Offense
QUARTERBACK: 10 – Dave Horton (Jr., 5‑8, 124);
FULLBACK: 21 Mark Mariani (Sr., 6-0. 186);
HALFBACKS: 22 Don Cline (Soph., 5‑10, 160); 95 – Joe Mencek (Sr., 6‑6, 186);
ENDS: 85 ‑ Dave Marshall (Sr., 6-4, 188), 81 ‑ John Goode ( J r. , 6-2, 192);
TACKLES: 72 ‑ Dan Cash (Jr., 6-2, 190), 71 ‑ Tom Glowik (Sr., 6‑4, 215);
GUARDS: 61 ‑ Greg Shenedy (Sr., 5‑9, 166), 66 ‑ Joe Buerger (Jr., 5-11, 179), 63 – Dan Frate (Sr., 5-11, 178 ), 60 – John Savage (Jr., 5‑10, 177);
CENTER: 55 – Mike Shantery (Jr., 5-11, 175).
Defense
ENDS: 64 ‑ Willie Tucker (Sr., 6‑1, 191), 57 – Tony Pletka (Sr., 6-0, 176);
TACKLES: Jim Urda (Sr., 6-3, 210) , 70 ‑ Jim Kutka (Soph., 5-11, 175);
LINEBACKERS: 50 – Ted Chiudioni (Sr., 5-9, 164), 90 – Derick Dove (Sr., 6-2, 185);
OUTSIDE LINEBACKERS: 60 – John Savage, 85 ‑ Dave Marshall;
HALFBACKS: 30 ‑ Hugh Evert (Sr., 5‑10, 155), 32 – Scott Modzelewski (Jr., 5-10, 166);
SAFETY: 95 – Joe Mincek.
KICKER: 57 ‑ Tony Pletka.
SERIES: 24th meeting, Massillon Holds hold's 20‑2-1 edge.
LAST MEETING: 1977, Massillon 24, Benedictine 7.
POINTS SCORED BY: Massillon 131, Benedictine 45.
POINTS SCORED AGAINST: Massillon 22, Benedictine 23.