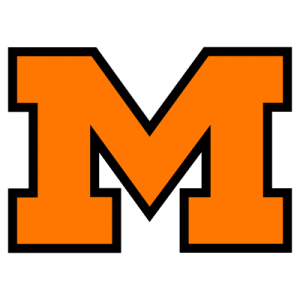 Determination prevails in Tiger win
By CHUCK HESS, JR.
Independent Sports Editor
There were several reasons why Massillon's undefeated Tigers got their third victory Friday night, but two showed brighter than a lighthouse beacon on the rocky shore of Maine.
Foremost was the determination of the Orange and Black not to be defeated by a strong Cleveland Benedictine team.
* * *
SECOND WAS a master stroke by Bob Commings in making up a key play on the sidelines.
The result was a 20-0 victory – the third whitewash and the first time a Tiger team had turned the trick since Chuck Mather's charges did it in 1950. One of the victims was Cleveland Cathedral Latin. Since Mather's charges went onto a state championship, this may be a good omen.
It was the 13th straight victory for the Tigers, dating to 1970 and the eighth shutout in the last nine games.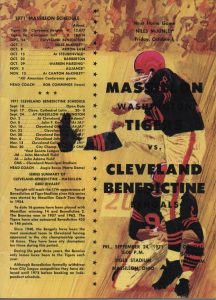 Tiger determination could be broken down into three sub-categories. There was a defense which dug in after a devastating third period blocked punt, a fired up offense which powered its way to the fourth quarter touchdown which helped everybody breath easier and a tremendous tailback, Willie Spencer, who scored two touchdowns to up his season's total to eight and picked up 111 net yards – losing only one in 22 tries – and got a standing cheer with 1:28 left in the game.
Tony Petruziello blocked Rick Weise's punt and then recovered it on the Tigers' 28. Duane Petrovich's fourth-and-six pass from the 24 to end Bob Szabo made it first down on the 12.
Tackles Glen Weirich and Steve Studer and middle guard Larry McLenndon threw halfback Mike Woods to the 13, end Bob Stephan drove Petrovich to the 31 and halfback Tom Hannon and end Mike McGuire knocked down a fourth-and-24 pass from the 26 to end Dave Kniola to end the threat.
* * *
THE TIGERS TOOK over and worked their way 74 yards in 16 plays with Spencer, fullback Don Perry and wingback Art Thompson doing the bulk of the running. Spencer scored on fourth-and-three from the six with 11:37 left in the contest.
This was where the always-cool Commings sent in tailback Hank Nussbaumer as a split end set to the same side the formation was pointed towards instead of the normal opposite end.
"We wanted to go outside so we put Nussbaumer out there for extra blocking from a wide set," Commings explained. "We hadn't run from this formation before."
Spencer scored the conversion, but the Tigers were guilty of holding and quarterback Scott Dingler tried a kick from the 24 which fell inches short.
Thompson started the Orange and Black on the way to their final score with an interception on his 46 and a runback to the Benedictine 49. Thompson, Hannon, McLenndon and Spencer ran the pigskin with Spencer picking up key yardage in the
13-play drive.
McLenndon skirted the end on fourth down from the three – losing his shirt in the process – but getting the score with 33 seconds left.
* * *
THE TIGERS' other score came after Stephan had recovered a fumble on the first play of the game to give Massillon possession on the Benedictine 30. Spencer went off tackle on the sixth play on second down from the three with 9:20 left.
Dingler's favorite "cute boot" netted the conversion.
The Tigers had three first half drives stopped as Petruziello intercepted passes at the Benedictine 45 and 10 – the former also featuring a runback to the Massillon 30 which was nullified by a clip – and an offside call mired the Orange and Black at the Bennies' 30.
"Dingler's two passes which were intercepted were classic examples of what could have been two great plays," Commings explained. "He did everything right. We're going to keep running them and get them open."
Then Commings praised Spencer for keeping the Tigers in the game offensively and Perry, Thompson, Weirich, Studer and Stephan for playing all the way both ways. Six Bennies did the same.
"The two biggest things which happened were the offense charging down field on that 74-yard drive and the magnificent defense after the blocked punt," Commings stated, "and we dispelled one rumor – that we couldn't handle Benedictine in the second half. The Tigers had it when they needed it. Another word for that is character."
* * *
AUGIE BOSSU, veteran Benedictine boss, was highly pleased with his teams' gang-tackling, kick coverage and pursuit and felt good that the Bennies worked the Tigers back to basics.
"They couldn't blow us out of there," he said. "They had to finesse us. They got some movement on us – enough for the backs to come driving through. Spencer is a heckuva back with good size to go along with speed and balance."
"There were two things which hurt us," Bossu said. "There was that first quarter fumble which gave them good field position and that long second half kickoff which we lost on an offside penalty. Both of these things were unfortunate. They set the tempo for both halves."
BENEDICTINE – 0
Ends – Szabo, Vavro, Koeth, D. Kniola, Zamaria.
Tackles – Switalski, Rochford, Melson.
Guards – Lanigan, DeFranco, Glowik.
Center – Pisching.
Quarterbacks – Petrovich, Seres, Keller.
Halfbacks – Holpuch, Woods, Favorite, Petruziello, Hodavievic, T. Moriarty, P. Moriarty.
Fullbacks – Teresczuk, Modzelewski.
MASSILLON – 20
Ends – Stephan, McGuire, Matie, D. Edwards, Rowe.
Tackles – Weirich, Andre Heath, Geiser.
Guards – Christoff, Heck, Graber, Bash, Mayles.
Centers – Studer, Cocklin.
Quarterbacks – Dingler, Muhlbach.
Halfbacks – Spencer, McLenndon, Nussbaumer, Thompson, Wonsick, Weise, T. Edwards, Jackson.
Fullbacks – Perry, Hannon.
MASSILLON 8 0 0 12 20
BENEDICTINE 0 0 0 0 0
SCORING SUMMARY
M – Spencer, 3 run (Dingler run);
M – Spencer 6 run (penalty on successful run, Dingler kick failed);
M – McLenndon 3 run (run failed).
GRID STICK
M B
First downs, rushing 18 4
First downs, passing 0 2
First down penalties 0 0
Total first downs 18 6
Yards gained rushing 259 100
Yards lost rushing 16 28
Net yards gained, rushing 243 72
Net yards gained, passing 16 40
Total yards gained 259 112
Passes completed 2-7 3-11
Passes intercepted by 2 2
Yardage on passes intercepted 20 12
Kickoff average (yards) 4-43.3 1-30.0
Kickoff returns (yards) 0 77
Punt average (yds.) 4-28.8 5-37.4
Punt returns (yds.) 5 0
Had punts blocked 1 0
Fumbles(lost) 1(0) 1(1)
Yards penalized 5-47 3-35
Touchdowns rushing 3 0
Total number of plays 73 42
OFFICIALS
Referee – Hugh Davis.
Umpire – Joe Yanity.
Head Linesman – Don Miller.
Field Judge – Ed Steinkerchner.
Back Judge – Dr. Henley Freeman.
ATTENDANCE – 12,726