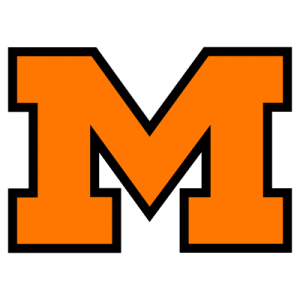 Tigers win 56-0; Bennies lie in wait
By CHUCK HESS, JR.
Independent Sports Editor
There's only one trouble with a victory like the Massillon Tigers got Friday night. It leaves you too well satisfied at the wrong time.
Washington high's defending Ohio Class AAA champions demolished Cincinnati Taft 56-0 before 10,516 at Tiger stadium to hang up victory No. 2 and 12 straight in the past two seasons.
TAFT IS 0-2 and has the task of returning to Stark county next Friday to take on Canton McKinley.
Amidst all the rejoicing, Tiger Coach Bob Commings hung up a warning sign:
"The Bennies are coming," he said, referring to the invasion of Cleveland Benedictine which is slated for next Friday.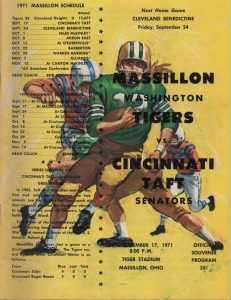 "You enjoy one like this once in awhile if you learn," he continued. "We've had it happen before where we've beaten people bit and had a tough game coming up the next week. The only thing which counts is what happens then."
In each of his three seasons here, Commings has come off easy victories – this time two – to have the tough Bengals starring him right in the face. The team from Cleveland is sure to be rough again this year after Friday night's 20-0 opening win over Cleveland Cathedral Latin.
The Tigers showed their fans several things against Taft.
– THEY CONTINUED to be tough on defense and are looking forward to that first big challenge.
– The backs ran with authority and held onto the ball much better, even though losing two of three fumbles and made the running attack more consistent behind good blocking.
– The ground game worked as well to the left as to the right as Commings sought to keep his team from being almost all right-handed as it had been last week.
– Good field position pays off.
– There are a lot of hardworking, eager kids waiting in the wings to keep the Tiger machinery working efficiently.
On the last point, Commings again cautioned, "We got a chance to play many kids for experience, but you have to play a good team to find out about depth."
SO EXCELLENT was the defense for the second week in a row, that Taft got no first downs until midway in the third quarter while the Tigers were rolling up 17 in the first half – 14 on the ground. The game total was 28-3 with the Senators getting two by penalties.
Taft managed only three net yards rushing and 28 total while Massillon got 353 and 384. The Senators got out of their own territory only four times. Once was when Gary Trible recovered Larry McLenndon's third-quarter fumble on the Tiger 21.
Tailback Willie Spencer was the chief cog in the Tigers' offensive works, scoring four touchdowns and picking up 71 net yards in 15 tries. Another left half, Larry McLenndon, scored two six-pointers and a conversion. Wingback Art Thompson ran a pair of two-pointers as the Orange and Black scored eight of 11 times it got the ball.
Spencer capped a 13-play first period drive with a run around right end on a pitch on second down from the five with 5:28 left. Side stepping quarterback, Scott Dingler, bootlegging well all night, ran for the conversion off a nice block by guard Scott Graber.
McLenndon scored off right guard on second down from the three with 10:13 remaining in the second quarter after a 13-play drive, highlighted by the running of Dingler, fullback Tom Hannon and key third down pass reception by Thompson. A good second effort also gave mcLenndon the conversion.
Massillon took over on Taft's 48 following a punt and in seven plays, including a 38-yard run by Thompson and aided by a personnel foul call, scored again as Spencer rammed over right tackle on the first down from the one with 4:42 left.
HANK NUSSBAUMER recovered a fumble at the Taft 35 and the Orange and Black tallied in two plays, a 19-yard pass from Dingler to split end Mike McGuire, seeing his first action after a knee injury and McLenndon's 16-yard effort around right end on first down from the 16 with 2:29 remaining. Thompson double – reversed the conversion.
A bad snap sent Taft punter, Greg Wooten to the eight where Jim Jackson and Percy Keller hauled him down. In four plays on third down from the four, Spencer traversed left end with 50 seconds left.
The Tigers took over on the Senators' 48 following a third quarter punt and had a tally in six efforts, including a 15-yard run by fullback Don Perry. Spencer blasted through right tackle on second down from the six with 7:58 to go. Thompson navigated right end for two more.
End Todd Cocklin picked up a Taft bobble on the Senators' 16 in the fourth canto. Tailback Jim Jackson rolled aro9und left end on the next play with 11:01 on the clock. Both are juniors.
Terry Edwards, a junior wingback, scored with 59 seconds showing, on first down from the seven in a run around right end. His effort ended a 16-play drive by the second string which featured some nice running by both Jackson and fullback Val Keys.
"We weren't hitting much better this week than last," a disappointed Taft Coach Elmer Berney said.
He had praise for Massillon saying, "They are well-coached, sound personnel – wise and their big backs execute well."
GRID STICK
M T
First downs, rushing 26 0
First downs, passing 3 1
First down penalties 0 2
Total first downs 29 3
Yards gained rushing 361 42
Yards lost rushing 8 39
Net yards gained, rushing 353 3
Net yards gained, passing 31 25
Total yards gained 384 28
Passes completed 2-5 4-14
Passes intercepted by 2 0
Yardage on passes intercepted 19 0
Kickoff average (yards) 9-46.4 1-52.0
Kickoff returns (yards) 25 92
Punt average (yds.) 1-49.0 6-25.1
Punt returns (yds.) 0 0
Had punts blocked 0 0
Fumbles(lost) 3(2) 4(2)
Yards penalized 6-80 8-45
Touchdowns rushing 8 0
Total number of plays 66 48