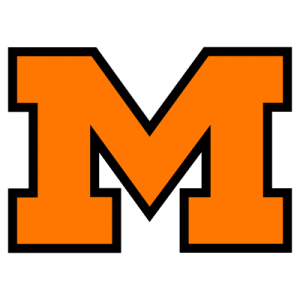 Tigers 'spotty' in 22-20 victory
Fumbles big bugaboo in second half action
By CHUCK HESS, JR.
Independent Sports Editor
It was the kind of drama you would expect to be enacted on a Mississippi sternwheeler out of Natchez.
But instead of gambling with a deck of cards, Washington High coach Bob Commings took the long chance with his book of plays Friday night and it paid off twice, preventing Cleveland Benedictine from taking the pot.
Before 13,610, the season's largest crowd, the Massillon Tigers came from behind with 22 points in the second quarter and then held on through a spotty second half for a 22-20 victory over as tough a band of Cleveland footballers as ever invaded Tiger stadium.
* * *
IT WAS A typical bruising Massillon – Benedictine battle with followers of both teams able to go home with their heads high even though only one could leave the scene victorious. Washington high's warriors are 2-0, Benedictine 1-1.
Commings, whose personal win streak climbed to 24, late in the second quarter, called for a fourth down, six, screen pass which gave the Tigers the margin of victory. Quarterback Gary Herring faded from the Benedictine 37 and hit fullback Mike Autrey on the 40 with the bespectacled senior going all the way for the first of two touchdowns he scored.
"They hit the screen a couple of times," Augie Bossu, veteran Benedictine coach said, "and when you have one called back like we did, it's bound to hurt you. That was a heckuva run with some good blocks."
* * *
HE WAS referring to halfback and Co-Captain Frank Novaks 94-yard touchdown jaunt on the kickoff following the Tigers' initial touchdown in the second quarter. A clip nullified the effort with Massillon leading only 8-7.
The Tigers might have blown the game wide open in the third quarter except for a pass interception and losing the ball three times on fumbles. Another fumble at the beginning of the fourth quarter, didn't help either.
Senior halfback Bob Kacvinsky, a surefire All-Ohioan, scored all three Benedictine touchdowns after an interception and two fumbles. Curiously, Massillon's scores were also set by miscues – two interceptions and a fumble.
On a third down, nine situation, on the Tigers' 36 in the fourth quarter, Commings called again for the Herring-to-Autrey screen. This time Autrey carried for a first down to the Bennies' 45 to enable the Orange and Black to keep control at a time when Benedictine's chances to get the winning score were waning.
"Both of those passes were big," Commings remarked.
Kacvinsky intercepted on his 35, in the first quarter, followed with a 21-yard return added 44 more on a pass-run from quarterback Frank Petruziello and finally went over from the half-yard line on fourth down, with 9:05 left in the period.
The next part of the game was all Massillon. Herring intercepted on his five, shortly before the end of the first quarter, returning 28 yards and the Tigers took off on a 12-play,
67-yard march.
Darnell (The Bopper) Streeter scored from the seven with 9:34 left in the second quarter and two juniors got the extra points as quarterback Denny Franklin found Larry (Scooter) Harper.
* * *
AFTER NOVAK'S clip-thwarted TD effort, Streeter intercepted on the Tigers' 10 and returned 35 yards to the Massillon 45. On third down, 11, from the 41, Harper did sideline twinkle toeing on a double reverse and carried to the Benedictine 16. Autrey blasted to the two and then over with 4:10 left, but missed the conversion.
Rick Maxhimer recovered a fumble on the Bennies' 41 shortly after the ensuing kickoff and set up Autrey's second score, which came at 1:19 and was followed by Franklin's pass to Streeter for the conversion.
Benedictine got going again slightly past the half-way mark of the third quarter when junior tackle Victor Malley hopped on a fumble at the Tigers' 29. Five plays later on third down from the two, Kacvinsky shot off tackle again.
Petruziello's attempted conversion pass was knocked down by Ed McConnaughead. The time was 2:33.
John Fromholtz thwarted another Benedictine scoring attempt with an interception on the Tigers' 10 near the end of the period but the Tigers fumbled right back with Benedictine junior halfback Jim Johnson claiming the pigskin just after the start of the fourth canto. A personal foul during the scramble put the ball on the Orange and Black's 27.
* * *
KACVINSKY TOOK off to the right, cut back to the left and was gone for six points on the following play with 11:30 left. Co-Captain Wayne Bacik, who had converted after the first TD, repeated.
The Tigers played in Benedictine's back yard most of the fourth quarter but couldn't score. Herring completed a long pass to junior wing back Bernard Sullivan at the 12, but the Tigers ran out of gas at the four.
"Those three interceptions hurt us," Commings said, "and that one at the beginning of the third quarter really killed us. We were going in for a TD that could have broken the game wide open."
Sophomore halfback Don Vavro intercepted on the Tigers' 10.
"Benedictine players are great competitors," Commings said, "but our kids were not out hit. Our defense was superb. They're young and will make mistakes. We made a crucial one on the last TD when a boy went the wrong way."
He added, "Any team which makes the mistakes we made and wins, is a heckuva team. We needed a tough game. These kids showed they were Tigers. I'm more confident after this win than following the opening one."
Bossu said his charges did nothing differently in the second half. "We started to play football, " he explained.
THE GRIDSTICK
M B
First downs – rushing 10 10
First downs – passing 5 1
First downs – penalties 3 0
Total first downs 18 11
Yards gained rushing 182 147
Yards lost rushing 21 7
Net yards gained rushing 161 140
Net yards gained passing 156 75
Total yards gained 317 215
Passes completed 12—19 2–13
Passes intercepted by 3 2
Yardage on passes intercepted 80 25
Kickoff average (yards) 4—49.2 4—39.7
Kickoff returns (yards) 59 52
Punt average (yards) 2—31.0 4—30.9
Lost fumbled ball 4—4 3—4
Yards penalized 6—80 6—62
Touchdowns rushing 2 3
Touchdowns passing 1 0
Total number of plays 61 56
INDIVIDUAL RUSHING
Benedictine
Att. Net. Avg.
Kacvinsky 17 98 5.6
MASSILLON
Att. Net. Avg.
Autrey 14 70 5
Streeter 15 50 3.3
BENEDICTINE – 20
Ends – Martanovic, Bacik, James, Evert, Crowley.
Tackles – Switalski, Nunery, Fink, Malley.
Guards – Lorek, Ahrens, Oriti, Stupica.
Center – Bossu.
Quarterback – Petruziello.
Halfbacks – Kacvinsky, Novak, Barile, Vavro, Johnson, Senger.
Fullbacks – Vogel, Fontana.
MASSILLON – 22
Ends – M. Robinson, Maxhimer, Dorman, Lewis, McConnaughead.
Tackles – Celik, Bingle, Strobel, Ridgley, Heck.
Guards – Midgley, Hout, Sims, Miller, McLin.
Centers – Eckroate, S. Luke.
Quarterbacks – Herring, Franklin.
Halfbacks – Streeter, Mauger, Fromholtz, Harper, Sullivan, Sheaters.
Fullbacks – Autrey, Cardinal.
Benedictine 7 0 6 7 – 20
Massillon 0 22 0 0 – 22
SCORING
B – HB Bob Kacvinsky, half-yard run; E Wayne Bacik PAT (kick);
M – HB Darnell Streeter, seven-yard run, WB Larry Harper, PAT's (pass from QB Denny Franklin);
M – FB Mike Autrey, two-yard run, conversion run failed.
M – Autrey, 40-yard screen pass – run from QB Gary Herring, Streeter PAT's (pass from Franklin).
B – Kacvinsky, two-yard run, conversion pass failed.
B – Kacvinsky, 27-yard run, Bacik PAT (kick).
OFFICIALS
Referee – Jack McLain.
Umpire – Dan Brown.
Head linesman – Bud Shopbell.
Field judge – Jack Werkowitz.