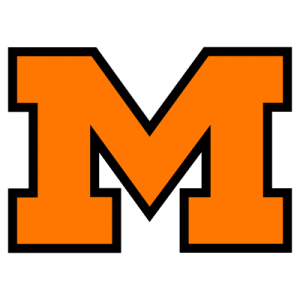 Tigers snarl but Commings cautious
By CHUCK HESS, JR.
Independent Sports Editor
It was like those teasers the movie moguls put together to plug their productions. It made you want to go back next week for more.
But also like the flicks, the next week could prove disappointing.
The Massillon Tigers rolled to a 60-6 victory over Dayton Trotwood Madison Friday night at Tiger Stadium before 11,555 fans in the season opener, but Tiger Coach Bob Commings cautioned, "This wasn't a good test. We did not expect it to be like this (as easy). We made so many errors. We were not sharp at all and we'll be playing the best team in Cleveland next week."
Benedictine high will make its annual trek south next Friday night.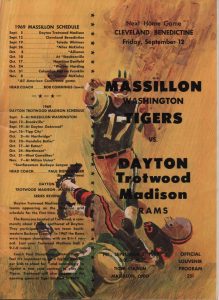 In rolling up their biggest score since Leo Strang beat Commings – then at Struthers – 74–0 here in 1963's seventh game, the Washington high squad had to overcome 150 yards in penalties, an early score by Trotwood and the loss of four of five fumbles.
But also in winning, the Orange and Black rolled up about as much yardage (474 yards) as they have in quite awhile. They showed more offense than had been seen here in six years. They trapped, they swept, they pitched, they passed.
To the Massillon fans, it was like the good old days.
Commings was able to use every available ballplayer, causing him to comment, "I was happy to get a lot of players in but unhappy that the regulars didn't get enough work."
It looked like it was going to be a bad night when early in the first quarter, Trotwood's Jack Bozarth recovered a Massillon fumble on the 50 and in three plays the Rams had a
6-0 lead thanks to a 42-yard pass play which saw end Randy Truesdale grab a toss from quarterback Dan Adams on the 15 and go in the end zone with 10:02 left.
Jeff Rohrer's kick was good but Trotwood was in motion and a pass to halfback Erik Jensen was incomplete.
What followed was like a wounded jungle cat turning on his attacker as Darnell (Bopper) Streeter started things off with a 29-yard return of Trotwood's kickoff to the Rams' 39.
THE TIGERS were aided by two penalties, one a personal foul after the touchdown which forced Trotwood to kickoff from its 25. Someone yanked Streeter's face-mask and that gave the Orange and Black a first down on the 23.
Fullback Mike Autrey got off a nice off-tackle run to the four – one of several during the night – and Streeter used the same route for the score at the 8:13 mark. Junior Mike Mauger's boot made it 7-6.
Near the end of the quarter, junior Larry Harper picked up a nice block by Streeter for a 16-yard punt runback to the Tigers' 41. Four plays later, early in the second stanza, Autrey charged off tackle through a huge hole from 37 yards out at 11:54.
Streeter followed with two points off tackle.
Kirk Strobel recovered a Trotwood punt runback fumble – one of five the Orange and Black claimed – on the Tiger 46. On second and 20, junior quarterback Denny Franklin tossed a screener to Autrey, who went 33 yards behind tremendous blocking. Streeter took another pass – from senior quarterback Gary Herring – for 20 yards.
Four plays later, Herring hit Harper in the right side of the endzone on a fourth down pass from the 14 to make it 21-6 at 2:55. Mauger missed the kick
* * *
"WE WERE in the game until they completed that one," Trotwood Coach Paul Dienstberger remarked, "Then we let up. We're convinced Massillon has a very good team."
Ed McConnaughead recovered a fumble on the Trotwood 32 and Franklin scored from there on the bootleg at 1:56. Mauger again misfired on the kick.
In the third quarter, Franklin's pass to tight end Mike Robinson for 10 yards and Herring's 15-yard run set up another TD as Commings continued to shuttle quarterbacks in and out at more frequent intervals than subway trains pass through Times Square at rush hour.
Herring hit tight end Don Lewis on the 25, "The Hawk" spread his wings and the Tigers had a 39-yard scoring play with 7:23 left. Autrey was short on the conversion.
Autrey recovered a fumble on the Trotwood 27 and after two consecutive motion penalties, Streeter went off tackle from 37 yards out at 5:12. Junior Tom (Beanie) Cardinal missed the two extra points.
Herring returned a pass interception 19 yards to the Trotwood 36. Fromholtz and Mauger of 26 and 14 yards respectively. Mauger took a pitch from the one on the next play and kicked the conversion – after a procedure penalty as the Tigers led 46-6 at the 47-second mark.
* * *
MIDWAY THROUGH the goodbye canto, Mauger raced 30 yards off tackle to Trotwood's 42. On the next play, Fromholtz spotted junior wingback Bernie Sullivan on the 10 and dropped the ball between several defenders. "Sullie" snatched it away and the Tigers had another score at 7:24. He went off tackle for two more points.
The final score with 16 seconds left after Lewis had recovered a fumble on the Trotwood 18. Five plays later tailback Tim Ammond went over on third down from the three on a pitch. Tailback Jerry Sheaters converted.
THE GRIDSTICK
Mass. Trot.
First downs – rushing 14 3
First downs – passing 6 2
First downs – penalties 1 5
Total first downs 21 10
Yards gained rushing 326 78
Yards lost rushing 29 4
Net yards gained rushing 309 75
Net yards gained passing 165 73
Total yards gained 474 148
Passes completed 7—12 4–13
Passes intercepted by 3 0
Yardage on passes intercepted 40 0
Times kicked off 10 2
Kickoff average (yards) 37.7 31.0
Kickoff returns (yards) 49 83
Times punted 3 5
Punt average (yards) 30.4 38.5
Punt returns (yards) 46 0
Fumbles lost 4–5 5—7
Penalties 18 5
Yards penalized 150 55
Touchdowns rushing 6 0
Touchdowns passing 3 1
Total number of plays 50 52
TROTWOOD – 6
Ends – Meek, Truesdale, Harrison, Dewey, Windmiller.
Tackles – Isner, Bayes, Kelly, Riegelsperger, Gordon,
M. Gayman, T. Domsitz.
Guards – Belcher, Bell, Garber, Rufener, Phillips, Bozarth.
Centers – Rohrer, Morton.
Quarterbacks – D. Adams.
Halfbacks – Jensen, J. Adams, Amos, Owens, Cyr, Schriml, Boehme.
Fullbacks – Dapore, Brewer, Berry.
MASSILLON – 60
Ends – Maxhimer, M. Robinson, McConnaughead, Reinerts, Snyder, Pribich, Hauschulz, Byelene.
Tackles – Celik, Benson, Strobel, Lint, Janikis, Bingle, Heck, R. Luke.
Guards – Hout, Midgley, Ferguson, Indorf, Kulik, Jaskinski, Pifer, Miller, Sims, Jellel, McLin.
Centers – Crookston, S. Luke, Brand, Ridgley.
Quarterbacks – Herring, Fromholtz, Franklin, Pattinson.
Halfbacks – Streeter, Harper, Lombardi, Ammond, Sullivan, Sheaters, Lewis.
Fullbacks – Autrey, Cardinal.
Trotwood 6 0 0 0 6
Massillon 7 20 19 14 60
SCORING
T – E Randy Truesdale, 42-yard pass-run from QB Dan Adams;
M – TB Darnell Streeter, two-yard run; FB Mike Mauger PAT
(kick);
M – FB Mike Autrey, 27-yard run, Streeter PAT (run);
M – WB Larry Harper, 14-yard pass-run from QB Gary
Herring; QB Denny Franklin, 42-yard run;
M – WB Don Lewis, 29-yard pass from Herring;
M – Streeter, 37-yard run;
M – Mauger, one-yard run, Mauger PAT (kick);
M – WB Bernie Sullivan, 42-yard pass-run from QB John Fromholtz, Sullivan PAT (run);
M – TB Tim Ammond, three-yard run.
OFFICIALS
Referee – Jerry Markbrite.
Umpire – Russ Kemper.
Head linesman – Bud Shopbell.
Field judge – Harvey Hodgson, Jr..
Back judge – Sam DiBlasi.