Another blowout Trotwood Madison Tigers' 2nd victim
Tigers take turnovers to trounce Trotwood
Massillon improves to 2-0 with 39-18 win
By JOE SHAHEEN
Independent Sports Editor
Just when it looked like Trot­wood Madison tailback Howard Lankford would torture the Massillon defense all night long, the electrifying mighty mite coughed up the football and gave the Tigers the momen­tum they'd never relinquish in a 39‑18 victory in front of 10,201 at Paul Brown Tiger Stadium, Friday.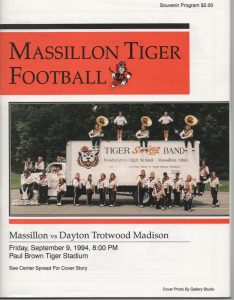 With the Tigers clinging to a perilous 13‑12 lead in the final three minutes of the first half, Lankford ‑ who finished with 145 yards rushing in 25 carries ‑ fumbled after diving into the middle of the Massillon line. Senior linebacker Courtney Herring recovered for the Ti­gers at the Trotwood 40.
Massillon was quick to capi­talize. On second down, senior tailback Leon Ashcraft skirted left end on a counter play and danced 23 yards to the 15. Two plays later, senior quarterback Willie Spencer rolled right, pump faked and sprinted into the end zone to give the Tigers a seven‑point advantage at 19‑12 and a much‑needed burst of confidence going into halftime.
"You just cannot turn the ball over against a quality team like Massillon, especially when we had things going our way," said Trotwood coach Bill Dennis, who then addressed Spencer's touchdown run. "Going in we knew we had to contain Spencer and keep him from getting to the perimeter. But he's such a good athlete. We just didn't get it done."
Up to that point, it appeared Lankford would be the fly in the Tigers ointment the entire evening. He rushed for 97 first half yards and had the Massil­lon faithful holding its collec­tive breath every time he touched the football.
"We just couldn't tackle him, he's so quick," said Tigers coach Jack Rose. "They do a nice job of getting him the ball in certain situations and he is hard to find. They'd get him the ball and he'd just pop out of there."
However, the Tigers came out in the second half and put the game away with two third-quarter touchdowns within a three minute span and a refo­cused defense that didn't allow a Trotwood first down until there were nine minutes left in the game.
"The defensive coaches made some nice adjustments at halftime," Rose observed. "But overall, our defense played to­day like it practiced all week, and we didn't practice worth a lick."
The first half was a different story. On the opening kickoff, Lankford showed what was to come, sprinting and spinning for 35 yards to the Trotwood 44. The Massillon defense stiffened and a fake punt misfired giving the Tigers superb field position at the Trotwood 48.
On third‑and‑seven, Spencer rolled right and hit Brennan Rohr, who made a sliding catch along the sideline at the 14‑yard line. A clipping penalty moved the ball back to the 18, but Ashcraft found a huge cavity on a delay over left guard and charged into the end zone for an 18‑yard touchdown and a 7‑0 Tiger lead at the 7:52 mark of the first quarter.
"That Ashcraft is a nice, little runner," Dennis commented. "Their offensive line did a good job. We couldn't get off their blocks and fly to the football like we did last week."
"Bones runs hard," Rose con­curred. "He had a real nice game tonight."
But Trotwood came right back, marching 52 yards in nine plays. Lankford put the points on the scoreboard when he took a pitchout around right end, ran through three would‑be tack­lers for an 18‑yard touchdown with 4:29 to play in the first quarter.
Trotwood got a gift on the drive when Massillon was flag­ged for a late hit on a third down play, giving the Rams new life at the Tigers 21‑yard line.
The Tigers were intercepted on the second play of their next possession, but got the ball right back when Lavell Weaver reco­vered a Trotwood fumble to put the Massillon offense in busi­ness at midfield.
Ashcraft burst for 15 yards on first down, Spencer ‑ after a beautiful play fake ‑ hit tight end Ryan Shanor for 23 yards to the Trotwood 13, and Ashcraft finished off the lightning march with an 11‑yard bolt off left guard and tackle for a touch­down to make it Tigers 13, Trot­wood 6 with :38 to play in the opening period.
Again Trotwood counterpun­ched after getting great field position at their own 40 after a short kickoff. With Lankford carrying on five of the seven snaps, the Rams pulled to with­in one point with 10:21 left in the first half. The 5‑5, 160‑pounder finished off the TD drive by finding paydirt on a seven‑yard draw play up the middle to make it a 13‑12 contest.
Massillon moved the ball on the next possession, but were finally forced to punt and downed the ball inside the Trot­wood 1.
The Rams brought it out, as halftime approached, but gave the ball and the ballgame away on Lankford's key fumble.
Massillon marched with the second half kickoff moving from its 20 to the Trotwood 19 before losing the ball on downs. The Tiger defense got the ball back by forcing the Rams to punt after just three plays. On first down from the 45, Vinny Turner picked up 17 yards on a draw and Spencer rolled around right end for a 23‑yard pick‑up to the 4‑yard line.
One play later Spencer scored on the quarterback sneak to make it 25‑12 with 3:56 to go in the third.
Again the Massillon defense did its job, forcing Trotwood to punt after three snaps. On first down from the Tiger 29, Ashcraft found a huge gap be­hind center Mark Wells, broke to the right sideline and gal­loped 52 yards to the Rams' 19­-yard line. Four plays later, Ashcraft dove into the end zone from the 3 to make it 33‑12 with less than a minute left in the third.
MASSILLON 39
TROTWOOD 18
M T
First downs rushing 17 11
First downs passing 3 5
First downs penalty 1 1
Total first downs 21 17
Net yards rushing 353 172
Net yards passing 85 132
Total yards gained 438 304
Passes attempted 7 26
Passes completed 3 17
Passes int. by 1 1
Times kicked off 7 4
Kickoff average 41.4 49.0
Kickoff return yards 25 129
Punts 2 2
Punting average 37.0 36.0
Punt return yards 26 0
Fumbles 0 4
Fumbles lost 0 3
Penalties 2 3
Yards penalized 30 24
Number of plays 56 57
Time of possession 26:09 21:51
Attendance 10,201
TROTWOOD 6 6 0 6 18
MASSILLON 13 6 14 6 39
SCORING SUMMARY
First Quarter
M ‑ Ashcraft 18 run (Pribich kick)
T ‑ Lankford 17 run (run failed)
M ‑ Ashcraft 11 run (kick failed)
Second Quarter
T ‑ Lankford 7 run (pass failed)
M ‑ Spencer 11 run (kick failed)
Third Quarter
M – Spencer 1 run (kick failed)
M – Ashcraft 3 run (Shanor Pass from Spencer)
Fourth Quarter
M ‑ Lewis 4 run (kick failed)
T ‑ Williams 25 Pass from Hutson (pass failed)
FINAL STATISTICS
Rushing:
Massillon
Ashcraft 17‑170, 3 TDs;
Spencer 8‑73, 2 TDs;
Lewis l4‑72, 1 TD;
Turner 8‑33;
Fraelich 1‑5;
Herring 1‑0.
Trot­wood‑Madison
Lankford 25‑145, 2 TDs;
Christon 5‑18;
Hutson 1‑9.
Passing:
Massillon
Spencer 3‑7‑85, 1 int.
Trotwood‑Madison
Hutson 16‑24‑129, 1 TD, 1 int.;
Walker 1‑2‑3.
Receiving:
Massillon
Shanor 2‑55,
Rohr 1‑30.
Trotwood‑Madison
Williams 5‑51, 1 TD;
Russell 6‑39;
Lankford 4‑10;
Mark 2-32.

Leon Ashcraft