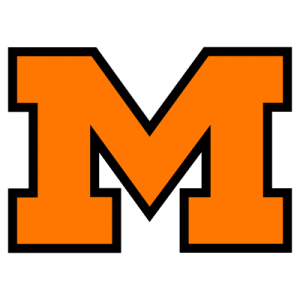 TIGERS EYE 3rd SPOT IN POLL
By CHUCK HESS, JR.
Tuesday's Associated Press gridiron poll should have some good news in it for the Massillon Tigers – a third place ranking.
The 13,000 who saw the Washington high eleven Saturday night rip apart Niles McKinley's "Thunder Defense" with a powerful running attack and stymie a previously powerful offense would agree that a poll change was inevitable.
* * *
THE TIGERS – fourth ranked last week – should take over Niles' third spot thanks to their 16-8 upset victory at the Dragon's Riverside stadium. Niles had been undefeated in four games while Massillon had lost one.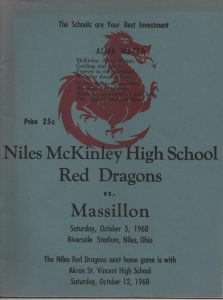 The victory gave the defending champion Orange and black undisputed possession of first place in the All-American conference with a 2-0 mark. The Dragons are 1-1.
Niles hadn't lost at home since 1959 – a stretch of 63 straight games. The Dragons had been averaging about 32 points per game and had allowed only one touchdown.
Massillon blasted out 231 net yards on the ground with four backs amassing over 40 yards apiece. Quarterback Marc Malinowski led with 82 yards, 70 on one run.
"Both of our fullbacks did a good job," Seaman said. "Niles ignored them because they hadn't been used much previously."
* * *
THE BESPECTACLED Autrey and Streeter had good off-tackle holes through which to run. The left-side slant seemed to be Niles' Achilles heel. It was here that Mike James,
Co-Captain George Whitfield and Ernie McGeorge did their blocking.
"They split an end out and pulled us outside," Dragons Coach Fred Conti explained. "We shut off a bit in the second half but then they ran Smith in there and ran that sweep at us."
Because Smith and the two fullbacks were able to run so well, it made Malinowski more dangerous off the fake. He also did some outstanding punting to keep Niles in the hole.
His out-of-bounds boot on the Dragons' five-yard line midway in the fourth quarter when the Tigers bogged down on the Niles, 29, about clinched the upset because the Dragons had to kick from their end zone minutes later.
Seaman had said that the Orange and Black would win if there were no big errors. There was one – a first quarter motion penalty from the half-yard line which prevented the Tigers from scoring a touchdown.
* * *
BUT THE TIGERS forced the Dragons into five fumbles, picking up four – one in each quarter. The recoveries, in order, were by Dave Couto on the Massillon 24, Bill Dorman on the Tigers 37, Chuck Stoner on the Niles 46, and Gary Gamble on the Dragons' 28.
After Couto's recovery, Malinowski broke off his 70 yard run to the four where two of the fastest Dragons – Bob Henry and Rick Gales – brought him down. This was the series which was blunted by the motion penalty.
Massillon drove 64 yards following a second quarter punt for its first score. The key play was a 20-yard pass-run combination from Malinowski to tight end Tom Engler on third and 12. Streeter ran for 10 more and Smith ploughed through right tackle – from the four with 6:48 remaining.
Streeter converted on a pitchout to the left.
The other Washington high score came with 8:23 left in the last stanza after Niles failed to get further than its eight following a Malinowski put to the four. The Tigers moved in from the Niles 49 with Autrey's 29-yard, off-tackle jaunt to the 20 setting up the six-pointer.
Smith scored over right tackle from four yards away and repeated the procedure for the conversion.
* * *
NILES' TALLY came after a third quarter punt and Gales 20-yard runback to the Massillon 39. Gales threw a halfback pss off the pitch-out to end Randy Hardy on the eight. Two plays later Gales took a pitch-out and raced around end with 6:49 left, for the score.
Gales passed to end John DeCamp in the right corner of the end zone for the conversion.
Another Niles threat came about when Gales broke loose down the sideline from the Massillon 47 in the first quarter but was tripped up by Co-Captain Larry Shumar on about the 30 and knocked out of bounds by Chuck Stoner on the 24. Then came Conte's recovery.
After the Dragons brought a Massillon 42-yard drive to a halt on the one with 1:53 in the game, quarterback Scott Conway tossed to Gales on the 20. Shumar intercepted, was hit immediately, fumbled and Gales recovered on the 25.
Conway lofted a desperation bomb, McDew intercepted on the Massillon 38 to end the game.
INDIVIDUAL RUSHHING
Massillon
Player Att. Net. Ave.
Malinowski 13 88 6.8
Streeter 11 44 4.0
McDew 5 9 1.8
Smith 20 51 2.6
M. Autrey 4 45 11.3
Niles
Player Att. Net. Ave.
S. Conway 11 36 3.3
Henry 12 54 4.5
L. Tabor 10 65 6.5
MASSILLON – 16
Ends – Engler, James, Cline, Dorman, Conley.
Tackles – Laase, McGeorge, Harris, Midgley, Doll.
Guards – Whitfield, Harig, Couto, Indorf, Arnott.
Center – Cocklin.
Quarterbacks – Malinowski, Fromholtz, Lombardi.
Halfbacks – McDew, Smith, Shumar, K. Autrey, Gamble,
Miller, Stoner, Hodgson, Sheaters, McLin.
Fullbacks – M. Autrey, Streeter, Johnson.
NILES – 8
Ends – Hardy, DeCamp, DeMont, N. Gatta, Joseph, J. Tabor.
Tackles – R. Santangelo, R. Sypert, Calderone, Rogers.
Gaurds – Joseph, D. Sypert, Hammel, Baragona.
Centers – Gaul, Rose.
Quarterbacks – S. and M. Conway, Fusco.
Halfbacks – Henry, D. Gatta, Gales, Pallante.
Fullbacks – L. Tabor, J. Santangelo.
Massillon 0 8 0 8 – 16
Niles 0 0 8 0 – 8
Touchdowns:
Massillon – Smith 2 (r-yard runs).
Niles – Gales (5-yard run).
Extra points:
Massillon – Streeter 2 (runs); Smith 2 (runs)
Niles – DeCamp (pass from Gales).
OFFICIALS
Referee – Ted Humphrey.
Umpire – Bob Bodnar.
Head Linesman – Paul Hoskins.
Field Judge – Tom Ascar.
AAC STANDINGS
Rec. Ovl. Pts. Opp.
MASSILLON 2-0 4-1 123 68
Niles 1-1 4-1 103 22
McKinley 1-1 4-1 91 29
Warren 1-2 3-2 100 40
Alliance 0-1 2-3 80 80
Steubenville 0-1 4-1 104 50
THE GRIDSTICK
Mass. Niles
First downs –rushing 14 7
First downs – passing 1 2
Total first downs 15 9
Yards gained rushing 252 135
Yards lost rushing 21 11
Net yards gained rushing 231 124
Net yards gained passing 23 34
Total yards gained 254 158
Passes attempted 2-5 2-9
Passes intercepted by 2 1
Kickoff average (yards) 3—46 2-31
Kickoff returns (yards) 18 23
Punt average (yards) 4-27.7 4-41.2
Punt return (yards) 39 19
Fumbles, lost 1-1 4-5
Penalties 5 1
Yards penalized 33 5
Touchdowns rushing 2 1
Total number of plays 61 52