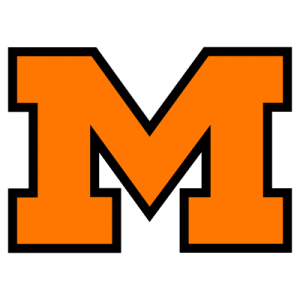 Tigers' Defense Shines In 24-0 Win
Early Game Looked Like A Big Rout Obiemen Score All In 1st Half
By CHUCK HESS, JR.
Auggie Bossu's Cleveland Benedictine football team might be in a rebuilding year, but you'd never know it.
Bob Seaman's Massillon Tigers thought they had a rout in the making when they scored 2 quick touchdowns in the first quarter Friday night at Tiger stadium. But the Bennies didn't get the message. They held the Orange and Black scoreless in the last 2 ½ quarters with the Washington high eleven settling for a 24-0 win.
* * *
TO HOLD Benedictine scoreless is an accomplishment in itself, so the Tiger defense must be given plenty of credit. The Bennies were able to put together only one long drive – right after the second half kickoff – but were stopped on the half-yard line.
The Bennies didn't earn a first down until midway in the second quarter and got only 7 in the game to the Tigers' 12. The Bennies did get a first down by penalty in the welcome period.
The Obiemen rolled up 217 yards on the ground to 75 for Benedictine. Massillon got 169 of those yards and 11 first downs in the first half.
"Our pursuit was better in the second half and our safety men were closing up," Bossu said. "We tried to get the boys to meet the blocks better."
Seaman agreed about the pursuit and also said, "They hurried up in the second half, didn't stem (move around) before the play. We waited for them and they were gone."
* * *
THE TIGER skipper also took part of the blame in that he departed from the game plan "just to see if we could do some things. We also used a lot of young kids. That will help us in the long haul."
The Bennies kept the Tigers pretty well bottled up in poor field condition, getting down fast under junior Bob Bacik's punts.
Tiger junior halfback Mark McDew ignited scoring drives when he returned 2 kicks, one 24 yards in the first quarter and another 18 in the second.
He made only one long run from scrimmage, resulting in a score, and carried the ball but twice. Seaman put him back out on the wing again instead of with the rest of the backs as in last week's contest.
"This is what we planned to do," Seaman said. McDew did 2 of the 3 touchdowns and 2 of the 3 conversions.
* * *
THE TIGERS TOOK the opening kickoff and marched 66 yards for a score in 12 plays with 5 first downs. The Tigers' twin bulldozers – Jim Smith and Reggie Moore – augured out most of the yardage.
Fourth and 13 on Benedictine's 24, Quarterback Trevor Young hit McDew in the right side of the end zone. Moore rammed in over the center for 2 more points to make it 8-0 with 5:55 remaining.
Tom Robinson recovered Sadd's kickoff runback fumble on the Cleveland 34 and the Tigers had touchdown No. 2 in 7 plays with 3 first downs. On second, 7 from the 7, Young hit split end Bert Dampier on the half-yard line. Fullback Bill Simon charged over on the next play at 2:54.
McDew completed things by catching Young's roll out pass to the right. This gave Massillon 16 points and Benedictine still had not been able to run a play.
Early in the second period after McDew's second punt runback, the Tigers went 82 yards in 5 plays for their final score. Young faked to Simon going through the middle and then rolled to the right and pitched to McDew who dashed 59 yards down the west sideline for a TD on a third and 4 play at 7:10. Young threw to McDew down the center for the conversion.
* * *
LATER in the period, Benedictine almost scored but sophomore halfback Woody Vogel, subbing for senior Tim Russ, the Bennies top halfback, couldn't hold to a third and 4 pass from the Cleveland 43.
Ferko intercepted a first down Massillon aerial from the Benedictine 37, intended for McDew, on the 9 as the half ended to save a score.
The second half was mainly a contest in punting with the exception of the one long drive by Benedictine, which has yet to score this season after a 0–0 affair with Lakewood St. Edward.
It was victory No. 2 for the Tigers who haven't really dug deep into their repertoire yet. Mansfield Tygers come in next Friday.
BENEDICTINE – 0
Ends – Barnes, Balough.
Tackles – Bucci, Jakosh, Czech.
Guards – Champa, M. Smith, Toth, Forro, Marchmon.
Centers – Mauser, B. Smith, Kness.
Quarterbacks – Pillar, Bacik, Petruziello.
Halfbacks – Vogel, Reid, Sadd, Anderson.
Fullbacks – Ferko, Tenaglia.
MASSILLON – 24
Ends – Houser, Dampier, Richards, Robinson, Spencer.
Tackles – Snowball, McGeorge, Snyder, Ricker, Laase.
Guards – Ertle, D. Gipp, Whitfield, Cardinal, M. Russell, Mulnick.
Centers – B. Moore, Skelton, Cocklin.
Quarterbacks – Young, Malinowski, Shumar.
Halfbacks – J. Smith, McDew, Evans, Fenton, Hodgson, Fichter, Manson.
Fullbacks – R. Moore, Simon, M. Gipp.
INDIVIDUAL RUSHING
Massillon
Player Att. Net. Ave.
Smith 22 99 4.5
McDew 2 58 29
Simon 4 7 1.8
Moore 10 42 4.2
Young 4 7 1.8
Benedictine
Player Att. Net. Ave.
Vogel 11 51 4.6
Ferko 8 27 3.4
Pillar 4 -4 0
Benedictine 0 0 0 0 0
Massillon 16 8 0 0 24
Touchdowns:
Massillon – McDew 2 (24-yard pass from Young and 59-yard run);
Simon (one-half yard run).
Extra points:
Massillon – McDew 4 (passes from Young); Moore 2 (run).
OFFICIALS
Referee – Howard Wirtz.
Umpire – Robert Ferguson.
Head Linesman – William Makepeace.
Field Judge – Don Welsch.
Attendance: 11,785
THE GRIDSTICK
Mass. Bene.
First downs – rushing 11 4
First downs – passing 1 2
First downs – penalties 0 1
Total first downs 12 7
Yards gained rushing 230 107
Yards lost rushing 13 32
Net yards gained rushing 217 75
Net yards gained passing 36 31
Total yards gained 253 106
Passes attempted 10 10
Passes completed 3 3
Passes intercepted by 1 1
Yardage on passes intercepted 0 0
Times kicked off 4 1
Kickoff average (yards) 46.2 50
Kickoff returns (yards) 25 73
Times punted 7 7
Punt average (yards) 39.7 36.9
Punt return (yards) 56 32
Had punts blocked 0 0
Fumbles 2 2
Lost fumbled ball 0 2
Penalties 3 1
Yards penalized 35 3
Touchdowns rushing 2 0
Touchdowns passing 1 0
Touchdowns by interception 0 0
Miscellaneous 0 0
Total number of plays 62 53