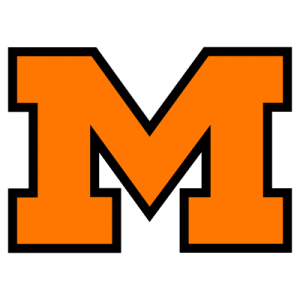 Tigers Roar Over Mansfield
A Good Team Effort Says Coach Seaman
By CHUCK HESS, JR.
Togetherness – a great plus for any football team – paid off for Massillon's Tigers Friday night before 11,868 at Tiger stadium.
The Bengals roared to their third straight win without a loss in the young gridiron season by a 28-0 count over the Mansfield Tygers off what Washington high Coach Bob Seaman termed a "good team effort."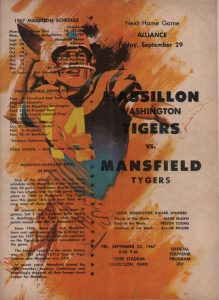 In handing the Tygers their second loss in a row after an opening win, the Obiemen settled a score. The Mansfield eleven of Gary Prahst had battled the Seaman pride to a pointless finish last year in Mansfield, stopping a 30-game Tiger win skein.
It was the second straight shutout for a ferocious bunch of felines who were really hitting the opposition again. Only scores against the Orange and Black this year were when the pigskin was intercepted twice on opening night by Akron East.
The defensive secondary – juniors Mark McDew, Marc Malinowski and Bert Dampier – blanketed Mansfield receivers, limiting an air game that had collected 435 yards in the Tygers' previous 2 outings to just 64 this time out.
* * *
THE FORCE UNIT, spear-headed by senior linebackers Co-Captain Ron Ertle and Hoyt Skelton hitting with power, was tough when it had to be.
The Bengals found that when the bypass route was closed, the direct path through town was effective. Mansfield effectively threw up a roadblock in front of bulldozer No. 1, junior tailback Jim Smith, so bulldozer No. 2, senior fullback Reggie Moore got the call. For 86 yards in 14 tries, a touchdown and a conversion.
Neither lost yardage but Smith was held to his lowest total to date with only 55 on 10 tries as the Tyger defense either prevented Smith from getting around the corner for any distance or forced quarterback Trevor Young to keep the pigskin on the option. Smith bruised his shoulder early in the game but Moore and Young made up the slack.
A by product of the effectiveness of the inside game with its good blocking from tackle to tackle was the faking by Smith, Moore and the Bengals' other senior fullback Bill Simon to make Young's play dangerous enough that he was able to score 2 TD's, a conversion and pass for another 2-pointer even though a broken play was involved.
A pat on the back is also in order for the reserves under the field generalship of Marc Malinowski. They scored the final touchdown,
* * *
IF THERE WAS any disquieting note about the game it was that Mansfield had 67 plays to the Tigers' 50, meaning that the Obiemen were not able to interrupt the Mansfield play continuity with consistency. However, the Tigers remained tough when their goal line was threatened.
Fullback Dave Phillips, a block-busting senior, was called on several times by Prahst in crucial third and fourth down situations and got the necessary yardage. Phillips, who was reported not ready to play with ankle and shoulder injuries, gained 60 net yards in 16 attempts.
It appeared that Friday's contest was going to be a repeat of last year's tilt as the teams battled through the first quarter without denting the others' goal line. Massillon lost the ball on downs on the Mansfield 14. The Tygers had to punt from Massillon's 36.
The Tigers' first score came at 5:05 of the second stanza after a 12-yard punt runback by Russ Fenton, a 15-yard right side off tackle romp by Moore and a 42-yard pass-run combination from Young to junior wingback Mark McDew on the same side.
On third down from the 3, Young faked to Smith through the middle and romped over the right side. Following a delay penalty, Young passed to Moore to the right for 2 more points.
* * *
AFTER THE ensuing kickoff Mansfield got another drive going aided by a 34-yard Dave Hallabrin-to-Duane Hill pass as Hill, a 6-3 senior split end, leaped up between 2 Tiger defenders for a catch. But Massillon end Tim Richards turned a Mansfield pass into a fumble on second and 10 from the 21 and McDew intercepted a pass on the 5, killing the drive 2 plays later.
Most of the second half was played in Mansfield territory as the Tigers recovered 2 fumbles and intercepted a pass. Simon, junior tackle, Ernie McGeorge and Skelton covered one bobble on the Mansfield 34 early in the third quarter. Richards picked up another on the Tyger 26 and Skelton intercepted a pass at the start of the fourth quarter on the Massillon 30, but the Benglas ran into an illegal use of the hands penalty on the Tyger 29.
Young scored on the fifth play after the initial miscue on a broken play, going through the center on first down form the 3 with 6:04 in the third period after an offside penalty. A conversion pass to Moore was low.
Smith had set up the score with a 15-yard right side option, just stepping out on the 19.
The second recovery led to another third period score after 7 plays. McDew took a pitch to the left after Young had faked to Smith again through the center and scored from the 3 on fourth down at 2:32. Young's counter keeper left made it 22-0.
* * *
THE RESERVES took over after a Mansfield punt late in the goodbye canto and marched 49 yards in 6 plays. The big plays were Malinowski's 22-yard romp to the Mansfield 17 and 11-yard trek to the 3.
Moore got the TD behind the second line on first down from the 3, going off right tackle at 1:05. Malinowski's conversion pass to junior wingback John Hodgson was incomplete.
Next week's foe will be cross-county rival Alliance, as Tiger stadium is invaded for the fourth consecutive week.
MANSFIELD – 0
Ends – Hill, Blakley, Kearney, P. Parr.
Tackles – Zimmerman, Sands, Moga.
Guards – Wilcox, Gorrell, Lowe, Leitenberger.
Centers – Baehrens, Porter, Imhoff.
Quarterbacks – Hallabrin, Wright, Sweat.
Halfbacks – Johnson, Reed, Giorioso.
Fullbacks – Phillips, Sweat.
MASSILLON – 28
Ends – Houser, Dampier, Jackson, Richards, Engleh, Robinson, Spencer.
Tackles – Snowball, McGeorge, Ricker, Laase, Snyder.
Guards – Ertle, D. Gipp, Russell, Whitfield.
Centers – B. Moore, Skelton, Cocklin.
Quarterbacks – Young, Malinowski, Shumar.
Halfbacks – Smith, McDew, Fenton, Hodgson, Staples, Evans.
Fullbacks – Moore, Simon, M. Gipp.
Mansfield 0 0 0 0 0
Massillon 0 8 14 6 28
Touchdowns:
Massillon – Young 2 (3-yard runs); McDew (3-yard run); Moore (2-yard run).
Extra points: Moore 2 (pass from Young); Young 2 (run).
INDIVIDUAL RUSHING
Massillon
Player Att. Net. Ave.
Moore 14 88 6.1
Smith 10 55 5.5
McDew 7 31 4.4
Young 9 32 3.6
Mansfield
Player Att. Net. Ave.
Phillips 16 60 3.8
Johnson 11 9 0.8
Hallabrin 12 33 2.8
THE GRIDSTICK
Mass. Mans.
First downs – rushing 13 10
First downs – passing 1 4
First downs – penalties 1 1
Total first downs 15 15
Yards gained rushing 243 171
Yards lost rushing 4 35
Net yards gained rushing 239 136
Net yards gained passing 49 64
Total yards gained 288 200
Passes attempted 4 15
Passes completed 2 4
Passes intercepted by 2 0
Yardage on passes intercepted 25 0
Times kicked off 5 1
Kickoff average (yards) 51.2 35.0
Kickoff returns (yards) 29 56
Times punted 2 3
Punt average (yards) 37.0 29.3
Punt return (yards) 10 11
Had punts blocked 0 0
Fumbles 0 5
Lost fumbled ball 0 2
Penalties 4 3
Yards penalized 15 24
Touchdowns rushing 4 0
Touchdowns passing 0 0
Miscellaneous 0 0
Total number of plays 50 67
OFFICIALS
Referee – Octavio Sirgo.
Umpire – Harvey Hodgson, Jr.
Head Linesman – Sam DiBlasi.
Field Judge – Beauford Hatfield.
ATTENDANCE: 11,868