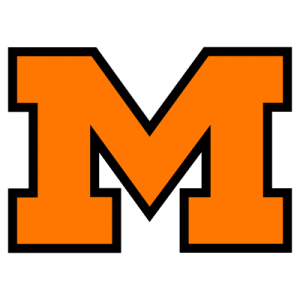 Promising Tigers Win Opener 28-14
Running of McDew, Smith, Defensive Play Are Highlights
By CHUCK HESS, JR.
Independent Sports Editor
The sigh of relief could be heard all across Tigertown.
Washington high grid fans had been apprehensive about their team after last week's scrimmage showing against Canton Lincoln. But the Tigers proved Friday night before 11,068 fans at Tiger stadium that they have the makings of a fine team.
For all practical purposes they shut out invading Akron East, 3-time Rubber City champion. But a couple of air born pigskins didn't reach their intended marks and the Obiemen had to settle for a 28-14 count.
* * *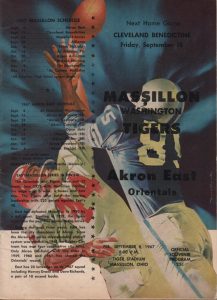 THE GAME was highlighted by some outstanding running on both sides. For the Tigers it was by marvelous Mark McDew, including 2 punt-return touchdowns. The Tigers' other halfback, Jim Smith – both are juniors – also scored twice.
Senior Dave Richards, a halfback and Harvey drone, a fullback starred for East. Richards tallied 2 TD's.
Running from a regular position instead of a wing slot for the first time in the power I, "Mac" helped make the Tigers' running game all the more dangerous.
McDew's first bit of inspired running came about halfway through the welcome canto. The Tigers had taken the opening kickoff, lost a fumble to East's Ted Mobley on the Bengal 39 and forced a punt and resulting 11-yard runback by McDew.
Five plays later with second, 11 on the Tigers' 29, Mark blasted through center for 61 yards and a first down on the Orientals' 10. An offside penalty made it 2nd, 11 and Smith raced around the left side on the option for the first score at 5:54.
* * *
ANOTHER OFFSIDE penalty forced a second conversion try from the 8 after the first was no good. Senior co-captain and quarterback Trevor Young hit McDew on a diving catch for an 8-0 count.
Senior end Tim Richards halted an East drive at the Tigers' 31 early in the second period and an exchange of punts found McDew consummating a 62-yard punt return after being trapped and reversing his field, to put the Orange and Black ahead 14-0 at 7:45.
Junior split end Luther Jackson couldn't hold Young's conversion pass.
McDew put his winged feet to good use again midway through the third period, after East had had the ball for most of the quarter. McDew got loose on an 80-yard punt return with help from a picture block by senior end Russ Fenton on the East 20. The time was 7:22.
Young tried to hit Jackson on the conversion, missed, but an offside on the Rubber City opponents gave the Tigers another chance and Smith went over right guard for the 2 points.
* * *
MASSILLON'S FINAL score came in the last quarter on a 64-yard, 10-play drive started by a 26-yard punt runback by junior safety Marc Malinowski and cluminated by Young's 9-yard keeper and Smith's 3-yard jaunt off left tackle at 11:16.
Smith tried the other side for the conversion but couldn't reach pay dirt.
Tiger fans perched perilously on the edges of their seats in the third quarter when the Orientals made it a 22-14 game.
The Obiemen had driven deep into East territory when Young tried the sky route with first down on the 18. Senior halfback Dave Richards picked off the aerial and returned 90 yards down the east sideline with Smith failing, on a great try to stop the Oriental speed demon. The time was 6:09.
A pass to senior halfback Eleaser Sanders was incomplete on the conversion try but both sides were offside. Sanders raced around left end for the score.
* * *
A COUPLE of minutes later on the first series after the kickoff, Young attempted to option Smith on third down on a play, which netted the Bengals plenty of yardage and helped Young's running throughout the night. The flip hit Smith's helmet and bounced back into Richards' hands and he was gone with the wind again from 35 yards out at 4:46.
Sophomore Otis Johnson's conversion boot was blocked but the Tigers were nicked for roughing the holder. Junior halfback Mel Averiett was brought down just short of the zone by Hoyt Skelton and Tom Houser on the second try.
But the defensive gem of the night for the Tigers was yet to come. Midway in the goodbye frame East was driving for another score on a drive which started from the Orientals' 32 after a Richards' 27-yard punt return.
With fourth down on the Massillon 2, East's junior halfback, Melvin Averiett, was tossed to the 9 by Tim Richards.
This was just one facet of some sterling defensive play by the Obiemen, which bottled up the Orientals' pitch-and-run game pretty well. Senior co-captain and linebacker Ron Ertle did an outstanding job along with Richards and Fenton and utility linebacker Dave Doll.
* * *
THE BLOCKING of strong siders Dave Gipp, Bill Snowball, and Tom Houser and center Blaine Moore helped.
The Bengals didn't complete a pass, mostly because the pass blocking didn't hold up.
The 47 yards of passing yardage by East wasn't bad considering the Bengals used an
all-junior defensive backfield.
With one down and 9 to go on the comeback trail, the Bengals will host Cleveland Benedictine next Friday.
EAST – 14
Ends – Sommerville, Yovanovich, C. Richards, B. Smith.
Tackles – Shealey, Davis, Beaubout.
Guards – Preer, McGhee.
Center – Bennet.
Quarterback – Vaughn.
Halfbacks – D. Richards, Sanders, McMillan, Mobley, W. Smith, Averiett, Johnson.
Fullbacks – Drone, Hill.
MASSILLON – 28
Ends – Jackson, Houser, Dampier, Robinson, Spencer, T. Richards.
Tackles – Snowball, McGeorge, Snyder.
Guards – D. Gipp, Ertle, Whitfield, Doll.
Centers – B. Moore, Skelton.
Quarterbacks – Young, Malinowski.
Halfbacks – J. Smith, McDew, Fenton, Hodgson, Evans.
Fullbacks – Simon, R. Moore, M. Gipp.
INDIVIDUAL RUSHING
Massillon
Player Att. Net. Ave.
Young 8 14 1.75
Moore 5 14 2.80
Simon 1 1 1.00
Smith 14 99 7.68
McDew 11 84 7.55
East
Player Att. Net. Ave.
Richards 10 61 6.1
Sanders 24 81 3.38
Drone 2 4 2
East 0 0 14 0 14
Massillon 8 6 8 6 28
Touchdowns:
Massillon
McDew 2 (61 and 80-yard punt returns);
J. Smith 2 (12 and 3-yard runs).
East
D. Richards 2 (90-yard pass interception return and 35-yard option-pitch interception return).
Extra points:
Massillon
McDew 2 (pass from Young);
Smith 2 (8-yard run).
East
D. Richards 2 (run).
Attendance: 11,066
OFFICIALS
Referee – Jack McLain.
Umpire – John Rance.
Head Linesman – Bud Shopbell.
Field Judge – Chuck Hinkle.
THE GRIDSTICK
Mass. East
First downs – rushing 10 7
First downs – passing 0 1
First downs – penalties 0 1
Total first downs 10 9
Yards gained rushing 235 166
Yards lost rushing 17 17
Net yards gained rushing 213 149
Net yards gained passing 0 47
Total yards gained 218 196
Passes attempted 4 10
Passes completed 0 5
Passes intercepted by 0 2
Yardage on passes intercepted 0 109
Times kicked off 5 3
Kickoff average (yards) 50.2 43.6
Kickoff returns (yards) 74 93
Times punted 3 5
Punt average (yards) 40.0 39.0
Punt return (yards) 15 5
Had punts blocked 0 0
Fumbles 1 1
Lost fumbled ball 1 1
Penalties 3 3
Yards penalized 55 12
Touchdowns rushing 2 0
Touchdowns passing 0 0
Touchdowns by interception 0 1
Miscellaneous 2 1
Total number of plays 48 56