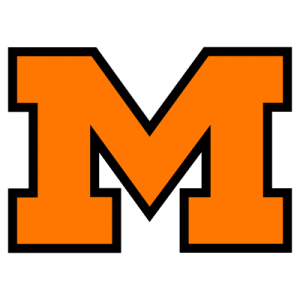 Bengals' Streak Ended But All Isn't Lost
Mansfield Plays Familiar Role As Massillon Spoiler
By CHUCK HESS, JR.
The Massillon Tiger is a proud creature by tradition. He is not prone to put his tail between his legs and slink away in the face of adversity. Instead, he bares his fangs and fights back all the harder.
The Bengals have come back 3 times before after having win streaks stopped by Mansfield to win state titles. The scoreless contest Friday night before 10,000 at Arlin field in Mansfield need not be the end. It can be the beginning of another string of Orange and Black conquests.
* * *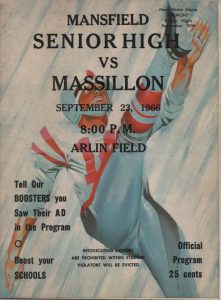 THE 30-GAME win streak stretching back to 1963 and starting with a 38-0 win over Mansfield is gone. But the unbeaten skein is still there.
Paul Brown's 1937 Bengals had a 20-game affair ended via 6-6 entanglement with Mansfield but went on to an 8-1-1 season and a state title. Bud Houghton's 1941 Obiemen had a 38-game string stopped 6-6 by Mansfield but went on to a 9-0-1 season and a state title, winning 13 more games before bowing in the 1962 finale under Elwood Kammer.
Chuck Mather's 1948 team won a state championship with a 9-1 record and his 1949 squad, after having a 10-game streak stopped 16-12 by Mansfield, went on to a 9-1 season and a state title. His 1951 team and Tom Harp's 154 units won crowns with 9-1 records. Leo Strang got one with a 10-1 slate in 1960.
For Mansfield, which will start its league season against Fremont next week, its effort Friday could send the Tygers on to a Buckeye conference title.
"This is the greatest team effort I've ever seen from any team in the country," Gary Prahst, Tyger mentor, said. "We're real happy. We consider it a win. I thought our team was just an average one going into this game. But this will make us. Massillon is a great team!"
* * *
MASSILLON COACH Bob Seaman said, 'We had enough yardage to win – 50 more than last week – but 20 less points. We did a good job both offensively and defensively. Mansfield played a good game. They shut us off when they had to. Their pursuit killed us."
Seaman wasn't one to offer alibis but when a team has only one first string back in top condition, its attack is somewhat blunted. Quarterback Craig Maurer was on the sidelines with an ankle injury. Halfback Greg Evans is scheduled for surgery on a knee injury Monday in Massillon city hospital. Halfback Tommy James played with his hip still sore from an injury.
* * *
MANSFIELD'S tailback and top scorer, "Butch" Jefferson also was out with an ankle sprain.
"With him we could have gotten outside better," Prahst said.
The Tigers out-gained Mansfield 190-95. Neither team threw much, missing on 3 passes each. Mansfield intercepted 2 Tiger aerials both late in the game.
"We gained 143 yards the first half and seemed to be moving the ball well so I felt we didn't have to throw," Seaman explained.
"We had planned on throwing the ball more but our defense held them. (We didn't want to take any chances throwing the ball)," said Prahst.
* * *
BECAUSE NEITHER team threw often, a lot of time was used up as the Obiemen's Will Foster and Mansfield's Floyd Davis and Mike Swarn took turns pounding the tackles and guards for short yardage. There were almost no long punt returns as Massillon's Jim Krenzer and Mansfield's Dave Hallabrin took turns putting their opponents in the hole.
The furthest the Orange and Black got into Mansfield territory was the 29 after a 20-yard run by Foster. But time ran out in the first half.
Mansfield got to the Massillon 28 with 25 seconds left in the game. Swarn's field goal attempt was wide left.
The Tygers had gotten there largely through the efforts of Shawn Madison, defensive halfback. He intercepted a 32-yard pass by Foster to 6-7 tackle Mike Sherrett on a tackle-eligible play and ran back to the Massillon 37.
Tigertown quarterback Kevin Henderson tried a desperation heave to sophomore halfback Mark McDew, taking Evans' place, on the game's final play. But halfback Jeff Koroknay intercepted the 28-yarder.
* * *
THE TIGERS had 2 costly 15-yard penalties. Both came in the second quarter. One set the Tigertowners back to their 42 from the Mansfield 43 when it looked like the Bengals were gaining momentum. The other put them on their own 16 with 1:50 left. Both were clipping infractions and came after good runs.
Twice Mansfield fumbles rolled ahead up to 8 yards and were recovered by the Tygers for first downs. Once, however, tackle Tom Houser picked up a bobble on the Massillon 42 to stop a thrust by Mansfield which got out of its own territory only once in the first half and got no further than the Tiger 37 in the second, except on the pass interception.
Massillon got out of its homeland only once in the second half, but 3 of 4 times it had the ball in the first.
Next stop for the Tigers on the road schedule, which has 2 games remaining, is Hartshorn field in Alliance next Friday.
The Bengals' record is 2-0-1, Mansfield's is the same.
MASSILLON – 0
Ends – Moyer, Smith, Sterling, Liggett, Gallion.
Tackles – Campbell, Snowball, Houser, Sherrett, Ricker.
Guards – Porrini, Russell, Neago, Hauenstein, Beiter, Ertle.
Centers – Senften, Kraft.
Quarterbacks – Henderson, Young, Malinowski.
Halfbacks – James, Simon, Fenton, McFadden, Evans, Hannon,
Muhlbach, McDew.
Fullbacks – Foster, Moore.
Punter – Krenzer.
MANSFIELD – 0
Ends – Alexander, Fraley, Blakley.
Tackles – Davis, Socea, Adams.
Guards – King, Shulko, Lowe, Gorrell.
Quarterbacks – Hallabrin, Wright.
Halfbacks – Madison, Koroknay, Johnson, Swarn.
Fullback – Davis.
Massillon 0 0 0 0 0
Mansfield 0 0 0 0 0
OFFICIALS
Referee – Stan Orzech (Cleveland),
Umpire – Clyde Newell (Westlake).
Head Linesman – Bill Holzwarth (Louisville).
Field Judge – Andy Moran (Berea).
Attendance – 10,000
STATISTICS
Massillon Opp.
First downs – rushing 10 7
First downs – passing 0 0
First downs – penalties 0 2
Total first downs 10 7
Yards gained rushing 200 117
Yards lost rushing 10 22
Net yards gained rushing 190 95
Net yards gained passing 0 0
Total yards gained 190 95
Passes attempted 3 3
Passes completed 0 0
Passes intercepted by 0 2
Yardage on passes intercepted 0 18
Times kicked off 1 1
Kickoff average (yards) 32.0 26.0
Kickoff returns (yards) 0 38
Times punted 0 7
Punt average (yards) 31.2 35.0
Punt return (yards) 0 13
Had punts blocked 0 0
Fumbles 2 5
Lost fumbled ball 0 1
Penalties 3 1
Yards penalized 35 15
Touchdowns rushing 0 0
Touchdowns passing 0 0
Touchdowns by interception 0 0
Miscellaneous 0 0
Total number of plays 34 32