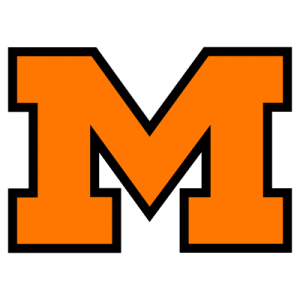 Tigers Blast Canton Lincoln 65-0
Massillon Bengals Bomb Lions With Six Touchdown Passes
By CHARLIE POWELL
There will be little time to make merry music but Tigertowners will live "high on the hog" as long as they can.
That just about sums up the flippant feelings hereabout with Washington high football faithful, smug as a bug in rug over Friday night's stream-roller show against Canton Lincoln and already thinking about that big one – the Friday night, October 2 battle with arch-rival Alliance.
The host Tigers, poised and powerful against a vastly out-manned but spunky club, applied the crusher by a 65-0 time – highest Massillon tally since 1954 and Lincoln's worst licking at the hands of the Tiger in 15 years' of combat.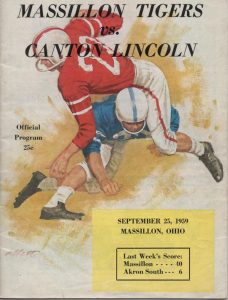 Last night's runaway marked the end of Massillon-Lincoln grid relations, at least for a few years, and it was a rude farewell party the Bengals tossed before 10,808 at Tiger stadium.
They scored two touchdowns in the first period and hit for 32 points in the second frame before taking the pressure off the accelerator.
* * *
THEY PULLED off 31 running plays for 301 yards. These plays were simple power maneuvers up the middle or end sweeps. In one of Massillon's greatest displays of passing pyrotechnics in years, quarterbacks Joe Sparma and John Larson lofted the pigskin 29 times with eight completions going for a whopping 198 yards. These aerial bombs were of every description as the eligible receivers had the Lions in a tizzy trying to figure out the patterns.
In other words, the Tigers had it nice and easy while giving the Alliance scouts in the stands plenty to think about.
As the orange and black won their 14th decision over the Lions (one game ended in a draw), the defending state champion Aviators also were punching out their second straight triumph of the young season.
Before the game here was all over, fans were talking about next week's fray. And hastily made signs, including a deluge of red and white ones carrying the message "Alliance, Beat Massillon" made their appearance.
Neither side will overlook any possibility of building up the tension for this big one. You can bet the rival coaches will go over every point of strategy and a packed audience for the big one is almost assured.
* * *
TICKETS have been selling fast and it should be a standing room-only turnout. Alliance this week sold out its original supply of tickets and asked for, and got additional tickets for the track seats.
The Leo Strang coached Tigers apparently were not thinking about anything but the job at hand last night.
They ran up the most points by a local team since the 1954 Bengals clobbered Struthers
68-0 and bettered the 1949 thrashing of Lincoln by five points.
It was the 23rd time (since 1920) that a Massillon team has scored 65 points or more. The biggest Bengal romp came in 1922 when the Tigertowners, coached by Dave Stewart, walked all over Akron North, 94-0.
It was Massillon's 10th shutout starting with the opening game of 1957 and it was the most points ever allied by one of Strang's teams.
* * *
FULLBACK Art Hastings 86-yard scamper for the second touchdown of the night and the passing of Sparma put the Tigers well on their way.
Sparma, who did not play as much as second string quarterback Larson, completed five passes, four for touchdown. Larson completed three, a pair of them for six-pointers, and also got off a crowd-pleasing 20-yard touchdown run after being trapped on a pass play in the third quarter.
None of the regular backs ran too often with Finney's 64 yards in six trips leading the ball carriers. Hastings had 93 yards in three tries, second stringer Nick Daugenti picked up 35 in three tries (once running for 22 yards), Martin Gugov went 38 yards in four trips and a third string halfback, Doug Toles, carted five times for 17 yards.
The crowd saw Wingback Jim Wood hit pay dirt three times. And in doing so, he came up with a performance very few backs will be able to tell their future grandchildren about.
The hustling senior snagged three touchdown passes from the cool-operating Sparma in a space of six and one-half minutes during the second period.
End Bob Barkman caught two touchdown passes and a sub end, Theopolis Bodiford, completed the touchdown parade by going in on a 52-yard pass play with only 13 seconds remaining in the game.
* * *
THE TIGERS dropped four aerials including three "sure touchdown" throws two by Sparma and one by Larson. The former also pegged for two successful conversions.
Lincoln, which gained only 89-yards (74 on five passes) against an improved Tiger defense, saw a third down forward backfire with the game about a minute old. Finney swiped a throw in the flat by Quarterback Phil Billings and the Bengal halfback raced 43 yards down the west sidelines.
He placed the ball at the Lion four and after being held for no gain, Bill hit off right tackle for the first TD at 9:48. Mishandling of a handoff ruined the run on the try for two points.
Lincoln was forced to punt after the ensuing kickoff and Daugenti returned to the 11. After Finney made three, Hastings, in his first ball-toting chore of the night, highballed 86 yards for another touchdown. He veered off the left side, found himself free at the 25 and outran a couple Lincoln players to the end zone. Finney was stopped short on the conversion play.
* * *
NEAR THE END of the stanza defensive Tackle Terry Snyder recovered a fumble at the Massillon 31. A Sparma to Hastings pass gained 12 and Finney, in two tries, made 35 to help put the ball at the Lion 15 on the last play of the period. Then on the first play of the second quarter, Sparma worked himself loose from one would-be tackler, threw to Wood at the goal-line for six and Gugov swept end for two points. But the Tigers were penalized 15 yards for holding. However, Sparma's pass to Herring in the end zone made it 20 to zero.
At 10:14 Wood put his mitts on another TD throw by Sparma. A bad punt gave the Tigers possession at the Lincoln 36 and on the next play Sparma hurled again with Wood making a sensational diving catch for the host's fourth touchdown. Toles hit guard for two more points.
Hastings returned a punt 29 yards to the Lincoln 26 a few minutes later and again Sparma put the oval in orbit. It came down in the hands of Wood once again. Jim caught the ball at the 17 and carried two Lincoln players into the end zone with him. Another nice catch by Wood made it 36-0 at 4:37.
* * *
WITH ABOUT a minute left in the half, Gugov returned a punt 15 yards to the Lincoln 30 but the Orangemen were set back 15 yards due to a clip. After a Sparma pass was dropped in the wide-open spaces, Daugenti churned 22 on a sweep before the Sparma-Barkman combination was "dead center" on a 38-yard scoring play. Gugov made two more points on a sweep and Massillon led 44-0 at the half.
The Tigers continued red-hot in the third session. They took the kickoff and marched 63 yards. Finney got off a 22-yarder and Larson passed to Hastings for 13 before Wood raced seven yards for a touchdown, which did not count because of another clipping penalty. However, three plays later Larson from the 20, failed to locate a receiver, shook off one defender and barreled down the right side for six points. A fumble kept Herring from making the try for two more markers.
Linebacker Frank Midure recovered a fumble at the Lincoln 34 a minute or so later and in seven plays the home team had another TD. Wood, Gugov and Toles gained on the ground and from the seven. Larson pitched to Barkman who made a fine over the shoulder catch at the five and went in to make it 56-0. And it was 58-0 as Wood crashed across the final stripe.
Massillon got to the Lion 14 early in the final chapter and a second bid on the quarter just managed to beat the clock.
Guard Lawson White pounced on a fumble at the Lincoln 47 to set the stage. Two aerials went for naught before Larson's flat pass settled in the arms of Bodiford at the Lincoln 37. It was a simple matter for the junior end to go on to pay dirt. Nobody touched him and after the Tigers were penalized for delaying the game, Jim Hershberger split the uprights for the 65th point.
Lincoln lost John Andreadis, quarterback-end due to an arm injury in the second half and Steve Scott, a sub halfback, had to have a few stitches put in his face and upper lip.
The Tigers, who used several regulars rather sparingly (Tackle Don Appleby who has been limping got in for one play) came out of the game in good shape although another tackle, Virgil Bukuts, couldn't remember a thing after getting konked on the head in the second half.
Statistics
Mass. Lin.
First downs, rushing 13 3
First downs, passing 7 3
First downs, penalties 0 0
Total first downs 20 6
Yards gained rushing 307 70
Yards lost rushing 6 55
Net yards gained rushing 301 15
Yards gained passing 198 74
Total yards gained 499 89
Passes attempted 29 10
Passes completed 8 5
Passes intercepted by 1 2
Times kicked off 10 1
Kickoff average (yards) 41.7 37
Kickoff returns (yards) 47 158
Times punted 1 7
Punt average (yards) 29 18.2
Punt returns (yards) 37 24
Had punts blocked 0 1
Fumbles 3 8
Lost fumbled ball 0 3
Penalties 6 1
Yards penalized 60 5
Massillon Jolts Lincoln,
65 to 0
Aerial Attack Nets
Four Touchdowns in 2nd Quarter;
Wood Catches Three
MASSILLON, O. – Massillon's Tigers and Canton Lincoln closed the book on their long football rivalry here last night – and the Tigers made the last chapter the most disastrous one for Lincoln in the 15-game series.
The talented Tigers tallied touchdowns with monotonous regularity to bury Lincoln, 65-0, for their most lopsided triumph against their Canton opponent.
The victory also preserved Massillon's clean slate against Lincoln. The Tigers won 14 of the 15 games and the other was a scoreless tie in 1945.
Lincoln couldn't hold Massillon down this time. The Tigers scored first on Euvll Finney's
four-yard burst with only two minutes gone.
They scored again moments later when Art Hastings raced 84 yards and then Quarterback Joe Sparma put on a scintillating passing exhibition to put the game completely out of Lincoln's reach.
Hurls 4 Touchdown Passes In 2nd Quarter
Sparma pitched four touchdown passes in the second quarter. He connected with halfback Jim Wood on tosses of 15, 36 and 26 yards and finished with a 38-yarder to end Bob Barkman.
Second-string quarterback John Larson took over in the last half and accounted for the Tigers' last three scores. He tallied the first one himself on a 20-yard run. Then he threw 7 yards to Barkman and connected on a 48-yard pass-run play with Theopolis Bodiford to finish the rout.
The last TD came with only 13 seconds left and gave the Tigers their biggest scoring splurge since 1954 when they romped over Struthers, 68-0.
MASSILLON – 65
Ends – Barkman, McKey, Oliver, Zumbrunn, Royer, Bodiford.
Tackles – Bukuts, Haines, Jcypder, Appleby, Paul.
Guards – Houston, Willey, Whitfield, Midure, White, Bednar, Wells, Crenshaw.
Centers – Snodgrass, Demis.
Backs – Sparma, Wood, Finney, Hastings, Larson, Null, Toles, Smith, Hershberger, Kurzen, Herring, Gugov, Daugenti, Dean.
CANTON LINCOLN – 0
Ends – C. Wilson, Pikna, Barr, Sereyches.
Tackles – Garaux, Easkerman, T. Wilson, Leidner.
Guards – Kerr, Thompson, Evans.
Centers – Lewis, Brandstetter.
Backs – Hill, Billings, Sirgo, D. Wilson, Price, Scott, Cronin, Slcakford, Wolkers, Andreadis.
Massillon 12 32 14 7 65
Massillon scoring – Touchdowns: Finney (4, run) Hastings (86, run); Wood (15, 36, 26, passes); Barkman (38, 7, passes); Bodiford 48 (pass); Larson (20, run).
PAT – Herring (pass); Toles (run); Wood (pass) (run); Gugov (run); Hershberger (placement).