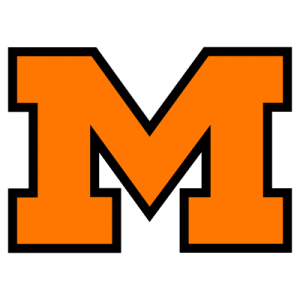 19,387 See Tigers Beat Alliance 14-0
By CHARLIE POWELL
Massillon's Tigers or maybe we should say terrific Tigers, Friday night had higher voltage than Marilyn Monroe ever had.
They had to have it, partner, to take the wind out of the sails of the Alliance Aviators, 14-0, in a rip-snorting, hard-hitting defensive battle, the likes of which is seldom seen anywhere.
As the crowd of 19,387 paid fans will attest, two mighty fine football teams staged a rock'em, sock'em spine-crinkler at Tiger stadium.
As it turned out, the Tigers had their troubles, keeping their fans shaking like a wet dog for over three quarters, but the offensive punch was just lethal enough to deflate the hopes of the Aviators and their rabid followers.
* * *
THE HUSTLERS wearing togs (which for the first time included white shoes and new black jerseys) struck for a second period touchdown made on a 10-yard pass, Joe Sparma to the big Hase McKey six plays after Bill Finney got off a 56-yard dash. But it was anybody's ball game until mid way in the final session when the Bengals marched, 52 yards with second string left half Martin Gugov going across from the seven after Massillon capered on an 18-yard jaunt by the same lad and an 18-yard pass play, the slick throwing Sparma to the slippery Hastings.
Leo Strang's charges, who passed away a golden scoring opportunity late in the first half, bottled up the defending state champions except on two occasions, and it was their ability to dig in on critical third-down-and-short-yardage situations which proved to be a main factor.
But the one big play that will be "re-played" for many moons came about late in the third quarter when a touchdown would have given the Aviators new life and made the Tiger task more rigid.
The Aviators capitalized on Bobby Wallace's passing and the running of a pile-driver named Charley King, 146-pound junior halfback, to advance from their own 45 to the Tiger three-yard line. The first pass of the drive, Wallace to End Larry Shinn (who made a diving catch), was good for 11 yards and the second, a 16-yard effort from Wallace to Halfback Lee Woolf, put the pigskin at the Bengal seven.
* * *
ALLIANCE FANS were in an uproar while Massillon faithful literally held their breath.
King, who in a good night's work gained 103 yards in 20 tries, then made four yards and on second down, Wallace unfurled another pass.
He tossed into the right flat, near the goal line and although the Tigers were in a 10-man line, three Massillon players managed to drop back into the end zone. Linebacker Frank Midure – one of many Tiger stalwarts – only had to take a couple of steps to his left to latch onto the ball.
Midure stepped from the end zone into the playing field and chugged to the Tiger 30. Tiger fans breathed more naturally.
The Aviators were down and just about out. Massillon held them the next two times they had possession. McKey, the ace middle guard, knifed in to thwart a third-down-and-one line smash and when Nick Daugenti returned a punt to the Bengal 48, the hometown heroes went into action to apply the clincher.
* * *
AFTER GUGOV'S touchdown the visitors made one first down before Halfback Hugh Wilson's fumble was recovered by Captain "Sluggo" Bednar at the Alliance 47 and it was all over but the hurrahs.
The Aviators still haven't won a game at Massillon since 1927. It was the first loss of the season, in fact it snapped an eight-game winning streak and the setback put a real crimp in Aviator hopes for top ranking in the Ohio scholastic poll.
Apparently Massillon's No. 1 rating was solidified as the Tigers captured their third straight decision and ran the Alliance series tally to 41-5-2.
But it will be out of the frying pan and into the fire for the orange and black. Steubenville is next. Albeit the Steubers lost to Paul Warfield and Co. of Warren Harding 13-8 last night, as next Friday's game at Steubenville will be another stiff fight.
If the Steubenville fray – or any other game, has as much hard tackling as the one last night it will be something!
Both sides went at it hammer and tongs, with jarring tackle followed by jarring tackle. There was some good, crisp blocking too and both teams came up with some nifty gainers but every single yard was given grudgingly.
* * *
THE TIGER infantry outdid the invading crew by gaining 235 yards to Alliance's 152. Via the airways, however, Sparma hit on four of nine for 46 yards as Mel Knowlton's defense apparently was set up to stop the long pass. Wallace threw 11 times and completed four for 67 yards. The Tigers had a bare 12-10 edge in first downs.
But it's always the score that counts and Massillon today was all hotsy-totsy.
The phrase, "team effort," is over played in many instances but that is what made the orange and black the better team last night.
Coach Strang, passing out the bouquets in the dressing room , thought the "big play" was Midure's timely interception.
"There was a lot of defense out there. We can thank Russ Ramsey's scouting crew for doing a fine spy job and making adjustments to our defense.
"I don't think anyone else will hold Alliance scoreless. They have a real fine football team…there were a lot of crucial plays but our kids did their job…our second stringers came through in grand style…all the boys gave it everything they had and we should certainly be proud of them," he added.
* * *
STRANG ALSO commended his assistants who passed along strategy from their spotting booth atop the stands.
He said all the defensive players deserved lots of credit but singled out McKey and Bednar for leading the way. Sparma shined in directing the offense – and the sweet-slinging quarterback was under a handicap in the last quarter.
Right before the second TD, Joe was conked on the head and was wobbly for the remainder of the game. In both scoring drives he hit on key pass plays and his faking threw the visitors off kilter more than once.
The running backs, given big holes and then twisting, dodging and bulldozing on their own, filled the order. Finney was the leading yardage-getter with a net of 109 yards in 14 trips with the pigskin. Hastings made 85 yards in 13 tries and Gugov, in five carries, picked up 47 yards.
In the other dressing room, a downcast Knowlton was bothered, and rightfully so, by the fact that the Aviators failed to hit the jackpot on their third quarter drive.
"It we had gotten that touchdown, which we should have, we would have had the game," he commented.
"We were moving but when you lose one like that I think it can mean the difference," he said.
* * *
AN ASSISTANT remarked that the interception meant the game and Mel reiterated his view.
"We were doing all right but when you lose one like that on third and three it's just tough," he lamented. (Actually it was second down and six to go at the time).
For Alliance, the veteran Woolf was held to 23 yards in seven carries while Wilson carted nine times for 38 yards.
Besides averaging over five yards a clip, the sturdy King did some fine blocking and was a bear on defense.
Most of the first quarter was defense. Midure recovered a fumble on the third play of the night and from the Aviator 41, the host aggregation marched to the 12 only to surrender the ball on downs as Sparma was halted on a four-and-three fake pitch-out play.
After an exchange of punts a 32-yard pass, Wallace to End Paul Trieff who caught the ball behind two defenders at the Tiger 39 and sped to the 31, put the Alliance boys in business. They gained five in two plays, McKey then stopped Woolf at the line of scrimmage and on fourth down King was stopped a yard short of a first down at the Massillon 22. Before you could say Khrushchev the Tigers shot ahead.
* * *
FINNEY found a hole on the left side, wriggled in the clear at the Aviator 35 and darted 56 yards to the Aviator 22. Hastings gained five, a Sparma to Wood pass was good for eight and after two five-yard penalties against each team, Sparma went to the air again.
This time McKey was open in the left flat and husky Hase latched onto the swinehide at the one, took one step, and it was six to zero at 9:54. Finney was stopped short on the PAT attempt.
That was the first half fireworks, although the Orangemen were working up a storm before intermission. Hastings sprinted for 20 and Gugov got 14 to help reach the Aviator 22. Then Sparma winged another beauty with Hastings on the receiving end and Art did the pile-driver act to plant the ball on the seven but an offside penalty turned the cheers to sadness.
Two plays netted two before a mix-up in the backfield caused Sparma to lose nine yards.
Alliance threatened in the third period but Midure nullified a 52-yard march and there was nothing to write home about for the first four and a half minutes of the last chapter.
Daugenti returned a punt 12 yards and the Bengals started the drive that knocked Alliance chances into limbo.
* * *
FINNEY sandwiched gains of five and three yards around Sparma's one-yard try at the middle before Gugov raced 18 yards to the 25. He would have had a touchdown except that he stumbled over a teammate at the Alliance 30.
The very next play was also good for 18 yards as Sparma pegged to Hastings. From the seven, Gugov barreled off right tackle and at 4:55 Massillon had its insurance six-pointer. Gugov stabbed at left tackle on the PAT try, fumbled and Wood recovered in the end zone to make it 14-0.
Two minutes later Bednar pounced on a fumble and the Tigers were moving again. Wood sped 18 with the help of a block by Jim Houston on a statue-of-liberty and Hastings made nine and six, respectively, but this bid was thwarted by a holding penalty. Massillon turned over the ball at the Alliance 28 and after Wilson went seven on a double reverse, the gun sounded.
A Big Victory
MASSILLON
ENDS – McKey, Barkman, Oliver, Zumbrunn.
TACKLES – Appleby, Bukuts, Haines, Wells.
GUARDS –Bednar, Willey, Midure, Houston, Whitfield, White.
CENTERS – Snodgrass, Snyder, Demis.
QUARTERBACK –Sparma.
HALFBACKS – Wood, Finney, Herring, Gugov, Daugenti.
FULLBACKS – Hastings, Hershberger, Dean.
ALLIANCE
ENDS – P. Trieff, Shinn, Longmire, Havelock.
TACKLES – Davidson, D. Trieff, Caserta, Kennedy.
GUARDS – Paone, Adomius, Britton, Taylor.
CENTERS – Furcolow, Teeters.
QUARTERBACK – Wallace.
HALFBACKS – Woolf, Wilson, Headley.
FULLBACKS – King, Prince.
Scoring by quarters:
Massillon 0 6 0 8 14
Touchdowns – Massillon: McKey (10-P); Gugov (7-R).
Extra Points – Massillon: Wood (Recovered fumble in end zone).
OFFICIALS
Referee – Dan Tehan.
Field Judge – C. W. Rupp.
Head Linesman – Arthur Rittersbaugh.
Umpire – Roy Wisecup.
Statistics
Mass. Alli.
First downs – rushing 9 6
First downs – passing 3 4
First downs – penalties 0 0
Total first downs 12 10
Yards gained rushing 262 161
Yards lost rushing 9 9
Net yards gained rushing 253 152
Yards gained passing 46 67
Total yards gained 299 219
Passes attempted 9 11
Passes completed 4 4
Passes intercepted by 1 0
Times kicked off 3 1
Kickoff average (yards) 43.3 50
Kickoff returns (yards) 15 26
Times punted 3 3
Punt average (yards) 35.8 31.3
Punt returns (yards) 25 34
Had punts blocked 0 0
Fumbles 1 2
Lost fumbled ball 1 2
Penalties 6 1
Yards penalized 40 5
Second-Guessers
Have Field Day as
Tigers Top Aviators
By DON LIGHTNER
Repository Sports Writer
MASSILLON – What would be your strategy if you had the football planted on the opponent's three-yard-line with three plays to push it into the end zone?
Well, it's assured the 19,387 fans who attended the Massillon-Alliance clash here last night would be of one opinion – by all means, try to run it over.
But they had one big advantage. They could second-guess.
Alliance quarterback Bob Wallace elected to pass. The aerial was intercepted and Massillon went on to post a tooth-jarring 14-0 victory.
Although it is easy to question Wallace's decision, one can not find too much fault with it.
For argument's sake, let's say the pass clicked for a touchdown. Alliance would have tied the game at 6-6 with a chance to go ahead 7-6 or 8-6 depending on the conversion.
This would have given the Aviators a tremendous psychological lift and put the pressure on the Tigers.
However, this is not to say the Bengals would have lost. Massillon scored another touchdown in the final period. But it might have been a different game.
With a lead in the third quarter, Alliance could have played it cozy and forced Massillon to take chances.
But this is only conjecture. The state's top-ranked Bengals played heads-up football all the way. They had to – all the way.
They turned in a great performance defensively. Few fans figured they could hold the defending state titlists – ranked – No. 2 – scoreless.
Alliance had two other streaks snapped. It was the Aviators first loss in 15 games and stopped their shut-out mark at eight games. The Aviators hadn't been scored on since the fourth game of last season.
Massillon Coach Leo Strang was all smiles after the game. Boosters and friends flowed into the locker room to give him a well-deserved pat on the back.
"Boy, if the fans didn't get their money's worth tonight, they never will," Leo said smiling.
"I was very well pleased with our defensive work. I'll bet you there won't be another team this season to hold Alliance scoreless.
"I wasn't too happy with our offense. I believe we made more mistakes against Alliance than we did in our previous two games combined."
Strang went on to say quarterback Joe Sparma couldn't remember for some time how the Tigers got their last touchdown.
"Joe must have been bumped pretty hard," Leo continued. "He doesn't know even when he got hurt. But I noticed something was wrong when on two plays he turned the wrong way on handoffs. Joe just doesn't make those mistakes."
Strang also said Wallace made the right call when he tried to pass for the touchdown.
"It's just an automatic call," Leo said. "We were in a 10-man line. Actually, that was the thing to do."
Over in the Alliance locker room, Coach Mel Knowlton already was talking about getting another win streak started.
"We'll just have to get going all over again," Mel said. "After all, a 9-1 record isn't bad at all."
Knowlton refused to criticize Wallace for his decision to pass. "If the pass would have worked, Bob would be a hero," Mel said.
"I believe we would have won the ball game if we could have scored. But it's just one of those things. No one is to blame."
Massillon got its first scoring drive started early in the second period. Alliance pushed the ball to the Massillon 22-yard-line where it lost possession on downs.
On the first play from scrimmage, Tiger halfback Bill Finney raced 56 yards before being hauled down on the 22-yard line.
After two running plays netted only four yards, Sparma went to work. He threw a nine-yard pass to halfback Jim Wood and followed up by pitching a TD strike to end Hase McKey in the end zone.
That was all the scoring in the first half.
In the third quarter, Alliance covered a fumble on its own 45.
Sparked by 17 and 11-yard passes by Wallace to halfback Leo Woolf and end Larry Shinn, respectively, Alliance had a first down on Massillon's seven-yard-line.
Fullback Charley King rammed to the three. Then came Wallace's controversial pass, which ended the drive. Guard Frank Midure picked it off in the end zone and ran it out to the Massillon 30-yard line.
Massillon iced the decision in the fourth period.
After forcing Alliance to punt, the Bengals drove 53-yards in six plays. Halfback Martin Gugov covered the final seven yards.
On the extra point run, Gugov fumbled in the end zone but the pigskin was recovered by Wood.
While many players from both teams turned in top jobs, Alliance's King stole the show.
He was the backbone of the Aviators. He not only carried the load offensively, but did a tremendous job defensively.
Massillon showed its depth by sharing its running duties between Wood, Hastins, Finney and Gugov.
Massillon held an 11-10 advantage in first downs. It gained a total of 299 yards to Alliance's 219.
The Aviator's had an edge in the passing department, hitting on four of 11 for 67 yards. The Bengals threw nine times, completed four for 46 yards.
Massillon boosted its series lead over Alliance to 30-5-1. Last season, the two teams battled to an 8-8 tie.