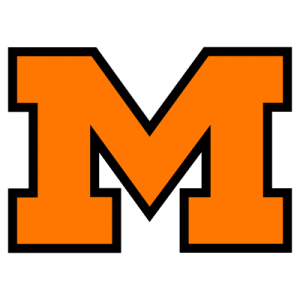 Tigers Claw Akron South 40-6
Bengals Flash Good Offense And Score In First Three Minutes
By CHARLIE POWELL
Putting the zest of a band of Davy Crocketts into the game, the Massillon Tigers made their initial assignment look comparatively easy as they planted a sound haymaker on Akron South high in a mutual opener Friday night at Tiger stadium.
They punched out a 40-6 triumph as they scored over land and through the air. The defense even hit for the jackpot and 32 boys got into the act.
They struck pay dirt with two minutes and five seconds gone by in the first quarter and followed with four more touchdowns, a safety and four two-point conversions.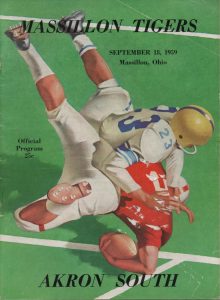 They simply had too much in the arsenal for the Cavaliers who presented only a token aerial threat that kept things interesting for a spell.
* * *
THE SOUTH gridders, making their debut under new coach Ted Osborn, came right back for six points after Massillon gained an 8-0 advantage but before the first round was over the Bengals had staked themselves to a 16-6 lead and when their third touchdown came mid way in the second period, there was no question as to the eventual victor.
When it was over the 10,729 fans in attendance wended their way homeward, the Tigers seemingly took the win in stride.
They appeared to be thinking about the future. Apparently they realized the mistakes they made along the way and how they will have to work a little harder to get ready for the more severe tests.
In the words of Coach Leo Strang – "We have a lot of work to do."
He said his charges proved to be what the coaches figured for the opener. The boys made mistakes and some were expected since not too many of them have had too much previous varsity experience. However, he also pointed up the fact that several of the seasoned performers have room for improvements.
* * *
FINAL STATISTICS showed that the Cavaliers, who now have lost three straight openers to the Tigers, gained only 83 yards by rushing but Strang asserted that the Tiger defense needs considerable work.
On the other hand, Osborn thought a big difference was Massillon's defense.
"You have more experience. We had a hard time trying to run against your defense but we did all right considering our lack of experience," said Osborn.
"We are building our offense around three basketball players (Mercer Mitchell, Terry Marsh and Bob Taylor) and a boy (Quarterback Jerry Campbell) whom we believe will be an outstanding passer. Our passing would not offset your running. You have a powerful running attack."
* * *
THE SOUTH MENTOR said his team was handicapped by the absence of its first and second string centers but the Tigers also were operating below par.
Actually, the Tiger attack was sporadic but when the team jells, Bengal boosters will be able to tell just how strong it will be against more formidable foes.
Strang's gang found holes for 365 net yards on the ground and the passing attack, kept fairly well under wraps, clicked on two occasions for 69 yards.
Sparma's first forward of the evening settled in the arms of Wingback Jim Wood who sped to the Promised Land to complete a 52-yard play.
Before the remaining 45-odd minutes were up, Hastings winged his way 63 yards, Lefthalf Bill Finney scored on runs of four and 14 yards and second team Halfback Martin Gugov went across from two yards out. The Tigers got two points on a safety near the end of the first half when defensive Halfback Jim Hershberger tackled Cavalier Fullback Bob Taylor back of the South goal line.
* * *
BEFORE ALL the fans were in their seats, the Bengals put six points on the scoreboard. End Bob Zumbrunn returned the opening kickoff to the Tiger 37 and in two tries Finney picked up 12 yards before Hastings lost two on a sweep.
But then Sparma wound up, pegged to Wood all alone at the South 36 and at 9:55 Massillon had its first touchdown of the 1959 season. It was 8-0 after Finney smacked off tackle.
Not a bit of air was taken out of the South boys, though, and they went on the prowl after the kickoff was returned to the 35. After five plays made 13, Campbell passed to Marsh, who made a fine leaping catch and would have gone the rest of the way but for a shoestring tackle by Hershberger. The pass moved the ball to the Massillon 17. Taylor made five, Lykes three and Brown followed with nine on a pitch-out for the touchdown. Campbell was snowed under trying to pass on the conversion attempt and it was a close ball game with 5:41 left in the quarter.
It took the Tigertowners just one minute flat to hike their margin. Scooter Bob Herring returned the kickoff to the 32 and after Finney hit tackle for five, Hastings got loose. He took a handoff, whipped through the left side end was in the open, getting rid of one defender with a terrific fake at the South 40, then twisting way from another at the 30 before completing his 63-yard jaunt. Finney's off tackle slant made it
16-6.
South completed three passes before the quarter was history and on the second play of the second panel, luck frowned on the Akronites. Massillon's Finney pounced on a third down fumble at the three and the fireworks that followed had Tiger fans chortling in glee.
* * *
WITH SECOND and one at the 22, Oliver took Sparma's pass behind the safetyman and dashed to the end zone only to see an illegal formation penalty wipe out the score.
However, Sparma, Hastings and Finney kept things moving. A 37-yard run by Hastings put the oval at the enemy four and Finney went in for another tally at 5:49. Hastings ran across the extra points.
With less than a half-minute remaining in the half, South was trying to get out of its own back yard and Taylor was hit in the end zone on a sweep. Hershberger made the initial grab and Zumbrunn, Wayne Paul, Gary Wells and Wally Brugh helped give the Tigers two more markers.
Gugov's interception of a pass preceded the Tigers' first of two TD's in the third period. He put the oval on the Cavalier 29 and Finney got off a 10-yard run before making the final 14 on a sweep. Hastings was stopped short on the conversion attempt at 8:11.
South was forced to punt a couple minutes later and the hosts drove 46 yards with Gugov getting off a 14-yard effort and Herring whizzing for 20. From the two, Gugov went across and a pass, Sparma to Zumbrunn ended the scoring for the night.
The Tigers had their second offensive unit on duty at the outset of the final quarter but no headway was made. When the first stringers returned Sparma hurled to Wood for a 17-yard gain, the latter ran for 15 and Herring sped 25, but no serious bid was mustered.
MASSILLON – 40
E – Oliver, Pierce, Zumbrunn, Royer, Bodiford, Barkman.
T – Snyder, Appleby, Bukuts, Paul, Herndon, Haines.
G – Houston, Willey, Midure, White, Wells, Brugh, McKey.
C – Snodgrass, Demis.
QB – Sparma, Larson.
HB– Finney, Wood, Toles, Kurzen, Herring, Gugov, Daugenti.
FB – Hastings, Hershberger.
AKRON SOUTH – 6
E – Marsh, Mitchell, Coteat, Toomer.
T – Stephenson, Earnest, Gray.
G – Butler, Harris.
C – Clayton, Stembridge.
QB – Campbell, Kluka.
HB – Brown, Lykes, Greene, Vinson, Green.
FB – Taylor, Isaiah.
Massillon 16 10 14 0 40
South 6 0 0 0 6
TD – Finney 2, Wood, Hastings, Gugov, Brown.
PAT – Finney 2 (runs), Hastings (run), Zumbrunn (pass).
SAFETY – Massillon
Hastings, Finney Feature Bengals'
Easy 40-6 Romp
By BOB STEWART
Repository Sports Writer
MASSILLON – Wide open and free scoring football is back at Massillon.
The Massillon Tigers unveiled their 1959 grid aggregation by rolling to an impressive 40-6 victory over the Akron South Cavaliers here Friday night before 10,729 fans.
The Bengals showed an always dangers passing game and devastating break-away running attack in ripping a speedy but smaller and less experienced Akron team.
Coach Leo Strang's crew exploded twice in the hectic first quarter – on a 52-yard pass play from quarterback Joe Sparma to halfback Jim Wood and then on a 63-yard spring up the middle by junior fullback Art Hastings.
* * *
THE SCRAPPY Cavaliers refused to roll over and play6 dead.
South took the kickoff after Massillon's first score and marched 65-yards in nine plays with halfback Virg Brown capping the drive by scoring from eight yards out.
Taking the kick off following the Tigers' second touchdown. South again was on the move, penetrating to the Massillon four-yard line as the quarter ended.
A screen pass from South quarterback Jerry Campbell was complete to Mercer Mitchell but he fumbled on the three and the Tigers covered to stave off South's last threat.
Starting on their own three, the Tigers' Hastings and Finney combined to carry the ball 97 yards in 13 plays. Finney scored from three yards out. The series saw a 70-yard TD pass play from Sparma to Bob Oliver nullified by a penalty.
* * *
BOB ZUMBRUNN, the Tigers' left end, caught fullback Bob Taylor in his own end zone for a safety just before the first half ended.
A 13-yard scoring jaunt by Finney and a one-yard plunge into the end zone by Martin Gugov in the third period finished the touchdowns for the night.
Finney ran over two extra points and Hastings one and Sparma passed to Zumbrunn for the fourth conversion.
Hastings and Finney were the mainstays of the Bengal rushing offense.
Hastings carried 10 times and accounted for 150 yards, an average of 15 yards per carry. Finney averaged 6.5 yards, gaining 79 yards in 12 tries.
"Our offense looked pretty good," smiled Strang after the contest. "But I sure wondered where our defense was in that first quarter."
"We made a lot of mistakes but none that can't be corrected," he noted. "Don't take this South team too lightly. They will do all right this year."
"Our scouting reports called South 'quick'. Boy they're pretty darn fast if you ask me."
When asked how he thought his boys did, coach Ted Osborn of South pondered for a few minutes and then answered. "We did pretty much as I expected. Our boys are pretty green and I put in a complete new system this year."
Osborn, who had coached 11 years at Akron Central, took over the helm of the Cavaliers this year. South last year dropped all ten of its ball games.
The Tigers racked up 16 first downs, 13 rushing, to Akron's eight. South got three rushing, four passing and one on a penalty.
The Bengals ground out 365 yards on the ground and added 70 on two pass completions for a 435 yard total. South passed for 105 yards and rushed for 83.
A Good Start
MASSILLON – 40
Ends – McKey, Barkman, Oliver, Pierce, Zumbrunn, Royer, Bodiford.
Tackles – Appleby, Bukuts, Paul, Herndon, Haines, Wells.
Guards – Houston, Willey, White, Midure, Brugh.
Centers – Snodgrass, Snyder, Demis.
Quarterbacks – Sparma, Larson.
Halfbacks – Finney, Wood, Herring, Kurzen, Ggov, Daugenti.
Fullbacks – Hastings, Hershberger, Toles.
AKRON SOUTH – 6
Ends – Mitchell, Marsh, Coteat, Toomer.
Tackles – Gray, Earnest, Stephenson.
Guards – Clayton, Butler, Harris, Woods, Woodall.
Centers – Slembridge, Clayton.
Quarterbacks – Campbell, Kluks.
Halfbacks – Brown, Lykes, Crooks, Green, Greene.
Fullbacks – Taylor, Simmons, Rollins.
Score by quarters
Massillon 16 10 14 0 40
Akron South 6 0 0 0 6
Massillon scoring
Touchdowns – Wood 52, (pass); Finney 2 (4, 14 runs); Gugov 2, (run); Hastings 63 (run).
Safety – Hershberger, tackled Taylor in end zone.
Extra Points – Finney 2 (runs); Hastings (run) Zumbrunn (pass).
OFFICIALS
Referee – Lymper.
Head Linesman – Shopbell.
Umpire – Walker.
Field Judge – Hodgson.
Statistics
M A
First downs, rushing 15 4
First downs, passing 2 4
First downs, penalties 1 2
Total first downs 18 10
Number of rushing plays 46 24
Yards gained, running plays 376 90
Yards lost, running plays 11 7
Net yardage, running 365 83
Passes attempted 8 16
Passes completed 2 6
Passes had intercepted 1 0
Yards returned, intercepted passes 16 6
Yards gained, passing 69 105
Total yardage, running and passing 435 188
Number of kick-off returns 3 6
Yardage, kickoff returns 56 67
Average length of kickoff returns 18.6 11.1
Number of punt returns 3 1
Yardage, punt returns 30 9
Average length of punt return 10 9
Number of punts 1 4
Total yardage on punts 39 119
Average length of punts 39 29.7
Number of penalties 4 8
Yards lost on penalties 60 40
Number of fumbles 3 3
Own fumbles recovered 2 1
Ball lost on fumbles 1 2
LOOKING'EM OVER
with CHARLIE POWELL
OUR TIGERS DID a pretty fine job of making it a pleasant opening night for all their fans who like to see them pour on the coal. For that matter, all fans who like to see them win by any kind of a margin.
It was the highest number of points rattled off by a Massillon team in any game since the 45-7 beating administered to Canton Lincoln (next week's opponent) in 1955. And it was the most markers for a Tiger opener since Struthers was crushed by a 68-0 count in the 1954 inaugural.
The Cavaliers went back to Akron with bitter recollections of a 40-6 thumping and it might have been a lot worse.
Fumbles, most of them caused by the ball carrier being ahead of the handoff, slowed the Bengals somewhat, but actually they clicked smoother than did the 1958 edition in their debut against South.
* * *
IF YOU WERE in the stands last night you may recall that twice early in the second period Quarterback Joe Sparma ran with the ball when he wasn't supposed to be doing same.
The first time Art Hastings raced past Joe before he could get the pigskin into Art's hands and Sparma hit off the left side for 11 yards and a first down. Four plays later the same thing happened. Joe dropped the ball, picked it up and chugged six yards for another first down.
Such is the game of football.
Both plays kept the drive going that led to the Tigers' third touchdown of the night.
It was during this span that Sparma hit Bob Oliver with a beauty of a pass that was good for 69 yards and a touchdown. But the picture play was nullified due to a 15-yard penalty called by an official who ruled that a halfback lined up even with the ball. In other words, the Tigers had an illegal eight-man line.
Coach Leo Strang attributed some occasional ill timing in part, to the fact that Hastings hadn't practiced too often recently with the other three first-string backs.
Not much fault could be found with a team that won by a whopping score – and one that had 10 boys (offense and defense) starting in their very first varsity game.
From what he witnessed, Strang figured it was a "fair" performance.
Indicating that the Orangemen still have a lot of work in the wind, he said that down field blocking and tackling will get special attention next week.
"If I was pleased with anything it was the second team defense. The boys on that second unit did a pretty good job that second half. At times our running game looked good," he added.
Speaking about the defense, he claimed there may be some changes made for the Lincoln game.
* * *
THE FUMBLES surprised yours truly because in all the pre-season scrimmage games the Tigers had fumbled the swinehide only a couple times.
Maybe it was just one of those nights when they needed handles on the ball.
Strang also pointed out that South had some mobile backs, a good passer and good receivers.
A hard-to-handle runner was Bob Lykes, a lanky sophomore. This boy's father played under South coach Ted Osborn when the latter was coaching at Akron Central quite a few years ago.
Mike Kluka, the No 2 quarterback who did the punting for the Cavaliers, is a cousin of George Izo, the former Barberton passing ace now a Notre Dame quarterback.
Massillon fans shouldn't worry about the boys "not being in top shape."
Most of the players who required the attention of trainer Walt Keller were slightly banged up before the game. None appear to be too serious.
Captain "Sluggo" Bednar was itching to get in there. He got the idea he's ready to play but the cast won't come off his arm until next week.
The magic number now is nine. Keep working, gang!