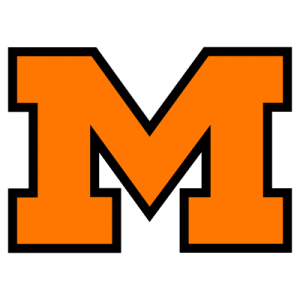 Tigers Defeat Akron Garfield 33-0
Presidents Removed From Unbeaten; Now It's Beat McKinley!
By CHARLIE POWELL
A fancy aerial barrage that produced seven hits in 11 tries, the nimble feet of flyboy Ivory Benjamin and a defense that just wouldn't stop for a second wind.
These were the three essentials the Massillon Tigers added up to a 33-0 scuttling of Akron Garfield before 8,919 shivering fans at Tiger stadium Friday night.
And so Garfield hopes for an undefeated season were sent sailing into the regions more familiar to Sputnik and Muttnik.
* * *
IT WAS MASSILLON'S seventh victory in eight starts and its sixth straight without defeat in the series while the loss was the first after eight consecutive wins by the Presidents. Thus the Tigers maintained their status of never having lost to an Akron team since South turned the trick by a point back in 1931.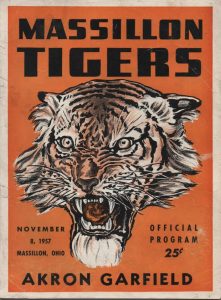 And now we of Tigertown – for that matter people throughout the entire state – await with mixed emotions the biggest battle of the year.
Nobody needs to be reminded that the most pompous pigskin hoe down will send the Tigers against the ancient, fierce rival from Canton McKinley.
A week from today with Fawcett stadium as the setting the Massillon-Canton supremacy will be determined for the 62nd time.
BEAT McKINLEY!
You will hear that cry all hours of the day…and if you aren't a dyed-in-the-wool Tiger rooter you'd better get used to it.
BEAT McKINLEY…nothing else matters for awhile.
More than one big prize may be the stake as far as the Tigers are concerned.
A victory over McKinley would be sweet revenge for the 1955 and 1956 reversals but much, much more important – a win could lead to Ohio's scholastic championship.
Top-ranking Cleveland Benedictine beat John Adams 28-7 last night and off that performance it would appear that the Clevelanders failed to increase their prestige much, if at all. But don't do any betting.
Benedictine will be idle next week. It has one game left – with St. Ignatius for the city championship – after the state title is decided.
* * *
THE TIGERS were anticipating a rugged time with Garfield but it was strictly no match.
Garfield was completely out-played. Its offense was confined to a mere net of 56 yards and its defense failed to ruffle the running of the swivel-hipped Benjamin or a passing attack that clicked off 126 yards.
The smallest crowd to watch a varsity encounter at the stadium in many a moon may not have gotten much warmth out of the action but there was plenty of goings-on to warm the hearts of Massillon fans.
Benjamin hiked his touchdown total to 16 for the season as he scored three times. He sparked, then capped, a short drive from one yard out, sped 46 yards on a sweep and showed his heels on a 58-yard pass play.
He carted the swinehide 18 times for 96 yards and snagged four passes for 102 yards.
* * *
THE OTHER touchdowns were made by the lanky end, Clyde Childers, on a four-yard pass play (Mark Anthony tossed both TD aerials from a halfback position) and third string fullback Ken Dean, who went in from two yards out. Sophomore Halfback Jim Hershberger kicked the three extra points.
That was not all: one other touchdown was made against the team which in eight previous tilts had allowed only four six-pointers, but both were nullified by penalties. Quarterback Bob Getz hit Childers on a 39-yard play wiped out by a backfield-in-motion call.
Officially, Getz threw one incomplete pass while Anthony had a perfect 4-for-4 mark and Sparma completed three of six.
To add to it all, punters – due to the wind which flew in all directions – had a rough time with one Garfield boot going only five yards and another eight yards in reverse. Both teams lacked 11 players on the field on two occasions and on one kickoff the ball was held for a left-footed kicker but the actual kicker was right-footed.
* * *
ROGER REESE, the ace linebacker, was called upon to handle the Tiger punting chores after Childers split a toe in a pre-game warm-up. Roger averaged over 24 yards on three kicks while Garfield's Bob Price averaged over 28 yards on seven boots.
The Tigers played without the injured Chuck Beiter and Gene Stewart, while the Prexies lost Halfback Lou Rizzo in the second period and Quarterback Joe Rossi early in the final canto.
While Corky Pledgure, Anthony and Dave Dean gave Benjamin some fine backing on attack, Massillon's defensive stickouts were Leaman Williamson, Joe Brownlee and Reese.
Garfield gained 84 yards on 33 rushing plays and Tiger defenders threw the invaders for losses totaling 28 yards. Massillon gained 195 yards and lost 33 on 45 running plays.
Tiger Coach Lee Tressel thought the Massillon defense made the big difference.
* * *
"I THOUGHT Garfield had a better club than last year. We were not as sharp offensively. But they are not a poor defensive team."
"Those passes and Ivory's running pulled us out."
The crowd, which began leaving after the Tigers jumped on their lead to 27-0 with 3:37 remaining in the third period, brought home attendance for the year (six games) to 80,953.
This was below the 86,170 for seven games in 1956 but a bit higher than the 76,963 admissions for seven games the previous year.
The first time Massillon got the ball last night it racked up six points, thanks to a nifty
58-yard pass play. Anthony pitching and Benjamin catching.
* * *
GARFIELD had to punt after receiving the opening kickoff with the ball being grounded at the Tiger 31. A clipping penalty against Massillon and then a 5-yarder against Garfield for an illegal substitution set the oval on the 35. Benjamin, Kanney and Pledgure moved it to the 42 from where Anthony tossed a short running pass to Benjamin.
Ivory grabbed the throw on the 49 and took off. At the Garfield 35 he cut away from two would-be tacklers and at the five steamed past the safetyman. Hershberger came in to boot the extra point and the Tigers were in the van at 7:37.
Garfield received, again had to punt and this time the Tigers went on the prowl at the Prexy 36 as Price's kick went "up the shaft" and landed only five yards past the scrimmage line.
Short runs by Benjamin, Anthony, Dean, Pledgure and Kanney plus a 10-yard pass, Sparma to Pledgure, moved the local boys to the enemy one. However, on fourth down at the four that many Garfield players "ganged up" to stop Benjamin at the three.
* * *
EARLY IN the second period the teams swapped fumbles. Cornerman Al Pierce pounced on Price's bobble at the Garfield 39 and again the orange and black utilized short-yardage plays. Sparma twirled to Benjamin for nine yards and Ivory, Anthony and Dean kept pounding off the tackles to set the stage for a second score.
From the four Anthony threw the running pass again. Childers made a nice over-the-shoulder catch in the end zone, Hershberger converted and it was 14-0 at 6:29.
Neither side mustered anything resembling a threat the rest of the half.
A pass interception by Reese after Jerry Mitchell deflected the pitch by Rossi, put Massillon in position for its third TD.
Reese was downed at the Prexy 34 and a 12-yard pass, Anthony to Benjamin and a 10-yard bang off the right side by Dean helped advance the ball to the one before Benjamin dived across behind Tackle Harold Slabaugh. At 6:25, Hershberger again converted.
* * *
GARFIELD was forced to punt again after the kickoff and Jim Snively returned to midfield. Pledgure gained four at left tackle before Benjamin counted again.
This time Ivory took at pitchout, cut around the right side, broke in the clear at the 25 and outran two Garfield boys to the end zone – a 46-yard gallop. At 3:37 Hershberger's kick placement sailed low of the bar but the orange rode high, 27-0.
The fourth quarter touchdown came on a 39-yard foray after the Getz to Childers pass from the 39 was vetoed by a penalty. Big gainers in this movement included Anthony's
11-yard sweep and his pass to Benjamin good for 11-yards.
From the two Dean drove off right guard for the score at 6:05. Hershberger's kick was partially blocked.
After that tally Coach Tressel began to substitute and before the game was over, 45 players including 23 seniors, saw action.
The summary:
MASSILLON
ENDS – Childers, Williams, Williamson, Hagan, Zorn, Mitchell, Oliver, Wood, Steele, A. Pierce, Snavely.
TACKLES – Slabaugh, A. Slicker, Brownlee, Halter, Donat, Karrenbaurer, Bordner, Lane.
GUARDS – Heine, Heimann, McKey, Taylor, Bednar, Perry, J. Kasunick, Cook.
CENTERS – Williamson, Swartz, Shilling, Reese.
QUARTERBACKS – Getz, Sparma, Kocher.
HALFBACKS – Benjamin, Pledgure, Anthony, Snively, Clark, Garcia, Young, Allen, Hershberger.
FULLBACKS – Kanney, Dean, Morrow.
AKRON GARFIELD
ENDS – Lupori, Younger, Blouir, Grasso.
TACKLES – Wiseman, Hicks, Piurkowski, Valatka.
GUARDS – Rekettye, Hollendoner, Capatosta, Black, Sabatino.
CENTERS – Smith, Phillips.
QUARTERBACKS – Rossi, Luperi.
HALFBACKS – Rizzo, Miskar, Price, Rich, Salchek.
FULLBACKS – Arshinkoff, Trusa.
Score by quarters:
Massillon 7 7 13 6 33
Touchdowns – Benjamin 3, Childers, Dean.
Extra Points – Hershberger (placements).
STATISTICS
Mass. Gar.
First downs, rushing 8 4
First downs, passing 5 0
First downs, penalties 0 0
First downs, total 13 4
Yards gained, running plays 195 84
Yards lost, running plays. 33 28
Net yardage, running plays 162 56
Passes attempted 11 7
Passes completed 7 1
Passes had intercepted 0 2
Yards gained passing 126 2
Total yardage, running,
Passing 268 58
Number of kickoff returns 1 6
Yardage, kickoff returns 30 53
Average length of kickoff
returns 30 8.8
Number of punt returns 3 7
Total yardage on punts 75 202
Average length of punts 24.9 28.8
Number of penalties 5 3
Yards lost on penalties 45 35
Number of fumbles 3 4
Own fumbles recovered 2 2
Ball lost on fumbles 1 1